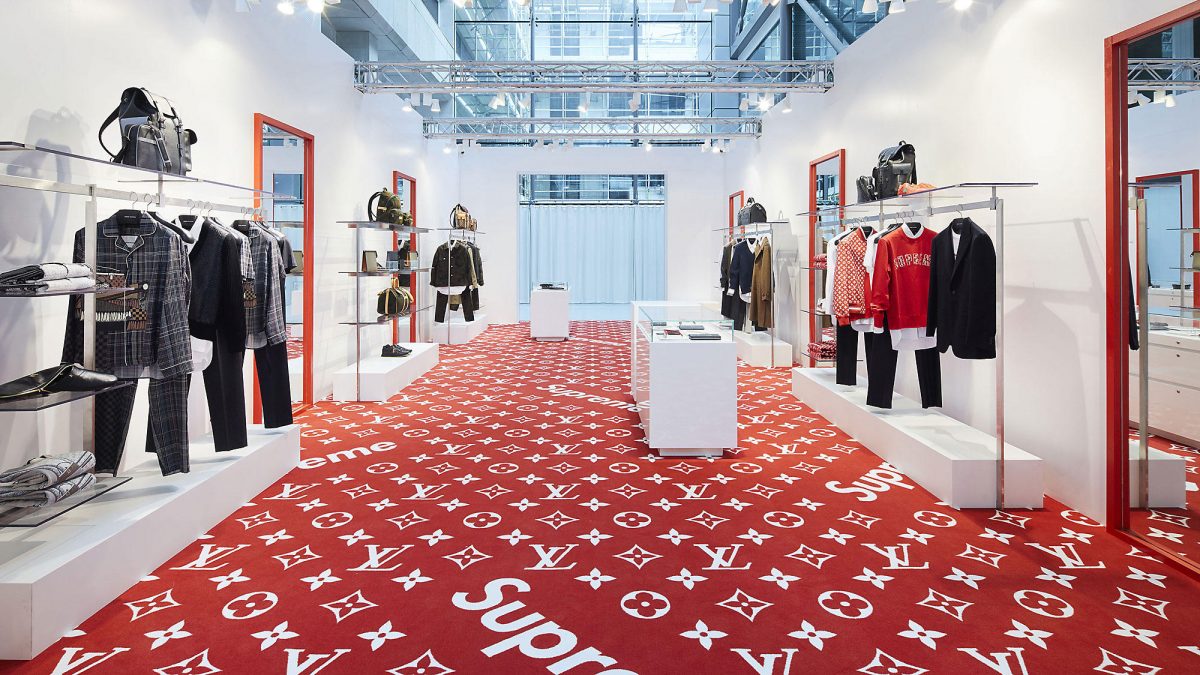 What happens when you merge a brand with marketed-by hype and a major high fashion icon? The answer is Louis Vuitton and Supreme's 2017 collection. Debuting at Paris Fashion Week in January of this year, the predominantly crimson fashion line instantly became one of the hottest fashion releases and collaborations of the past decade…or even the past century. The high fashion world hasn't seen a phenomenon of this nature in a very long time.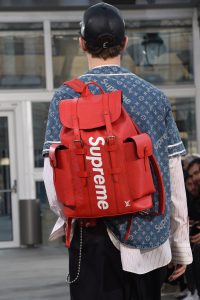 To say that Louis Vuitton and Supreme are unlikely bedfellows would be an understatement. It's as if Kendrick Lamar did a song with Cher and it instantly shot to the top of the charts. And it all comes as an even greater surprise to the fashion world due to its immense irony. For those who are unfamiliar, in 2000, Supreme released a bundle of skateboard decks bearing the LV logo. The legendary Paris fashion house promptly sued Supreme and made them recall the unauthorized collection. Supreme did so, although the move somewhat backfired, as the pieces went on to become coveted collector's items and the recall only bolstered Supreme's reputation as the rebellious bad boy in the fashion community.
Most in the community assumed that the much-publicized incident was the end of any relationship between the two houses, but fast-forward to 2017, and the duo has presumably buried the hatchet to create a 65 piece collection. The line not old sold out immediately when it was released a few months back, but has become a must-have in fashion. There is simply no greater status symbol one can adorn right now then these unmistakable creations. Everyone assumed this collaboration would be significant, but no one could have possibly anticipated the level of cultural phenomenon that LV x Supreme has become.
Maybe in 2000 LV didn't realize what tremendous pull Supreme possessed in the street fashion world. Similar to Louis, Supreme has a legion of diehard fans and an unassailable image in the high fashion community. Founded by James Jebbia in New York in 1994, Supreme's bold pieces instantly became the most sought-after items in streetwear fashion. To maintain hype, Jebbia shrewdly made Supreme products extremely limited, making resale pricing the real thriving point for the brand. So collide the cachet of the two seemingly disparate fashion titans, and the result is an absolute must-have collection for millennials and high-profile individuals.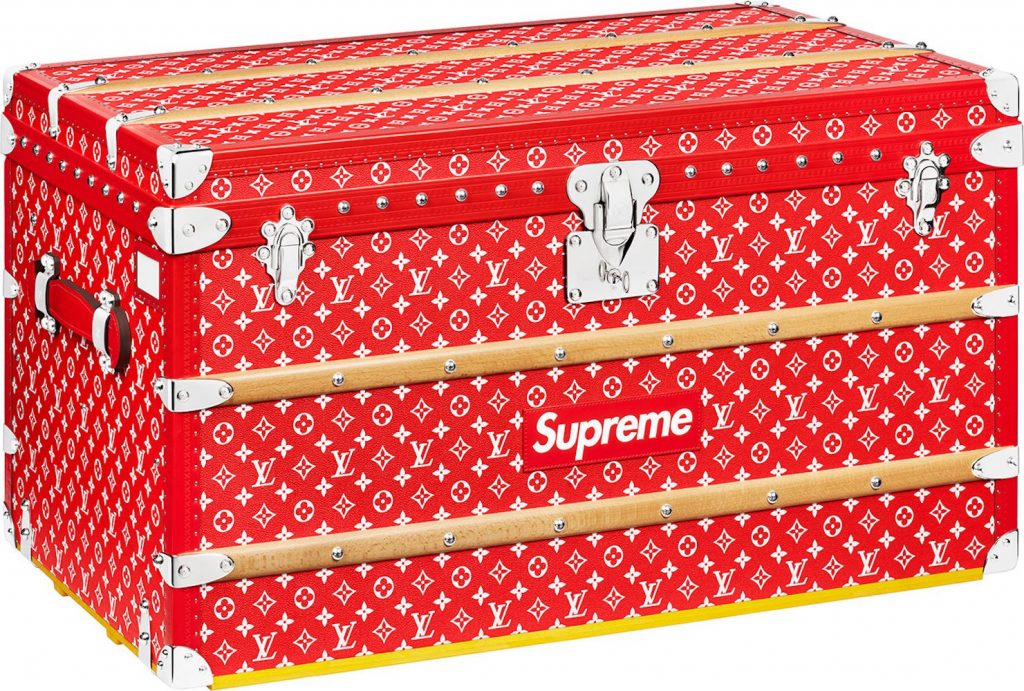 Celebrities like Justin Bieber, Madonna, and David Beckham can't get enough of the collection. Meanwhile, everyone else who didn't get their hands on the product is left figuring out how to do so without going through resale. To say the resale market is thriving is like saying Hurricane Harvey was a mild storm. Pieces are fetching anywhere from two to 28 times their original price. A simple white T-shirt from the collection is currently going for $5,000 on eBay. That's modest compared to a monogram box logo hoodie (retail price: $860) that is currently selling online for $22,750, or a trunk from the collection going for $58,000.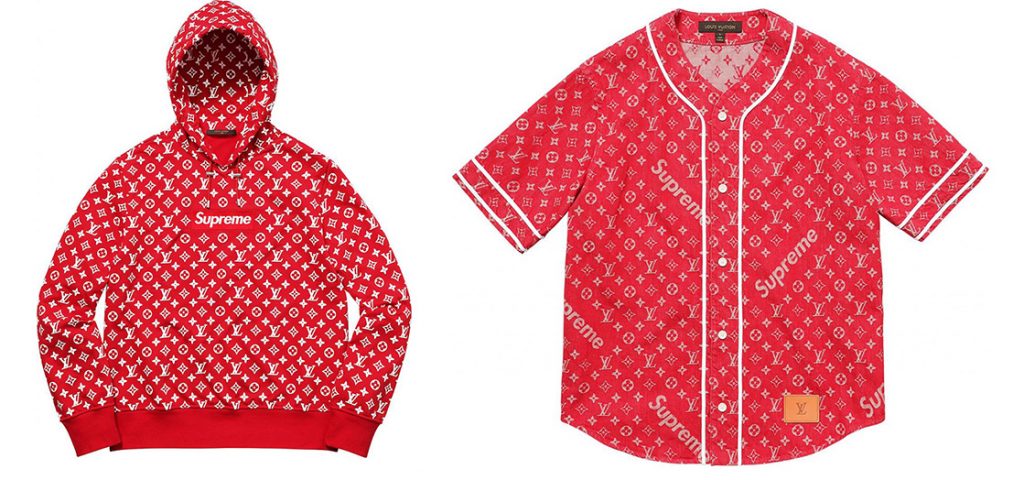 Since selling out across the world, Japan has been the only location to get re-stocked (the lines there stretched around the block as people camped out for days to get there hands on the merchandise). Custom-made pieces have been sent to high-profile individuals, but it is a you-must-know-someone-to-get-it line at this point. The most popular/desirable item from the collection is the Epi Keepall bag. It's impressive that Louis Vuitton stripped their iconic logo from the bag and let the bright red of the collaboration speak for both brands. If there were one piece from this collection that was an undeniable must-have, this would be it.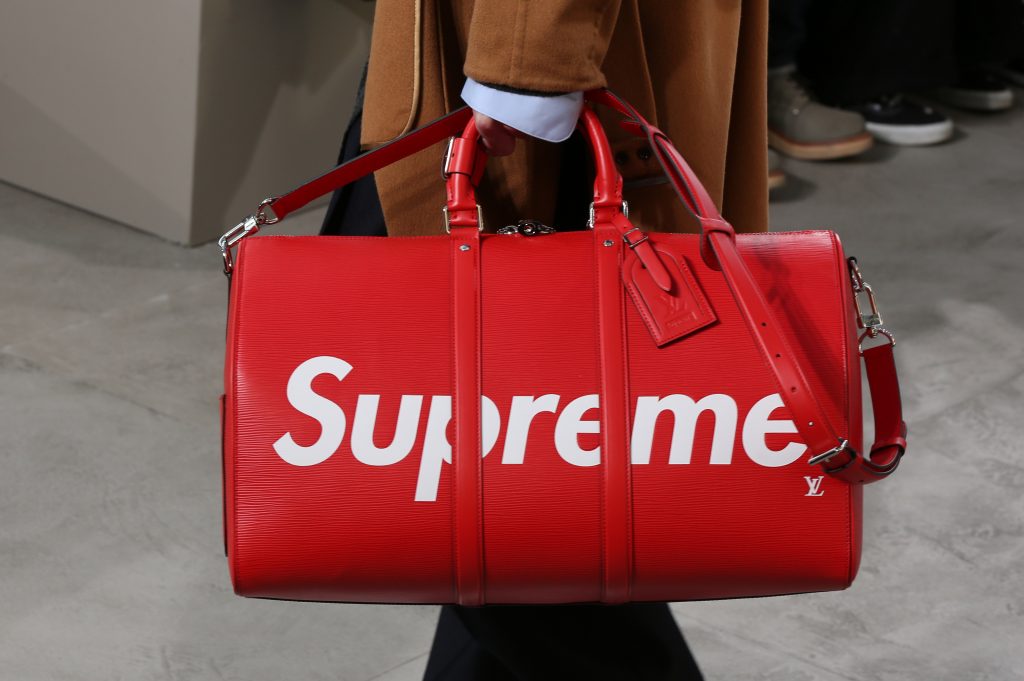 LV and Supreme have certainly exceeded expectations on market value. Are the pieces worth the hype? To each their own, but there is no denying that this red-hot collection intertwines high fashion and streetwear in a canny stroke of marketing genius. The world has seen what happens when you amalgamate trendy hype and timeless elegance. Never before have $5,000 t-shirts sounded so reasonable.