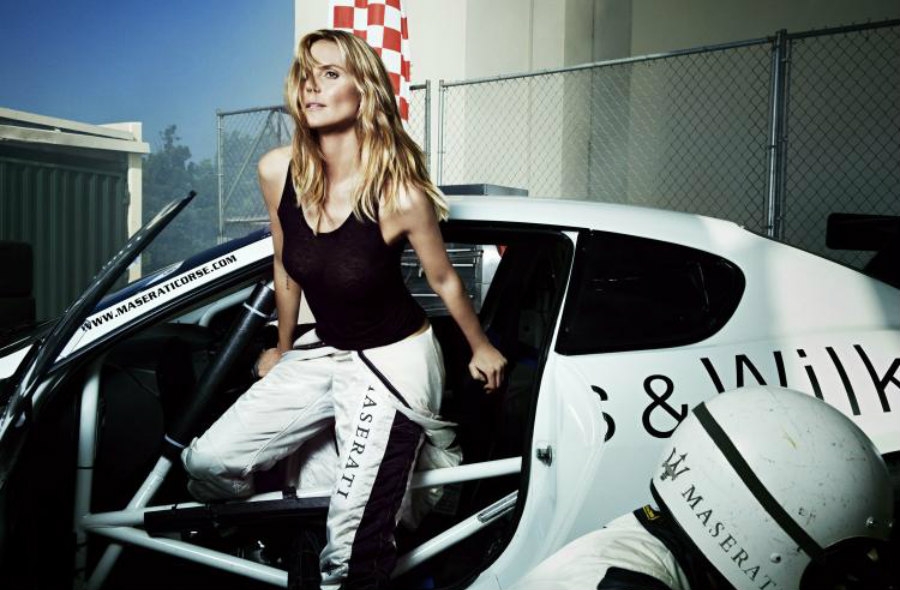 Maserati, one of the world's most desirable and respected luxury automotive brands, continues to celebrate the North American roll out of the all-new 2014 Ghibli, Quattroporte and GranTurismo lines with a 7-page pictorial feature titled "Beyond the Swimsuit" in the introduction part of America's most anticipated magazine issue.
"We started our next 100 years of craftsmanship by kicking off 2014 with the launch of one of the best received Super Bowl commercials, "Strike," featuring all new Maserati Ghibli, and extending the brand to another massive cultural icon, Sports Illustrated Swimsuit 50th Anniversary issue," said Harald Wester, CEO of Maserati SPA.
"We've prepared a new line-up of Maserati cars with the glamorous Quattroporte, the 4-door daily performer Ghibli, and the sporty GranTurismo Convertible, and this massive effort deserves the largest audience platforms to take notice."
Maserati enters this new era backed by strong product and with ambitious sales goals driven by proven growth in the North American market, where the brand experienced triple digit gains in the past year. First unveiled to the U.S. in November at the Los Angeles Auto Show, the Ghibli is Maserati's first-ever mid-size four-door luxury sports sedan vehicle. Available with all-wheel-drive and starting at $66,900, the Ghibli is powered by a Ferrari built twin-turbo V6 engine capable of over four hundred horsepower. Advanced suspension, Brembo brakes and extensive use of aluminum ensure comfort, with an ease of performance ready when called upon. Within its striking aerodynamic silhouette, the cabin offers rich Italian leathers, woods and other high quality materials at the heart of the Maserati brand. The Ghibli upholds the tradition, luxury and performance that have marked the brand for a century at a more accessible price point, which is expected to open the brand up to new buyers.
The Maserati Quattroporte Ermenegildo Zegna Limited Edition concept, featured in the spread, is the result of close collaboration between two companies that are linked by history, tradition and spirit of exclusiveness. Its exterior features a special effect paint finish that simulates the fluidity and purity of metal, by using ultra-fine aluminum pigments. The platinum metal color effect finish is warmly nuanced to express the car's classic and sophisticated, yet technically advanced character. Inside the cabin, classical warm hues like mocha and grey are re-interpreted in a modern key to emulate Zegna's latest men's fashion collections, conveying a formal, sophisticated character. Interior components such as seats, door panels and roof lining are finished in genuine soft leather, in addition to a velvet-smooth, bright fabric that, due to Zegna's vast experience and know-how, guarantees the level of performance needed for automotive applications. A twin-turbo V8 producing over five hundred horsepower ensures authentic Maserati performance in a sophisticated, elegant package befitting the long traditions of Zegna and Maserati.
When it comes to the design and construction of coupes and convertibles with uncompromising performance and inimitable beauty, the Maserati tradition reaches new heights in the GranTurismo line. A genuine GranTurismo is Italian, and represents the purest synthesis of luxury and performance. Maserati invited to the shoot its two most exciting versions of this two-door, four-seat thoroughbred. The road going MC Convertible, a unique car that continues the elegant tradition of luxurious style of Maserati's first genuine four-seat cabriolet, the GranTurismo Convertible, with the technological expertise and experience gained on the racetrack by Maserati Corse, which provided the second car, the Maserati GranTurismo MC Stradale Trofeo Race Car. Each model is based off of the hugely successful Maserati GranTurismo, featuring 454 HP, front-mid engine architecture for near perfect weight balance, and something few if any cars in its class can offer: genuine seating for four adults.
"Sports Luxury clientele continue to be offered more of the same," said Wester. "The Quattroporte, Ghibli and GranTurismo/GranCabrio lines re-fill the void with a genuine Italian balance of beauty, comfort and exhilarating driving sensation. They cater a visceral experience and understatement that Maserati engineers and designers perfected."
Maserati Strikes Again
Maserati strikes again just two weeks after its successful Super Bowl spot with a special 7-page feature in Sports Illustrated Swimsuit 50th Anniversary Issue. The story of Maserati's introduction to the North American market with its new car line-up is one of beauty, hard work, dedication and an element of surprise. Maserati brings this story forward with Emmy Award Winning actress and Super Model Heidi Klum in a salute to all the women who achieved great things – "Beyond the Swimsuit."
"I had a great time driving the new Maseratis for their new campaign shot by Francesco Carrizoni," said Heidi Klum.
Shot by Italian Master Photographer, Francesco Carrozzini, the 7-page pictorial piece "Beyond the Swimsuit" brings together 'day in the life' scenes that befit one of the world's most famous women, Heidi Klum, the Hollywood star with the glamorous Quattroporte Zegna Limited Edition, the business woman with the Ghibli S Q4, and thrill-seeker with GranTurismo MC Stradale Trofeo Race Car. This is also a nod to a brand with proven tradition and one of the highest standards of quality in the industry, which has been hard at work engineering automobiles that will usher them into the next 100 years of innovation—automobiles with their own power and personality that are capable of striking against the status quo. This campaign strikes against the stereotypes of modeling by showing what many of these women went on to become more than just models, the ones who have elevated themselves past a simple beauty shot, into being successful, powerful, driven women—a Maserati type woman.
The print feature, as well as digital extensions, was produced on location in Los Angeles, CA.
When a supermodel makes it into these pages, it is her introduction to the world… The truly impressive thing is what these women have done since their debuts. They have gone on to become successful businesswomen, entrepreneurs, actors, athletes and activists. The next few pages feature Heidi Klum in a salute to all the women who have achieved incredible things, beyond the swimsuit.