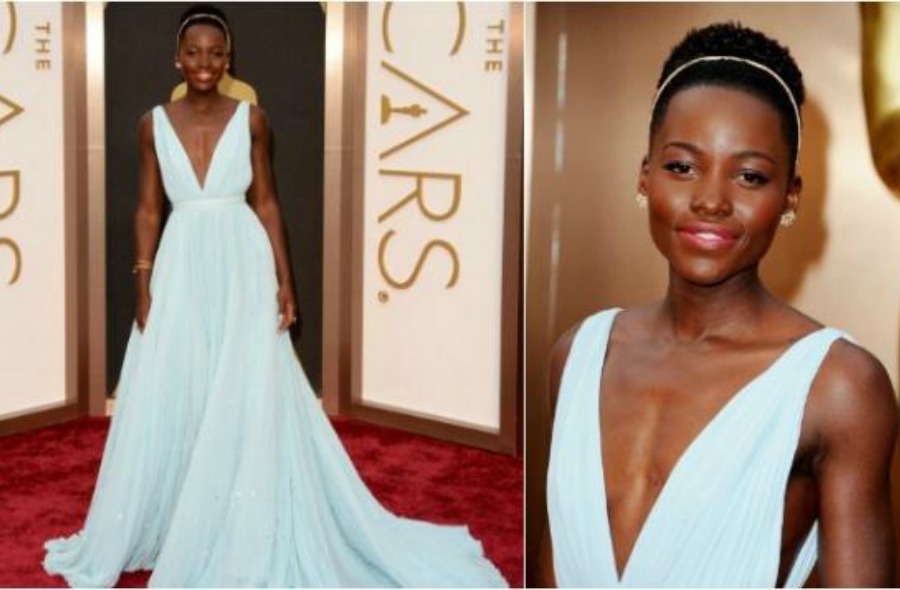 Oscar madness seems to be getting longer and longer every year with more and more suites, parties and beauty lounges than ever.
Let's start with the pampering from one of our all-time favorites Robert Vetica Salon located inside the Ciel Spa at SLS hotel, who partnered for the Oscar beauty lounge with French brand Leonor Greyl known for high end hair products containing enriching oils for your locks. The salon was abuzz with blow-outs and make-up applications by Nars. Across town during Oscar madness, at the Andaz on Sunset, nails were the focus as the fittingly named Red Carpet Manicure were providing presenters and nominees with the first ever salon quality at home nail gel treatment at the Kari Feinstein pre-Academy Award Style Lounge. Celebrity manicurist, Christina Aviles was busy all through Oscar madness painting nine different nails art designs celebrating the best films of 2013, while showcasing the new "Dazzling Gems" Collection—LED gel polishes infused with genuine precious stones such as rubies and sapphires. To match the sparkly nails there were glam lashes from JB and Lash Food products to complete the look.
During Oscar madness was a plethora of charity events that started mid-week in Hollywood with Kathy Duliakas 6th Annual Celebrity Oscar Suite Party. Hosted by the Taglyan Complex and Maleku Jewelry, and presented by ZENSATION – one of the best Beverly Hills skincare lines. The fete benefited the Pajama Program which has provided more than 2 MILLION new pajamas and new books to children in need, and those waiting and hoping to be adopted nationwide. Guests were encouraged to donate a new pair of pajamas for a child in need. www.pajamaprogram.org. Celebs and VIP's went home with goodies from BAM Bags that zip to fit your size; gift certificates from Beverly Hills Cosmetic & Laser Center; full beauty services from DreamSpa – the first in home light therapy device; Herban Body Care products; cool military inspired lounge wear by International Citizen Design House; Kah Tequila housed in hand-painted mini-skulls bottles; Ze Chocolate Lady treats; Kama Sutra edible oils; Circuelle breast ritual cream (for helping to detect lumps); Maleku Jewelry featuring giant natural stones; Prêt à Porter Designs from New Orleans; ShameOnJane monogramed necklaces; Shelia Bella permanent make-up; Skinny Girl Sparklers; Twisted Silver necklaces and bracelets; cool bamboo t-shirts by Wear Luck; Yuki Sharon Beauty supplies; Exhale yoga certificates; Hawaiian Springs Water, KRAVE beef jerky, and The Orphaned Earring that utilizes that 'lost' earring mate for other jewelry creations.
Bulgari partnered with Global Green and Decades of Glamour for a few soirees that had Naomi Watts and Kate Hudson in stunning jewels pre-Oscars, while Julia Roberts actually wore Bulgari to the Oscars. Nominee Amy Adams and Jessica Biel chose Tiffany Blue Book Collection for their stroll down the Red Carpet.
Also during Oscar madness, SRE International held the Luxury Red Carpet Style Lounge co-hosted by Wolfgang Puck & Benefiting the SPCA LA (Society for the Prevention of Cruelty to Animals Los Angeles) at the Montage in Beverly Hills. We loved the Indian textiles from Divine Designs that can be custom made into pillows, napkins, robes and makeup bags, along with recycled eco sandals by Nomadic State of Mind. La Corza from London showcased Frank Lloyd Wright inspired jewelry, not far from beaded baubles by Betty James. For beauty, Atzen from France bio-active complex, Biodara serum, NeriumAD night cream, Adam and Eve massagers, Cure-Ology hair care and permanent lip ink were hard at work on the crowds.
Last but not least for Oscar madness, the 2014 Eco Oscars event was held at the Beverly Hilton featuring brands from celebrity fashion designer Marisa Kenson; MK Collaborative toxic-free makeup and jewelry, Herbalosophy, Arganium 100% Organic Argan Oil, LA + Jo Parisian Designer Joseph Agi, Will Leather Goods based in Venice designs great tote bags; OFRENDA MAYA Tequila offered tastings, plus David Trubridge Award-Winning Lighting and Furniture Designs brought the room to life. Canine Caviar showed an array of fun treats for pooches and they actually give a percentage of the proceeds to help fight canine cancer; charity partner Yes! Beat Liver Tumors is a nonprofit that provides information, resources and support for anyone affected by cancers of the liver. www.beatlivertumors.org
The biggest night of Oscar madness consisted of the best dressed male walking the Red Carpet at the Dolby Theatre in Hollywood, Best Supporting Oscar winner Jared Leto in white tux and red bowtie. Speaking of red, Jennifer Lawrence was in a beautiful Dior red gown and dripping in a Neil Lane diamond chain running down her back. Apart from that old Hollywood style bejeweled gowns adored Best Actress winner Kate Blanchett and Angelina Jolie but the show-stopper was Lupito Nyong'o in custom baby blue pleated Prada and Fred Leighton jewels. Stunning and inspired by Champagne bubbles and her native Nairobi.
Oscar Madness Wrap-Up!
Wrapping up Oscar madness was the 20th year the Governor's Ball dinner and after party which was catered by Wolfgang Puck. Gordon Ramsay was the chef for the 22nd annual Elton John's Aids Foundation viewing party which had Neil Patrick Harris, Britney Spears, Heidi Klum, Taylor Swift and Lady Gaga toasting with Bianchi's 2010 Paso Robles Petite Sarah and their 2012 Santa Barbara County Chardonnay. That's a Oscar madness wrap!
By Carole Dixon, Editor-in-Chief, www.thecaratdiet.com