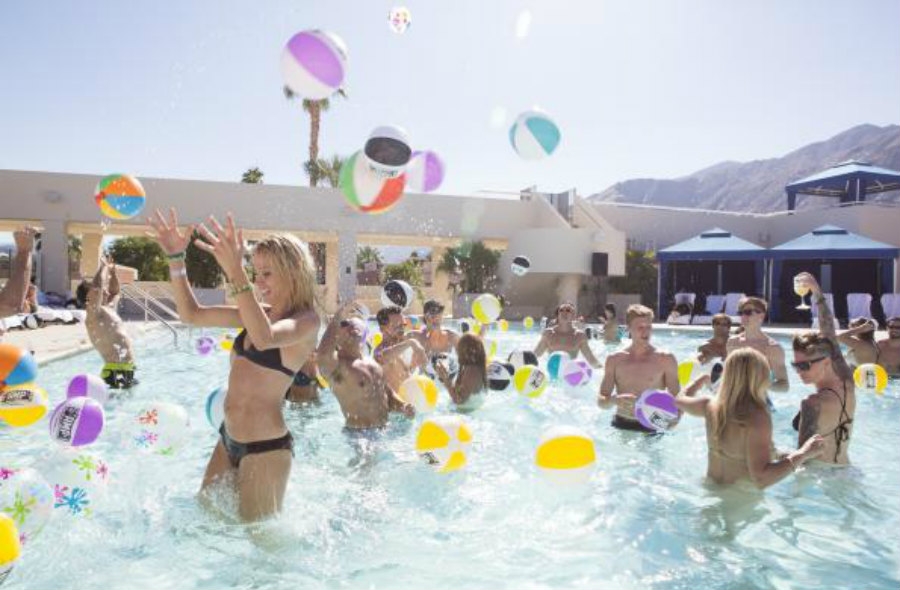 Palm Springs has been a favored weekend getaway for Angelenos since the golden era of Hollywood.
A mere two-hour drive, the dessert oasis has hosted successful film festivals, one of best music festivals at Coachella and has been gaining worldwide recognition for the Indian Wells tennis open. So it makes perfect sense that a fashion week would follow.
The newly opened Hard Rock hotel launched the first fashion week over last weekend kicking off with a swimsuit show on Friday evening, followed up a line up of budding designers on Saturday night. There were white leather gold-studded leather shorts by Piper Gore and sequin catsuits which fit the mold for the venue along with painted jeans, but then long flowing glamorous evening gowns and chiffon followed by Le Mali, with wedding dress attire, then vintage numbers with feathers a la "Gatsby" flapper girls from Unique Vintage, followed by a men's wear collection of sweater style blazers and wool scarves tied more like ascots from Gemelli. The evening ended with more glitzy sequin gowns by Shaik K. that looked more like an A-list red carpet walk than a fashion show at a rock-n-roll themed hotel. Overall an interesting and eclectic first showing of collections but the Hard Rock poolside venue was a bold choice which managed to conclude with a poolside party on Sunday.
Other desert newbies include a boutique hotel by the former owners of Greek style Korakia Pensione called Sparrows. The charming ranch style grounds have about 20 rooms surrounding a pool with an open barn area for a bar. We have high hopes for this one located near the still uber trendy ACE hotel.
What we did notice is after a decade, The Viceroy is still pulling in a crowd for weddings, dinning alfresco by the pool, drinks at the sleek white bar and poolside frolicking near the Estrella spa. The Kelly Wearstler designed Casitas are still mid-century meets Regency mod with yellow black and white colors and plenty of chrome and crystal accessories. This was the first hotel of it's kind in the area to bring a cool chic back to the desert and since then many more have followed from The Parker to the Colony Palms and Riviera bringing new life and a hipper clientele to classic these, historic properties.
If you can't wait for the next big event in the desert, consider the intimate cocktail and dinner series on December 5th with a Beluga Vodka and caviar tasting followed by a New Year's Eve Venetian Bacchanal black and white masquerade ball, or poolside reception, all at the Viceroy. Limited to 100 guests there will be free-flowing Veuve Clicquot Champagne, a four-course dinner and dancing under the stars with KCRW's DJ Valida. Or if you're looking for a poolside party, the Citron New Year's Eve Reception might be right for you. With LA DJ's Lady Sinclair and Aubrey Hansen spinning from their perch, dancing, roaming bites and social stations. Cabanas and bottle service by request.Reservations for either party and for Viceroy Palm Springs rooms packages can be made by telephone staring today at 760-318-3016 or click here.
Once the party is over you can easily walk to Palm Canyon Drive the morning after for a date shake or step it up with a giant margarita during brunch at Las Casuelas Terraza still going strong 40 years later for traditional Mexican fare.