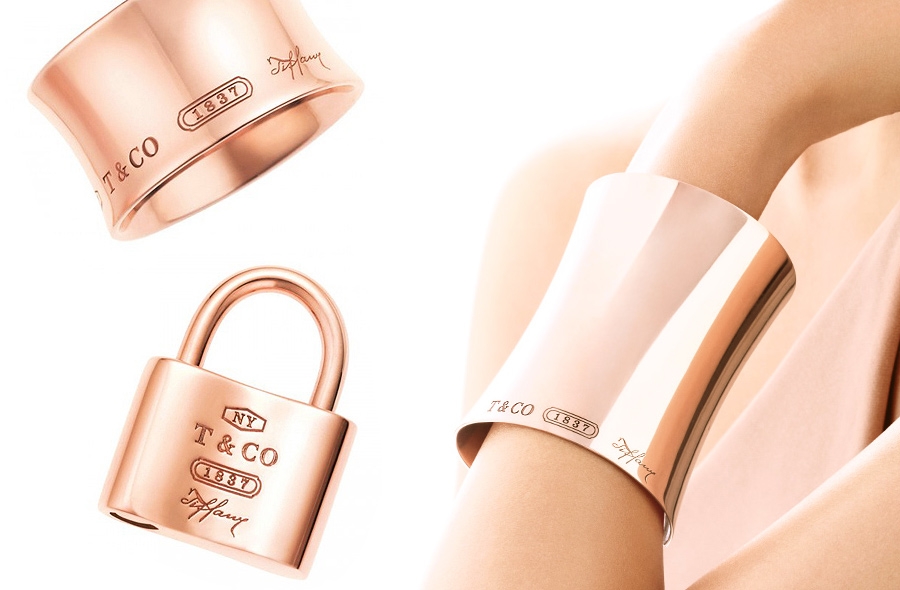 For Tiffany's latest covetable metal, the jeweler collaborated with metallurgists for years to produce an alloy that would harmoniously blend the richness of gold, the brilliance of silver and the warmth of copper.
The result of their trial and error? RUBEDO, an attractive, rosy metal that manages to be lightweight yet also durable, and is extraordinarily flattering to the skin.
Named after the highest achievement in medieval alchemy, RUBEDO debuts in the designs of the Tiffany 1837 collection, beloved for its soft lines and the famous 1837 hallmark. Additionally, a number of the Tiffany 1837 RUBEDO designs available in 2012 are inscribed with the signature of company founder Charles Lewis Tiffany, making them exceptionally hot items to give, and to get, this year as the jeweler celebrates its 175th anniversary.
Tiffany 1837 RUBEDO Cluster Pendant
The cluster pendant features interlocking hoops of 925/1000 sterling silver and the new RUBEDO metal in complementary sizes.
Tiffany 1837 RUBEDO Padlock Charm
The padlock charm, inscribed with the founder's signature, will surely make a welcome and standout addition to any a Tiffany & Co. charm bracelet.
Tiffany 1837 RUBEDO Cuff
The cuff's extra width highlights the piece's elegant, slightly concave contours — a celebrated feature of many Tiffany 1837 pieces — as well as the inscription of the founder's signature.