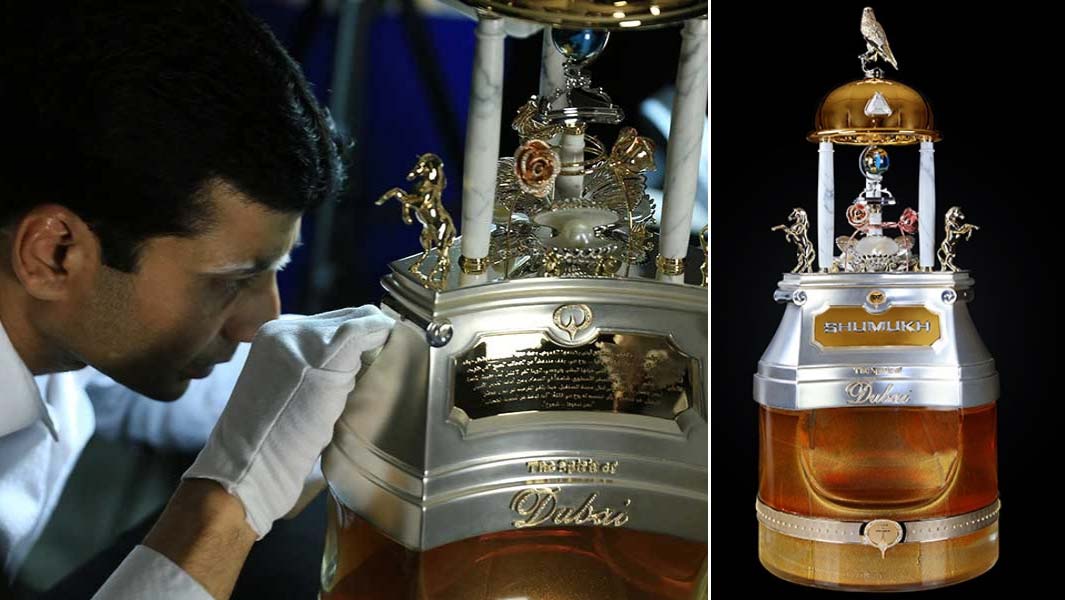 When you think of Guinness World Record holders, you might imagine the tallest man or the fastest woman runner on earth, but you probably wouldn't think that a bottle of perfume would be on this extraordinary list.
Not only does SHUMUKH made by Spirit of Dubai Parfums by Nabeel, hold a Guinness World Record for 'Most diamonds set on a perfume bottle,' it holds a second record for 'Tallest remote-controlled fragrance spray product.'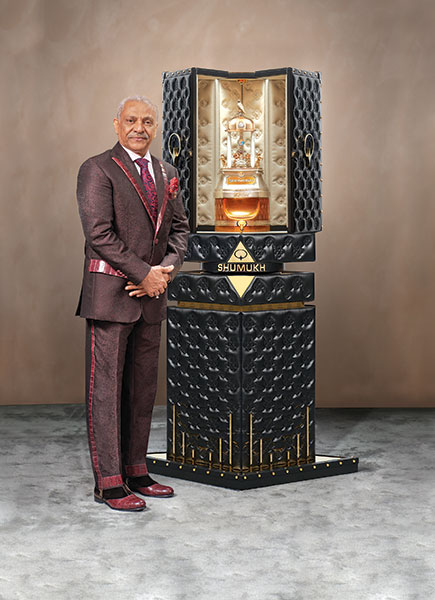 The unisex parfum was also recently named by the International Gemological Institute (IGI) the world's most expensive bottle of perfume worth $1.3M USD. Artisans and jewelers from Switzerland, France and Italy worked together to intricately craft the profound details of this monumental piece of art. 2.48 kilos of 18-karat gold and 5.90 kilos of pure silver are the setting for 3,571 brilliant VVS diamonds that total 38.55 carats, a rare Swiss blue topaz, a prized Philippines South Sea golden pearl, and pillars of Italian Carrera marble. To celebrate Dubai's cultural heritage, falcons, Arabian horses, and roses are prominently featured on the bottle as well as elements of luxury, hospitality and stature that pay tribute to the emirate of Dubai. Many of the details were created using 3-D printing.
SHUMUKH translates in Arabic as 'deserving the highest' and was blended and distilled into an essence to capture an eternal aroma with rare and natural ingredients. The fragrance has notes of amber, Turkish rose, patchouli, sandalwood, and more. This combination took over three years and 494 trials to formulate, according to The Spirit of Dubai.
Considered the magnum opus of luxury, SHUMUKH was designed by Asghar Adam Ali Ibrahim. The 3-liter bottle sits on a wheeled pedestal and stands 1.97 m tall. The silver cap base features three diamond-adorned medallions as an LED light sits inside to illuminate the stunning scene. The bottle is crafted from Italian Murano crystal glass and infused with six grams of pure 24K gold.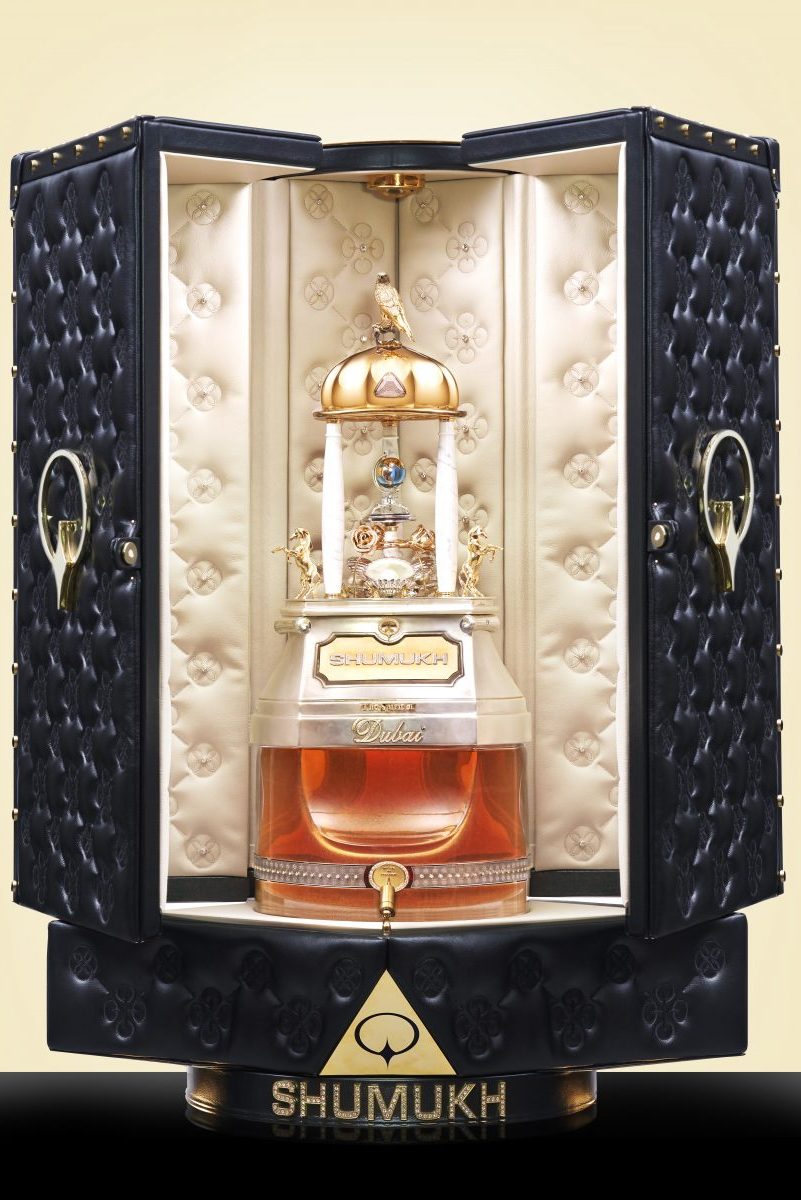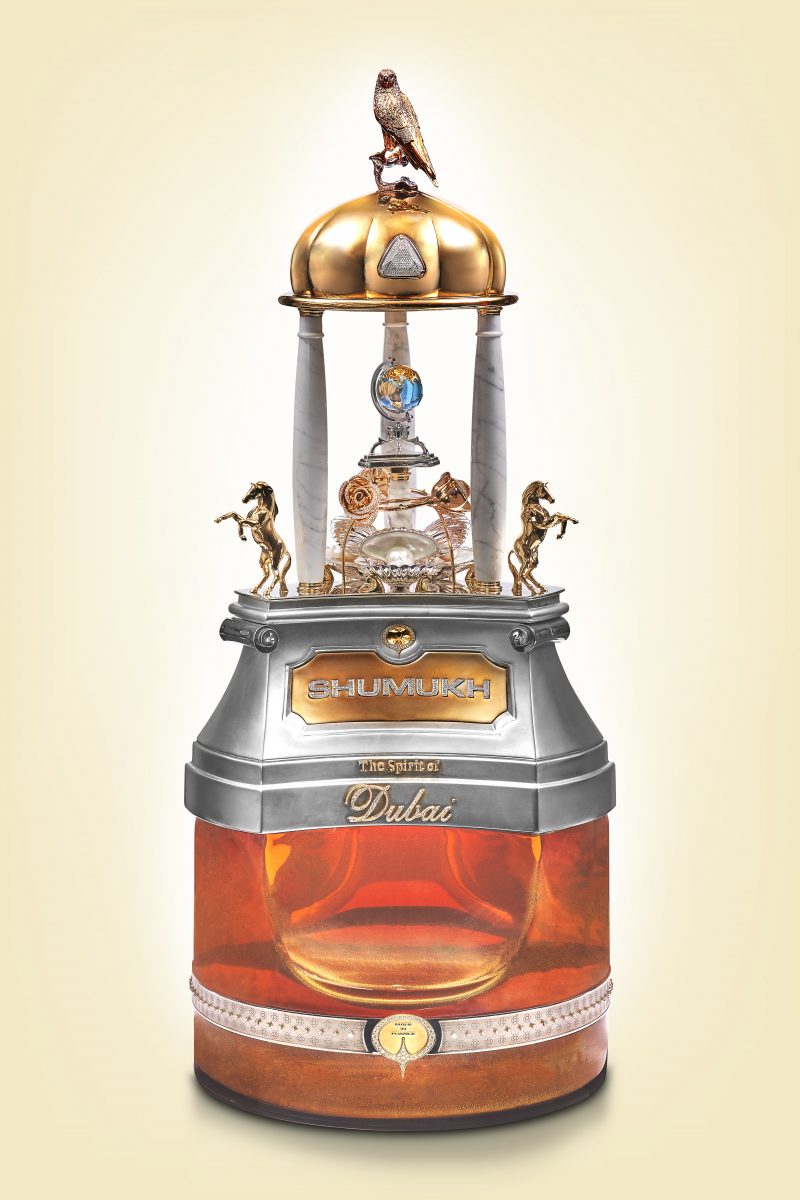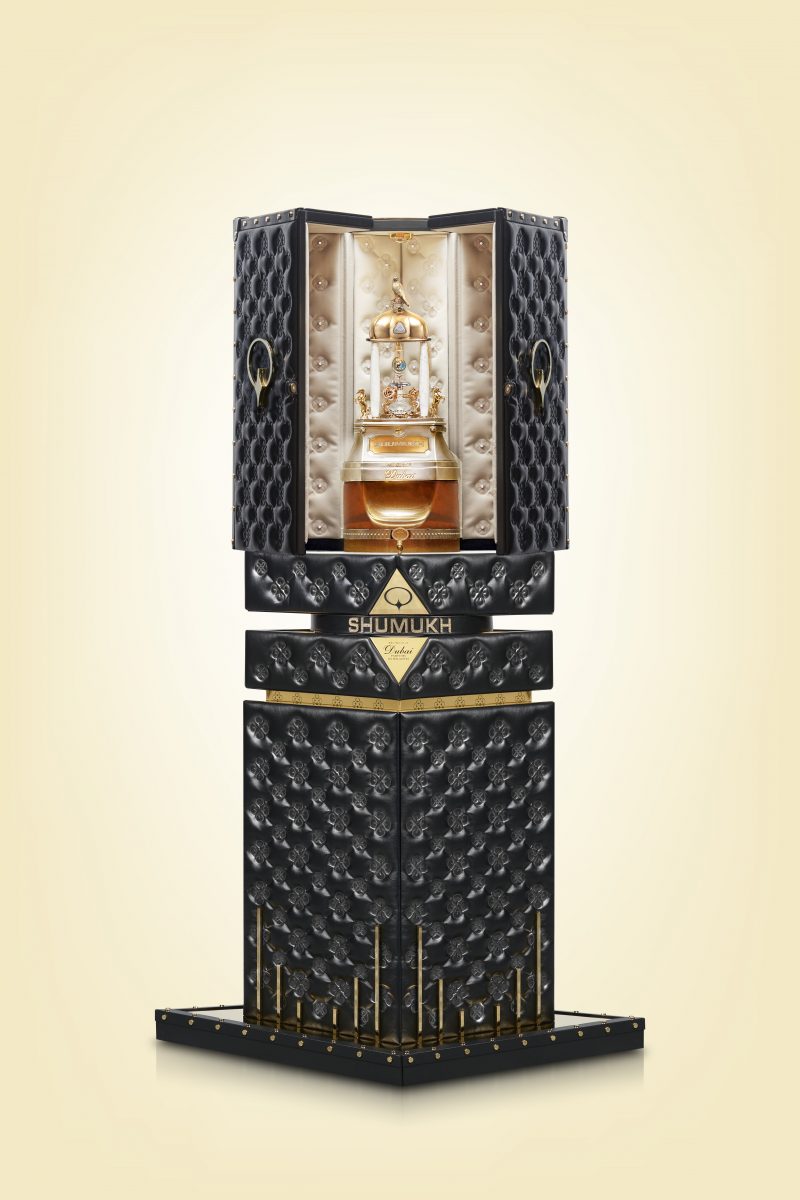 The opulent trunk that holds the record holder perfume bottle is made from authentic Italian lustrous black leather with gold nails and gold-plated logos. LED lights illuminate the interior and record-breaking automation lies within as two cutting-edge remote controls adjust sprayer height and direction.
SHUMUKH is considered to be both a perfume and an artistic feat of design and innovation that is also customizable to buyers offering bespoke modifications to personalize the piece. There is a reported six-month wait list to buy this lavish ensemble.