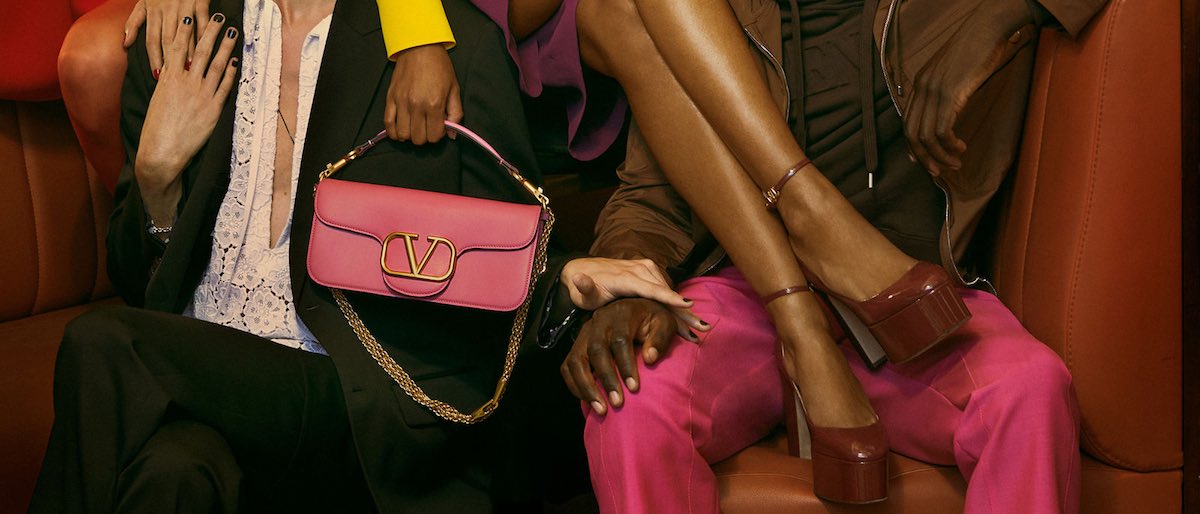 Handbags are the ultimate sign of grace and appeal. Are you seeking fashionable women's handbags? Do you desire anything so refined? If this is your scenario, we have something extraordinary in store for you: Valentino Garavani designer handbags, including the Valentino Garavani Stud Sign range of handbags for every woman, will entice you. The Valentino Garavani Stud Sign handbag provides women with an iconic look and consequently the promise of customized grace.
The Valentino Garavani handbag collection provides unique features and a variety of styles in their purses. These styles include the Valentino Garavani Stud Sign shoulder bags, Valentino Garavani Roman Stud medium shoulder bags, and Valentino Garavani Rockstud Alcove grainy box bags. Moreover, the Valentino Garavani collection has a broad range of variability in terms of patterns, colors, and sizes. Hence, the range allows individuals to choose anything they want.
A Variety Of Trendy Designs
The Valentino Garavani collection has a wide range of designs. Each designer handbag has its own unique characteristics and specifications that keep the owner in style.
Valentino Garavani shoulder bags with studs: These distinctive shoulder bags are light and easy to carry.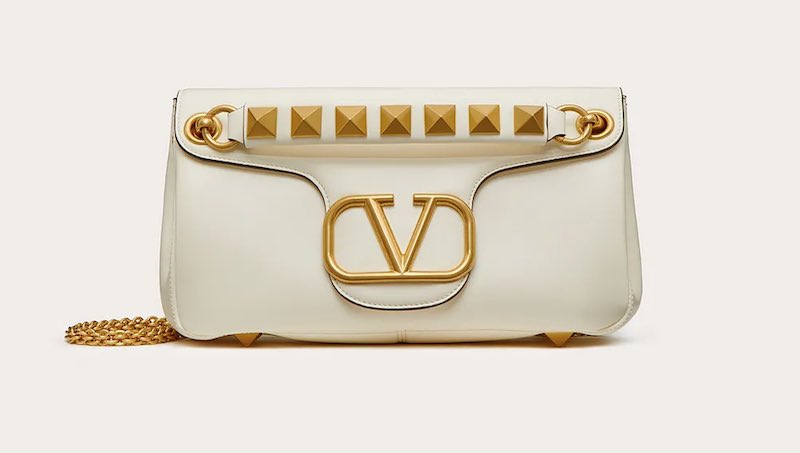 VALENTINO GARAVANI STUD SIGN SHOULDER BAG IN NAPPA
These unique Valentino Garavani shoulder bags are regarded as the featured designer handbag. The magnetic latch and antique brass finish hardware, as well as the VLogo Signature and shoulder strap chain, are some of the fascinating aspects of the Valentino Garavani Stud Sign shoulder bag in nappa. Furthermore, the bag comes with a shoulder pad that makes carrying it more comfortable.
Valentino Garavani Roman Stud: These handbags have an ionic Roman flavor that makes them highly appealing.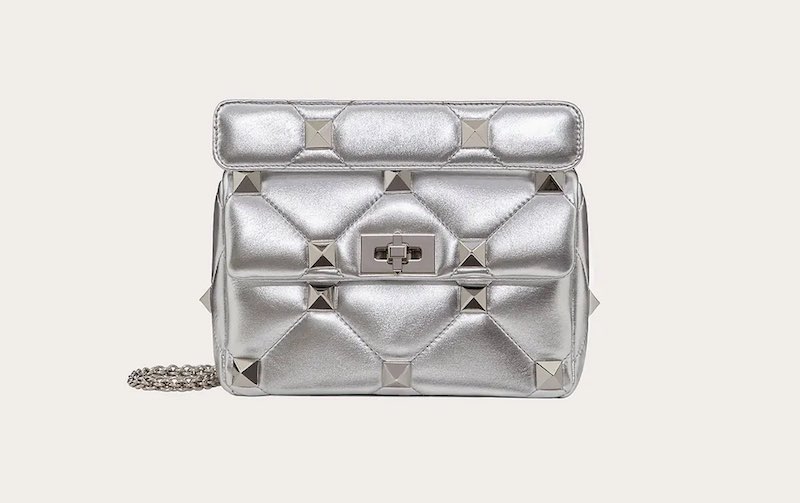 VALENTINO GARAVANI ROMAN STUD MEDIUM SHOULDER BAG IN METALLIC NAPPA
It is produced in Italy. These handbags with the Valentino Garavani staple, the stud, fundamentally have an iconic roman essence with the appealing quality of metallic nappa and the chain. The construction of the Valentino Garavani Roman Stud collection is impressive, and it includes a wide range of features, such as a detachable sliding chain and palladium most delicate studs. Furthermore, the bag's construction with maxi studs is another feature that keeps people interested.
Valentino Garavani Rockstud Alcove: These elegant handbags lend a temporary air to your demeanor.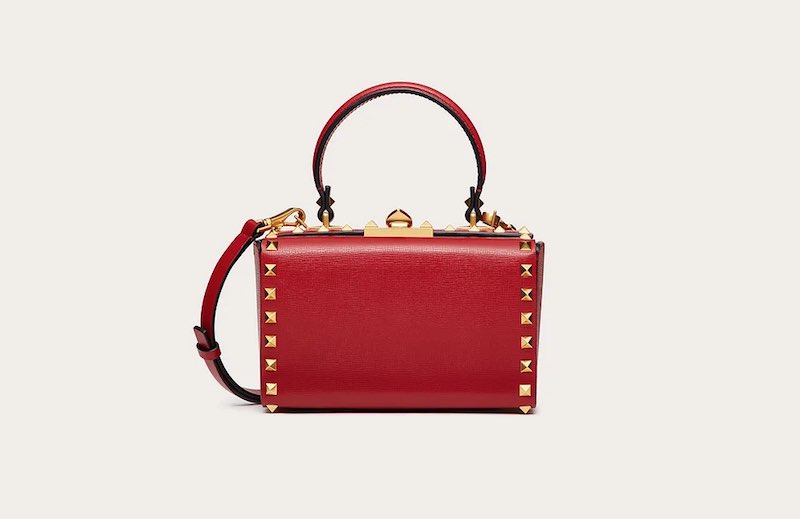 VALENTINO GARAVANI ROCKSTUD ALCOVE BOX BAG
This is another fantastic addition these Valentino Garavani Rockstud Alcove box bags are produced of leather in Italy and have a variety of appealing characteristics, including antique brass finish metal hardware, a hook clasp, red nappa lining, and a rear printed logo. As a result, it is the ultimate source of elegance and comfort.
Valentino Garavani Rockstud Spike: A sensitive sensibility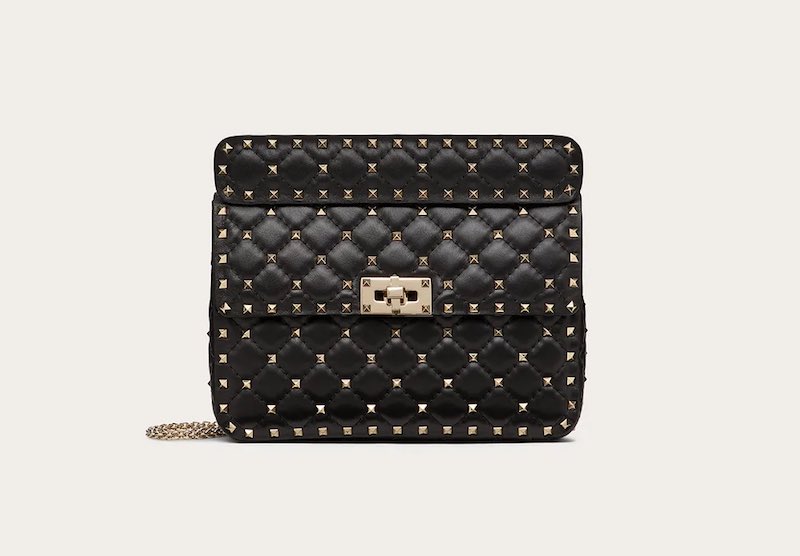 VALENTINO GARAVANI ROCKSTUD SPIKE MEDIUM BAG IN NAPPA
These Valentino Garavani Rockstud Spike bags in nappa leather are a fantastic chain bag alternative for women's necessities. These bags are comfy and have distinctive features such as a sliding chain and a twist-lock closing. Furthermore, these designer handbags are made up of leather and have a zipper pocket. As a result, it may be worn crossbody or on the shoulder with ease.
However, the Valentino Garavani collection also has a few more designs. These include Valentino Garavani VSling, Valentino Garavani Supervee, and Valentino Garavani Atelier. As a result, if you're a fashion-conscious woman seeking a new stylish handbag, Valentino Garavani's recent collection of designer handbags may be the perfect place to look. So, what exactly are you looking for? Visit their official website for more information and to upgrade your classy look today!