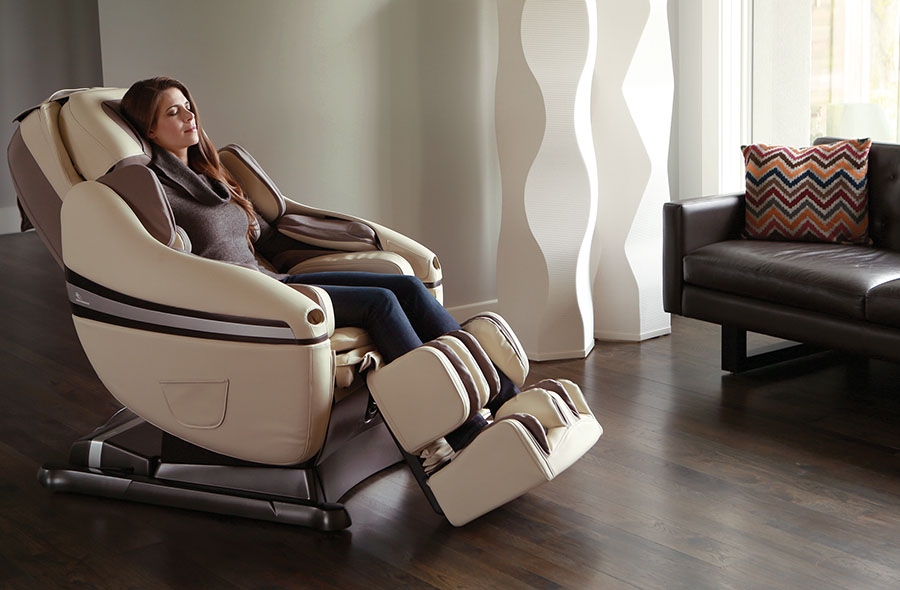 Imagine being able to drift into a transcendently relaxing spa experience any time, every day, in your own home. No appointment necessary…just settle back and enjoy…
That's the incredible experience that only The World's Best Massage Chair® can deliver. Often imitated, but never replicated, the award-winning Inada DreamWave® surpasses every massage chair in the world. As you slip into the DreamWave, you feel it envelop your entire body in total comfort and blissful repose.
With 16 pre-programmed massage sessions—more than any other massage chair—as well as numerous custom options, the DreamWave creates the perfect personal shiatsu massage. The DreamWave maximizes relaxation by covering more area than any other chair on the market, 1,200 square inches, and combines its massage movements with gentle air cell compressions.
Engineered and expertly crafted in Osaka, Japan, the DreamWave massage chair is the result of decades of research, testing and uncompromising attention to detail and design. With its patented shiatsu point detection, the DreamWave has been uniquely designed to reduce stress, immersing you in sublime, deep relaxation while enhancing your body's natural healing processes.
The Inada DreamWave's unique features include:
Shiatsu Point Locator: Patented body scanning technology customizes each massage session to your individual back profile.
Full Upper Body Massage: Just the right amount of pressure and motion for an ultra-relaxing shiatsu massage, covering your neck, shoulders, arms and hands.
Infrared Back and Seat Heat: Lumbar and seat heating are available for added therapeutic relaxation and comfort.
Hip and Thigh Massage: Inward motion and outward release melt away muscle soreness and fatigue.
Calf, Foot and Sole Massage: Gently embracing air cells provide soothing, rhythmic compressions.
DreamWave® Technology: An undulating figure-8 motion balances the body and delivers complete relaxation.
Deep Relaxation Setting: Brings variation to core groups of muscles with slow, methodical movements designed for a hypnotic, thoroughly calming massage.
The DreamWave massage chair is available in a variety of colors, including the sumptuous TruBlack leather. And, of course, all Inada massage chairs are backed by the industry's best warranty and supported by a nationwide team of technicians and massage chair experts ready to answer your questions.
To purchase for immediate delivery or learn more, please visit www.InadaUSA.com.
As a Jetset Magazine reader, you are invited to experience the DreamWave risk-free in your own home. Call us today at 303-572-5000 to speak to an Inada massage chair concierge to learn more.