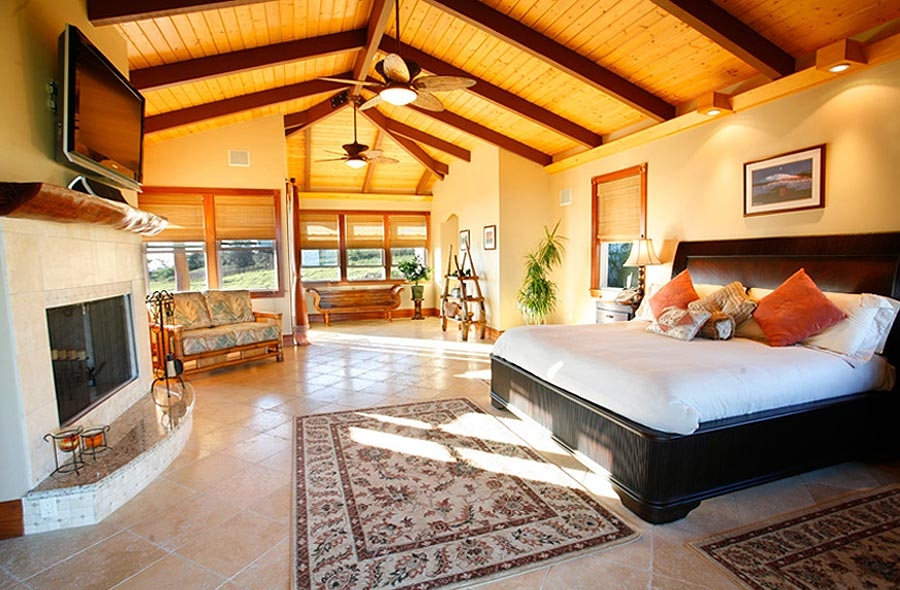 Luxury addiction rehab centers have taken an impressive step up with the opening of The Exclusive Hawaii last year.
This tiny, elite program, perched on the ocean cliffs of Hawaii's Hamakua Coast, is already known for its world class core healing work in curing addictions to alcohol, prescription drugs, eating disorders and the list goes on.
Fully customized for the individual needs of each client, The Exclusive accepts only six guests at any one time in its private, upscale wellness and recovery center. The experience of walking into the foyer to the aromas of gourmet meals and the relaxing oceanfront environment sets the tone for what its staff refers to as "the safe place for deep, lasting wellness and full recovery." The healing that goes on here seems to reach far beyond what has become standard in the world. Any pictures one might conjure of a rehab center might seem astoundingly unrelated to The Exclusive's environment.
Amenities are abundant, of course, but this program typifies the Steven Covey saying, "Keep the main thing the main thing." The holistic therapeutic work is what The Exclusive addiction treatment center is delivering in this no-holds-barred program which addresses the very deepest reasons for the addiction starting and taking hold in the first place.
"We are not about simply the act of quitting an addiction here," says owner Joyce Marvel-Benoist with palpable warmth. "The Exclusive is the safest and most supportive place on the planet to resolve one's biggest dilemmas and to get truly free. Our clients love it here. Our staff loves it here. This is the place to come heal."
The Exclusive packs in the power of focused work in a comfortable environment by offering a concentrated program designed for complete recovery. The schedule boasts multiple daily sessions with therapeutic staff, body workers and a myriad of other specialists specific to the individual needs of each client.
Luxury wellness environment? Sure, they exist all over the world, but The Exclusive staff is confident that what their clients want most is the best quality program individualized for them. "People don't come for the waterfall swimming pool or the hot stone massage. They come to end the suffering of living with addiction," says Marvel-Benoist. "They achieve that and far more than they expected."
What about the limitations of residential treatment, even if it is luxurious? The image that comes to mind of an addiction recovery program is often controlled, sterile and even austere. Throw that picture right out – this is another kind of place altogether.
Schedules are tailored to ensure that executives have time to work by phone and computer. Clients don't have to eat hippy food or cafeteria pork chops and gravy. They eat beautifully created, fresh organic meals prepared to accommodate their individual dietary concerns. Getting off medications or alcohol here is not about getting on more medications. The naturopathic and dietetic staff ensures the rebuilding of vital organs through the best practices in individualized health evaluation, which incorporate whole, delicious foods and natural supplementations and beautiful tea infusions.
And there are more differences. Would you like to go surfing with your therapist? Okay. Would you appreciate including your spouse in your healing journey? It's entirely up to you. Would you like to learn how to increase your ability to improve your brain chemistry through the way you think, behave and even laugh? Why not? How about dolphin-assisted therapy? Really? Really.
The amazing set of personalized options and the depth of experience in the therapeutic staff set this slice of Hawaiian paradise apart from all others. The Exclusive Hawaii hasn't just taken one step up. This program has clearly taken vast steps forward for luxury addiction treatment.
The website for the program is especially surprising in that many of the graduates of The Exclusive have offered to speak publicly about their own life changes that they experienced while in their healing program. At this stunning residence blessed by Hawaiian elders as Hale Mauna Pali Kai (Home of Mountain, Cliffs and Sea), there is a truly exclusive little mecca for only a very fortunate few who seek its luxurious cocoon for healing and recovery of health in mind, body and spirit.