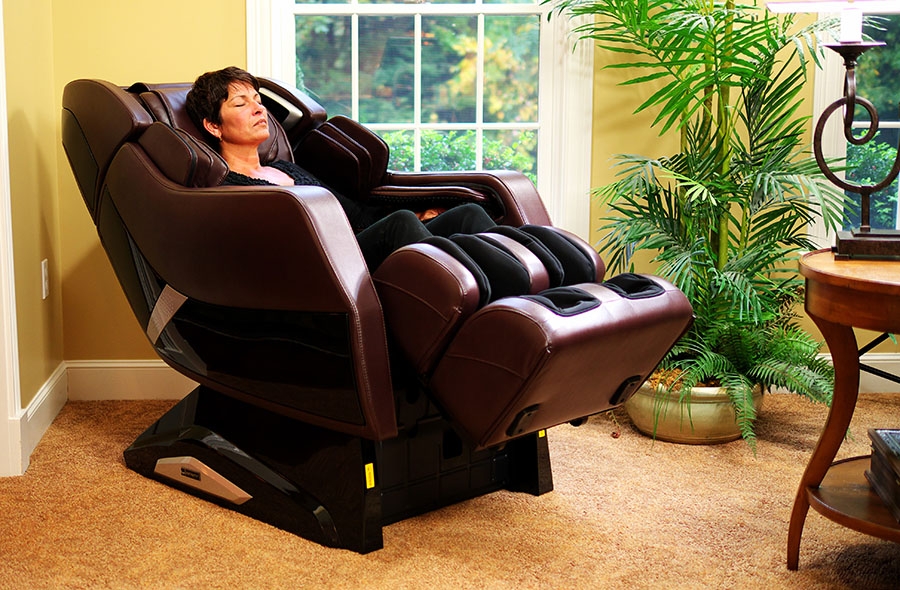 What is the perfect gift for someone who has everything? Wonder no further: The Infinity™ Riage® is the answer. Plus, now through December 31, 2015, receive free White Glove Delivery—a value of $650!
Boasting a sophisticated design and cutting-edge technology, the Riage® sets itself apart. Its 49-inch-long, L-shaped massage stroke leads the industry, offering approximately 35 percent more coverage than the average massage chair. The Riage® roller track delivers a revitalizing massage to the gluteus and thigh muscles.
While the powerful rollers of the Riage® rejuvenate sore and tired muscles from head to toe, the chair's lumbar heat soothes and loosens those muscles for an even more effective massage. The heat modules warm up on command to gradually relieve pain and stiffness in the muscles, preparing them for the customizable intensity levels of the rollers.
Adding to the Riage® massage experience are the chair's two zero gravity positions. When in the zero gravity position, the massage chair reclines back to elevate the legs above the heart to improve circulation and eliminate stress on the spine. This slows the heart rate, decreases blood pressure, and leaves one with a sense of weightlessness to ease both body and mind.
The Riage® massage chair's Bluetooth®-enabled sound system lets users fully escape to paradise with their favorite sounds or music. Simply connect your mobile device and set your own therapeutic ambiance to slip away to your happy place.
Finally, Infinity™ has introduced a Riage mobile app available on both Apple® and Android® devices. Easily control every massage session from your cell phone via Bluetooth® technology.
The Riage® massage chair is available in three refined colors to suit any home: Classic Black, Chocolate Brown, and Artistic Taupe. All Infinity™ Massage Chairs are covered by the 3 Year Peace-of-Mind Warranty. Plus, Infinity™ offers top-rated customer service with its team of technicians and massage chair experts ready to handle any questions or concerns.
Enjoy the ultimate in luxury, style, and relaxation with the Infinity™ Riage® today by calling 800-700-1022. There is always an Infinity™ massage chair specialist standing by and ready to assist you. You can also learn more at www.InfinityMassageChairs.com.