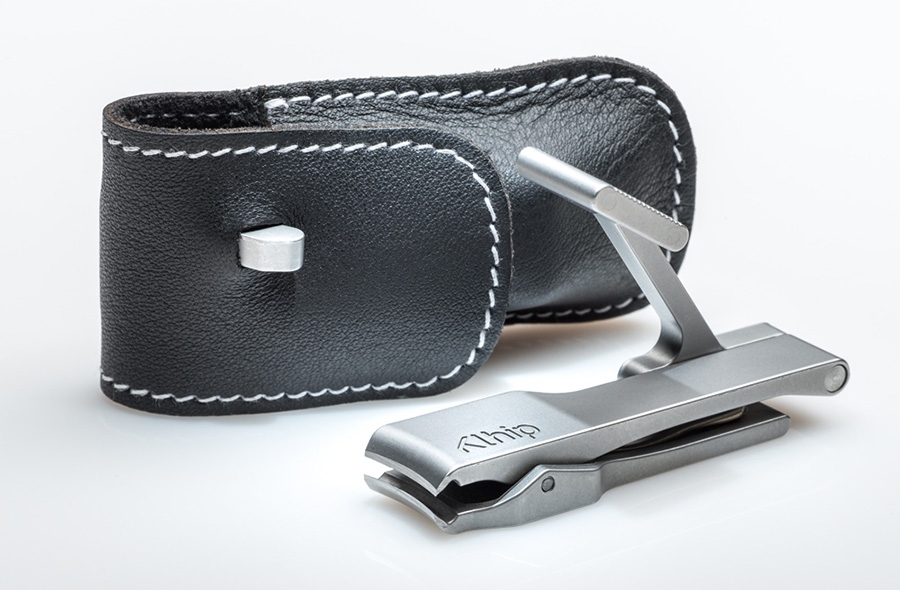 A cut above the rest. Introducing the world's first (and only) ergonomically correct nail clipper.
Klhip.com Some items in our bathroom are hidden away. It's not that we don't like them, or we don't need them. They just don't need to be out. They're utilitarian and deserve to be with the other utilitarian stuff – hiding in the dark of a cupboard, dreaming of the day they'll be a swan.
So it goes with nail clippers. Unchanged since the late Cretaceous period, we marvel at their ingenuity, use them, and then totally get on with our lives. Well no more.
The Ultimate Clipper by Klhip is designed to be on show. Like the razor and the hallowed electric toothbrush, it has risen above its purpose to become something worth looking at. Marveling at, even. Because the Klhip is not just a nail clipper that ekes style – it is also the world's first ergonomically correct one.
So what makes it so good? A balance of increased leverage, improved control, world-class manufacturing and surgical stainless steel. We could go on. And we'd like to. But of course the proof is in trying it for yourself.
So forget hiding your rickety clippers in the cupboard, for fear of what people might say. Buy yourself a Klhip and let your hands do all the talking.
The Lowdown
Better ergonomics: forward facing lever allows you to apply pressure directly over the nail, creating better control and a more comfortable grip
Smooth cut: Sharp, high-tech blades cut smoothly and precisely so that filing isn't necessary and clippings stay on board
Easy clipping: Increased leverage produces superior cutting action and effortless clipping
Lifetime use: Durable surgical stainless steel (440C) combined with new advanced world-class manufacturing means the Klhip is built to last
Klhip has earned a Wallpaper* Design Award, a Design Distinction Award in the Consumer Products category of I.D. Magazine's Annual Design Review and a GOOD DESIGN Award from The Chicago Athenaeum Museum