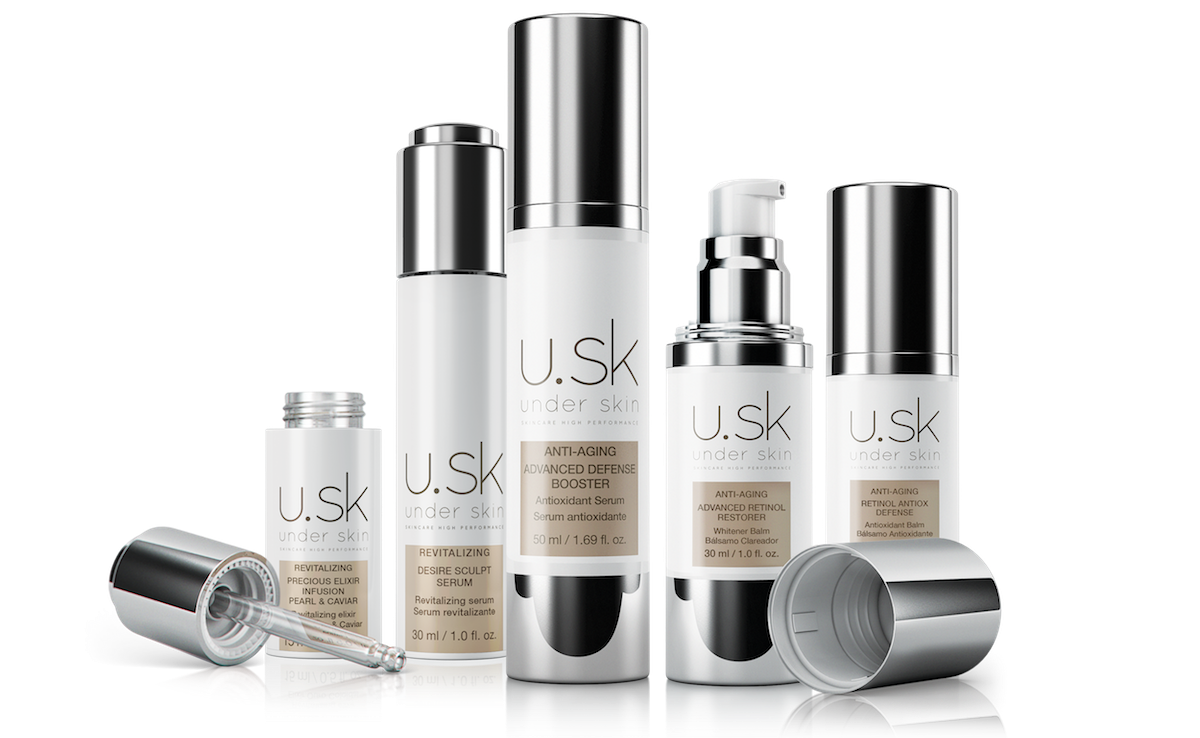 Brazilian cosmetics brand U.SK Under Skin revolutionized the skincare industry in 2015 by launching an innovative line of beauty products with guidance by dermatologists worldwide in their research and development laboratory (Montersearch®) based in Italy. Designed with cutting-edge technology, the U.SK Under Skin collection has received rave reviews in the fashion world for its effective anti-aging serums and revitalizing ingredients, which tackle the signs of aging at the cellular level.
Infused with unconventional natural ingredients, this luxury skin regimen has developed a fervent following abroad and has recently branched into the U.S. market. Now American consumers can update their skincare routine with this impressive range of creams and toners, known for brightening skin, increasing elasticity, and aggressively combatting the signs of aging.
Scientific Innovation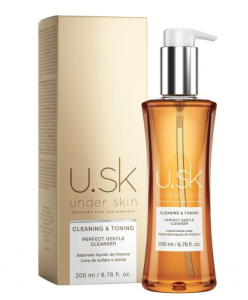 The U.SK Under Skin product line has undergone rigorous testing to ensure effective targeting of factors that cause skin to appear dull and aged. Beyond just moisturizing and cleansing, the products aim to reduce skin hyper-pigmentation, prominent wrinkles, and discoloration, resulting in a fuller, more vibrant complexion.
The natural ingredients used in these elixirs and serums are not only diverse and inventive but also unexpected and groundbreaking. Hydrolyzed pearl and caviar extracts help reinforce the skin's integrity and create a more uniform appearance, while gold, platinum and diamond add luxurious refinement and rejuvenation to the skincare process. Botanicals such as artichoke, olive and edelweiss plant extracts help skin maintain its smoothness and firmness, nourishing it at the deepest levels. The result is a beauty line infusing style and sophistication into the daily routine of skincare.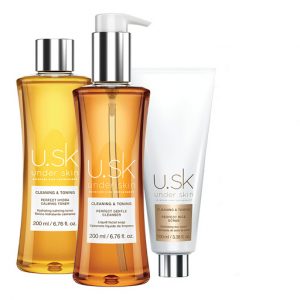 Clean Slate
U.SK Under Skin's array of skincare products can be divided into three categories: Cleaning and Toning, Anti-Aging, and Revitalizing. The Hydra Calming Set from the Cleaning and Toning line comes in kits for dry or oily skin. This trio not only gently cleanses and exfoliates but also hydrates with a soothing antioxidant formula that leaves the skin feeling fresh, clean and renewed. The Perfect Rice Scrub, with its refined rice particles and olive oil flower extract, is gentle enough for sensitive skin, but potent enough to reduce acne without drying out the skin's surface.
Standout Serums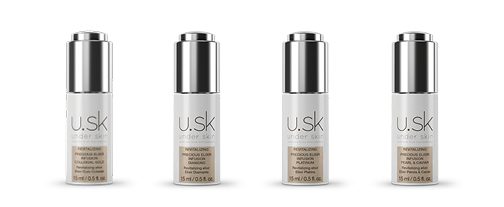 The Face Up Lift Serum actively reduces the appearance of smile lines and wrinkles, relaxing the skin and promoting the production of collagen and elastin through a powerful antioxidant formula. The product targets degrading cells and imbues them with bioenergy, enabling them to regenerate, thus potentially reversing the looks of aging. On the other hand, the Advance Defense Booster calms inflammation, protects the skin from pollutants, moisturizes for up to 24 hours, and stimulates neocollagenesis—all in one tiny package.
To top everything off, revitalizing products like the Precious Elixir Pearl and Caviar offer intense moisture and deliver vital nutrients to skin cells, promoting firmness and an evenly-colored complexion. Desire Sculpt Serum serves as a finishing touch, a means of plumping up the skin while erasing excessive damage and creasing.
Using these products should dramatically improve the health and texture of all skin types, making this science-backed skincare system a welcome, exciting addition to the U.S. market. Visit an authorized physician to purchase products in the Anti-Aging and Revitalizing lines.