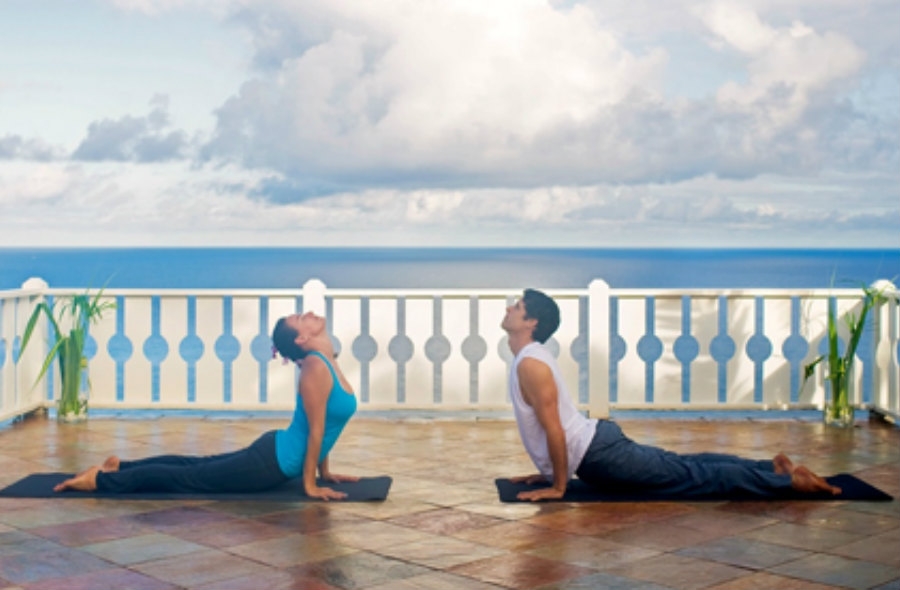 Do you feel stressed, sluggish, unmotivated, overwhelmed or weak? Welcome to the place where anything is possible!
Hawaii's most exclusive Wellness Centre, a 7 Star Eco-Retreat operating under holistic guidelines with impeccable service and innovative custom programs, developed by a panel of natural health, wellness, and longevity experts.
Learn how to manage stress, nutrition, regain motivation, and eliminate the premature and visible signs of aging!
The Sullivan Estate & SPA Retreat introduces the World's First Holistic Anti-Stress Centre with natural therapies and high performing skin care.
The Sullivan Estate & SPA Retreat offers exquisite Overnight and Day SPA stays with the newest path to Beauty, Health, Fitness, and Longevity through unique treatments like the revolutionary Anti-Stress JK7-SPA Sensator® (a synergizing experience for the 7 senses), Signature Body Treatments, Facials and Massages, Yoga, Tai Chi, Meditation, Ancient Natural Therapies, delicious Organic Gourmet Meals, Nutrition and Holistic Health Consultations for Body & Mind.
Your stay at this lavish solar powered paradise will introduce new strategies for a balanced, healthier, and more successful lifestyle for home as well as for your business life.
Dr. Jurgen and Karin Klein, creators and owners of the Retreat, bring over 30 years of professional expertise on Wellness, Natural Health, and Beauty. Dr. Klein founder of JURLIQUE, recognized as the purest skin care on earth, is a world renowned Biochemist, Alchemist, Naturopath Doctor, and also the Author of "Unearthing Nature's Secrets" and "The JK7® Anti-Stress SPA Sensator" as well as the inventor of the High Performing JK7® Luxurious Natural Skin Care.
Learn how to overcome negative thoughts, feelings and habits, learn how to live in the present, enter the healing NOW ZONE®.
E Komo Mai!
Luxurious Overnight Stays at the Sullivan Estate & Spa Retreat
Offering guests the amenities of a five star resort and the intimacy of a luxury private home, the Sullivan Estate is the perfect haven for up to twelve guests. This magnificent property was the King Elvis' home during his Hawaii filmmaking years and has continued to host many more celebrities and dignitaries since those days.
Facing the Pacific Ocean on an extensively landscaped 5.2 acre parcel of Hawaiian paradise, hosting a luxurious 5,700 sq ft 6 bedroom home, surrounded by lush landscape, cascading waterfalls, a pool and Jacuzzi overlooking the sea, individual exercise rooms, movie theater and countless SPA treatment rooms, this Private Retreat is more extensively equipped than any Oahu resort.
The ultra green estate is powered by solar panels, pools are solar heated, and eco, sustainable practices are followed in every step of the way. The Sullivan Estate & SPA Retreat is incomparable, truly one of Hawaii's most exquisite properties and a North Shore landmark.
Overnight and all-inclusive Retreat stays are offered for 2 and up to 12 guests, starting at 2 nights. Always reserving the entire estate, exclusively for you!
JK7® Olaloa Day Spa
The most fabulous and unique Private SPA on Earth, the JK7®OlaLoa (Long Life in Hawaiian) was conceived in 2005, by Dr. Jurgen Klein and his wife Karin Sole-Klein, an expert in the hospitality industry. The couple bought The Sullivan Estate after Dr. Klein sold his skin care company, JURLIQUE and they combined their expertise to create the JK7® SPA.
The OlaLoa SPA is billed as a retreat for the "Seven Senses," specializing in solutions for those overloaded with stress. All therapies are natural based and holistic, balancing mind, body and spirit. They includes massages, yoga, Thai Chi, and Quigong, with endless modalities and top therapists. OlaLoa SPA focuses on longevity, emphasizing the value of a natural nutrition and exercise, as well as a calm, positive, and energetic state of being.
The goal at the SPA Retreat for the 7 Senses, is to free guests from the negative effects and stress of every day life. Transforming your body, mind and spirit by emptying them of the accumulated negative thoughts and replacing them with a revived and rejuvenated body, mind, and spirit, promoting balance for a Long Life.
Within the unique layout of this magnificent estate, the Private SPA offers each group their own SPA for a Day to enjoy true holistic programs. With a variety of specially designed treatments, as well as delicious gourmet meals and personalized service, these programs nourish from the inside out and outside in for 4 and up to 9 hour Day SPA visits.
JK7-SPA Sensator®
The pioneering and incredible relaxing JK7- SPA Sensator® provides the ultimate relaxation through a carefully programmed sequence of color, sound and aroma therapies, enhanced through the effects of weightlessness. Simultaneously using natural essential oils, music and colors to transcend the traditional 5 senses (smell, vision, hearing, taste, touch), adding the flotation feeling in dead sea salt water as the 6th sense, the JK7® achieves a synergy of the senses, taking you to a whole new 7th sense of wellbeing.
Floating in an indoor pool for programs of 30 to 45 minutes, you'll enjoy a deeper state of combined body and mind relaxation. An experience like no other, at The Sullivan Estate & SPA Retreat, guests can experience the first JK7-SPA Sensator® in the world. www.sullivanestate.com/jk7_SPASensator.php
JK7® Luxurious, Natural & High Performance Skin Care
Formulated on site, under strict supervision from Mother Nature by Dr. Jurgen Klein, founder of JURLIQUE. Naturally the best for your skin and youthful longevity. JK7® is the next level of Skin Care: Herbal based and high performing products, made with organic and scientifically proven ingredients. The Otherness of JK7® is a synergizing Skin Care that is truly holistic and superior to the sum of all its ingredients.
JK7® Luxurious Natural Skin Care
Completely natural based, with high performance herbal compounds, defined, standardized and backed by research from leading, independent universities
Anti-aging, anti-oxidants compounds and Signature Extracts
Repairs, enhances, and protects the skin's long term natural beauty and health.
No synthetic or chemical preservatives
For all Skin Types
JK7SkinCare.com
Pricelist & Brochure links
The Creator – Dr. Jurgen Klein
Dr. Jurgen Klein, a visionary born in Germany, has lived through some of the most profound and significant events of the last century and has consistently sought to be on the cutting edge of our time. Dr. Klein's achieved a PhD in Chemistry, a diploma in Naturopathy, and the opportunity to become an Alchemist, he encountered in Hawaii the perfect conditions to plant his strong entrepreneurial seed. Moving to Australia, he founded JURLIQUE, the "Purest Skin Care on Earth", he broke the molds in the natural skin care market, producing bio-dynamic/organic high quality herbs and products becoming a pioneer in the field of health, natural therapies, and wellness, helping to pave the way for the spa and wellness industry of today. In 2003 he set foot in Hawaii, he first created the JK7-SPA Sensator® and then the JK7® Luxurious Natural Skin Care, an herbal based, organic, high performance, scientifically backed unmatchable product.
Dr. Klein wrote two books, his first book "Unearthing Nature's Secrets" and "The JK7-Anti- Stress SPA Sensator®" is the result of Dr. Klein's patented SPA treatment creation which provides total body and mind relaxation and a synergizing experience for the overloaded senses. The first Anti-Stress center was installed at The Sullivan Estate & SPA Retreat in Oahu, Hawaii, USA.