In a world where quick showers have become the norm, taking a bath remains one of life's ultimate pleasures. Nothing quite compares to lighting a few candles and listening to soft music, all while luxuriating in warm waters full of bubbles and fragrant bath oil. Although finding time to soak and relax can be challenging with all that life demands, some well-to-do homeowners make a point of creating upscale bathrooms that facilitate an extravagant bathing experience.
At the heart of these rooms is the bathtub, whose design, shape, and materials can either make or break a blissful bathing experience. When no ordinary tub will do, these five bathtubs represent some of the most expensive—and over the top—options in the world. Whether it's their elegant design or ultra-luxe materials, these pieces are fit for a palace, making all who use them feel regal, relaxed, and spoiled.
The Jewel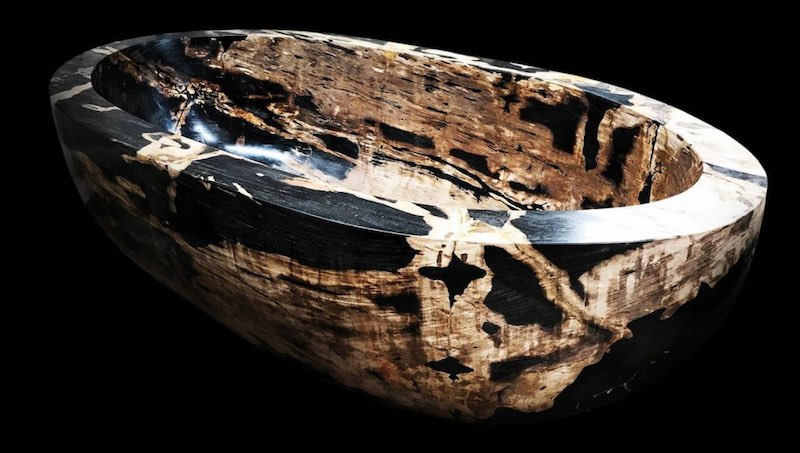 Valued at an impressive $2M, The Jewel, designed by Nigel Fenwick, has been crafted from a 14-ton block of petrified wood found deep within an Indonesian rainforest—wood clocking in at over 180 million years old. Producing this tub involved an arduous process of excavation, since the wood used to create it can only be obtained from fossilized trees that keep their original shape and structure before decomposing. Adding to the vessel's wow factor, the surface of this bathtub has been embedded with gemstones, giving it a stunning luster and, some say, unique therapeutic qualities. A marvel of design and archaeology, this tub commands attention, creating a one-of-a-kind bathing experience for the lucky few who get to enjoy it.
The Newton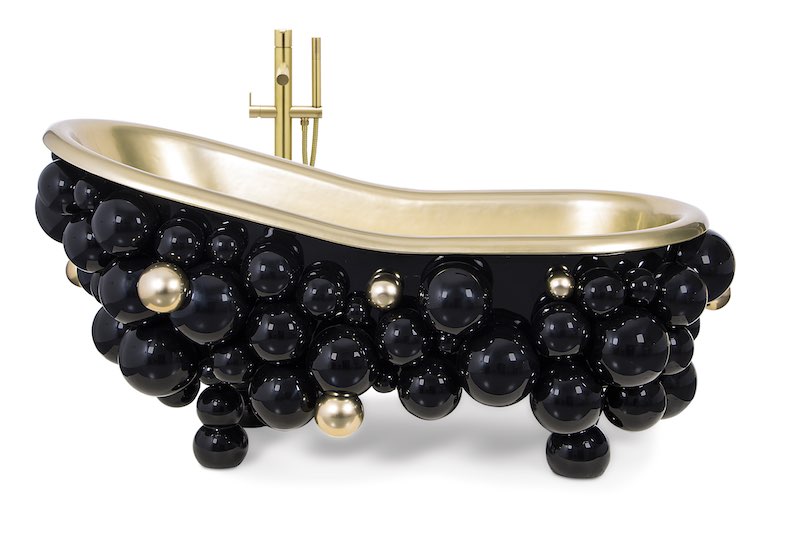 Seeing the Newton Bathtub for the first time, one can't help but be reminded of a flute filled with champagne. The curvature of the tub has been crafted using gold-painted casted iron, and the decorative spheres, which seem to defy the laws of physics, resemble champagne bubbles, overflowing the rim of a champagne glass. The black and gold design presents a more classic look, while the white and gold design can add a sophisticated ambience, imbuing the whole bathroom with a whimsical, vintage flair. Ranging from seventeen to thirty thousand dollars in price, this snazzy tub comes from the always elegant Valentina Maison. The Newton is tailor-made for a homeowner, who loves conversation pieces with character, humor, and style.
The Red Diamond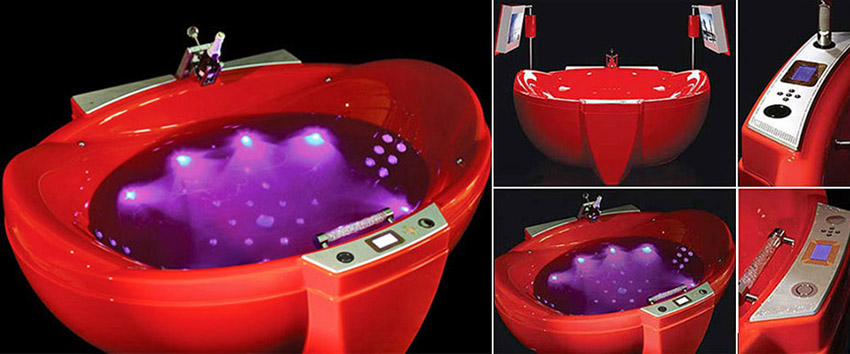 This bright red basin is a tech-lover's dream come true, equipped with two waterproof 42-inch HDTV screens, multicolor LED mood lighting, and Swarovski crystal-encrusted champagne holders. A jacuzzi-style tub, ideal for longer soaks, the Red Diamond boasts variable intensity whirlpool and air pool jets, and the two-seat design makes it a great retreat for couples looking to unwind together. One of the most over-the-top features is the GSM module, which allows users to control and prepare their bath in advance using their smartphone. Designed by Aldo Puglielli, this high-end bathtub comes priced at forty-seven thousand, and it's no surprise: Highlighted with solid gold elements, this vessel comes replete with an automatic water disinfection system, among other top-of-the-line features, making it a gorgeous, self-sustaining status symbol.
Baldi Rose Quartz Crystal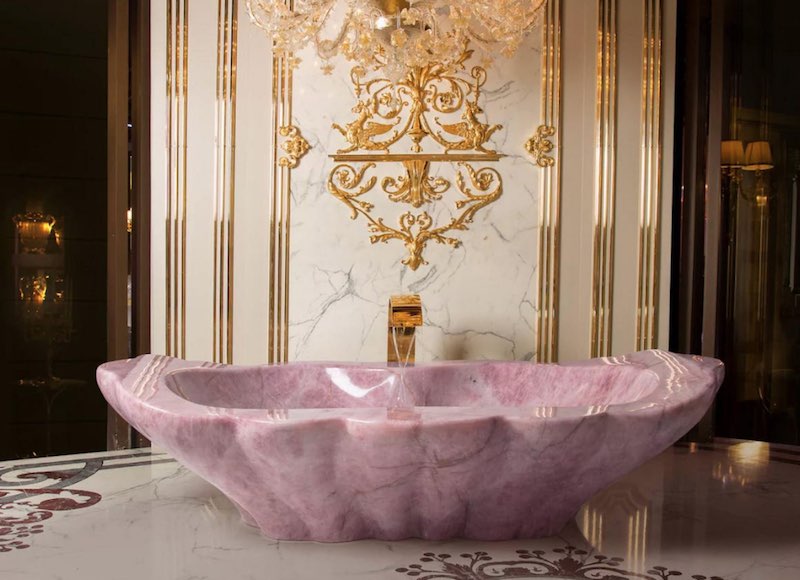 Baldi Home Jewels has crafted a true gem with this stunning Rose Quartz Crystal bathtub, which carries a $1M price tag. To create this piece, the luxury design company, based in Florence, Italy, sources raw chunks of crystal from the Amazonian rainforest, some of which weigh over 23,000 pounds. After hundreds of hours carving the single block into a scalloped shape, the company then turns this rare gem into a six-foot long bathtub that looks straight from the realm of fantasy. The design comes in three variations: rose quartz, green quartz, and rock crystal. Each stone exhibits its own unique flair, coloration, and aesthetic. Among one of the most opulent pieces of furniture in the world, this tub melts the stresses of life away with its craftsmanship and out-of-this-world beauty.
Le Grand Queen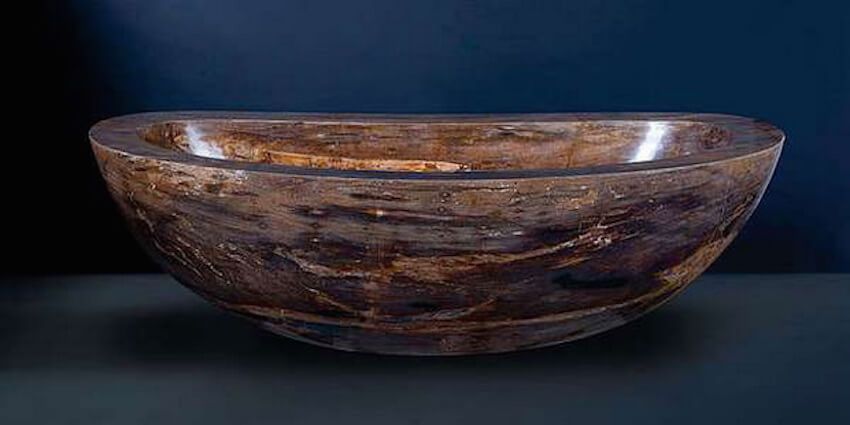 The brainchild of Simon Krapf and luxury home goods manufacturer Caijou, Le Grand Queen is a $1.7M tub, inspired by the shape of an Indonesian bangka canoe. Produced from a 10-ton gem, this elegant bathtub's materials and design are meant to facilitate healing and promote relaxation. Producing this rare beauty required hundreds of people, thousands of work hours, and months of polish before being going to market. The company owns enough stone to create only seven iterations of this specific model, making it an exclusive option for only the most select buyers. The materials are unparalleled, the gemstone heralding all the way back the Jurassic period, millions of years ago. With its unmatched opulence and regal aesthetics, this high-end bathtub lives up to its name.