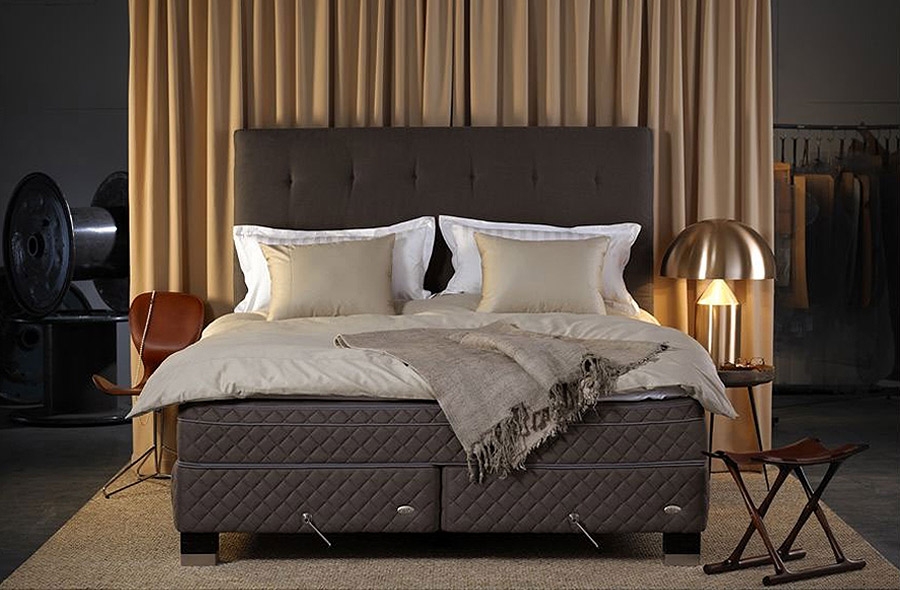 There's nothing wrong with sleeping on a problem unless the problem is your mattress.
If a good night's sleep can improve your perspective on life, a bad night's sleep can downright ruin it. The DUX® Bed can help. We have four times as many springs as an average mattress. So you not only sleep better, you sleep longer. Which is good to know. Because we all wrestle with problems from time to time. At least if you have a good night's sleep, you'll be more equipped to deal with them.
Introducing The DUXIANA® Luxury Bed Line
Offering the ultimate in luxury, comfort and quality, the DUX® Bed is the result of combining research and engineering with the finest materials and craftsmanship. Since 1926, The DUX® Bed has earned its place as a key element in creating the ideal sleep environment, as it supports every point on the body in a natural position.
Four generations of the Ljung Family of Sweden have been committed to producing the most technologically advanced beds on the market. Every aspect of the DUX® Bed is a direct result of science, research and testing.
No matter what your body type, shape or needs, our unique multi layered spring system will conform to your natural curves, support concave areas such as your lower back and hold your spine and body in a comfortable position. The result is a bed that can help you fall asleep faster, and stay in deep sleep longer, so you wake up feeling refreshed and on your way to optimum health.
The DUX® bed is designed to align your spine to help alleviate back pain and to distribute your weight evenly to maximize circulation. Because of our commitment to improving life through better sleep, DUX® remains at the forefront of the industry.
The Difference Of The DUX® Bed
We Take Sleep Seriously, So You Can Take It For Granted.
Good sleep is based on advanced technology, genuine craftsmanship, strenuous tests and carefully selected materials. When you sleep in our beds, your body rests on over 85 years of research and development.
Continuous Spring Design
Our advanced spring system consists of several thousand interconnected coils made from quality steel, which work together to provide maximum pressure relief. This design provides a much more even distribution of pressure and level of relief than coils that work independently of each other. A conventional mattress usually contains about 1,000 springs. Our beds have up to four times the amount of springs, arrange in multiple layers. The lower layer of springs provides deep suspension and absorbs body weight. The upper layer supports and follows the contours of your body – a harmonious and carefully thought-out interaction devised to provide maximum sleeping comfort.