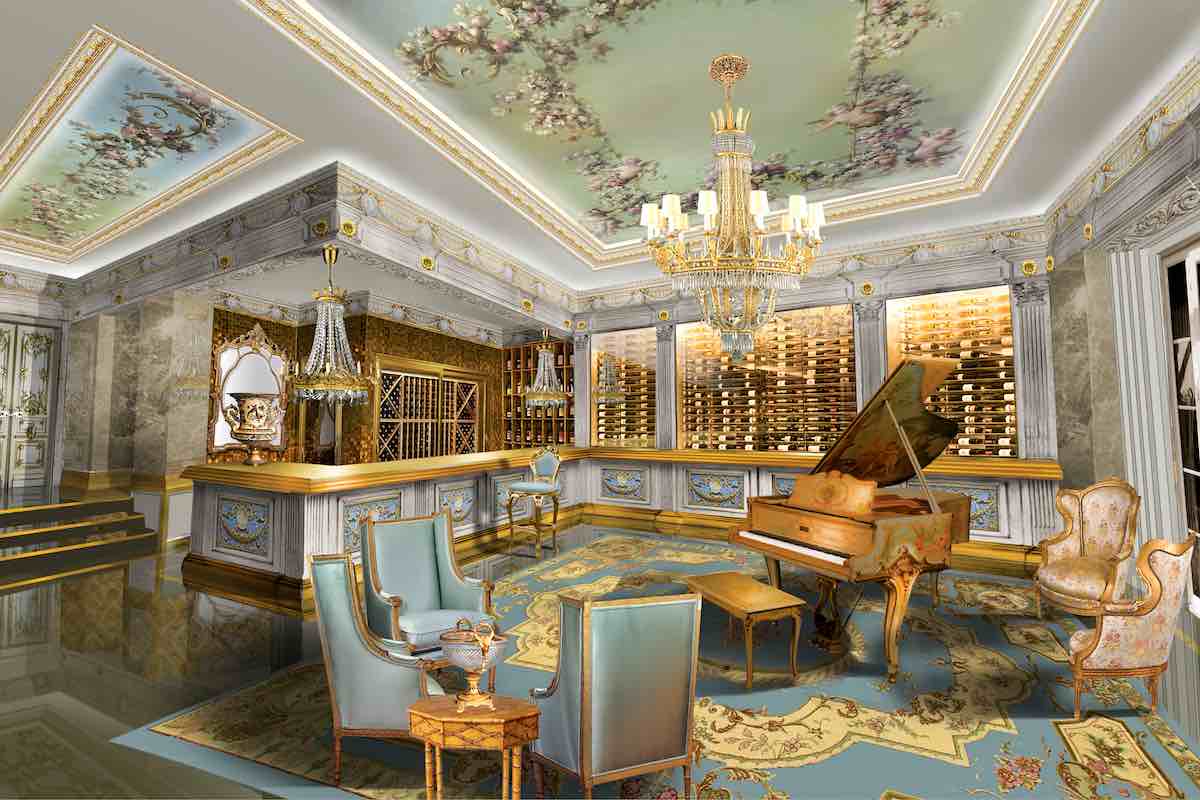 Harmonious, profound, provocative, transcendent—these are but a few of the characteristics of an extraordinary work of art. Rodney Surawski, creative director and founder of Artnow International, and his team of artisans have been crafting fine art solutions on walls, ceilings, and domes, to name a few; to expand the parameters of what is in some of the most exclusive, clandestine homes and palaces in the world for three decades without confession or mass recognition. But now, the cloak descends, and three decades of craftsmanship arouse to a symphonic climax. Surawski and his elite team step out from behind the shadows and into the limelight to reveal who is behind the most stunning murals in some of the most majestic residences worldwide.
"The language of design is the poetry of uniting vision, form, art, and detail excellence. Whether it is a home, restaurant, luxury hotel, or development, we apply the same creative approach and meticulous attention to detail to each project we undertake."
Surawaski has kept a low profile over the past 30 years to protect his client's privacy. The Australian art director started his distinguished career after first graduating from Queensland College of Art, working on Christopher Skase's home, and then venturing into the film industry working for Warner Brothers. Once a designer from the Skase project asked him to work on the walls of the palace for the royal family in Malaysia, he knew private homes on a large scale would be his career trajectory. "That's when I went into luxury homes and palaces, and once I had done the princess's palace in Malaysia, I went on to do the king's palace there. Then, I did the king of Bahrain's palace and kept going from there. Once I started, that was pretty well it," he said.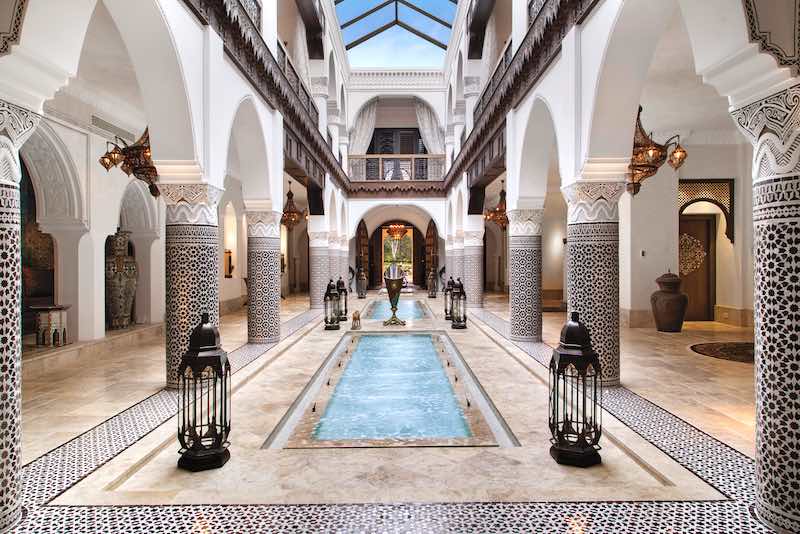 Since, Artnow International has helped design the homes and palaces for some of the world's wealthiest families and locales in the world, including Versace, Rinat Akhmetov, the richest man in Ukraine, Tunku Kamariah, the eldest daughter of the King of Johor in Malaysia, the King of Bahrain's palace, Laucala Island Resort, Fiji, owned by Red Bull founder Dietrich Mateschitz, and, among other notables that we can't mention here.
Artnow International creates a visual map of their clients' journeys, imaginations, visions, and dreams. They paint extraordinary moments of poetry and grace transmuted from other dimensions. This is the kind of art that transports you; that makes the hairs on the back of your neck stand up. "I am extremely visual. I see everything. I see too much. When people are talking to me, I visualize things. I was born like that. I thought it was normal. I realize it's actually not. I can visualize a paint work finished. I can visualize a room finished. And that's in my dreams. I'll solve it in my dreams.
"Every time I go into a project, the space tells the story; the space is an emotion. I get to have a blank canvas, and my job is to fulfill the wishes of a client and make their dreams a reality. Each project is so different; it's so individual. We have to be versatile in our industry; we could be jumping from Baroque to Moroccan to super modern. The architecture pretty well guides the process."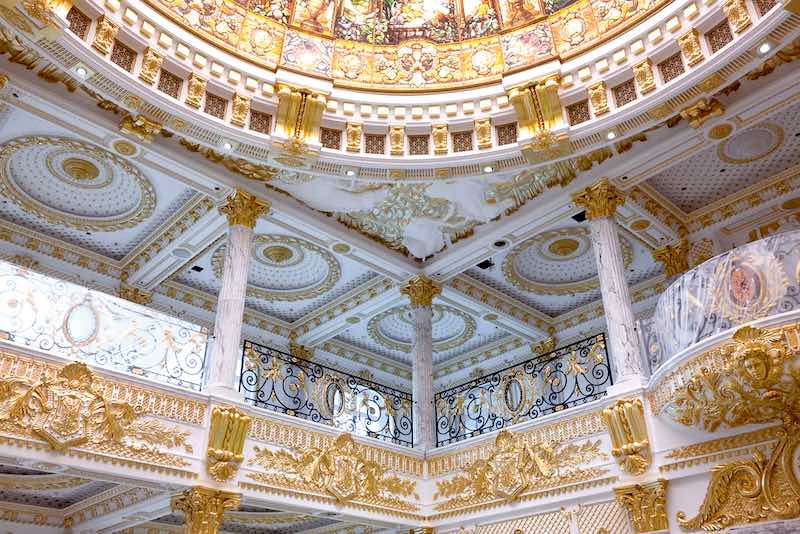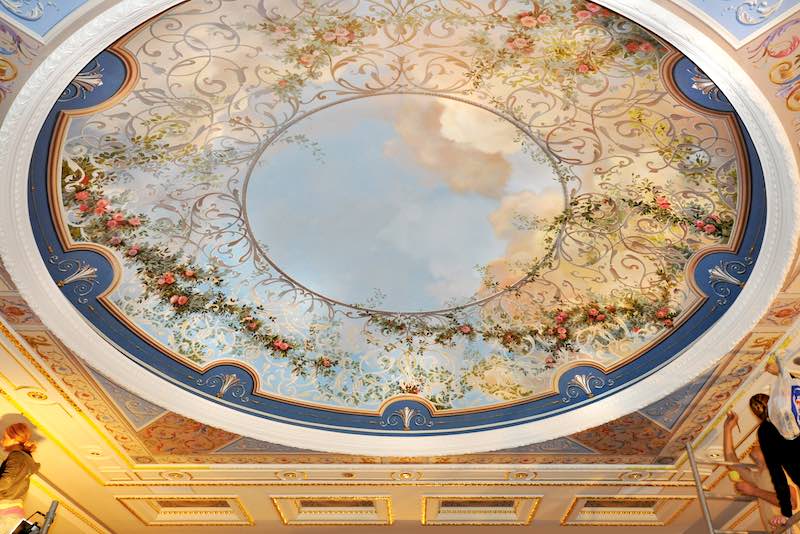 So why the reticence? And why the revelation? "Australians don't realize that some of the major palaces around the world are being painted by Australian artists because we've never said it out loud; we've always kept quiet and humble. I think it's time to say that this is what we do. Not only that, but there is an industry in what we do. Artwork on the ceiling is not what everyone would expect. I don't even know if people realize it still happens today in these luxury homes. I want to show young artists that there is a career path other than being a gallery artist. There is a whole other path that they can train and strive towards. I want to show them that this kind of art is happening in the world. Film work is a stepping stone to other things."
Artnow International encompasses up to 30 high-end decorative artists across Australia and Italy who specialize in the design and hand-painted artwork execution of feature walls, ceilings, and domes. They also have specialists in sculpture, interior design, and wall finishes, including wooden panels, concrete finishes, aged timber, and more. But, as you know, wall art must completely harmonize with its architectural surroundings. "I work with a team of architects, interior designers, sculptures, and painters, and we do everything from full concepts right through to finish. I'm currently working on a project here in Australia that is in its ninth year of construction. We just recently finished a seven-year project, as well. They are mega homes," he said.
"Recently, especially with Covid, a lot of our projects are designed here in Australia, and we are doing them in the studio. We paint on large canvases, and they can be sent and installed anywhere, and it looks like they are painted right on the ceiling. It's called Marouflage. We are doing a lot more of that now. It saves the clients a lot of time and money."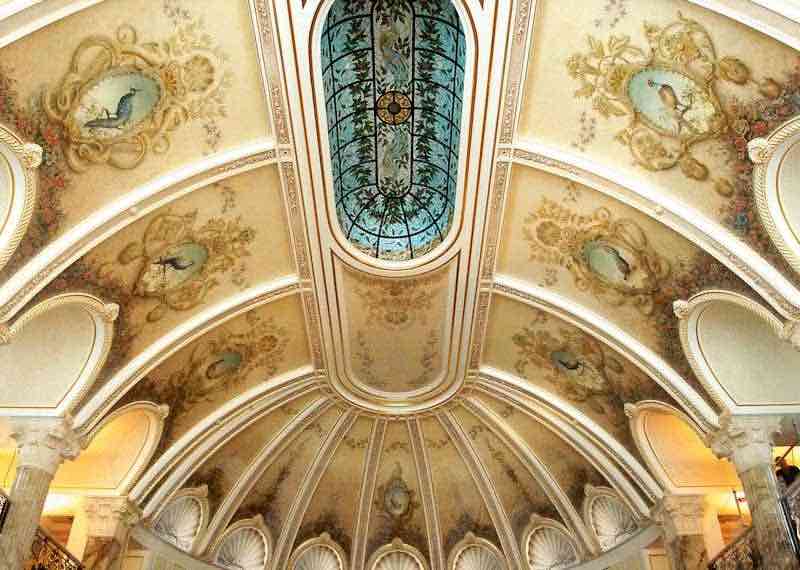 Surawaski has studios on the Gold Coast, in Melbourne, and in Italy. "Our artists are pretty well trained to paint in water-based acrylics, but like an oil painting, because we put layers of clear over them for translucency and for protection so nothing can ever happen to them. They can also be washed down if needed. So that's generally the paint side. On the sculpting side, it's everything from concrete, resins, bronzes, every medium thinkable. These are large-scale pieces, and lots of people are working on them, and with oils, they've got to dry out, so the process would be longer."
As for collaboration, Surawaksi has brought in the best of every discipline out there, including blacksmiths, like Hantel Art, a German company that does beautiful forged iron. "I work with them on a lot of projects around the world. It's not only what I do. I have to meet all the other bests in their trade. I bring them in on the projects. Hantel Art has done a lot of the royal family's palaces in Dubai, and their work is stunning. It's the old original forged iron; it's not made in China. It's the original hand-beaten real gold, and when you put it in your hand, you're like, wow, that's a rose. Incredible."
From concept to completion, Artnow International specializes in fine art solutions and works with some of the world's finest artists, sculptors, concept designers, and interior
design professionals. Over the past three decades, it has built a reputation for being able to bring any space to life.
The Master Craftsmanship of Hantel Art — Traditional Blacksmiths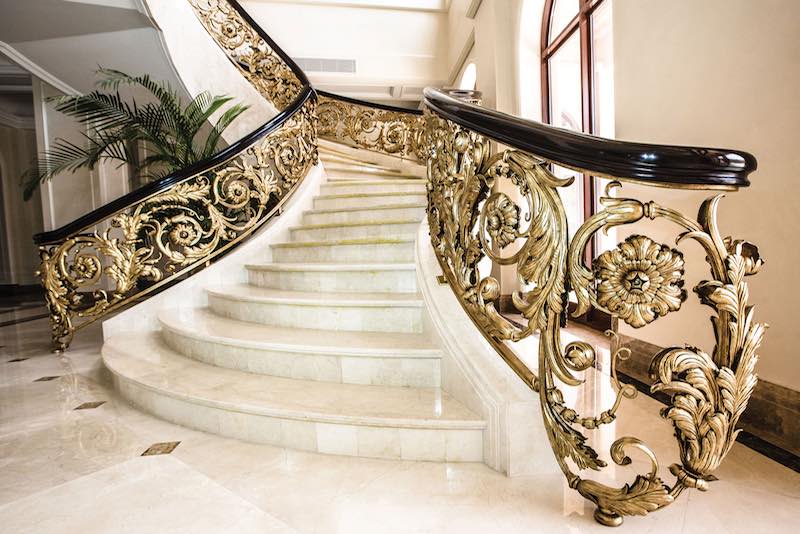 Blacksmithing is a craft that has centuries of rich and vital history. In many religions, the only "working" god was a blacksmith god. While modern improvements to tools like power hammers and angle grinders have given the trade an edge, the fundamentals of the artistry have significantly remained unchanged over the past two centuries. Here, we explore the world-renowned German ornamental blacksmith company, Hantel Art. Established in 1969 by its chief designer, Karl Heinz Hantel, the team of artisans comprises three generations, including Karl's son Dietmar and Dietmar's son Max along with a team of craftsmen carefully hand-selected and trained. The Hantels have transcended the blacksmith world to produce unparalleled and unrivaled works for some of the noblest families worldwide, from the UAE to Ukraine to Russia to the UK. They can design for any location depending on the client's unique requirements; however, in most cases, they design main gates, entrance doors, chandeliers, furniture, sculptures, and staircases. But there is no limit to what they can forge.
Hantel Art International has reverse-engineered the blacksmith techniques of the 16th and 17th centuries and brought them to life in the 20th and 21st centuries. All projects are unique and one-of-a-kind tailormade to the needs and specifications of their clients. "It's a journey!" said Hantel on creating solutions for some of the wealthiest families in the world. "All our work is a reflection of the individual's personal touches and inputs. In some ways, we bring to life what the client imagines and desires. From the beginning to the end result, the collaboration with the client is very close and personal as it requires a lot of attention to detail. Once the project is over, and the final result of the hard work bears fruit, the sense of overwhelming achievement on both sides is immense. At this part of the journey, which is the final one, we have not only gained a satisfied client but, in many cases, a long-lasting personal friendship filled with appreciation and trust. Every journey leads to a unique bespoke work of art, but it leaves more than that, something which goes beyond any physical object, and that is a special bond. A bond which is as unique as the product itself."
As with anything, there are always challenges. And in a blacksmith's world, those challenges come in many forms. "Unique challenges need unique solutions, not only from a crafting perspective but also from an overall engineering perspective.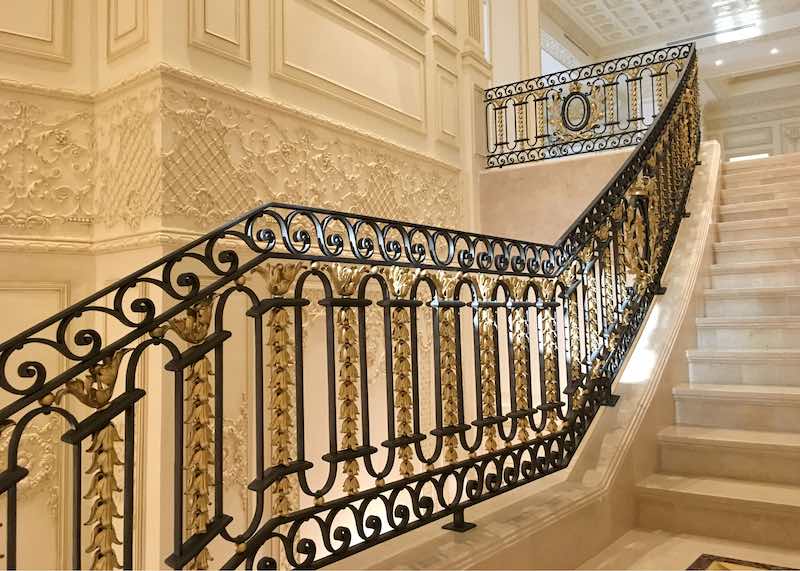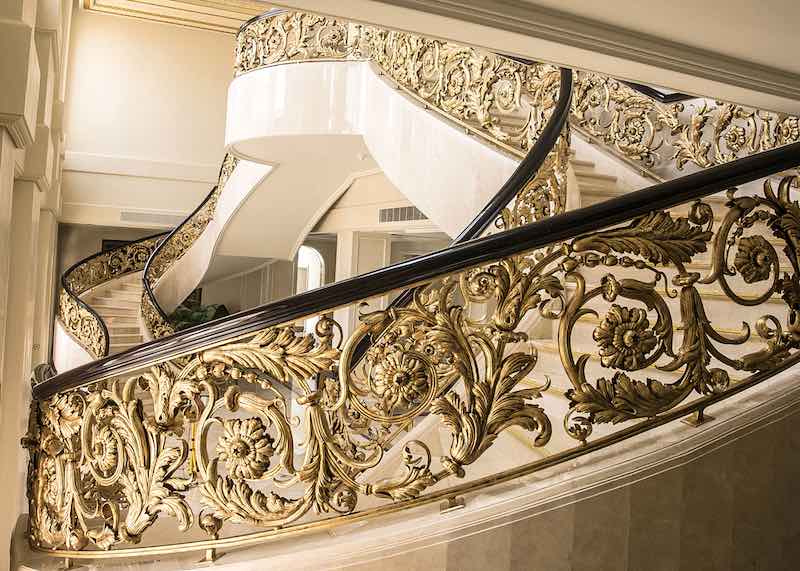 One of the biggest challenges is 'How do you create a one-of-a-kind piece of art without any blueprints?' All of our artwork is unique and one-of-a-kind. It is different from its predecessor. A second challenge is depending on shipping and logistic services as they are often not accustomed to our unique requirements. Lastly, the installation phase depends on the specifications and timelines of the contractors tasked to build the homes. In many cases, we have to wait for foundations to be laid before we can start the installation of our products, and believe me, more than once, we are the ones who provide the solutions for these challenges." Through it all, the family could not be more dedicated to making the dreams and visions of their clients come to life in their homes.
Hantel Art is proud to collaborate with Artnow International on several projects worldwide. These two distinctive fabricators of art fusion are working on a private home in the Baroque style on Australia's Gold Coast. The project is six years in, and it is nothing Australia has ever seen before. Every element is custom-made. Artnow International has done the interior design, art, and custom furniture. Hantel has designed the gates, balustrades, chandeliers, etc.