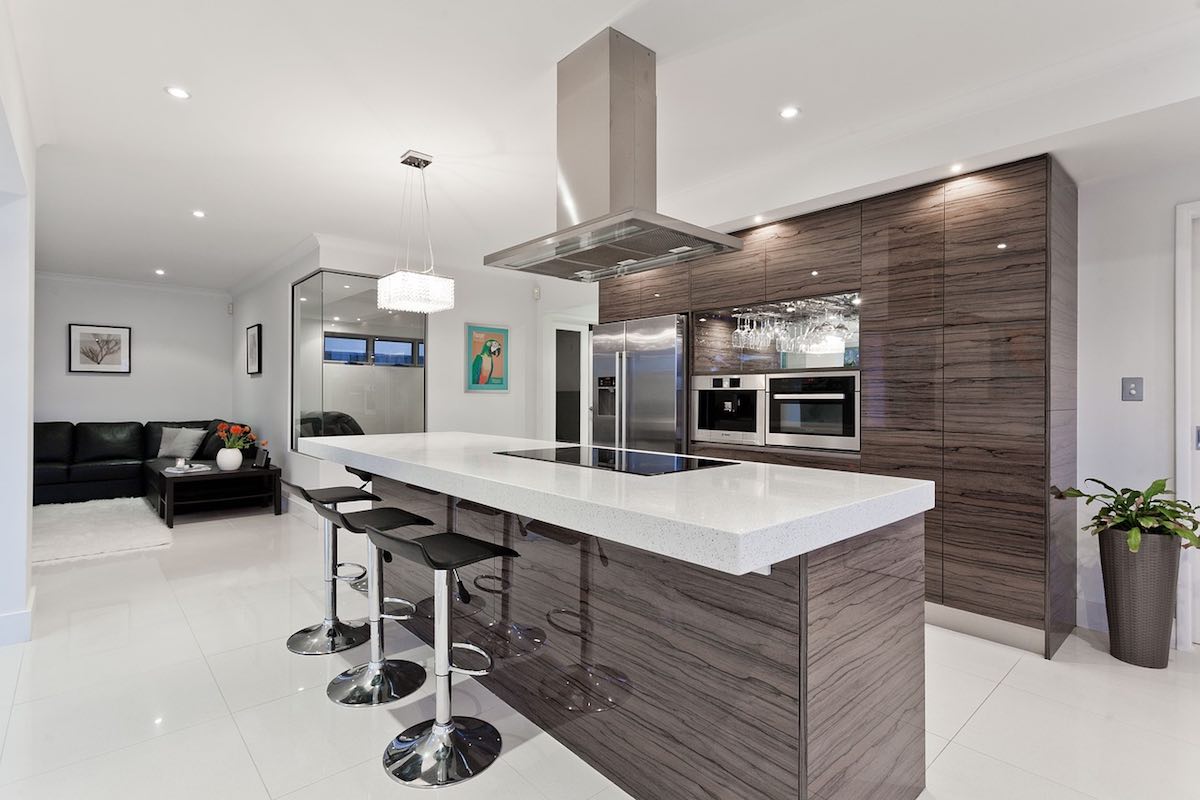 Going forward, 2021 is an opportune time to implement Feng Shui's fusion of art and science into rewriting the story of your home. With an emphasis on reimagining your future for greater abundance, the kitchen is a great place to start. Since the kitchen provides vital nourishment for your body and soul, scribing a fresh narrative per Feng Shui's tenants will lift your mood, engage you in favorable experiences, and encourage positivity.
To begin, stand in the heart of your kitchen and ask, "What is the tale my kitchen space is presently telling?" Listen to what your accouterments, color choices, cabinets, and countertops are saying. Be inspired; with just a few changes, your kitchen can truly become the heart of the home. Implement these thoughtful shifts to create an enriching visual impact.
Update Your Color Palette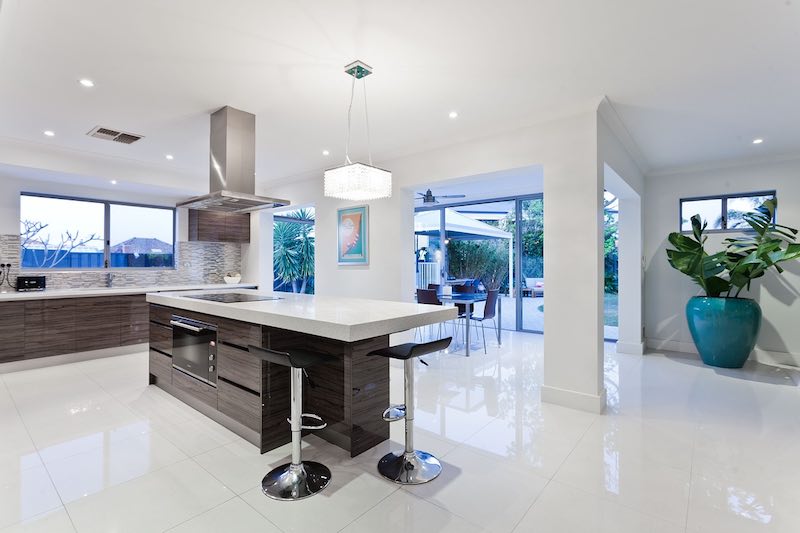 Pantone's trending fall/winter 2020/2021 colors are luxurious hues that speak of harmony, wellness, creativity, and pragmatism. Neutral tones combine well with the bold palettes of Magenta Purple, Ultramarine Green, Amberglow, and Sandstone, so that your kitchen's personality is deliciously revealed. From painting an accent wall to adding accessories from these trend-forward hues, your space becomes a successful, transformational story.
Incorporate Nonporous Materials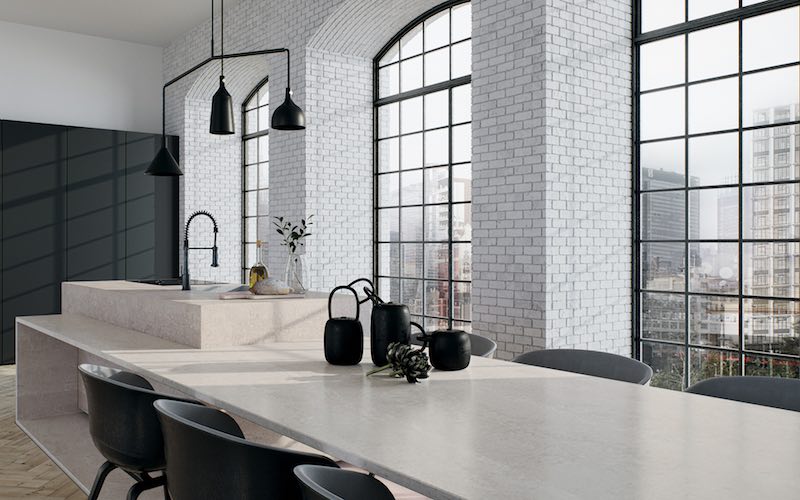 The sustainable message of nonporous surfaces like quartz speaks volumes. With the higher awareness of how chemicals play a detrimental role in today's kitchen, engineered quartz countertops are gaining in popularity due to their nonporous nature that, with light daily maintenance, keep mold and bacteria at bay. These countertops will complement your food preparation, and quartz is an excellent surface for kneading pizza dough, making cookies, and presenting your food dishes without worrying about germs.
Introduce Each of the Five Elements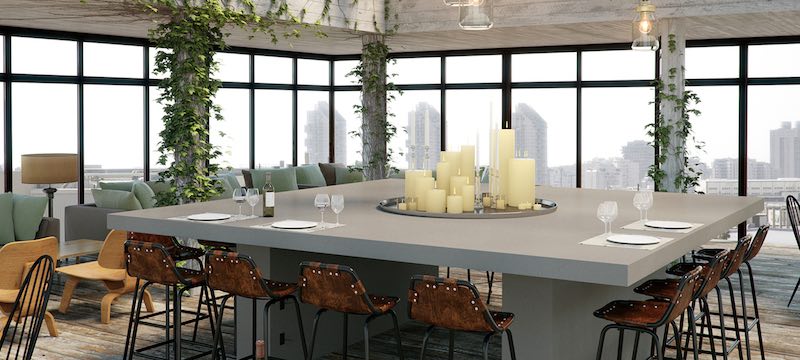 Feng Shui honors the Five Elements of Nature — wood (spring), fire (Summer), earth (in between summer and fall), metal (autumn), and water (winter). The kitchen that incorporates these essential elements is in the ultimate harmony.
Wood: Family photos, herb garden, and plants, plus, wooden floors, tables, and cabinets. Wood represents strength, dynamic creativity, exponential growth, and engagement. Colors: green, blue, and purple
Fire: The stove is considered the most important wealth feature of your home. Keep it sparkling clean as it is the Alchemist, transforming your food into vital nourishment. Even if you do not cook on all four burners, every day rotate turning on each burner as, in Feng Shui, it is said to usher in money from multiple resources. Candles are always a nice fire element addition to the kitchen to add balance when the other elements are also at work. Colors: red or orange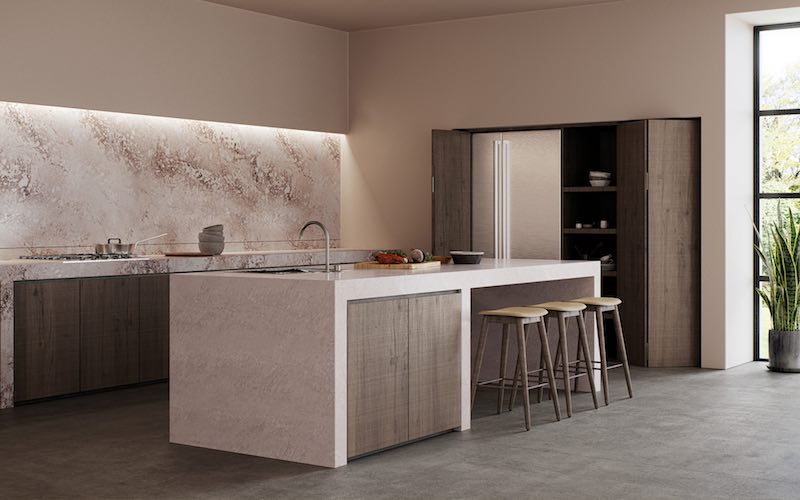 Earth: This element creates a sense of safety, protection, and sustainability. Having a terracotta-colored runner (secured with carpet tape), ceramic pottery, and Himalayan salt lamp (the latter cleanses the air) promises life's sweet pleasure which is Earth's spice of life. Colors: brown, golden yellow, taupe, and clay
Metal: Mixing up your hardware finishes, and/or installing a new backsplash in one of the metallic options sets the stage for synchronicity, a keener imagination, and cosmic inspiration. Color: pastels, white & silver/grey.
Water: In Feng Shui, this fluid element influences your career, of being on the right life path. Consider placing art depicting a flowing river, the endless abundance of the ocean, and/or a waterfall pouring into the kitchen. The kitchen faucet taps you into infinite reserves of well-being, rejuvenation. Colors: black, navy, aqua
Rhythm and Flow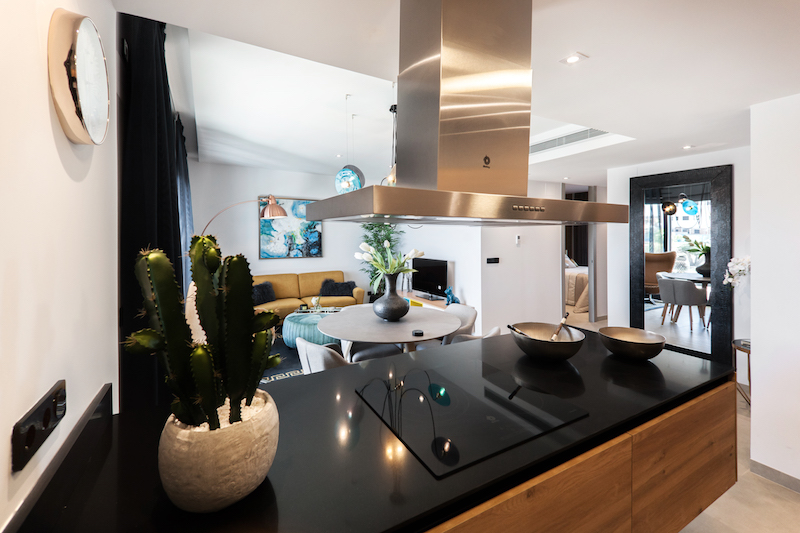 The Kitchen's narrative must have a specific language, and a descriptive rhythm and flow. An excellent approach to translating intentions into reality are plants, specifically auspicious ones, and an herb garden.
1. The Lucky Bamboo denotes wealth, strength, and due to its resilience, it is said to bless you with a quality of life.
2. Jade's rounded, green leaves symbolize growth, renewal and resemble exquisite jade stones, a sacred symbol of wealth. They are easy to maintain.
3. An indoor Herb garden provides fresh basil, oregano, and cilantro within reach. Plus, they have long been considered plants of prosperity.
With just a few of the above-mentioned suggestions, you can edit your kitchen to have a more inviting vibe that encourages positivity, creativity, and harmony – something we all need moving into 2021.