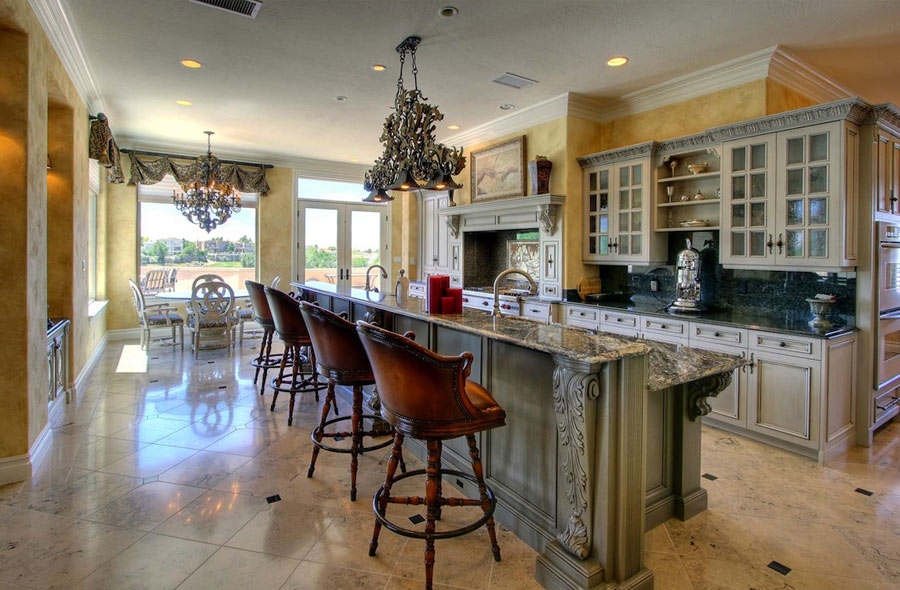 When it comes to the finest in luxury home decor, choosing the right products to match your style can be a daunting task. Thus we present the following selection of a few of the very best luxury items on the market today.
Want the biggest, most posh screen available without moving to a full-on home theater? Give the Bang & Olufsen BeoVision 4 85-inch 3D HDTV a try.
Bang & Olufsen
BeoVision 4 85-inch 3D HDTV
This mammoth plasma features an 85-inch screen with Automatic Color Management, 3D with active shutter glasses, an integrated BeoLab 10 center speaker with Acoustic Lens Technology to spead the sound out across the room, and a motorized stand that automatically lifts the TV to an optimal viewing position when you power it on, and can turn and tilt at will.
Knoll Barcelona Chair
The one and only original Knoll Barcelona Chair. Many other furniture manufacturers have copied this iconic classic. None have succeeded to emanate this masterpiece. Original tools from Mies are still used in the factory today to create a hand finished frame and hand sewn cushion sets. Complementing an office reception in black leather to create a impact of quality and wealth as soon as clients enter. Available in over 800 leathers and suede colours to warm your home guests. A true investment family collectable piece. A child's version is now in production, to complete the Knoll Barcelona collection.
de Sede DS-3
Antonella Scarpitta's trademark is eye-catching style imbued with an authenticity that is unlikely to be encountered elsewhere in the realm of design any time soon. Her latest creation for de Sede – the DS-3 – is an uncompromising, individual approach to form that draws the eye and stirs the desire to own seating such as this. It is nothing less than the uncluttered translation of a heartfelt quest for perfection. The concept behind the DS-3 deliberately stresses the sofa's inimitable form, which – with the cubist lines of its seating – ensures comfort ""de haute gamme"". Each tiny nuance is flawless to the very last detail, while the sofa's availability in a variety of widths adds yet further to its attractiveness.
The Iglu "Apple" Daybed
A masterpiece of furniture architecture, the world famous Skyline Design Iglu "Apple" daybed is both a real object of beauty as much as it is a serious piece of lounging indulgence. The Iglu "Apple" daybed comes as shown, with removable top section in case you wish to enjoy the rays and comes complete with all of the scatter cushions in Sunbrella fabric. The Iglu "Apple" daybed is made from an all aluminum frame and woven in the modern style with synthetic dark cane and wicker but with the durability to withstand the rigors of outdoor use all year round. The synthetic fiber material is UV color fast, non toxic and environmentally friendly, washable and maintenance free.
Kamado Joe's Pro Joe Ceramic Grill
Kamado Joe has just released its brand new luxury grill on the market, the "Pro Joe" which is probably the most advanced ceramic grill in the world right now. This new grill carries the largest cooking area of any ceramic grill with advanced technology for probably the highest heat recention.
Pro Joe features a three layer design with an inner ceramic core that averages 2″ in thickness, wrapped in a ceramic fiber insulation blanket and then encapsulated in a stainless steel outer shell for superior heat retention. This design completely seals off the airflow for accelerated cooling at reduced fuel costs.
AK-47 Zen Fireplace
The AK-47 Zen Fireplace is an ideal frame for the magic of the fire. It can be arrayed in different materials to create a perfect alchemy with its surroundings. An impeccable companion of soft evening light.
Vanity Valet Secret
Heat and Cool Hot Tools Inside the Cabinet
No one will know, but everyone will want, the "Secret". POJJO's innovative kit converts YOUR bathroom cabinet into a hidden salon station. Looking beautiful every day takes work. But when you have a salon station in your home, it becomes easier to go that extra mile and add those extra finishing touches. James Bond, step aside. Its time Jane Bond had a few secret gadgets of her own: a hidden beauty compartment for styling tools.
Vanity Valet Thurston
A Salon Butler
The Thurston is nothing shy of high-tech luxury home decor. A gentle tug sets the hydraulic arms in motion raising the styling station to arms reach. Having all your beauty tools organized and immediately available helps begin your day in the calm, Zen fashion you deserve.
Vanity Valet
Boutique
Stylish and Compact
Even your yacht or jet can provide you and your guests a mini-salon. Used by several country clubs, the Boutique offers a collection of tools in a compact designer space. Pick a color and create the next most talked about accessory.
Hoesch Water Lounge
Immerse yourself in the fascinating wellness experience. Water Lounge concept by NOA design bureau gives its own interpretation of bathing and living. It breaks down borders, traditions and conventions. It creates smooth combinations you can delight with. You lie your body down comfortably in a transparent glass cube and let the light, water and delicate air massage regenerate your body and soul.