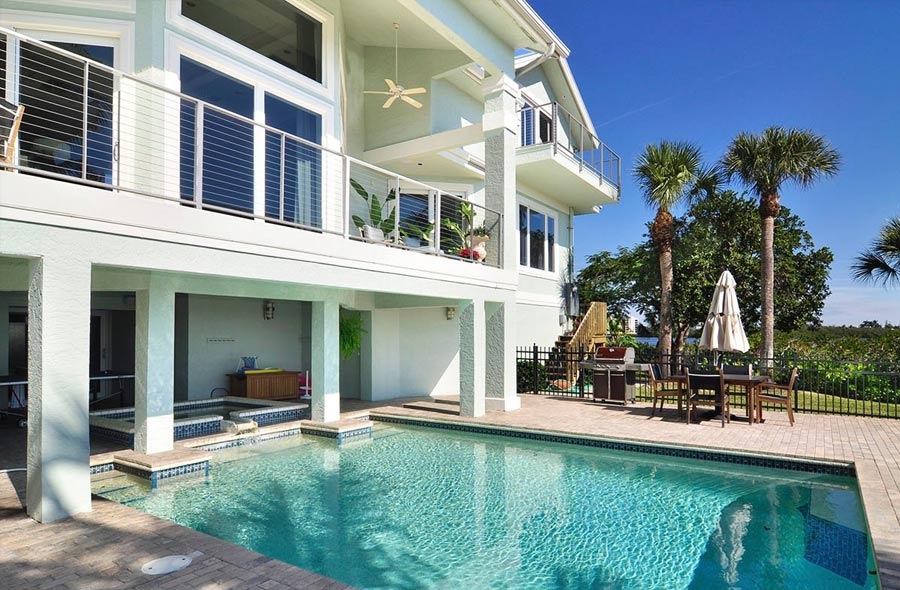 Having a private elevator to a penthouse is one thing, but having a private gondola to your mountaintop home takes exclusivity to a whole new level.
Yet this is a privilege that a few fortunate homeowners at Kadenwood in Whistler, British Columbia, Canada get to enjoy.
In a ski resort town that has become internationally famous for its luxury lifestyle, Kadenwood is in a league of its own, and as a result is attracting interest from discerning buyers around the world. This exceptional community offers an experience quite unlike anything else, so it's hardly surprising that purchase activity in Kadenwood has been leading Whistler's real estate market. Of the 60 home sites originally available, only 13 currently remain.
Located in a richly forested sanctuary on the side of a mountain 3,000 feet above sea level – the highest building elevation permitted at Whistler – these estates provide owners and their guests with stunning, sun-exposed views of mountain peaks and lakes below.
The spacious lots range from 1/3 to 1-1/2 acres, with homes occupying 5,000 to 10,000+ square feet. A network of ski-in, ski-out trails meanders down to the valley and is maintained by a private dedicated PistenBully groomer.
Kadenwood is the first resort neighborhood in Canada to have a private gondola exclusively for homeowners' use. The dedicated Doppelmayr gondola accommodates eight people at a time and takes residents home from the convenient Creekside village in just four minutes.
Although Whistler is legendary as a destination for skiing, it has been growing its reputation as a year-round resort, with lakes, rivers, and an active mountain biking and hiking scene, as well as three spectacular golf courses.
Enjoy the luxury of Kadenwood – a hideaway and a haven for today, for tomorrow, for all seasons and for all time.
Please call 1-800-590-4029 or visit KadenWood.com.
IMI DESIGN – And The Principals Of Luxury
What constitutes luxury design? Personal life experiences and preferences will create individualistic responses. "Getting to know my clients' aspirations and history helps me create an interior environment that wraps them in their definition of luxury and resonates with who they are." Anita Lang, owner and principal designer of IMI continues: "Clients' dreams run the gamut: from boutique closets with shoe storage for a thousand pairs to hidden TV built-ins everywhere through the house." There are, however, four main principals that remain consistent throughout luxury design.
Quality. In contrast to automated, mass produced pieces is the luxury of hand crafted, bespoke custom items from true craftsmen and artisans executing a work of art that will last for years to come. A beautiful welted seamstress upholstered leather chair to a hand carved paneled wood flawlessly grain matched are the epitome of luxury.
Comfort. True luxury is sleeping well in a sea of pillows or sitting in ergonomically correct chairs that contour perfectly to the body. Each individual has a preference and taste of comfort and luxury is surrounding oneself in everything made specifically for that taste.
Design Integrity. While design styles may vary from client to client, design principals of scale, proportion, color theory and balance create timeless beauty and relevance applicable to every taste.
Sensory Design. Luxury is not only creating a feast for the eyes but for all the senses. Wonderful aromas, varied tactile sensations from soft to smooth and of course peace stimulating sounds or music should all be engaged.
Lang concludes, "A lost opportunity for excellence is one of the most disheartening events in life. When my clients engage me for a project, either new construction or a remodel, I make sure not to miss a chance to improve their experience by incorporating both grand and subtle luxury into everyday life."
IMI Design Studio's Scottsdale studio
8355 E. Hartford Drive, Suite 100
Scottsdale, AZ 85255
IMIDesignStudio.com
Allied Member ASID,
LEED AP Certified,
NCIDQ Certified,
Certified Interior Designer California CID#6539
WATERFRONT SPLENDOR
Ideally located between Naples and Bonita Springs lies one of Southwest Florida's most unique and desirable communities: Barefoot Beach.
Set inside Collier County's only gated, beach and bay community, Southport on the Bay borders the back bay and wetlands, and is one of two separate gated communities within Barefoot Beach. A 100-home enclave offering deeded beach access, Southport offers a wide variety of single-family home opportunities including the one pictured here.
Offering spectacular views, privacy, quality and security and rebuilt in 2007 to the current construction codes with impact-resistant windows and doors, this luxurious home sits on the southernmost point in Southport on the Bay. It's features include a gourmet kitchen, Lutron lighting, an elevator and a premium sound system. The Jerusalem stone-floored great room with coffered 14′ ceiling separates the owner's suite with its spa-like bath, bedroom, sitting area and secluded den with private balcony from the guest wing with three separate bedroom suites, one of which is upstairs and has a private balcony.
Walk to the beach yet keep boats, kayaks and jet skis on two private docks, one of which has two lifts at the rear of the property. A large portion of the land and water areas in Barefoot Beach is being preserved in its natural state, providing a pristine environment reminiscent of Old Florida.
If you desire to live in a private community offering a wide array of amenities designed for the boating enthusiast and waterfront lifestyle, this is the home for you! Offered at $3,200,000.
The Grant Group
Doug Grant
[email protected] • 239.860.0005
TheGrantGroupFL.com • 224MalibuCove.com
ISLAND ROYALTY
The Royal Vista Estate, Grand Cayman, without doubt represents one of the finest luxury real estate offerings presently for sale in the Caribbean. It is a property that offers every luxury lifestyle option: sailing, swimming, scuba diving, snorkeling, tennis or horse riding.
The Royal Vista Estate offers about fifty acres, including a twenty eight thousand square foot palatial home, complete with an incredible great room and ballroom overlooking more than eight hundred feet of oceanfront and spectacular views of the Caribbean Sea. The main house also offers a grand formal dining room complete with fireplace, a capacious and well equipped kitchen with an informal breakfast area.
The property also has its own bar room for entertaining and relaxation which conveniently adjoins the media room which could easily be converted into a home theatre. There are many beautiful outside areas including screened patios, balconies and a sizeable swimming pool for exercise and fun. The ocean side of the Royal Vista Estate also includes a fitness studio, boat dock, two small beach coves, a terraced walk way and a mews style garage complete with staff accommodation. Addtionally, about forty of its acres include botanical gardens, lakes, a tennis court, an equestrian centre, riding trails, and the convenience and luxury of a helipad.
The Royal Vista Estate combines natural beauty with architectural grandeur, and a multitude of luxury lifestyle options. You could travel the whole world and not find another like it.
Cayman Islands Sotheby's International Realty
Sheena Conolly
[email protected] • +1.345.525.3333
SirCaymanIslands.com
RoyalVistaCayman.com
SIERRA CREST LODGE
Set in one of the most secluded and desirable locations in Squaw Valley, the home sites at Squaw Creek subdivision offer homeowners many amenities including ski-on/ski-off access, full spa facilities and pool and golf course access. The timeless design of this home is the representation of Western mountain lodges. Earthy, elegant, rustic, warm and traditionally crafted, it is a truly unique offering. Positioned on a cul-de-sac with views of Silver Peak and tucked gracefully amongst the surrounding forest, it features a reverse floor plan, 3,374 SF, 4 bedrooms and 4.5 baths.
3107 Sierra Crest Court – Olympic Valley (Squaw Valley USA), CA.
Offered for $2,300,000 • SierraCrestLodge.com
ROCK PILE LODGE
Have you been looking for a high quality mountain home combined with the best waterfront amenities Lake Tahoe can offer? Look no further! Your Lake Tahoe legacy starts today. Built by Loverde Construction in 2002 and crafted with amazing detail, The Rock Pile Lodge is light and bright and offers remarkable views, quality construction, a pier, boat lift and two buoys. It features contemporary lodge styling, vaulted ceilings, floor-to-ceiling glass windows and a panoramic lake view that takes your breath away with every sunrise and sunset. 3,856 SF, 5 bedrooms and 5 baths.
6203 N. Lake Boulevard – North Lake Tahoe, CA.
Offered for $2,195,000 • RockPileLodge.com
David Gemme
The Gemme Group
[email protected]
530.277.8881
Jenna Belden
The Gemme Group
[email protected]
530.448.6035
PRIVATE HAWAIIAN PARADISE
Introducing 1609 Mokulua Drive, an exquisite, private, double-gated Balinese-inspired retreat located on the Hawaiian Island of Oahu. Overlooking the Pacific Ocean and world famous Nã Mokulua Islands, this tropical retreat resides in Lanikai, a luxurious suburb of Kailua, Hawaii. This immaculate estate offers access to world renowned private beaches, secluded white sand coves, and calm crystal waters that are protected by a vibrant ocean reef. Blending authentic Hawaiiana elegance with refined luxury, 1609 Mokulua Drive redefines what it means to live the Hawaii dream!
Access the property through not one, but two secure gated entrances, offering refined privacy unmatched elsewhere in Hawaii. To further augment 1609 Mokulua Drive's emphasis on privacy, this unique retreat includes over 10 acres of land connecting to conservation area. Ascend your privately owned driveway and find yourself face to face with panoramic ocean views from every living space throughout the 4 bedroom home. Unique Balinese-inspired architecture maximizes indoor outdoor living; vaulted ceilings with exposed beams, dark exotic hardwoods throughout, and pocket sliding doors with floor to ceiling glass highlight a thoughtful floor plan. Open up the sliding doors to a spacious lanai, pool and Jacuzzi with ample room to entertain and relax. Two separate detached cottages with luxurious baths make for the perfect master suite and guest cottage.
A quiet and tranquil oasis above it all, one cannot help but feel rejuvenated by the blue Pacific, cool ocean breezes, a quiet, secluded white sandy beach where waters are calm for swimming. 1609 Mokulua Drive's caliber of high-end finishes and luxurious appointments are rare to find when packaged with such a private retreat; a chef's gourmet kitchen, an executive office with built-ins perched above the garage, living room with stone fireplace, detailed fine woods imported from across the globe and bright turquoise Pacific waters remind you it's your paradise.
1609 Mokulua Drive comes to the market listed by Sachi Braden, President and Principal Broker of Sachi Hawaii. Known for her international reach with a local touch, Sachi is a member of "Who's Who in Luxury Real Estate" and a recipient of Hawaii Business's Top100 Agents for six consecutive years. Sachi Hawaii is celebrating its 10 year anniversary as a luxury real estate brokerage where exceptional, detailed client service is at the front of every sale or property management account. Dedicated to excellence and global reach, Sachi Hawaii offers dream properties and service desired by discriminating buyers. 1609 Mokulua Drive is offered at $11,500,000 and consists of over 3,553 sq.ft. of interior across 10 acres of land.
Sachi Hawaii
Sachi Braden
[email protected] • 808.596.8801
SachiHawaii.com