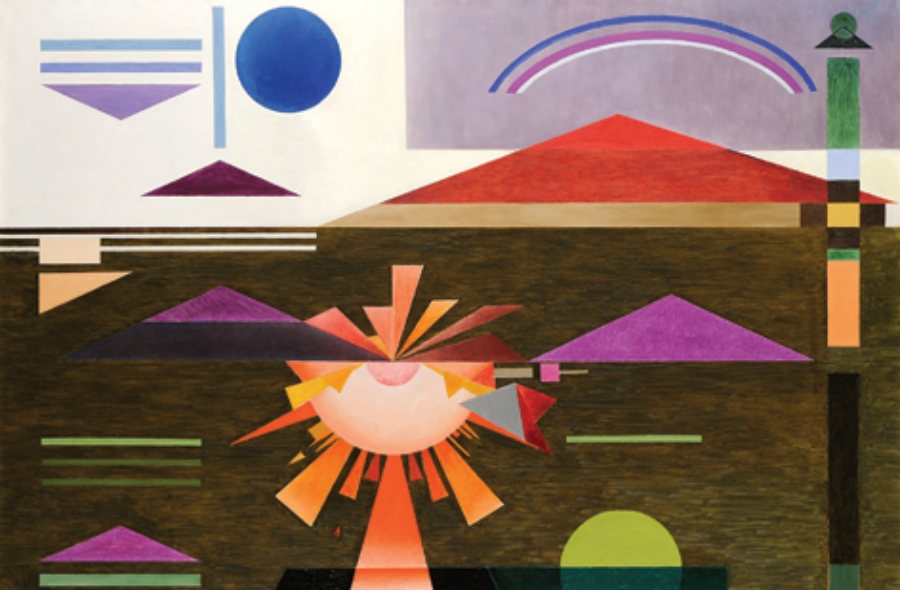 Portico Fine Art President Steven Lowy's Advice on Collecting Works of Early 20th Century Modernism.
In many ways, Steven Lowy is following in the footsteps of Solomon R. Guggenheim and Hilla von Rebay, founders of the Museum of Non-Objective Painting, known throughout the world today as the Guggenheim Museum. Like his predecessors, who changed New York's art world by championing Vasily Kandinsky and his disciples, Lowy has long been an admirer of those artists whose works were featured in the museum's very first exhibition, "Art of Tomorrow." Though some of them faded into obscurity after their height of fame in the 1930s and '40s, Lowy has been resurrecting their names and restoring master status to painters like Rudolf Bauer, Rolph Scarlett and even Rebay herself as innovators of abstract art.
Lowy is president of Portico Fine Art, a curatorial and art advisory firm which specializes in early 20th century Modernism, especially abstract art inspired by Kandinsky who was the chief painting instructor at the Bauhaus. But the firm has been especially adept at bringing Bauer back into the spotlight, showcasing works that had long languished in the Guggenheim collection unseen by the public. Lowy, 54, describes his first encounter with a Bauer painting many years ago as "love at first sight."
"I am a fan of underdogs and have made a life-long study of the reasons and mechanisms by which artists go in and out of favor both critically and financially," Lowy says. "Although Portico began with an emphasis in contemporary art, I made a rash decision to focus on classical Modernism when I encountered the art of German artist Rudolf Bauer."
Bauer was known to be a favorite of Guggenheim, but a dispute that erupted over his contract with the Guggenheim Foundation left the painter's relationship with his patrons strained. He stopped painting to prevent them from having any further control over his work.
"I stumbled upon his work in an exhibition and was shocked that I had never heard of him before," recalls Lowy, who received a bachelor's degree in art history and English literature from the University of Pennsylvania. "Through his work I became familiar with the 'Art of Tomorrow,' and in just a few months I was negotiating with Thomas Messer, the director of the Guggenheim Museum, to purchase works by Bauer and his circle out of the permanent collection. I was 29 years old and my professors had done their job well. Here was 'museum quality' work that had gone unrecognized for years. The market for this work has since re-awakened."
Lowy, who also holds an Executive MBA in management from the Stern School of Business at New York University, co-founded Portico Fine Art in 1981. Since the 1980s, he has organized and curated a number of museum and gallery exhibitions of Bauer's work, beginning with the "Bauer Centennial Exhibition," which was shown in four major cities in 1989-1990.
In 2000, Portico Fine Art organized the first major exhibition of Bauer's work in London in 30 years, and when the Guggenheim mounted "The Art of Tomorrow: Hilla Rebay and Solomon R. Guggenheim" in 2005 – including a partial reconstruction of the museum's opening exhibit -Portico, as curator of the Bauer estate, was the second largest lender to the exhibition and provided consulting services to the curators of the exhibition. The firm devoted its loft space in SoHo to a simultaneous companion exhibition of works from the "Art of Tomorrow" group and included Bauer's "Orange Accent," which had been featured on the invitation to the opening of the Museum of Non-Objective Painting in 1939. Portico followed up with another major Bauer retrospective in 2007 at the Weinstein Gallery in San Francisco.
Lowy's career as an art advisor and collector was spurred by an adventure he had as a young man. "When I was 17 years old, I went to Europe for the first time on a student trip with my best friend. He had just completed an AP Art History course and was very excited to see the art he had studied first-hand. What an enthusiastic tour guide! That was my first big 'wow!' I went on to study the history of art at the University of Pennsylvania. My thesis advisor was the brilliant art historian Dr. Leo Steinberg.
"Dr. Steinberg collected Old Master prints, and encouraged me to begin collecting art as part of my educational development. Although I didn't know what I was doing (I hadn't been taught about the importance of condition or of developing focus as a collector), it sounded like fun. I spent a summer reading for my thesis and collecting prints. There was one that I bought at a good price but needed framing if I were to keep it. I decided instead to sell it at auction as an experiment and realized a nearly 600 percent profit. I learned quickly that knowledge is power. It was a big lesson for me at a tender age."
Today, Lowy advises individuals on the development and growth of art collections that provide investment value as well as aesthetic and spiritual nourishment. Among others, he provides his services to modern-day Medicis who aspire to be patrons of the arts.
"When you say patronage, I think of kings, queens, popes and captains of industry," Lowy says. "During the Renaissance, art was very transactional. Michelangelo only worked by commission. He was paid in gold and invested in real estate – and never too close to the river because of flooding. His clients were popes and aristocrats. Art for art's sake is a relatively modern idea."
"In more recent times, Henry Clay Frick and Solomon Guggenheim are prime examples of art patrons. They are as famous today as many of the artists they collected, if not more so. Frick was interested in masterworks from throughout art history. His collection is a kind of 'Arts Greatest Hits.' I love visiting the Frick Museum in New York because it is like eating a box of deluxe chocolates."
Whatever the reasons for collecting, Lowy encourages serious art buyers to consult with an advisor. "The art you love will make your heart race and give you an emotional high." he says. "If you are busy building or managing a personal empire, however, you would be wise to pursue your passion for art with the aid of an advisor. An art advisor should be well educated and have experience with art, art history and collection management. An advisor needs to serve your short and long terms needs, be they aesthetic, fiduciary or philanthropic."
While still active with the "Art of Tomorrow," Portico works closely with the estates of many artists including Seymour Fogel, Xanti Schawinsky and the Marbrook Collection, which comprises the life work of Juanita (Rice) Marbrook Guccione and numerous works by her sister, Irene Rice Pereira.
Annemarie Sawkins, Ph.D., is an independent curator, art historian and author born in Durham, England. From 1999 to 2012, she was a curator at the Haggerty Museum of Art at Marquette University, in Milwaukee, Wisconsin. Between 1997 and 1999, Sawkins worked at the Milwaukee Art Museum where she was a contributing author of A Renaissance Treasury: The Flagg Collection of European Decorative Arts and Sculpture (1999). A frequent juror and art consultant, Annemarie Sawkins has a Masters and Ph.D. from McGill University in Montreal, Canada.