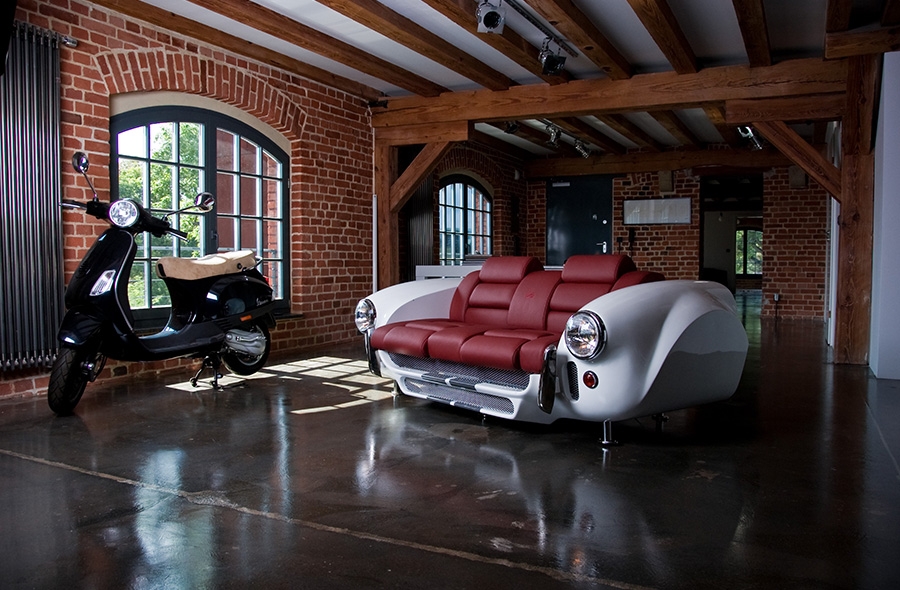 Introducing luxury automotive inspired furniture from the LUC & ANDRE Collection offered exclusively by Steve's Auto Restorations, Inc. Each quality piece is handcrafted in Europe using only the finest materials. A variety of colors and finishes are available making each piece unique. Other items include sofas,coffee tables and lamps to complement your custom decor.
Steve's Auto Restorations, Inc. is proud to announce that we are the exclusive importer and distributor of the 427 Spirit Collection and the 9ELEVEN Collection of handcrafted aluminum and composite L&A designer furniture.
The 427 Collection consists of a sofa, an armchair, a coffee table, a desk table, and a stainless steel side exhaust inspired floor lamp. The sofa and armchair are hand formed out of aluminum sheet and can be painted a choice of colors or just polished as is. Other metals possible upon inquiry. The manufacturer also offers a line in fiberglass. The pieces are painted with the highest quality polyurethane automotive paint available.The stripes on the aluminum items are highly polished.