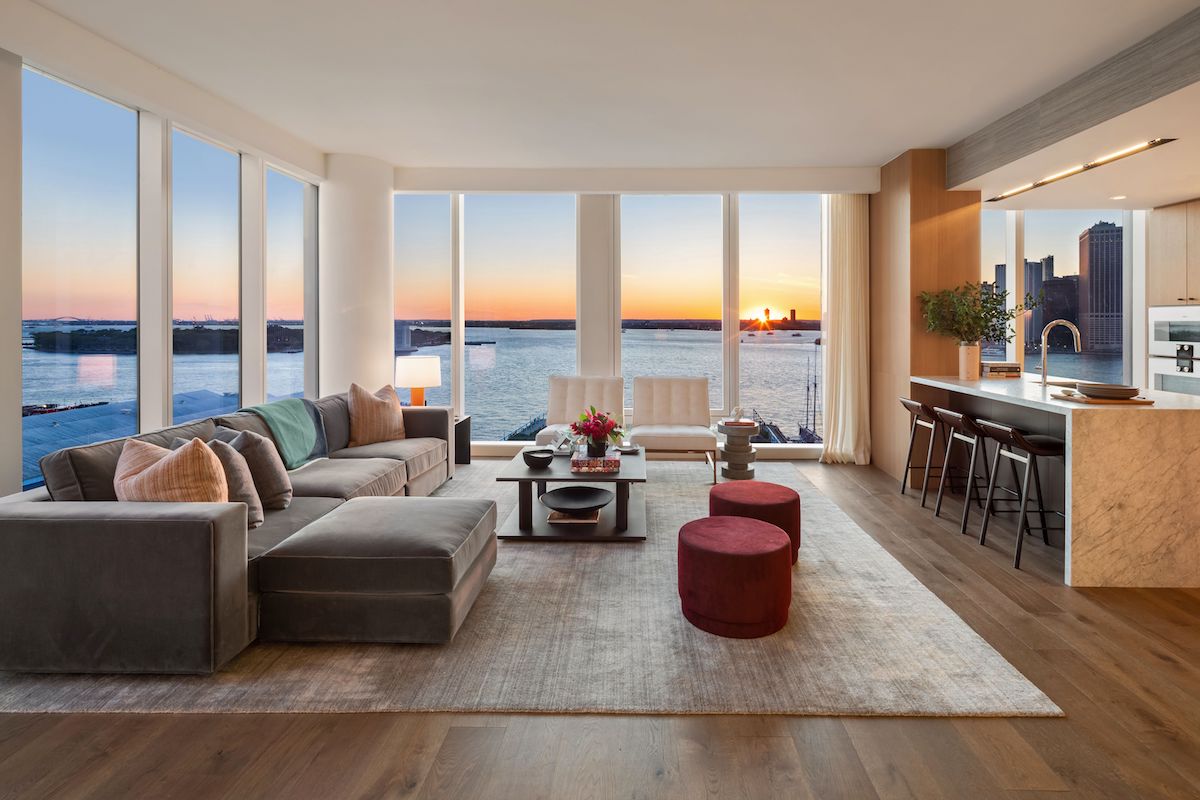 The rapid spread of coronavirus has upended the way companies and institutions conduct business, and for countless employees and executives alike, teleworking has become the new normal. Instead of face-to-face meetings or in-person operations, businesses are promoting safer working practices, using online conferencing platforms like Zoom to facilitate collaboration and social distancing.
Tele-conferencing, though convenient, can be full of professional faux pas. Whether it is forgetting to mute the mic or having an unexpected visitor barge in on a boardroom meeting, savvy workers must think carefully about how to maintain professionalism while away from the office environment. For some, the perfect Zoom background can project confidence and know-how, showcasing adaptability and a commitment to professionalism—even in less-than-ideal circumstances. Here are some top-notch background designs that will enhance your image, without distracting from your message.
200 East 59th Street in Manhattan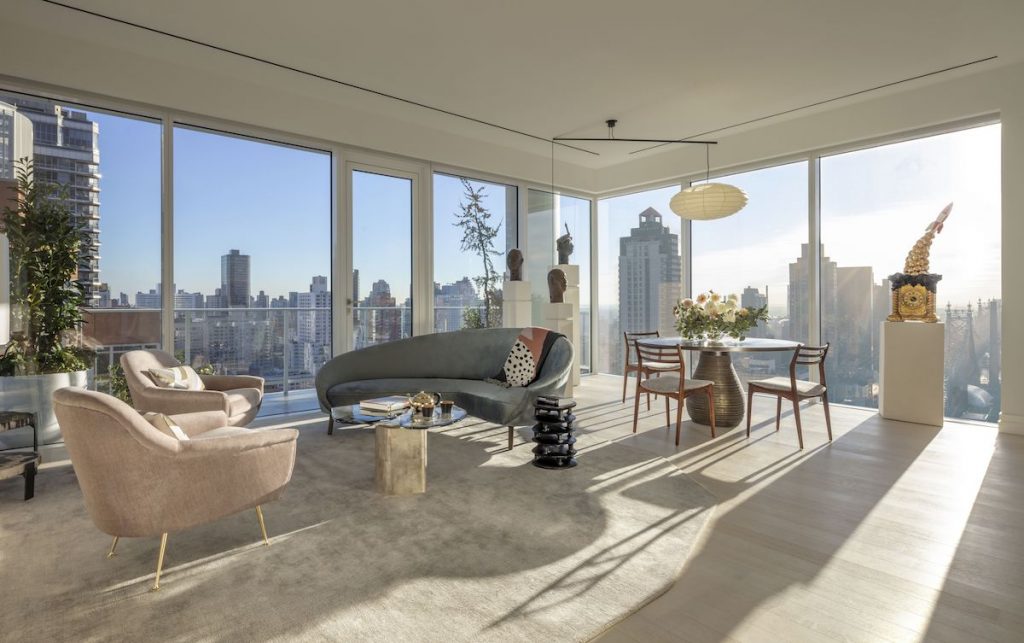 Airy and full of natural light, rooms from this condo complex overlooking Manhattan exude sophistication and class, elegance, and professionalism. The furniture is sleek and modern, and the interiors strike up a harmonious balance between comfortable and refined. In addition to views of Central Park and floor-to-ceiling windows, these condos draw inspiration from Surrealist painters Salvador Dali and Joan Miro, both known for their bold, whimsical shapes and playful compositions. These luxury spaces are the vision of French designer Cyril Vergniol, and they are sure to leave a positive impression on all your Zoom collaborators and work colleagues.
77 Greenwich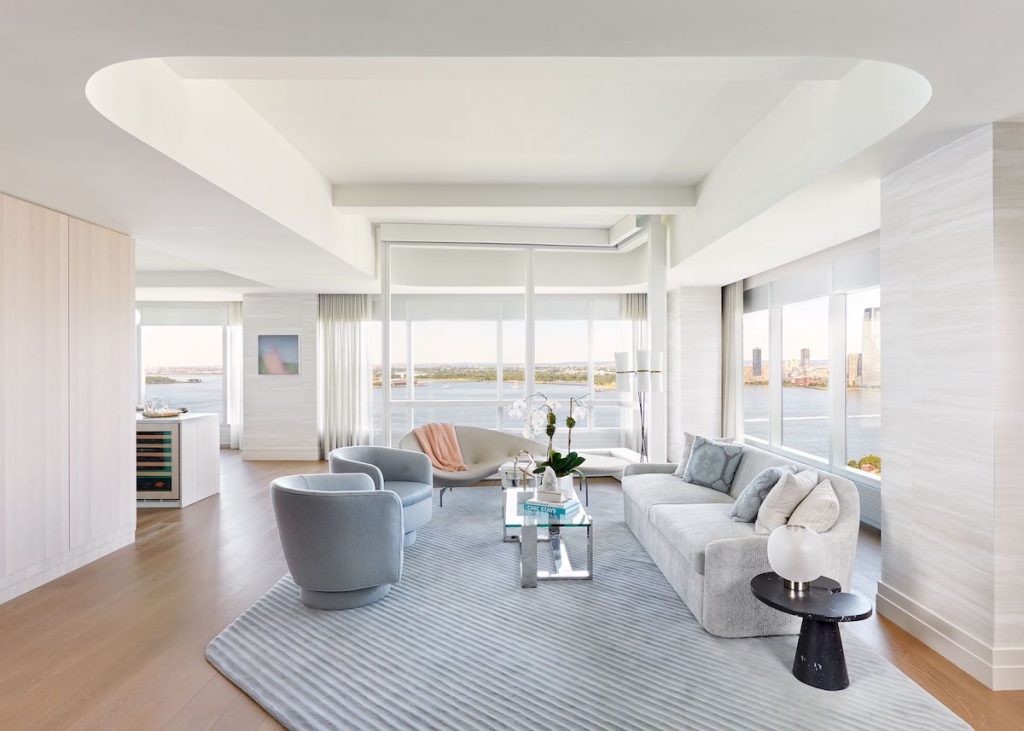 The condominiums at 77 Greenwich in Downtown New York City are spacious and calming, the perfect backdrop for daily check-ins via videoconferencing. These rooms come replete with vaulted ceilings and stunning aerial views of the water, embodying Manhattan's trendy elegance and elite flair. Designed by Deborah Berke Partners, with architecture from FXCollaborative, projecting these high-end condos in the background allow you to conceal your messy office space or disorganized living room. With an image like this, you can situate yourself in a bright, cheerful space that is sure to draw compliments from colleagues and friends.
Airy Williams-Sonoma Backdrop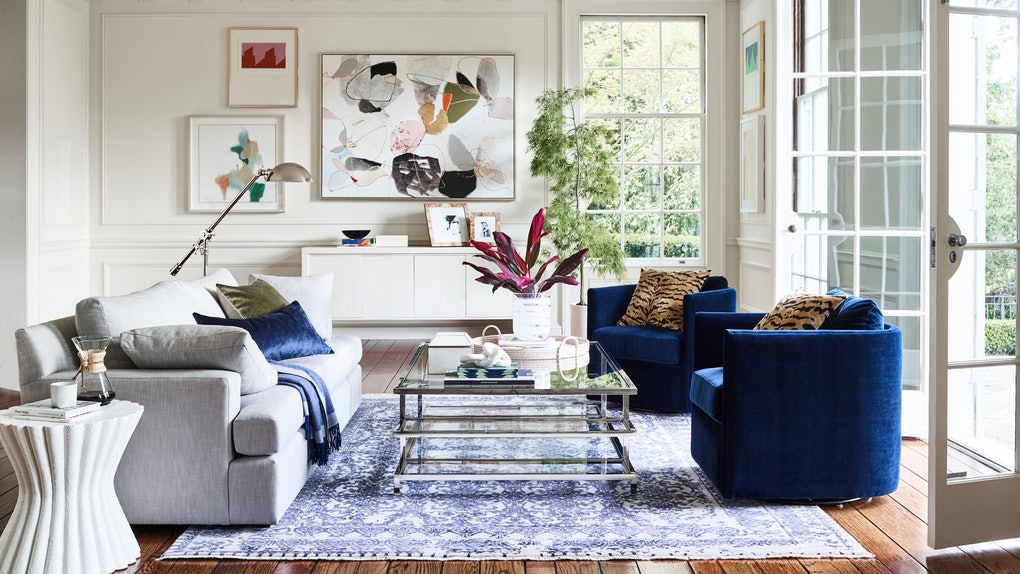 This breezy and open living room designed by Williams-Sonoma sports rich sapphire-blue furniture and an eclectic array of eye-catching paintings and wall accents. Mod, chic and inviting, the backdrop balances indoor comfort with outdoor relaxation. The space's soothing blend of decorative houseplants and boldly patterned accessories suits a variety of virtual occasions, from an afternoon team meeting to a long-distance brunch to reconnect with family and friends. Social distancing has significantly scaled back our ability to mingle outdoors with others; this Zoom background elicits fond memories of spending time with good company in the sun and fresh air.
One United Nations Park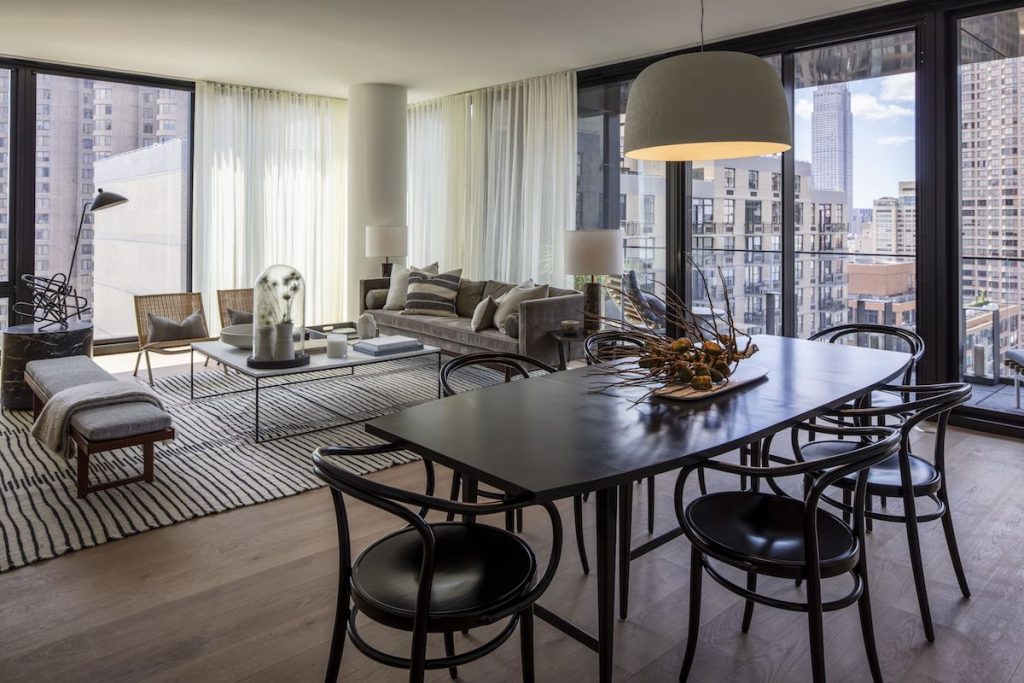 This sleek background features a condo in the One United Nations Park residency in New York, with posh interiors designed by former Martha Stewart Living Home & Decorating Editor Rebecca Robertson. With its sharp contrasts in colors, rich textures, and decorative lighting, this backdrop melds urban sprawl with domestic comfort, creating a tranquil environment for extended conference calls at home. It also doubles as a versatile background for convening with friends or colleagues over virtual lunch. Achieving a welcoming and cozy feel, this high-end space will be the envy of everyone in your contacts list, blocking out the stress and uncertainty of the pandemic.
Tropical Warmth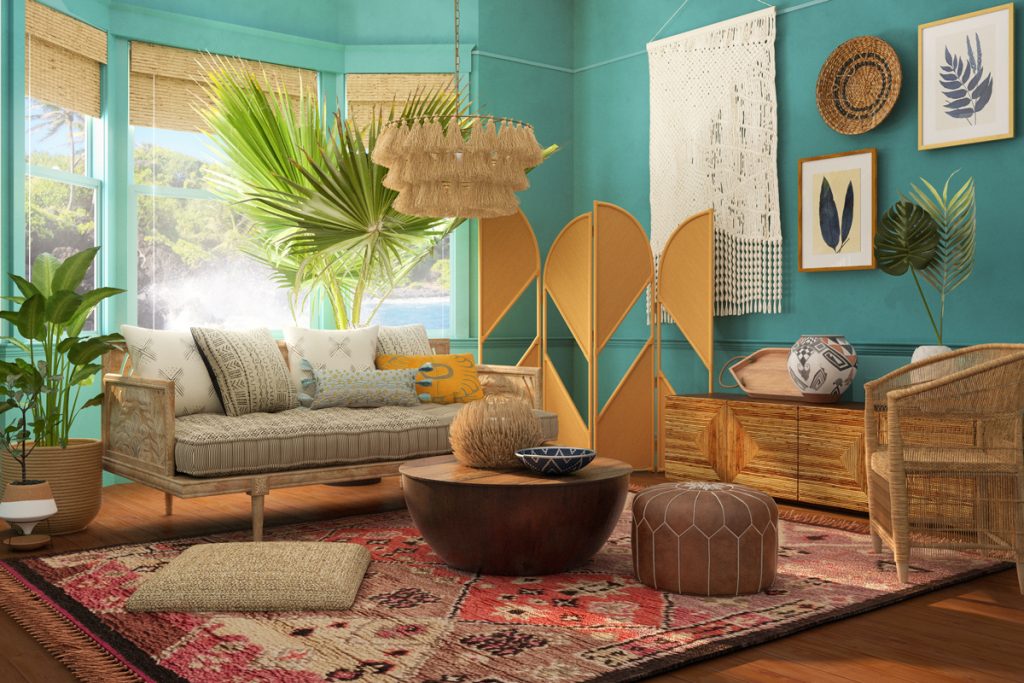 Inspired by the Disney film Moana, this backdrop is a departure from the rest, given its tropical vibe and saturated colors. Instead of a ritzy condo with a cityscape view, the room features bright teal walls complemented by furniture with rich textures, as well as sunlight pouring in through the windows. Palm frond accents give this simulated environment an inviting sense of warmth, one that evokes laidback island culture without sacrificing professionalism. Perfect for people who live near the ocean (or wish they could), a Zoom backdrop like this one will act as a bright spot in a drab virtual meeting—an excellent choice for these hectic times.