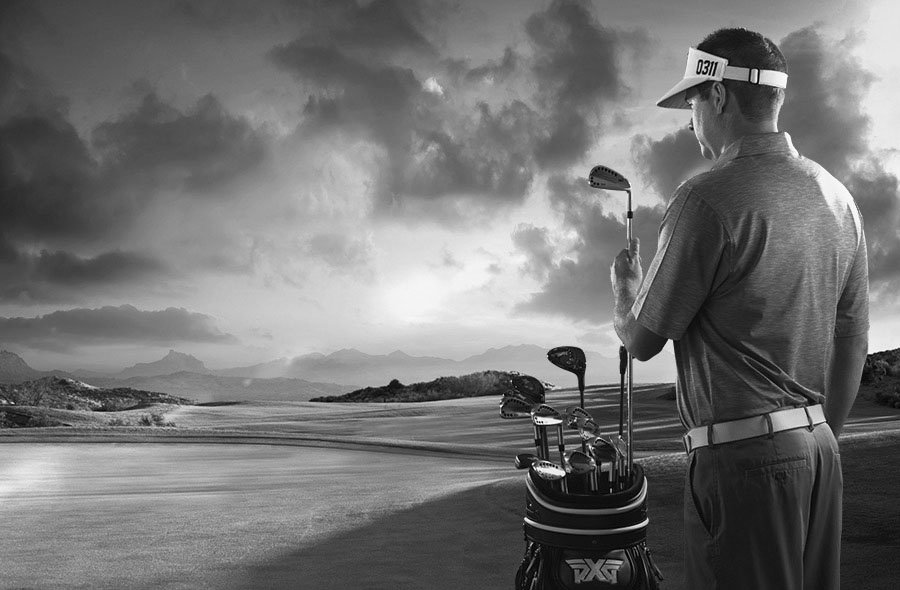 Bob Parsons, the well-known founder of domain name registrar GoDaddy, is quickly gaining notoriety among golfers for his newest venture Parsons Xtreme Golf (PXG). An out and out entrepreneur with a Midas touch, Parsons is turning his famous philosophy of "doing what you love" into a formula for success in the golf industry.
"I absolutely love the game of golf – and I have always been interested in how the right equipment can improve my game," said Parsons. "Before I started PXG I spent a quarter of a million dollars annually trying the latest equipment. Irons, drivers, shafts, grips – you name it, I've played it."
PXG – The Story
After years of experimenting, Parsons' stopping trying to find the best equipment and decided to build it. Combining his winning track-record and passion for the game, Parsons launched PXG in September of 2014. His mission … to develop the world's finest golf equipment.
The combination of top talent, unbridled resources and early tour adoption has spurred PXG's explosive growth. Today, less than one year since its launch, PXG's clubs are played on all three major U.S. tours and are available for purchase through high-end club fitters in 11 countries.
PXG – The Equipment
Bob Parsons and long-time friend Mike Nicolette, a former PGA TOUR player and respected club designer, kicked around the idea of building golf clubs together for years. According to Parsons, "one day it just made sense to get started."
Parsons launched the company with what Nicolette called an "intimidating goal."
Parsons demanded of his designers what most golfers dream about: a sexy set of irons that look like blades, launch higher, go further, feel softer and have a sweet spot the size of Texas. "Our clubs have to feel like butter, fly farther than anything else on the market and the difference has to be noticeable."
The engineers' carrot – no cost or time constraints.
Armed with all the resources they needed, the team started the long process of researching various alloys, exploring new technologies, and identifying the unique properties that would make PXG clubs unlike anything else.
More than 50 patent filings later, PXG has developed sophisticated manufacturing processes which use premium alloys and cutting-edge technology, to create its high-performance golf clubs.
"Words and pictures don't even begin to capture some of the most innovative and important aspects of PXG's groundbreaking technology," chief product officer Brad Schweigert shared emphatically. "I can honestly say that PXG's full line of equipment has far exceeded my expectations. Pick a club – one hit is all it takes to know that we've created something very special."
The PXG 0311 irons feature the thinnest face on the market today. The face is actually so thin, that without the internal supporting thermo plastic elastomer (TPE), it would deform on impact. Originally, TPE was injected into a hallow-bodied iron to help produce a better feel; which it does incredibly well. The unexpected side benefit of the TPE core is it also provides structural stability and reduces the stress in the face.
Having removed a significant amount of mass from the interior cavity of the iron, 11 high-density tungsten weights were added to the perimeter of the 0311 clubhead to optimize the CG position to produce longer, more consistent shots.
PXG went on to design drivers, fairway woods, hybrids and putters that leverage PXG's Precision Weighting technology. The perimeter weights provide vast fitting options for the PXG 0811 driver, 0341 fairway woods and 0317 hybrids to influence ball flight and straighten-out a player's game.
The visible weights have become PXG's signature look and can be seen on all club designs.
The company's unique club numbering system references the Marine Corps' Military Occupational Specialty (MOS) system and is a tribute to the brave men and women who serve in the United States Marine Corps.
Parsons is a U.S. Marine Corps Vietnam veteran and a recipient of the Purple Heart Medal, Combat Action Ribbon and Vietnamese Cross of Gallantry. He credits his great success in business to his years of service saying, "It was in the Marine Corps that I learned the things that would make all the difference in my life."
PXG – The Experience
Parsons always said if he struck it big he would either buy an NFL team or a golf course. Well, football will have to wait.
In 2013 Parsons acquired a golf course located in Scottsdale, right on the edge of Arizona's vast, undisturbed Sonoran desert. He has since named the exclusive club Scottsdale National and made a significant investment in preserving the raw beauty of the site. There are no homes lining the fairways or anywhere else on the property, which is protected on three sides by over 40,000 acres of beautiful desert.
Because of the Club's exclusive membership, the course is always wide open and ready for play, tee times are never necessary and golfers will seldom see another group. Add outstanding service and exceptional food to the equation and you've got an unbeatable experience.
Recently, Parsons introduced the PXG Experience whereby a privileged few might be fit for PXG equipment at the company's headquarters and gain access to Scottsdale National for two rounds of golf. The PXG Experience is reserved for those who value adventure, love golf and want an exceptional, once-in-a-lifetime opportunity.
"When someone is professionally fit for PXG clubs their enjoyment of the game goes up and their scores go down. In my mind that is a winning combination. Being fit by the guys who actually had a hand in designing the clubs, well that's really special and something only a select few can say they've experienced."
PXG's patents give the company a 20 year head start on its competition. Add Scottsdale National and Bob Parsons to the equation and it looks to be something exceptional.
For more information about PXG, its products and the PXG Experience visit www.PXG.com or call 844.PLAY.PXG.