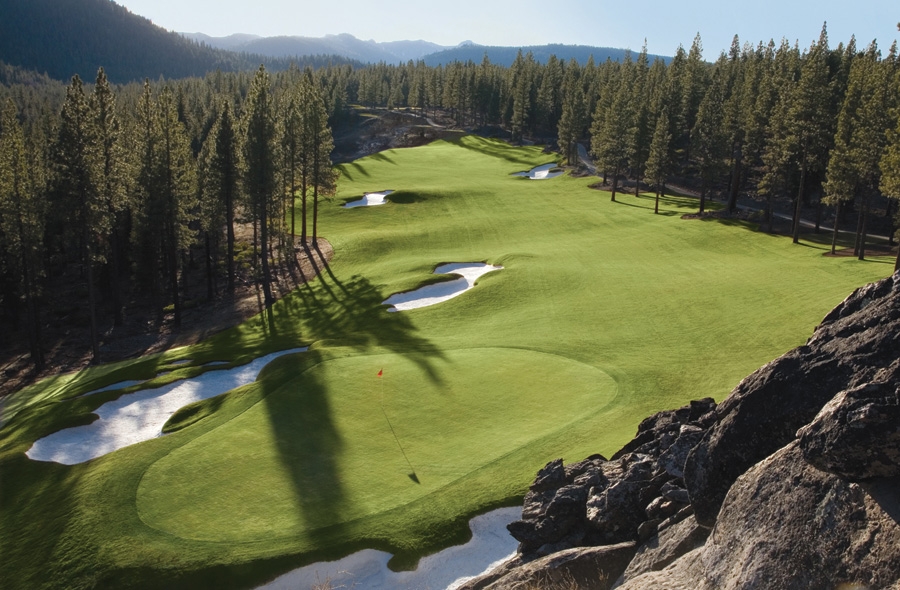 As you surely know by now, we here at Jetset are passionate about golf. We always strive to bring you the latest information about the best courses, clubs and events from around the world with our selection of the best links under the sun.
With its perfect temperatures and breathtaking scenery, the Southwest is the ideal locale for hitting the links this winter and spring. The following is a prime selection of some of the finest golf resorts, communities and clubs that the Southwest has to offer. Whether you are looking to purchase or build your dream vacation home, or are simply in need of a great club to play a quick 18 while in California, Vegas or Scottsdale for a few days on business, we've got you covered.
Martis Camp
First up, we head midway between Truckee and North Lake Tahoe to California's fabled Martis Valley. There you'll find the award-winning Martis Camp private, gated community. This modern but rustic "Old Tahoe-style" luxury escape encompasses 2,177 acres of unsullied Sierra forest. With its award-winning golf course, ski access, three-acre fishing lake and miles upon miles of community trails to explore, Martis Camp is the ultimate refuge from the incessant bustle of city living.
Martis Camp is a dream place for golf enthusiasts. Designed by Tom Fazio, Martis Camp's 18-hole championship golf course blends thoughtful design with the dramatic topography of the High Sierra landscape. The front nine take advantage of awe-inspiring mountain views, while the next seven holes crisscross Martis Creek and wind through the valley floor. Tree-lined fairways, sand bunkers and water hazards come into play throughout. Then, in perfect crescendo, the finishing holes conclude in dramatic fashion, framed by mountain vistas. The 18th, the course's par-4 signature hole, rivals some of the most scenic in Northern California, as the fairway plays downhill and then rises to a green that sits in the shadow of a seventy-foot rock promontory.
While golf is the premier activity at Martis Camp in the summer, the winter months belong to skiing. Homeowners are granted private access to Northstar California via a new high-speed quad lift called the Martis Camp Express, and Lookout Lodge offers an exclusive slope-side setting, indoor and outdoor dining and a vast array of snow sport amenities, including valet ski service. In addition, Martis Camp's award-winning Family Barn complex is home to a bowling alley, movie theater, basketball court, old-fashioned soda fountain and an amphitheater for seasonal outdoor concerts.
Moreover, according to Western Art & Architecture magazine, "Martis Camp might be the hottest real estate venture in the country," and completed homes at Martis Camp have already won numerous architectural awards for their creativity and ingenuity. Whether you wish to erect an entirely green home with ground-source heat pumps and solar voltaics or a European Alps-style chalet, you are only limited by your wildest imagination.
CordeValle
Next up, we take a trip to splendid Rosewood CordeValle. Nestled in the picturesque foothills of the Santa Cruz Mountains, CordeValle was voted "Number One Resort in Northern California" and "One of the World's Best Hotels for Sports Lovers" by Condé Nast Traveler. Situated right between San Jose and the Monterey Peninsula, this secluded San Martin retreat was designed in perfect harmony with the surrounding hills, canyons and meadowlands. CordeValle has earned its esteemed reputation for its unique blend of unmatched luxury and classic country charm and its magnificent Robert Trent Jones, Jr.-designed golf course.
The course at CordeValle is a 7,360-yard beauty with utterly unobstructed views of the tree-dotted hills, canyons and broad meadows that make up the resort's 1,700 acres. As you play at CordeValle, you'll continually find yourself stopping to admire the diverse landscape which calls for a variety of different strategies and club selections. Meandering creeks and wetlands have a small role in the layout, most notably on the par-5 third, but overall, the course is more straightforward. The strategically-placed bunkers provide a majority of the challenges. From the back tees, the golf course is a formidable test, but the forward tees are friendly enough for beginners. You'll understand why it is renowned as one of the West Coast's premier championship golf venues.
In addition to its pristine golf course, CordeValle's luxurious but understated clubhouse is perfect for business meetings and social gatherings. The 4,100-square foot clubhouse contains not one, but three distinct dining venues — One Iron Bar, Lion's Peak Grill and Il Vigneto — each featuring a delectable menu accenting local wines from the region. And as with the golf course, the Backen and Gillam architecture delicately reflects the natural splendor of the surrounding landscape. This subtle motif is carried throughout the resort and is especially visible in CordeValle's 45 sublime bungalows, fairway homes and villa suites. Each lodging option is a relaxing haven with breathtaking views of the golf course and hillside, and includes first-class amenities like fireplaces, original artwork, goose-down comforters and garden baths. Whether you stay at a quaint 750 square-foot hillside bungalow, an 1,100 square-foot modern villa suite or a 3,100 square square-foot fairway home, your stay at CordeValle is destined to be an unforgettable one.
Grayhawk Golf Club
Now we turn our attention eastward to sunny Scottsdale, Arizona. One of the nation's best cities for golf, Scottsdale is home to several premium golf courses and communities. One club that we here at Jetset have been touting for years is Grayhawk Golf Club. One of Scottsdale's most recognized courses features not one, but two brilliantly-designed 18-hole courses: Talon and Raptor, both providing unique challenges as they wind through North Scottsdale's spectacular Sonoran Desert. Each course features more than its share of memorable holes. Grayhawk offers the first-class amenities of a private club for anyone from a weekend hacker to a 2-handicap.
But perhaps what we love most about Grayhawk is the relaxed, upscale-but-casual atmosphere. After the round, relax in the comforts of a great clubhouse facility. The spacious, 40,000-square foot clubhouse is complete with an award-winning golf shop, several conference rooms and full locker room facilities for its members. There are also more places to eat than at other championship courses.
Before you head out to the course, fuel up with a cup of coffee or breakfast burrito at The Morning Joint. When it's time for dinner, the classier Quill Creek Cafe has a huge selection, including ribs and prime rib, and Isabella's Kitchen serves up Italian country bistro fare. And don't forget Phil's Grill, aptly named after the PGA Tour's great Phil Mickelson, which is the place to be after a round. It serves giant margaritas to help you forget about your score, or, better yet, embellish how good it really was.
Troon North Golf Club
Another classic desert golf experience in Scottsdale is Troon North Golf Club. It also boasts two 18-hole courses: the Monument and the Pinnacle. At Troon North, challenge and visual sensation combine, as each of its Tom Weiskopf-designed courses are both thrilling to play and invigorating to behold. Both courses stretch through the natural ravines and foothills in the shadows of Pinnacle Peak. The immaculately-groomed fairways, bentgrass greens and exceptional customer service create the renowned Troon Golf experience. Whether they're playing for the first time or are a regular at Troon North, these two Scottsdale courses offer golf connoisseurs the best in desert golf!
Hungry after your round? The Dynamite Grille offers an exciting menu with a wide variety of fresh and contemporary cuisine in a relaxed, comfortable setting with one of the most scenic backdrops in the state of Arizona. Whether you've worked up an appetite out on the course, want to catch a game or just want to swing by for a delicious dining experience, The Dynamite Grille is the place to go.
Blackstone Country Club
Northwest of Scottsdale in the city of Peoria rests an engaging private club unlike any other, Blackstone Country Club at Vistancia. This 7,089-yard, Jim Engh-designed championship course has been ranked the "#2 Private Golf Course in Arizona" by Ranking Arizona for 2014. Players experience semi-blind shots, wildly undulating fairways and other features that stretch the envelope of course design. Blackstone thrills golfers at every level and ability, and challenges members round after round. The boundless natural beauty of the Sonoran Desert is on full display as the course features glorious mountain views, gentle sloping hills, dramatic terrain and elevation changes on every hole. Members enjoy a casual, yet elegant experience in addition to spectacular golf.
If you're considering buying a membership at Blackstone, be sure to chat with the Director of Golf, Tom Wilcox, a 30-year PGA professional with a Master Professional designation. Mr. Wilcox has been the head of golf operations at six noteworthy private golf clubs, beginning with Sankaty Head Golf Club on Nantucket Island, Massachusetts and John's Island Club in Vero Beach, Florida. He then became head of the golf operation at Philadelphia Country Club in Gladwyne, Pennsylvania and served as the head golf professional at Sunset Ridge Country Club in Northfield, Illinois and at Governors Club in Chapel Hill, North Carolina. He most recently served as director of golf at Quintero Golf and Country Club in Peoria, Arizona. "Tom is an excellent addition to the Blackstone Country Club team," says Bill Griffon, general manager for Blackstone Country Club. "His level of professionalism, golf expertise, and, most importantly, his leadership skills will elevate the golf experience for our members to a new level."
At the heart of Blackstone's distinctive lifestyle is the Hacienda, a 30,000 square foot clubhouse built on 17 acres between the ninth and tenth holes of the course. Designed by acclaimed architect Bing Hu, this stunning social complex delivers pampering luxuries and an array of recreational and social activities. Blackstone's members enjoy resort-inspired amenities and a wide selection of lifestyle, fitness and dining experiences for every family member. The clubhouse includes a 24-hour fitness center, lighted tennis courts, resort-style pool with private cabanas, a lap pool and a children's play area with water features. Cozy courtyards with outdoor fireplaces welcome guests to an outdoor great room overlooking the desert and spectacular mountain range. It's the ideal spot for relaxing and enjoying nature's surroundings. Enchanting outdoor spaces surround the clubhouse with plush play lawns, inviting casual picnics, croquet matches, intimate weddings and other social gatherings.
Bali Hai Golf Club
We finish our Southwestern golf tour in Nevada. As most avid golfers who visit Vegas know, Bali Hai Golf Club is the only championship course situated right on the Strip. This visually-stunning golf course takes you from the hustle and bustle of the casino floor to 7,002 yards of tropical golf paradise.
You'll find yourself transported to the tranquility and beauty of the South Pacific, with the Strip still in your sights. Here, transition zones are accented with Augusta white sand and set off by black volcanic rock outcroppings. Challenging play, breathtaking scenery and first-class facilities make Bali Hai a one-of-a-kind golfer's paradise that Golf Digest named one of the "Top 50 Resort Courses." Bali Hai is a unique experience and a must-play for golfers of all abilities.
Wolf Creek Golf Club
And last, but not least, is Wolf Creek Golf Club in relaxing Mesquite, Nevada. Widely acclaimed as Nevada's number one golf course, Wolf Creek's par-72, 7,018-yard layout mesmerizes and challenges players from start to finish, no matter what their playing ability is.
There is no other course in the country that offers breathtaking views with pristine course conditions of this caliber in such a unique setting. Players describe it as a breathtaking "roller-coaster ride" complete with lush green fairways, canyons, rocky outcroppings and strategic water hazards that will challenge every level of player. As a result of its popularity with players for its beauty, allure and playability, Wolf Creek Golf Club was voted the "Number One Public Golf Course" in the United States.