After watching various parts of the Major League All-Star game festivities this week, I was left with one question. Is Mike Trout going to be a billionaire when he is done playing baseball, or just a $900 millionaire?
If you are not an avid baseball fan, no need to apologize, because the pace of play can be jaw-droppingly slow. Seriously, you could binge-watch an entire season of your favorite TV show on Netflix in the amount of time it takes to watch a typical game. If it was a playoff game between the Yankees and Red Sox? No joke, you can binge watch the entire SERIES of Friends during just one David Ortiz at bat.
But there is absolutely no denying the special talent it takes to excel in baseball at the highest level, and wow, Major League Baseball is loaded with some incredible young superstars right now. At the top of the list is Bryce Harper of the Washington Nationals, and the MVP of the All Star Game for the second straight year, Mike Trout of the Los Angeles Angels.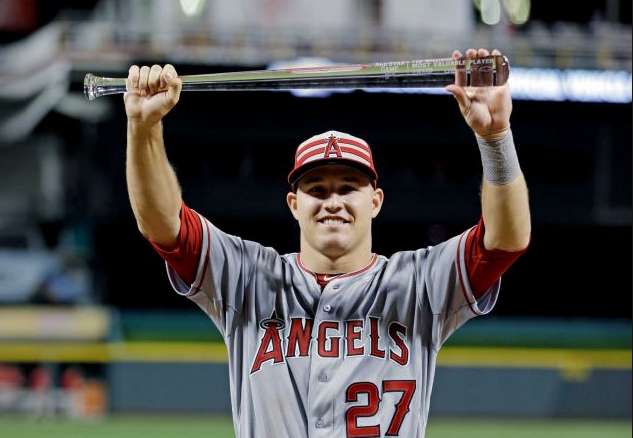 Not only are they great, but they are electric, passionate, intense, and tough. But here's why I'm thinking if he does things right, Trout may be the first billion dollar ballplayer. There's nothing not to like about him. He's handsome, never gets in trouble, loves his family, (he still lives in his parents house in New Jersey during the offseason), and his smile is so electric it could light up a Mexican drug lord's prison escape tunnel. So based on the fact that Trout is essentially the best player in all of Major League Baseball, guess where he showed up on the list of 100-top paid professional athletes in 2014? He didn't. He's not on it. He did win a new Chevy Corvette for being named MVP of the All-Star game in 2014, and got the keys to a new Chevy pickup for winning MVP in Cincinnati, but he earned those for his play. They aren't endorsement deals. How is Mike Trout not the face of every major company in the country right now? How is he not pulling in about $100 million in side income at the age of 23? Probably because he doesn't have the time, but the off the field fortune will be coming. It's staggering to think how big the money will be for him off the field, if and when he wants it to be.
Nike is smart enough to have locked him in to a long-term deal in 2014, and he also does work for Subway. But when you consider he has about 10-15 more years of playing at a high-level and having his star power only grow, he might be a billion dollar athlete by the time he retires. Heck, if he just goes on to win the All-Star game MVP award every season for the next decade, that's about $500K to $750K in just the value of his new car winnings alone. But when you dig deeper and think about his combination of talent, charisma, accomplishment and brand-appealing look, he's going to put athlete endorsement numbers into a new stratosphere. How do I know that? Use Kevin Durant, the 2014 NBA Most Valuable Player, and star of the Oklahoma City Thunder as an example.  He's Nike deal was in the range of $250 million for 10 years that he signed last summer. And what does he think about the media who cover him? And are the conduit of his personal brand and message? He doesn't like the media. Has no time for them. You don't have to take my word for it either, just read his quote from a press conference at the NBA All Star Game in February.
"To be honest, man, I'm only here talking to y'all because I have to. So I really don't care. Y'all not my friends. You're going to write what you want to write. You're going to love us one day and hate us the next. That's a part of it. So I just learn how to deal with y'all."
Imagine how much loathing he'd have for the media if they hadn't voted him MVP? If he can make a quarter billion dollars on one deal being grumpy, what is the ceiling on happy athletes that don't mind getting positive media exposure?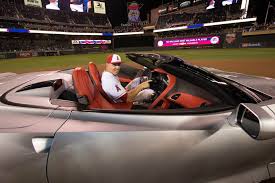 It's entirely possible for Trout to become the charter member of the billionaire ball player club in the next decade or so if he continues to stay humble, hungry and handsome. Derek Jeter made a fortune, and despite his greatness as a ballplayer and popularity with Yankee fans, he had one of the dullest personalities of any superstar we've ever encountered.   At least for now, Trout does not appear to be veering towards robotic answers to every question he faces from the media. He seems to get that it is part of his job, and he is tremendous in fan interaction. The problem with many professional athletes is that over time they become out-of-touch with fans at best, and flat-out lose their joy and spark at worst.  They become impossible to relate to.  Sure you can cheer for their accomplishments, especially if it's one of your favorite teams that they play for, but there's no way to look at them as being even remotely normal. Mike Trout seems different. And if he continues to prove to be different, his net worth will be north of a billion dollars when he retires, and he'll need his own airplane hangar at the Orange County Airport. Not to store his own private plane, of which he could easily afford a couple, no, he can get one of the big brand companies that he does commercials for to get him a plane when he needs one. He'll requre a hangar just to store all the cars he wins at MLB All-Star games!