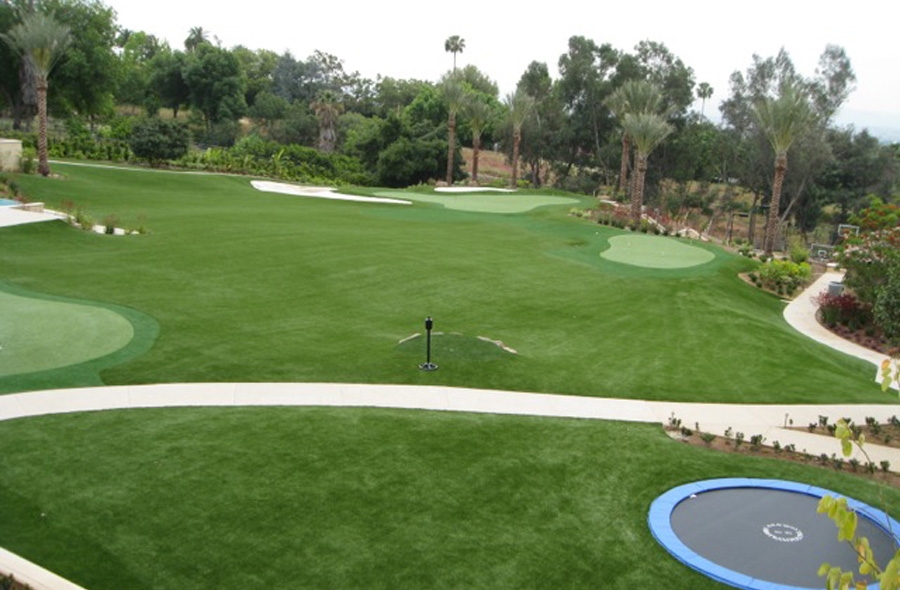 Weston Weber Has Launched Celebrity Greens After Six Years Away From The Golf World.
What do Mark Calcavecchia, Jim Furyk, Hale Irwin, Zach Johnson, Corey Pavin, Justin Rose, Vijay Singh, and David Toms have in common?
You probably know that one answer to the above question is that all eight men are or have been outstanding professional golfers. You might know that all eight of these professional golfers have won at least one of professional golf's four major championships.
You also might have guessed that I'm looking for a different answer to the above question because many other golfers have also won major championships.
The correct answer to the question is that Calcavecchia, Furyk, Irwin, Johnson, Pavin, Rose, Singh, and Toms all had synthetic putting greens at their homes that have been designed by Weston Weber. From 1996 to 2008, Weber was the president of Southwest Greens, a company that he founded. By the time he sold the company, Southwest Greens was the largest synthetic golf green company in the world. Today it is owned by Shaw Industries Group Inc., a Berkshire Hathaway Company, whose CEO is Warren Buffett.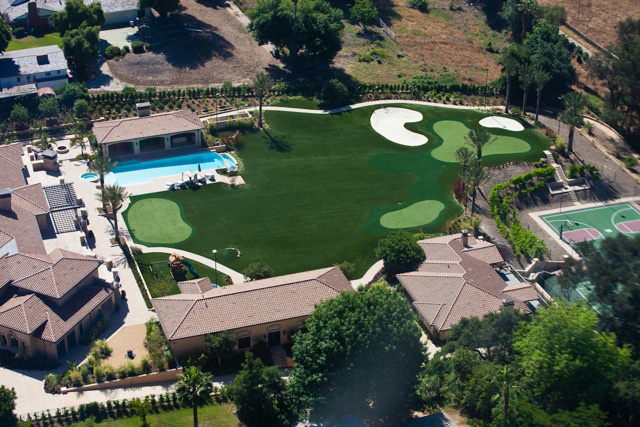 Weber, who played professional baseball for 11 years before he retired in 1996 after injuring his shoulder, was so successful that he personally sold, designed and installed more than 3,000 artificial putting greens and lawns and Southwest Greens had 93 franchises in 17 nations in 2008.
More than 70 PGA Tour professionals have hired Weber to install championship-level short courses and putting greens at their private residences. He is so dedicated that he once spent days making sure that an order of artificial turf could clear customs so he could complete the project in Spain for Sergio Garcia, one of the best golfers in the world.
Weber signed a 5-year, non-compete agreement when he sold Southwest Greens to John Smoltz, former MLB All-Star and a group of businessmen from Atlanta, but after six years in the telecommunications and software development industries, the Master Of The Synthetic Golf Green has returned to the business he loves. On March 29, he launched Celebrity Greens, U.S. (CG). Six months later, the Scottsdale, Ariz.-based company has partners in Denver, Houston, Mexico, Palm Springs, Phoenix, Southern California, and Tucson.
Celebrity Greens' putting greens are very impressive, said Hank Haney, a renowned golf instructor who recently had the company build a green at his home.
"This is the best green that I have ever had or ever seen!" said Haney, who is best known for coaching Tiger Woods. "It rolls true, accepts pitch shots realistically, and looks fantastic. Celebrity Greens has an amazing team — what a great experience working with Weston and his team!"
Weber Dedicated To Helping Execs
Weber, 50, is proud that his custom-designed putting greens have helped pro golfers like Singh, who improved his putting so much after Weber installed a green at his home that he earned $10 million golfing the next year.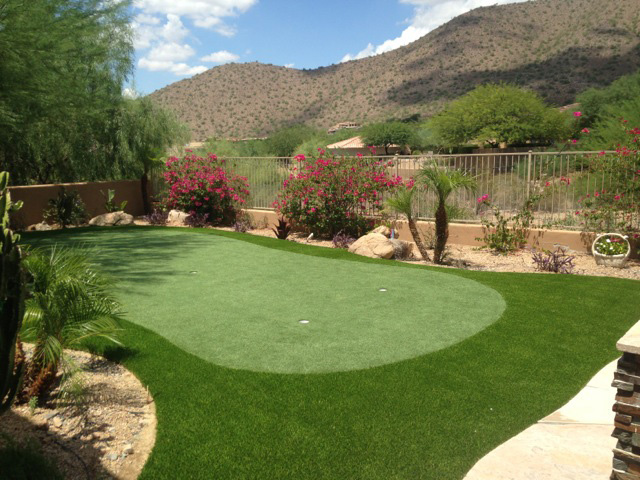 However, his dedication to helping people improve their golf game extends far beyond the world's elite golfers. In fact, he decided to launch Celebrity Greens because he was convinced that there weren't enough companies building custom-designed personal golfing greens and courses for wealthy people and corporations.
"I know there is growing demand for high-end custom projects in which the clientele is looking for the best and is willing to invest in it," he said. "Celebrity Greens is positioned to provide that level of service."
During his career, Weber has designed putting greens for numerous business executives; businesses such as AOL, Sports Illustrated, UBS and the Westin Hotel; and athletes and celebrities such as Troy Aikman, Roger Clemens, Vince Gill, Tony Gwynn, Toby Keith, Harmon Killebrew, Arte Moreno, Jeremy Roenick and Robin Yount.
Roenick, a National Hockey League star from 1988 to 2009 and an outstanding amateur golfer, was so impressed by Weber that he joined the Celebrity Greens ownership group in July.
"(Weston's) ability to visualize and then design and install a world class artificial green is second to none!" said Roenick. "He is the Master…He is the person that the pros have consistently used to build their greens. He has designed two of my greens and they are awesome. His vision is to offer a premium product throughout North America that pros, amateurs and weekend golfers can enjoy at their residences."
Weber's vision focuses on building whatever the client wants. That could mean building a replication of a famous golf hole at Augusta National Golf Club, Pebble Beach Golf Links, the Royal and Ancient Golf Club of St. Andrews, or another golf course. That could mean building a 3-hole or 9-hole putting course. That could mean building a course with bunkers and ponds.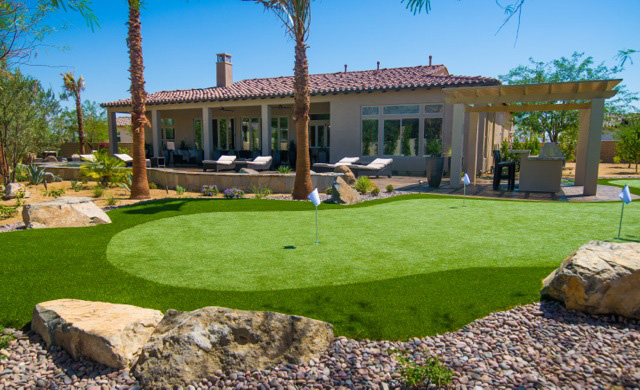 "I think you have to select a firm that has the experience and expertise to handle the scope of the project and one that offers only the finest turf, sand infill and installation techniques," said Weber. "Projects of this scale require a level of expertise that is unique in the business. This is not a backyard golf green; this is an estate development project. The final product has to be aesthetically appealing, perform like a natural course or golf green and often meet very tight specifications.
The Company's Services And Leaders
Weber is best known for his putting greens, but Celebrity Greens provides other services, including low-maintenance turf and grass, driving ranges and tee boxes, short courses, synthetic grass surfaces for recreational facilities such as a commercial or back yard playground, and artificial turf for corporations.
"Our artificial golf greens, golf putting greens and synthetic turf can be installed in your commercial area!" reports Celebrity Greens' website. "The benefits of installing one of our greens for your commercial area range from giving employees a way to reduce stress on their lunch breaks to having an area that requires little work and saves you money. Our synthetic grass can be installed for apartment complexes, offices, roof tops, playgrounds, schools, colleges and many more commercial areas."
Celebrity Greens' skill at designing golf courses is perhaps best exemplified by its exquisite work in building bunkers, sand traps, and water features. The bunkers include large sand traps, small pot bunkers and stacked sod bunkers and are designed for people of all skill levels. The water features include fountains, freshwater ponds, streams, and waterfalls.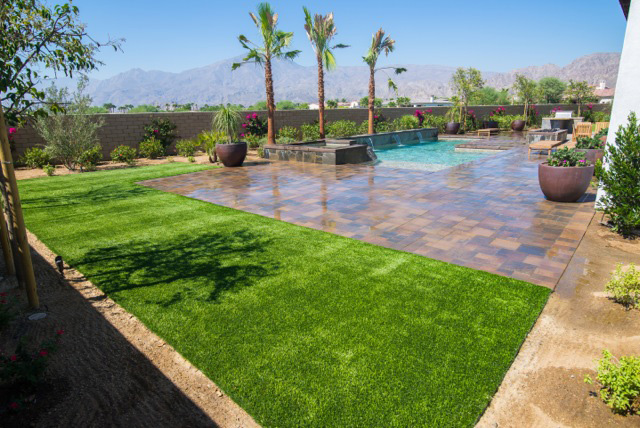 How can Celebrity Greens design and build such high-quality products? The answer lies in the company's leadership. Besides Weber, they include:
Gina Weber: CG is branded by a professional marketing firm called Panther Marketing, Inc. Gina Weber, the wife and business partner of Weston Weber, has owned and operated Panther for 16 years, and has over 25 years of marketing experience. Additionally, the Panther team directed the marketing efforts of Weber's previous company, Southwest Greens, which was a global franchise organization in 17 countries.
Matthew Rauh: During a 25-year career in golf design and construction, Rauh has designed and built more than 1 million square feet of high-end artificial putting greens and golf facilities. He is based in Denver.
Mathew Hathaway: In 20 years in the golf construction industry, Hathaway has built and maintained more than 50 golf courses. He has helped Jack Nicklaus, Arnold Palmer, Pete Dye, and Robert Trent Jones Jr. design and develop courses in Colorado, Nevada, California, South Korea, Mexico, and China.
Mike Clark: An expert in synthetic turf, Clark has installed more than 3 million square feet of synthetic turf and designed more than 4,000 synthetic turf projects during a 16-year career. His clients have included broadcaster Larry King, NBA Hall of Famer Jerry West, actors Sean Hayes and Samuel Jackson, and many business executives.
Mark Hyatt: Weber selected Hyatt to be the lead installer for several high-profile national and international synthetic turf projects. During his 15-year career, he has installed millions of square feet of synthetic turf for more than 4,000 projects. His clients include many high-profile athletes and celebrities.
ottom line is that Celebrity Greens has ambitious plans to build synthetic golf courses and putting greens all over the world, and Weston Weber believes he has the services and staff to accomplish his objectives. You can learn more about Celebrity Greens via its website.