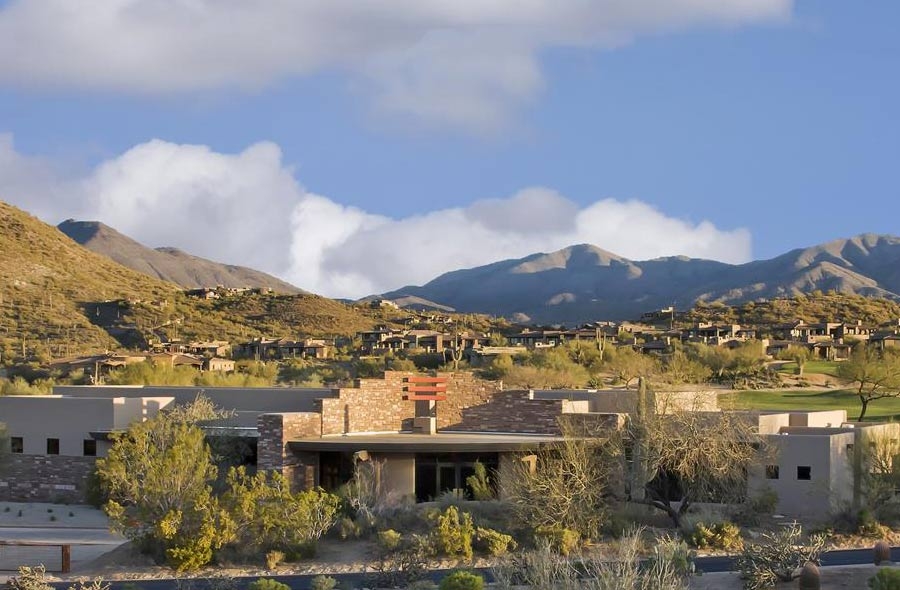 Desert Mountain offers a $1.6 million golf instructional facility equipped with the most advanced technology available in the industry today making it the only facility of its kind in the country.
The 6,500-square-foot Jim Flick Golf Performance Center opened in March 2012 and is located just south of the driving range at the Renegade golf course.
Desert Mountain is a private, golf and lifestyle community offering more award-winning Jack Nicklaus Signature Golf courses than any other private community in the world. It also features six architecturally-themed clubhouses, a fitness center with world-class tennis complex, a youth activity center and an award-winning private hiking trail system.
Last year, the center was dedicated to Jim Flick, one of the greatest instructors of all time and Desert Mountain's PGA director of instruction from 1987-2005.
The scope and sophistication of the technology and the fact that it's all located in this type of facility is something that just doesn't exist anywhere else in the marketplace," explained Desert Mountain COO and General Manager Robert Jones.
Among the center's capabilities are 3-D motion capture, Doppler radar and four-camera video motion analysis to help golfers of all skill levels improve and understand their game. "Golf instruction is all about the mental image," said Jones. "This technology takes the mystery out of the game."
The one-stop facility addresses all golf instructional needs including technique, golf fitness, mental game performance and club fitting utilizing the highest-rated technology including:
A FlightScope Launch Monitor consisting of a 3-D Doppler radar system that tracks and measures ball flight and club data. Information is integrated into images of club reaction and ball flight providing valuable information with each swing. "The system was built with the same technology the military uses to track missiles," explained Desert Mountain Director of Instruction Dale Abraham. "It tracks within one foot of the ball."
Guru Training System, the world's first real time, marker-less, gesture recognition golf training and teaching system combining full body 3-D visualization up to six angles from one camera and intuitive and interactive feedback for golf swing analysis.
Science and Motion Balance Lab, a weight distribution technology measuring static and dynamic foot pressure distribution through 2,800 sensors. Readings and results are produced in high resolution 3-D and 2-D.
AMM 3-D Sensor, a system that Abraham calls "the MRI of your golf swing," consisting of real time, wireless 3-D motion capture that analyzes each movement of the swing, as well as power output, with exact variables.
JC Video and Computer Analysis with GIG-E cameras consisting of a state-of-the-art four-camera set-up and video motion analysis that captures images at 60 frames per second and lets players observe their golf swing from face on, down the line, behind and above. "Tiger Woods has this set-up in his home studio," said Abraham.
Quintic Ball Monitor, a ball roll putting analysis system that captures the ball rolling off the putter head at 250 frames-per-second. Ball speed, side spin, angular rotation, vertical bounce, launch angle and the point of true roll are then displayed after each putt.
Science and Motion PuttLab analyzes the 28 most important parameters of the putting stroke, through ultrasound measurements, and displays results in easy to interpret graphic reports.
Five bays with large doors opening out to the Renegade practice range are available for private instruction or members can reserve for individual or group practice. Jones pointed out that the set-up allows for uninterrupted practice and instruction even in rainy or cold weather.
Complementing the state-of-the-art technology is the Performance Center's team of instructors who are Titleist Performance Institute certified. In addition, Abraham is certified in C.H.E.K. Institute holistic training, providing corrective exercise, high-performance conditioning and fitness training that aid in the performance and well-being of the golfer. He has also been named the PGA Southwest Section Instructor of the Year for 2013.
Jones noted that the center was built to help golfers improve and reconnect to the game, attract non-playing members and create the best youth training environment available at the junior level. He also pointed out that the center supports the PGA of America's "Play It Forward" initiative and Golf 2.0 program to make the game easier and more enjoyable on the course.
"It certainly enhances Desert Mountain's reputation as an international golf mecca," said Jones. "It's a phenomenal facility."