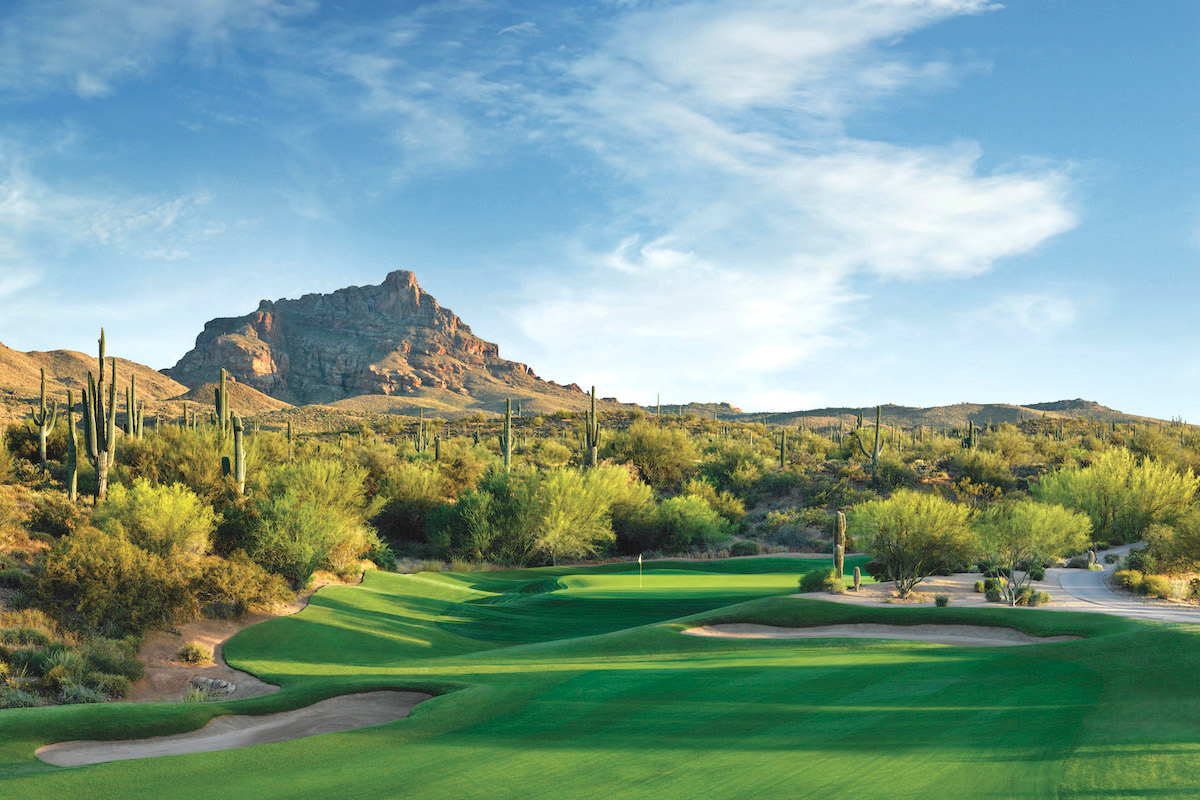 Now more than ever, Golf is a mental and physical escape, an outdoor workout that can do your wellbeing a world of good. Strategy, technique and patience, all working together to hit a tiny white ball. The illustrious golf destinations included on our hotlist are dedicated to the longevity and love of the sport of golf. These resorts have the facilities and deep expertise to help you focus both body and mind as the primary means to lowering handicaps, reducing repetitive injuries, and ultimately enjoying the game for a lifetime.
WE-KO-PA GOLF CLUB: Fort McDowell, Arizona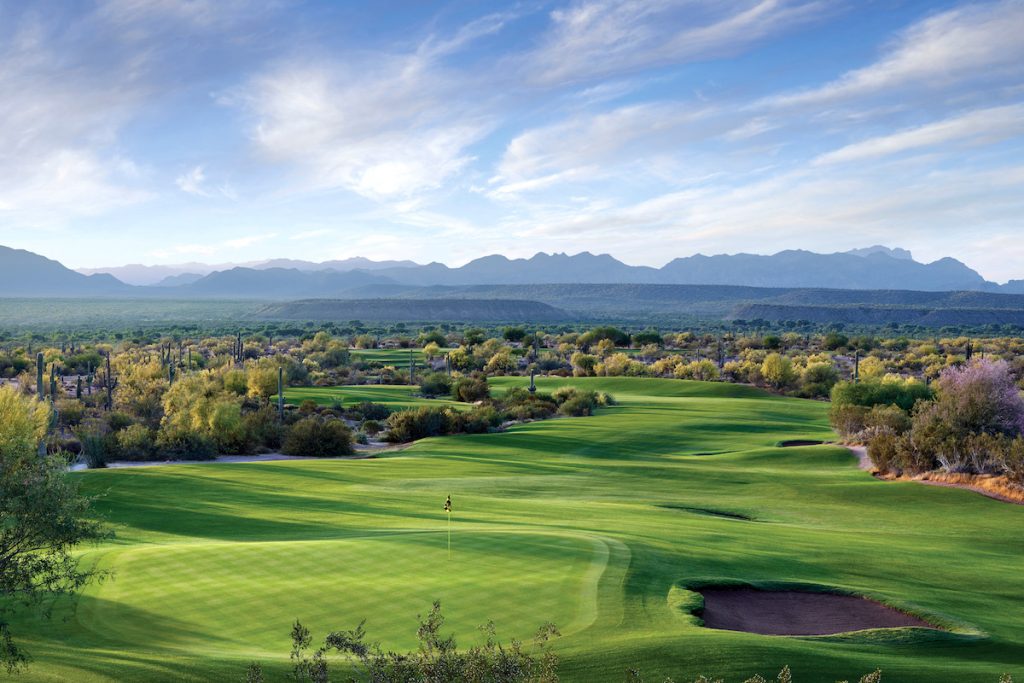 Even the most jaded golf junkie won't grow tired of the ample options on offer at Arizona's We-Ko-Pa Golf Club. The two courses (Cholla and Saguaro) are extremely different. Normally at a 36-hole facility, you find similar layouts with matching routing and design features and they're often planned by the same designers. That's not the case at We-Ko-Pa. The distinct courses are incredibly different and boast their own features, flavor, feel, and playability. Facing Covid era protocols head on, both courses have been impeccable in welcoming guests with enhanced sanitation. Best of all? You can truly lose yourself in the landscape here; you won't find a single home, road, condo, gas station anywhere near the golf course.
"Located only 20 minutes from the Phoenix Sky Harbor International Airport, our lushly land- scaped oasis offers spectacular views of Arizona's majestic Four Peaks and iconic Red Mountain alongside the free- owing Verde River."
Scott Miller's celebrated Cholla course offers more of a traditional desert challenge. There are some spicy forced carries, clear landing areas and potential snafus are always well defined so you know to avoid at all cost. Hole 8 is an outstanding downhill dogleg right par 5. The 15th is a true risk versus reward drivable par 4, and all of the par 3s have striking character instead of just a golf hole for the sake of a golf hole.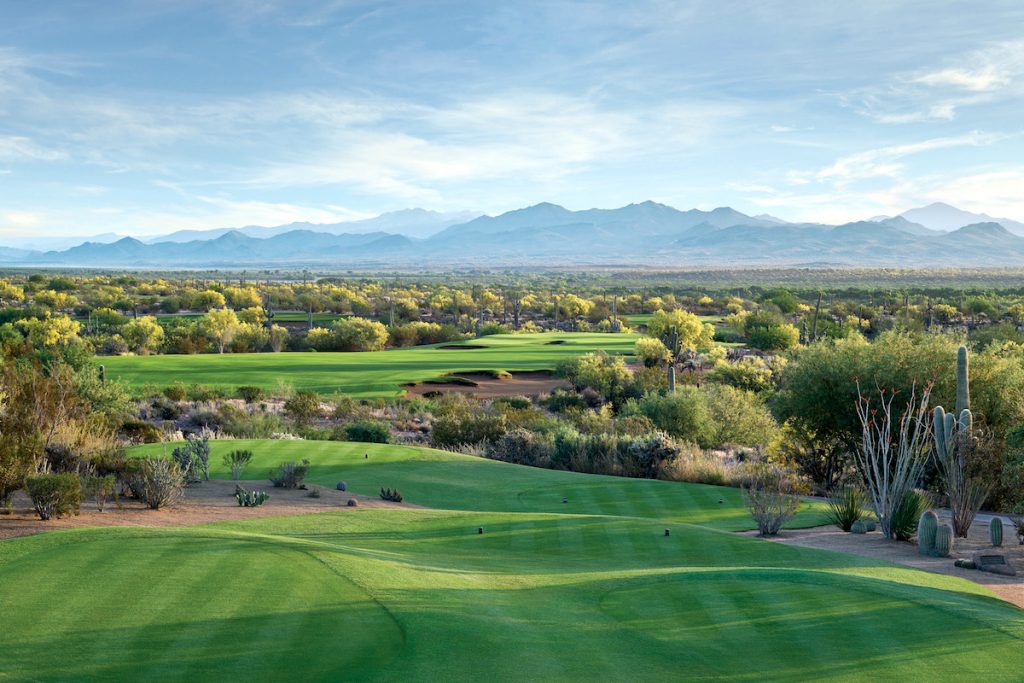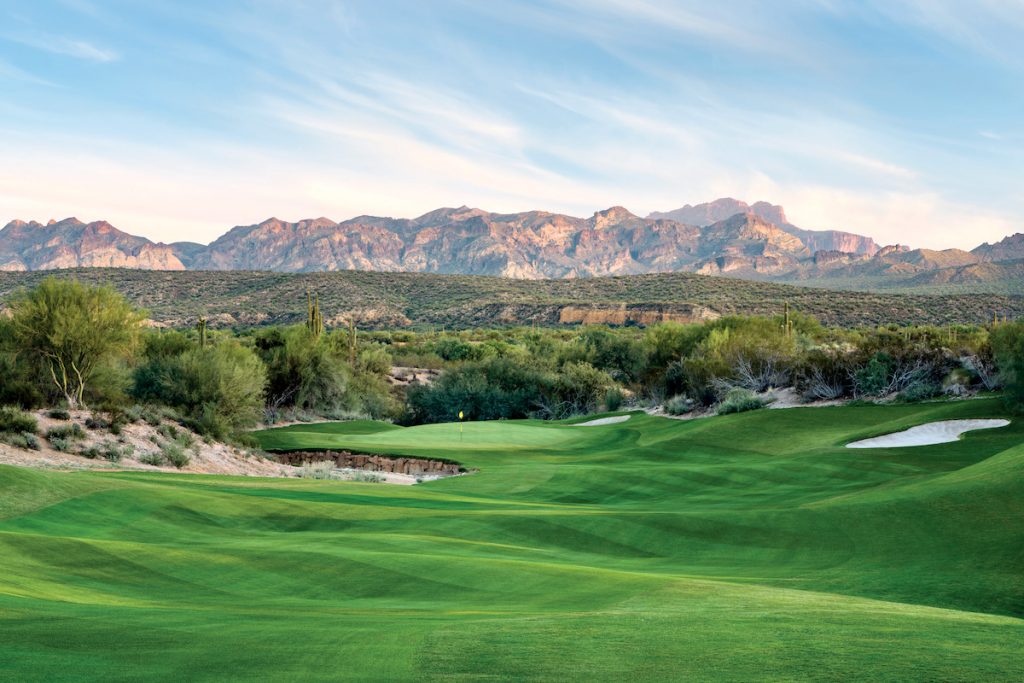 More of a traditionalist? The Coore/Crenshaw Saguaro was built for you. Touted as a "links style" golf course, greens and tees were designed close together, and walkways lead the player from the tee box directly to the fairway. The course was designed with walking in mind. Walking the course mindfully endows a better understanding of the topography, and more time to think about your next shot. The result? Target awareness, increased rhythm, and potentially lower scores.
WeKoPa.com | 480.836.9000
FAIRMONT CHATEAU WHISTLER: British Columbia, Canada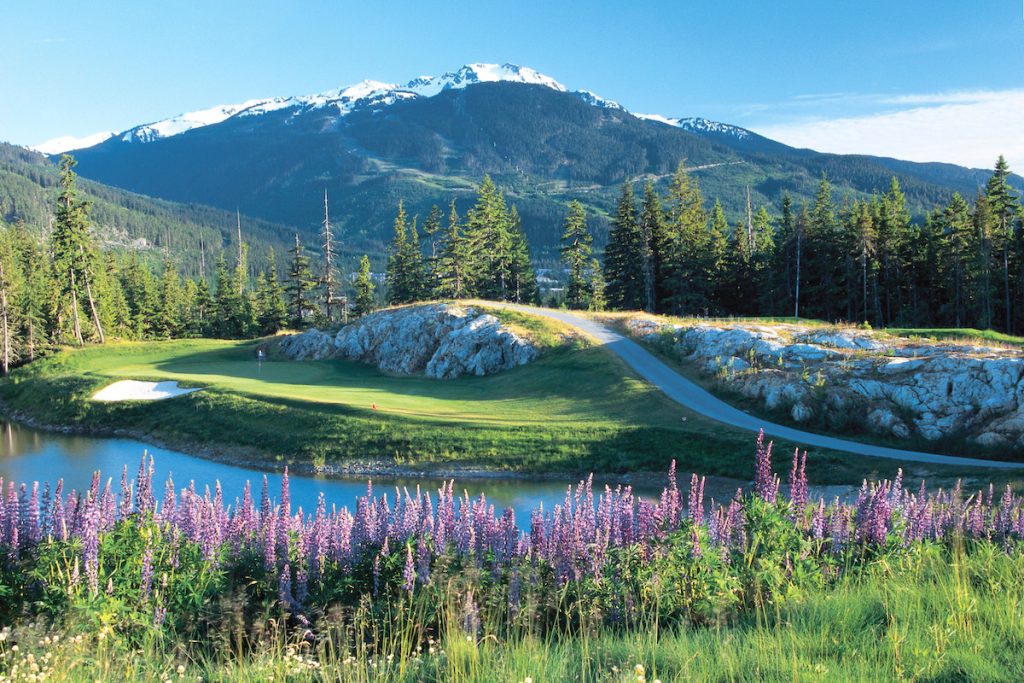 After cinching the 2019 North American Golf Resort of the Year by the International Association of Golf Tour Operators, one would think 2020 has been dire for Fairmont Chateau Whistler Golf Club. On closer inspection, what we learned is quite the opposite. Fairmont Chateau Whistler's 3-Course Golf Vacation package provides accommodation for two nights and golf for two adults at the guest's choice of three fantastic Whistler golf courses. Guests may choose to play rounds at Fairmont Chateau Whistler, Nicklaus North Golf Course, Whistler Golf Club or Big Sky Golf Club during their stay.
Fairmont Pacific Rim and Fairmont Chateau Whistler have also unveiled a new partnership with BMW Canada and Sea-to-Sky Exotic Cars to offer guests a four-day signature drive experience. In addition to luxury hotel accommodation, the package, aptly named Life is a (Luxurious) Highway, includes exclusive access to an all-new BMW X7, the largest and most luxurious vehicle to be added to the BMW collection in the brand's history.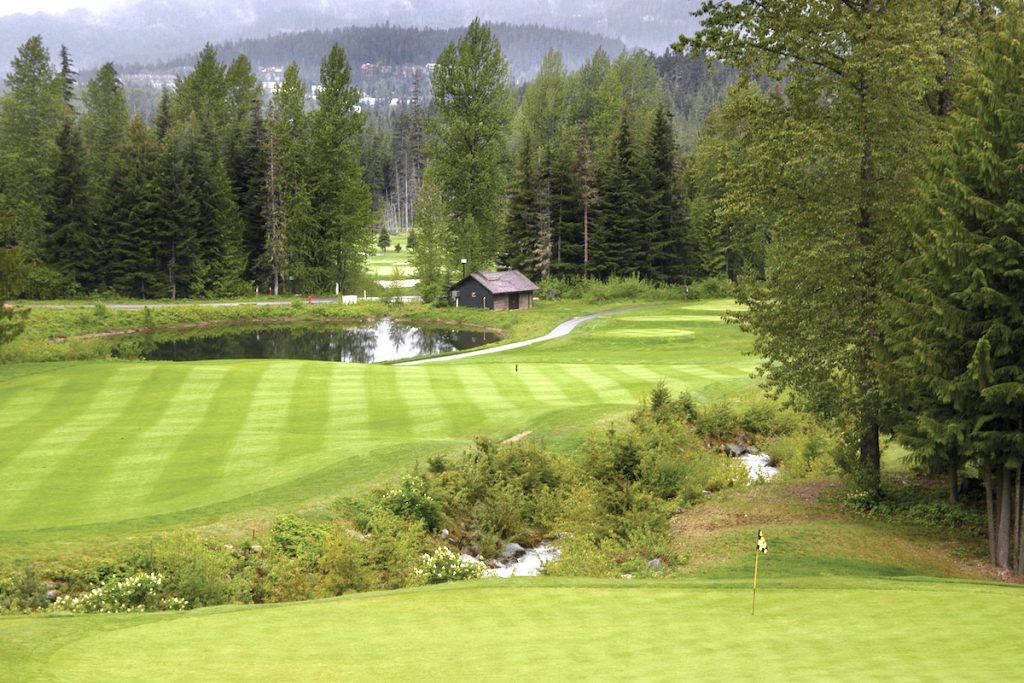 "What we're seeing at this property is encouraging and proof of the enduring appeal of golf," observes Nick Droulis, Director of Golf at Fair- mont Chateau Whistler, on a dedicated call with us to address how his team has adapted to moving forward. "More and more, we are seeing established, elite athletes who, shut out of their league sports due to Co- vid protocols, are crossing over to golf as a way to stay sharp." Turns out this "crossover" new audience misses the highly competitive environment of their sport; they are flocking to the greens at Fairmont Chateau Whistler to find refuge in the monastic discipline of perfecting a putt, or the technical virtuosity required for a swift, solid drive down the fairway.
An Audubon-certified course designed by Robert Trent Jones, Jr., the Fairmont Chateau Whistler course drapes along the foothills of Blackcomb Mountain, traversing creeks, granite outcroppings and ancient Douglas fir. So what happens when your clientele suddenly has all the time in the world to escape into nature to perfect their swing? "We've never seen such a spike in interest and bookings for trainers and instructors," Droulis enthuses. "It's remarkable, the support we've received from repeat guests."
Fairmont.com/whistler | 604.938.8000
FAIRMONT MAYAKOBA (EL CAMALEON): Riviera Maya, Mexico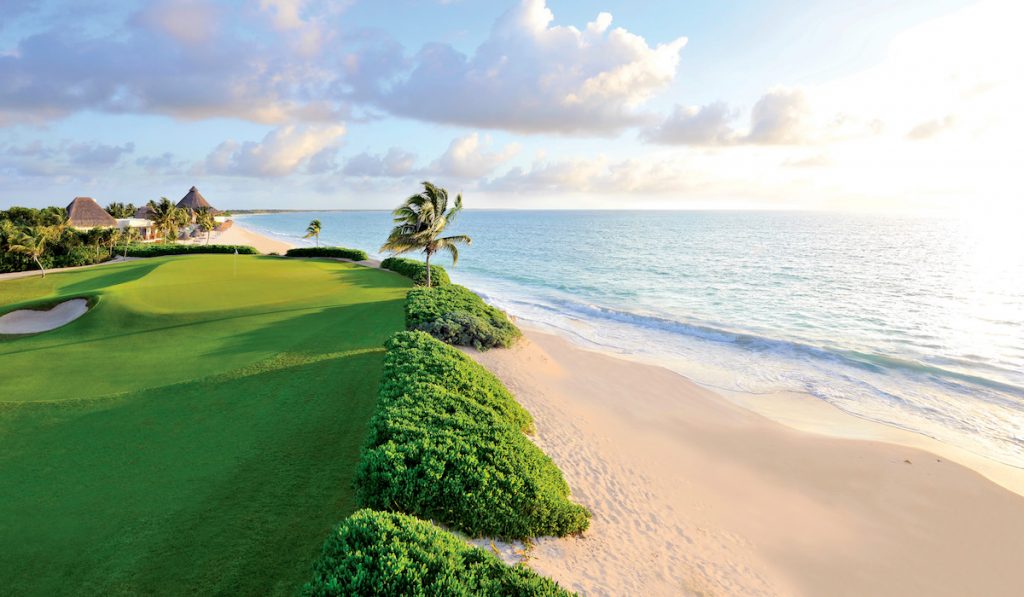 Designed by legendary Australian golfer Greg Norman and inaugurated in 2006, El Camaleón Golf Course made sporting history in 2007 when it hosted the Mayakoba Golf Classic, the first PGA Tour event outside the US and Canada. The course is renowned for ever evolving views as it traverses three diverse ecosystems: tropical Mayan jungle, mangrove-fringed wetlands and wild Caribbean coastline. Lose yourself in the scenic crystal-clear fresh water canals of El Camaleón, certified by Audubon International for its environmental commitment. Witness a kaleidoscopic wheel of every conceivable green – chartreuse to emerald to lime, in volume so lush it frames the canal like horticultural couture.
You can feel good about booking a stay at Fairmont Mayakoba as we inch back to making travel plans. Golf here is more than a game; it is a business providing economic vitality for myriad communities, jobs for hundreds of locals, and healthy outdoor recreation for families. Cultish and coveted, regulars are secretive about word getting out; it's hard enough getting a tee time without the likes of Leonardo DiCaprio booking up weeks at a time. It's just that kind of place.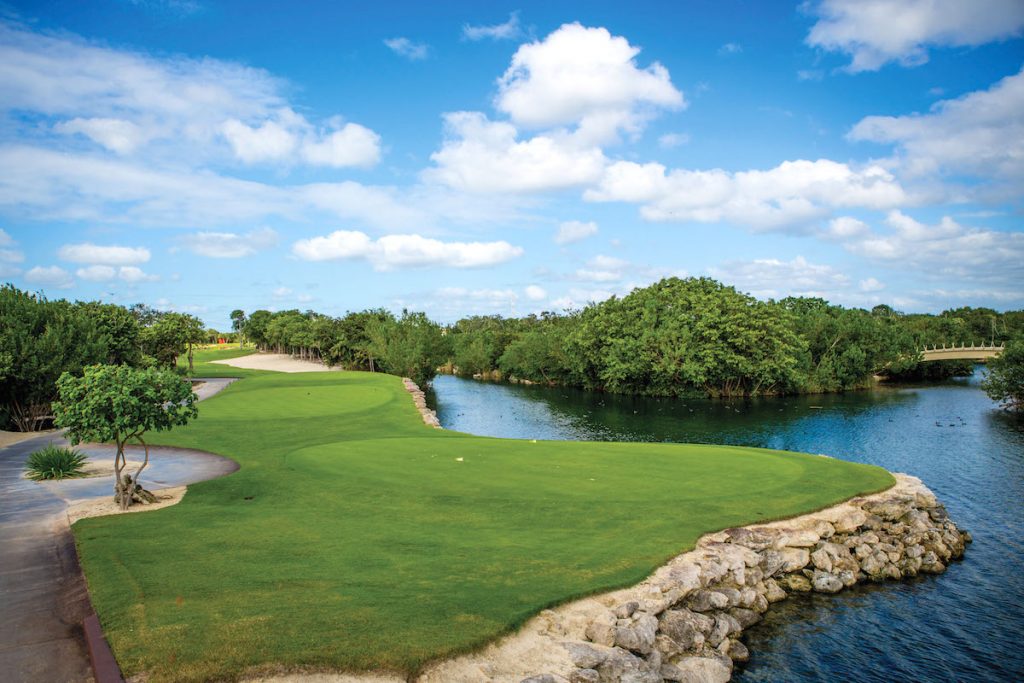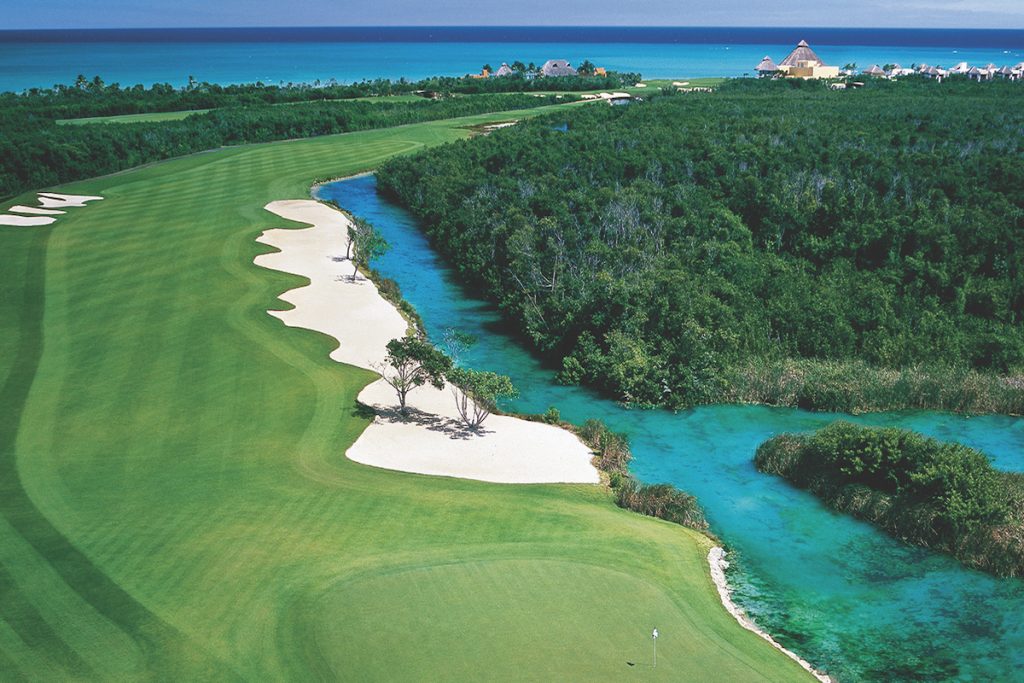 This course has a distinctively forgiving feel, unlike much of Norman's more unrelenting repertoire. That said, stray from its ample fairways and you'll pay a penalty as these holes weave through serious mangrove swamps. The views from many tees are heart-stopping, with two par threes playing to the dramatic edge of the beach. But no hole is more striking than the lst, where in the center of the drive zone rises a picturesque subterranean limestone cave. We tip our hat to Norman for drawing such delicious attention to these natural geological features that dominate this exotic landscape.
Fairmont.com/mayakoba-riviera-maya | +52 984 206 3000
CHAMPIONS RETREAT: Evans, Georgia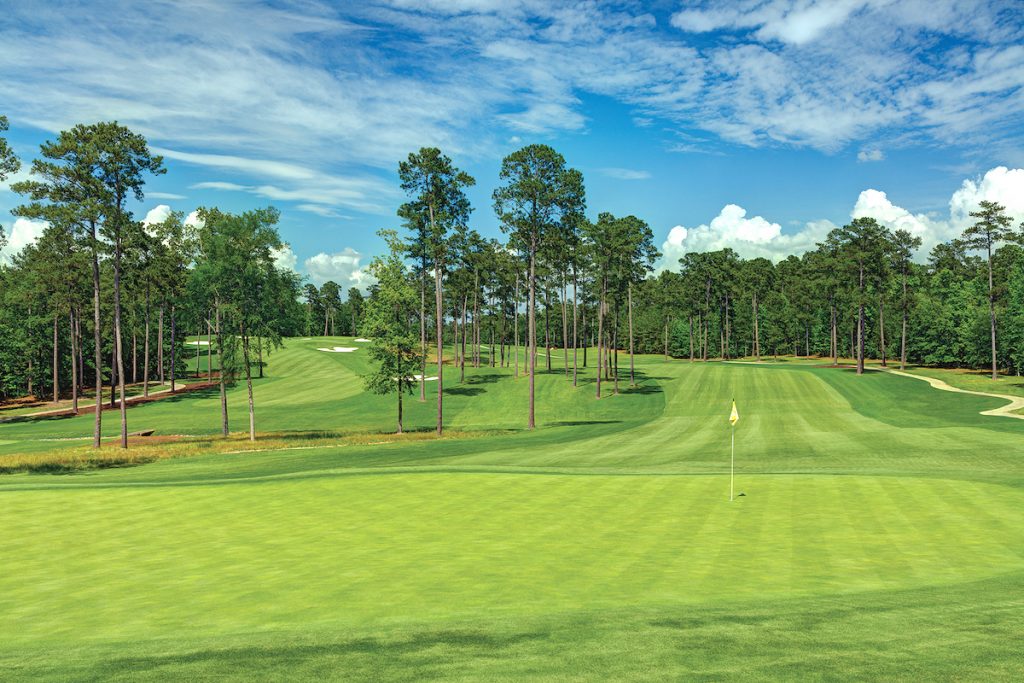 Raise a glass to the finest in Southern charm and hospitality, Champions Retreat embodies the best in golf culture, this is a true haven for aficionados of the storied sport. A perennial favorite among golfers, families, and nature lovers, Champions Retreat has become one of the most sought-after memberships on the East Coast. Trust us, once you get a taste for Champions Retreat, nothing else will do. You'll want to return by jet, chopper…any means necessary. Benefits and options are expertly managed and dedicated to making every
member feel truly at home.
Founded by three of the greatest names in the game: Jack Nicklaus, Arnold Palmer, and Gary Player, it's no wonder every Green Jacket aficionado longs to play here. Never before have these three each created their own individually designed course at one property, making Champions Retreat a truly one-of-a-kind experience. Nestled along the Savannah River, the three nine-hole courses inhabit a former untouched timber plot and are built around an Island, a Bluff and a Creek. Built to challenge and charm, Player's Creek course is the illustrious accomplishment of a champion who understands the symmetry of power and form. Nicklaus' legendary 23 years between his first and last of six green jackets demonstrates an ability to adapt like no other in the game. Evident in his approach to course design with the Bluff course, he uses the natural tendencies of the land to amplify both its risks and rewards.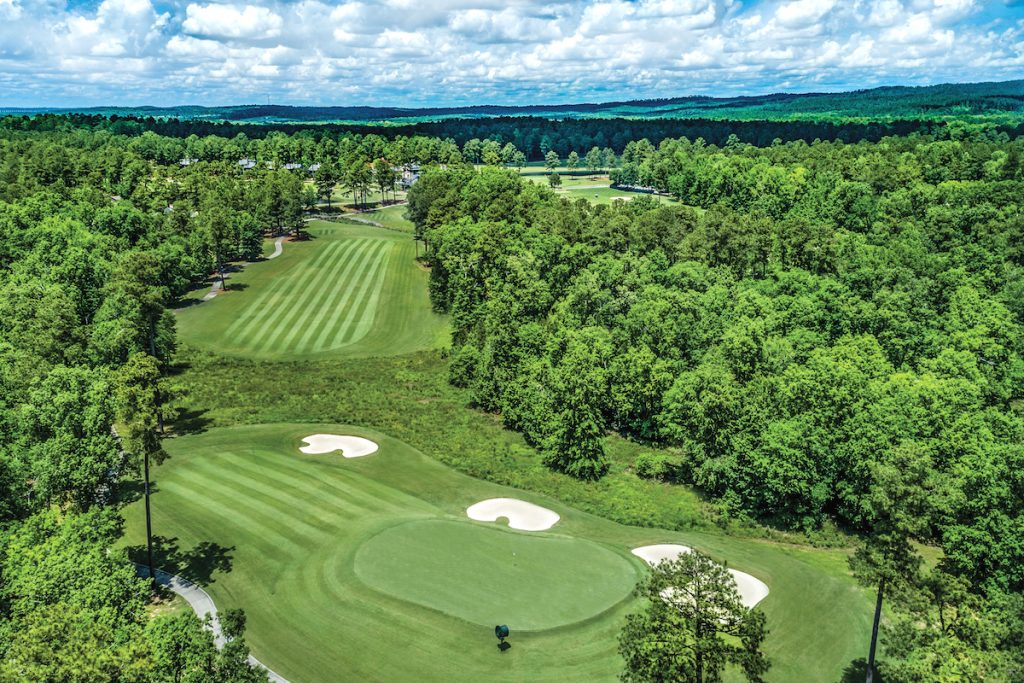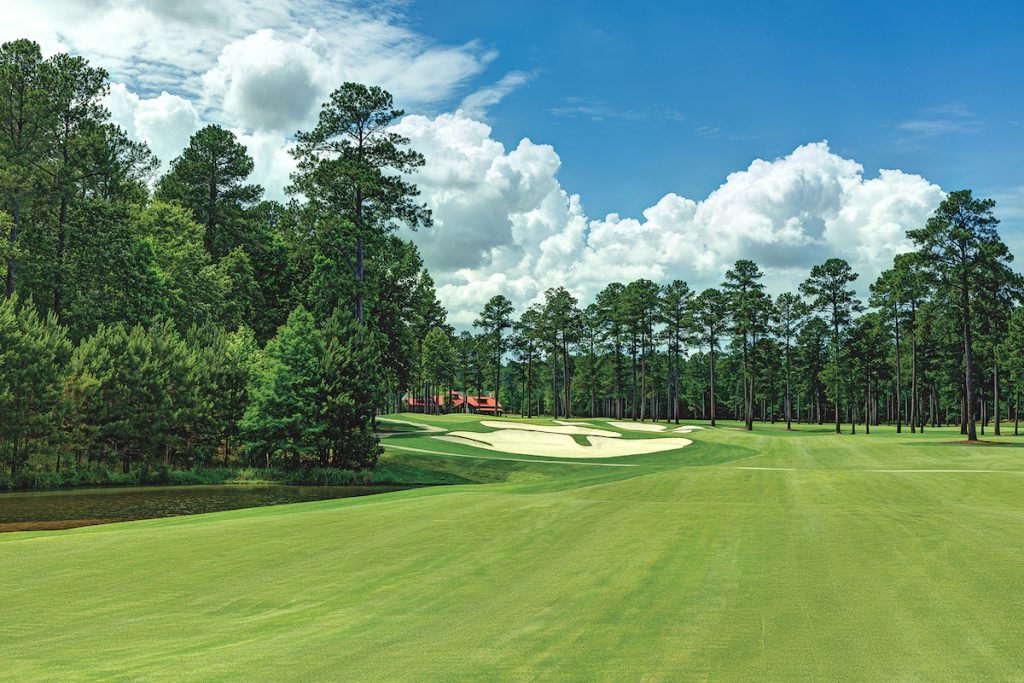 Powerful and charismatically competitive; Palmer's playing style revolutionized the game. The elements that made him a legendary athlete make him an intuitive designer. The Island nine at Champions Retreat embodies his architectural vision — it's both challenging and auspicious. The course is distinguished not only by its playability but also for its respect to its natural surroundings. Impeccably manicured, the Island course is loaded with memorable holes, most notably the par5 3rd and the par-4 4th.

Chic cottages offer front porch views of sweeping fairways, majestic Georgia pines, and wetlands banking the great Savannah River. From helipad access to private chefs whipping up a fireside oyster roast, Champions spoils guests in every way. Once you join as an individual or a corporate member, you have the power to green-light unaccompanied guests — a massive game changer for business networking. This also demonstrates the level of kinship and camaraderie here; Champions trusts you'll only send those worthy of the "best kept secret" in Georgia.
ChampionsRetreat.net | 706.854.6960
TPC SAWGRASS: Ponte Vedra Beach, Florida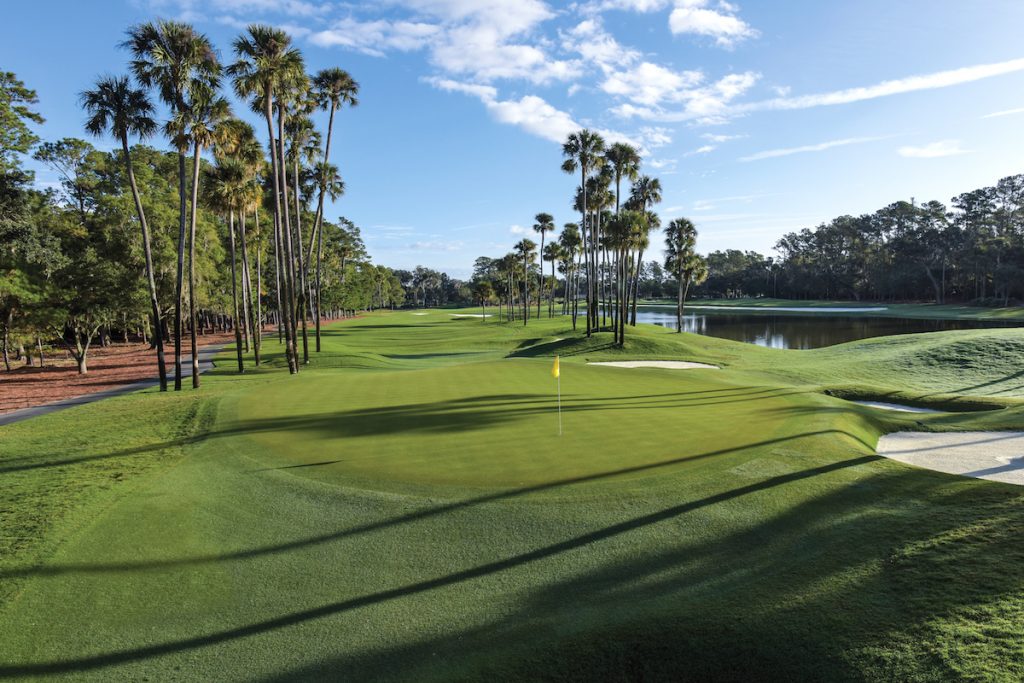 Home of THE PLAYERS Championship, and backdrop to PGA TOUR headquarters, TPC Sawgrass is one of the world's most famous golf courses. The Stadium Course sports one of the most recognizable and challenging holes on the PGA TOUR — the iconic par-3, 17th hole, featuring an island green. Golf enthusiasts yearn to play not one but two PGA TOUR championship courses at the club, both designed by beloved architect Pete Dye and built to challenge top pros, while at the same time providing amateurs with the ultimate golf experience.
THE PLAYERS Stadium Course is known for having three of the most challenging finishing holes and one of the most centerfold worthy holes in the world – Hole 17 and its iconic island green. Allowing recreational golfers access to a level of play typically reserved for PGA TOUR players, a round here wins you bragging rights for the year.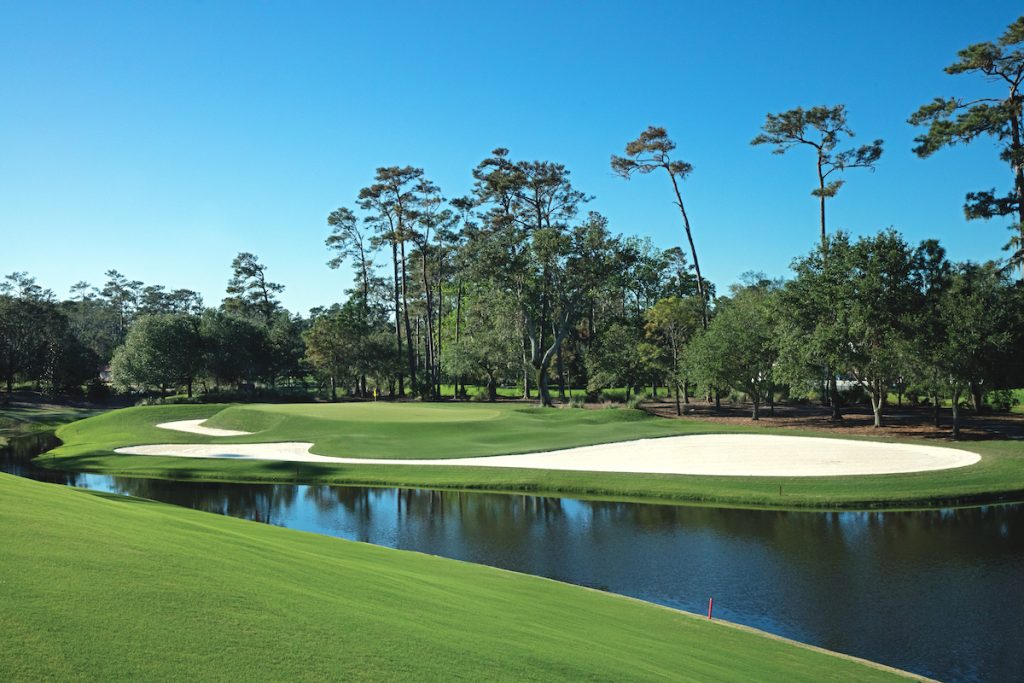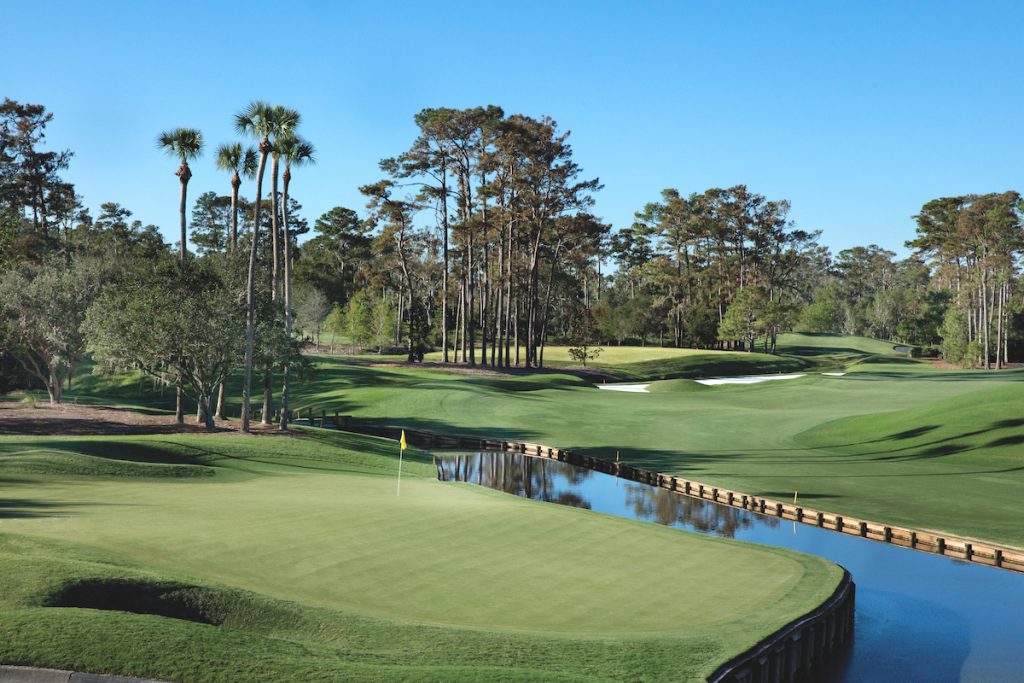 In 2016, the PGA TOUR embarked on a significant construction project to further elevate the world-class experience that is TPC Sawgrass. The project encompassed extensive work to the practice facility, greens and select holes, including a complete redesign of the 12th hole to create a drivable par 4 that will provide additional excitement on the back nine during the tournament. Furthermore, No. 6 and No. 7 were opened to provide a front-nine destination for fans that is more connected to the action surrounding the Clubhouse, with fairways separated by a newly-constructed lake. Designed by Pete Dye, along with Bobby Weed, Dye's Valley Course is just under 6,900 yards and boasts water on all holes and native oaks, pines and palms, making Dye's Valley one of the most scenic and challenging courses to play.
The beloved 77,000 square foot Mediterranean Revival-style Clubhouse features panoramic views of the 9th and 18th holes and serves as an architectural centerpiece. Providing PGA TOUR players, spectators and sponsors with prestige hospitality during THE PLAYERS, the Clubhouse is a robust social hub during the other 51 weeks of the year. It also features two fabulous dining options overlooking the famous fairways.
TPC.com/sawgrass | 904.273.3235
STREAMSONG RESORT: Bowling Green, Florida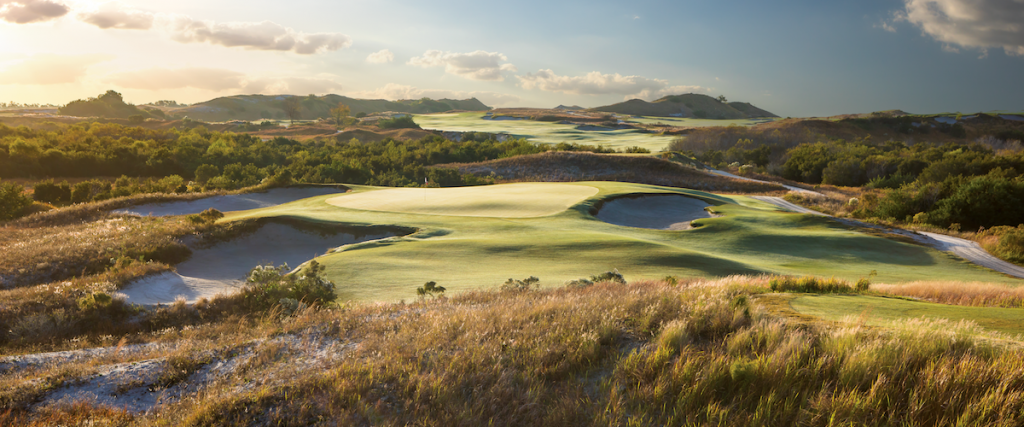 Streamsong Resort has proved a perfect canvas for golf architects. If natural bunkers and towering sand dunes hit your sweet spot, the 16,000-acre site offers elevation changes and 100-foot deep lakes and streams are sure to tempt your appetite for golf in the Sunshine State. A 60-minute drive east of Tampa and 90 minutes southwest of Orlando, Streamsong offers three top tier golf courses and a divine spa that's worth the splurge alone.
Debuting in 2014, the resort featured two courses designed by the esteemed Bill Coore and Ben Crenshaw, who teamed to design and build Streamsong Red, and Tom Doak, who crafted Streamsong Blue. Each play to a par of 72, with Red tipping out at 7,050 yards and Blue at 7,250. There also is the 37th hole, a 150-yard bye hole designed by Doak that's nestled against a large dune and is used to settle bets.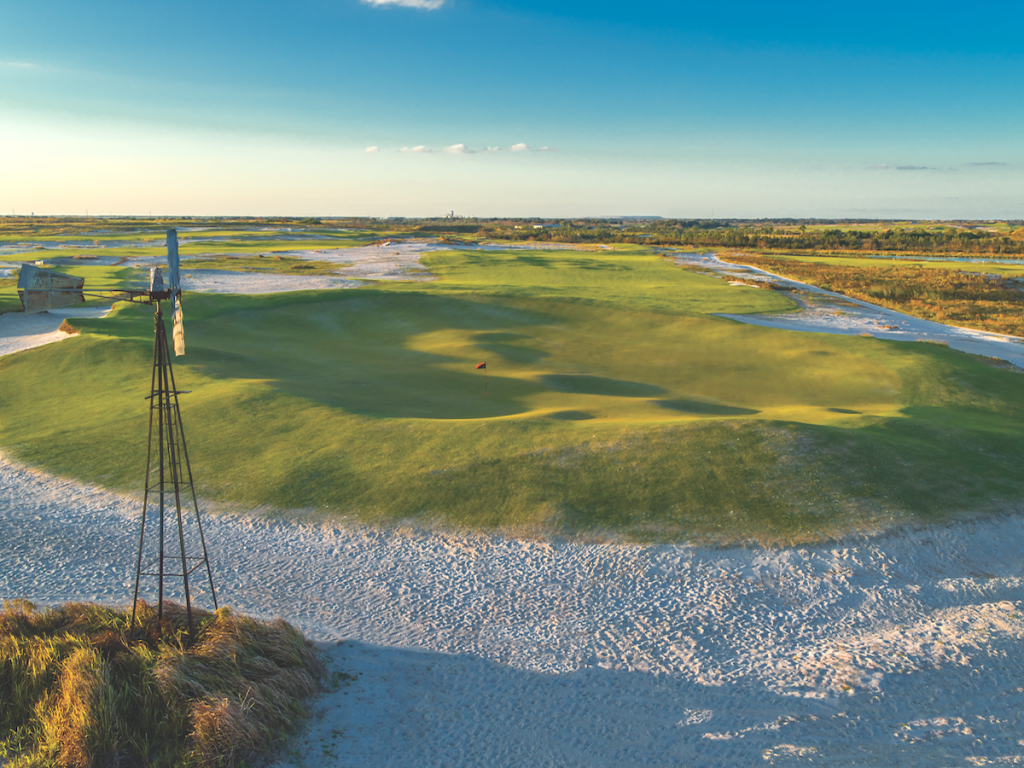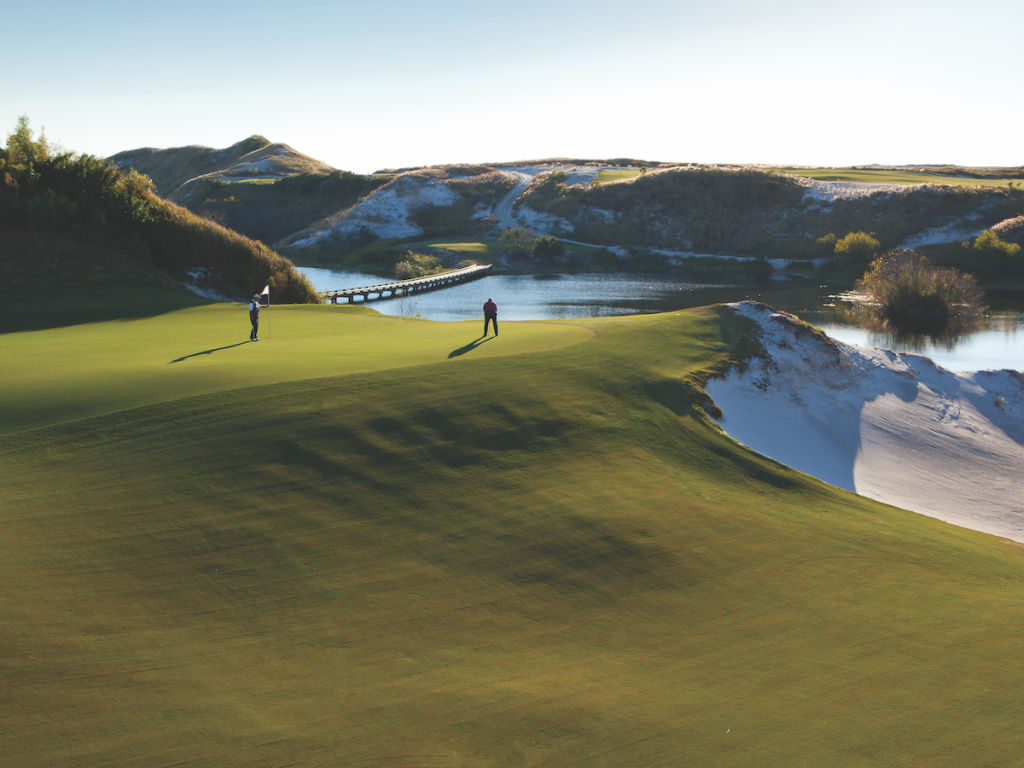 New for the 2020 Season, the resort will regrass all Streamsong Blue and Streamsong Red greens with a revolutionary new Ultradwarf Bermudagrass, Mach 1. With this enhancement, Streamsong will become the first golf destination in the world to showcase Mach 1 on multiple 18-hole layouts. The resort began this regrassing project in April 2020 to avoid guest disruption and offer all 54 holes of golf during the high demand periods between October and March. Mach 1 has been recognized as one of the cleanest and purest turfs in the industry with a super fine texture and smoothness that creates a highquality putting surface.
Located in the lower portion of the dunes, more vegetation comes into play on Red. The links-style courses have few forced carries and generous fairways, especially around the greens where players are spoilt for options when it comes to chipping, putting and pitching. Blue has larger bunkers and more devilish, contoured greens, while Red has softer, yet equally fast, putting surfaces. With no housing developments in sight, there is an abundance of privacy here.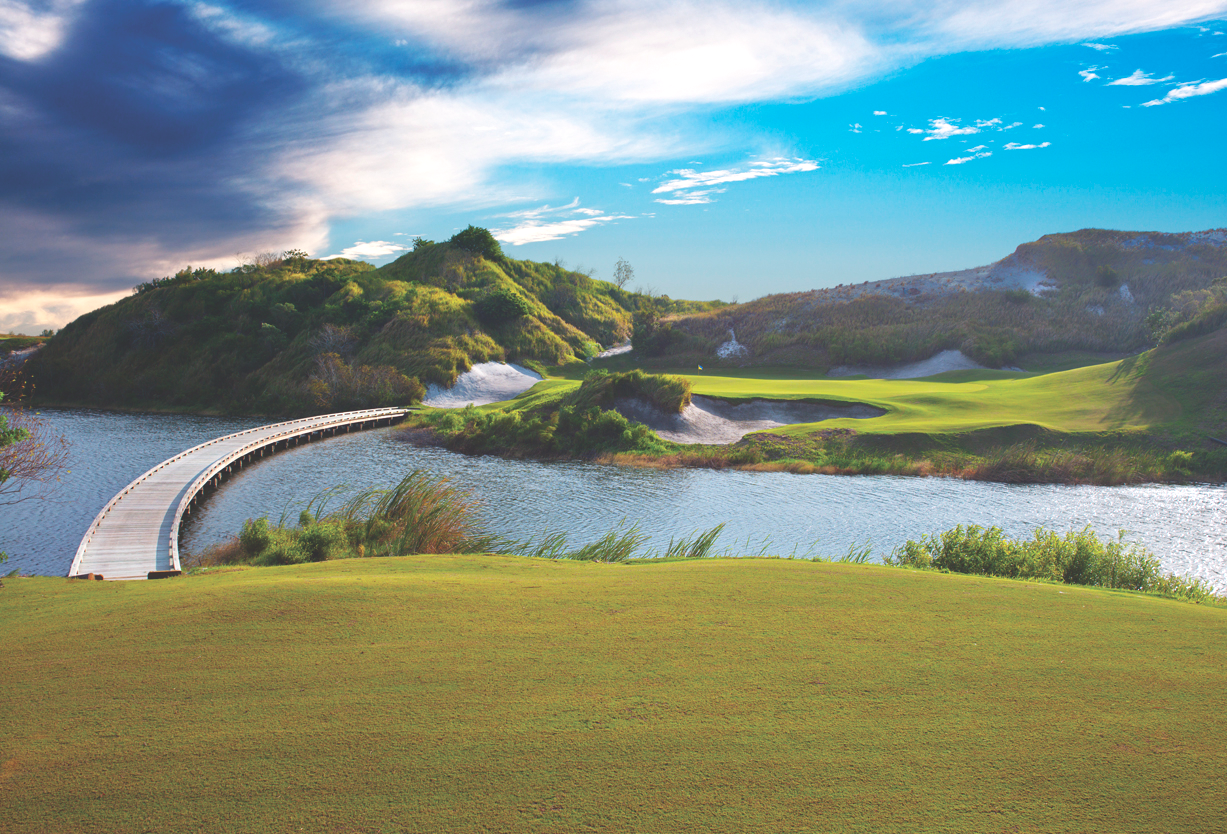 Streamsong Black, a most welcome addition to the resort, serving up delicious contrast to Red and Blue, opened in September 2017. Designed by Gil Hanse, a prominent architect and the visionary behind the challenging course featured in the 2016 Olympics Games in Rio, Black offers Sherman tank sized bunkers and intricately tiered greens. Tipping out at 7,331 yards and playing to a par of 73, the course has five par 5s and four sets of tees on each hole.
StreamsongResort.com | 888.294.6322
REYNOLDS LAKE OCONEE: Greensboro, Georgia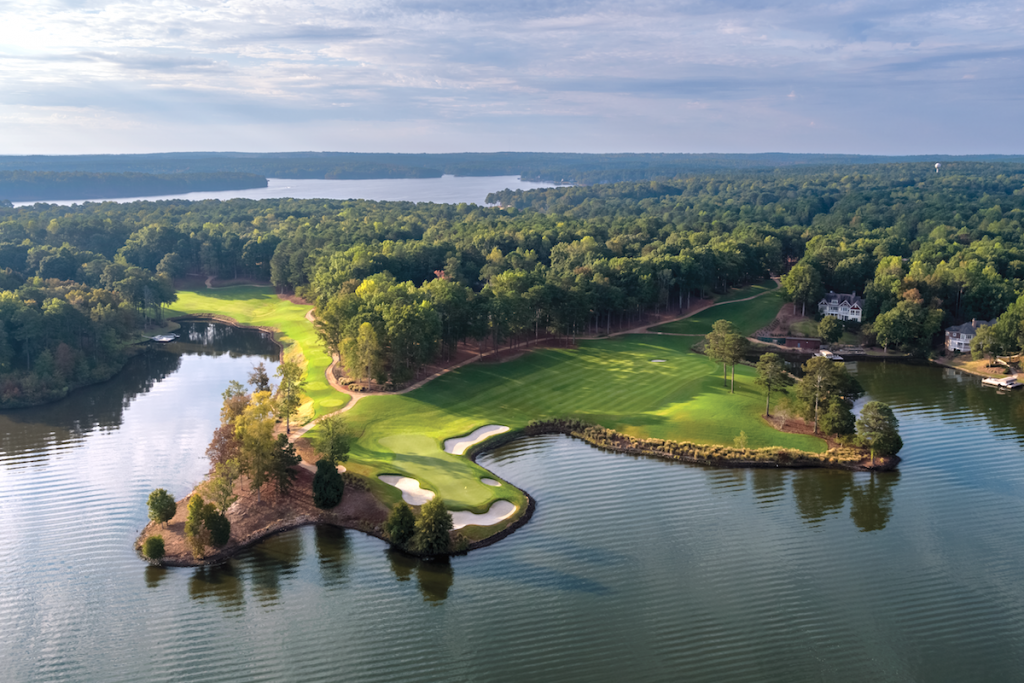 Tucked into the charms of Georgia's lake country, thrives a golf community of consummate grace. Located between Atlanta and Augusta and founded on 12,000 acres of scenic lakefront, Reynolds Lake Oconee features six meticulously crafted golf courses, and all the leisure and culinary amenities befitting a world-class private club. In light of what is going on in the world, a stay here is more than just a holiday, it's an escape to a world of gracious living in a secure, private enclave. Members and residents alike enjoy social highlights and curated recreational experiences, every day.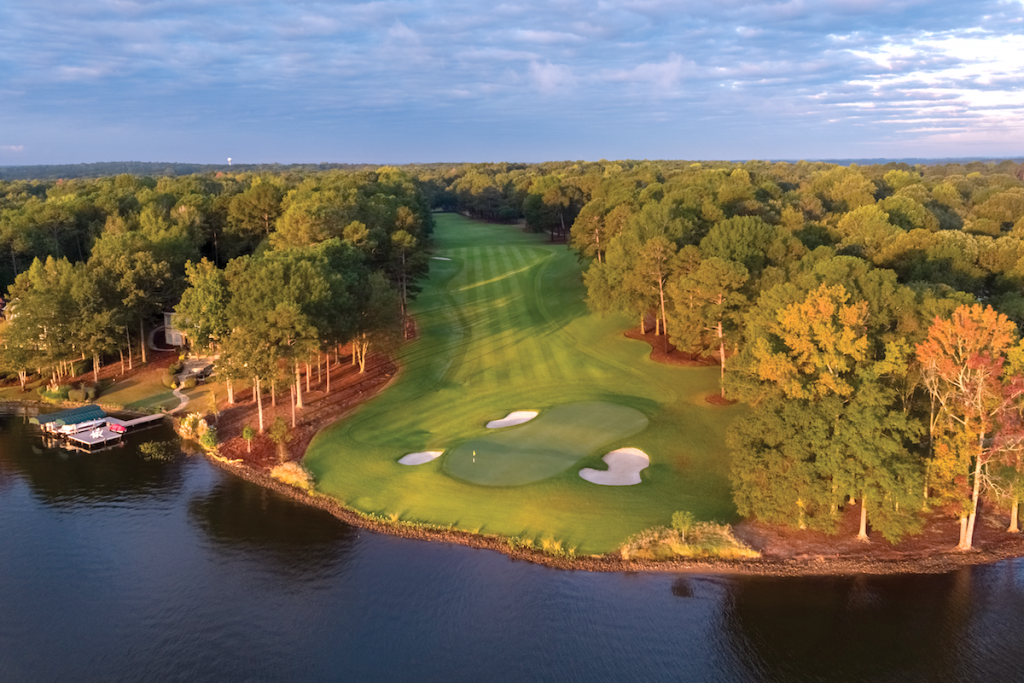 Golfweek lists five of the Reynolds courses in its "Top Courses You Can Play in the State" rankings. Beyond the national accolades, enjoy the prestige of the "Mount Rushmore" of golf architects, with signature designs by Bob Cupp, Jack Nicklaus, Tom Fazio, Rees Jones and Jim Engh. Each course unveils its own unique identity, as the legendary luminaries molded their creative liberty into every fairway, bunker and green.
Reynolds vacation rentals offer you a resort-style vacation with all the comforts of home. A range of accommodations are available to host everything from a family getaway, to an annual golf retreat with friends, to a romantic getaway for two. These well-appointed cottages, condominiums and Inn rooms offer an ideal introduction to the lifestyle that club members enjoy on a daily basis. You'll discover a lifestyle with a rhythm and cadence all its own, that drowns out the hassles of the outside world. The community has drawn passionate individuals, all of whom have been drawn to an inspired and active life, well-lived.
"Our award-winning courses continue to enrich the reputation of Reynolds Lake Oconee as one of the country's premier golf communities and a preferred golf destination. The rankings are a tribute to all who oversee our facilities and care for our layouts, as well as the many people who love to play our courses and spread the word about the special experience." – Wes Forester, Director of Golf at Reynolds Lake Oconee
Curious if Reynolds Lake Oconee is the place you have been seeking your whole life? Consider the Stay and Play 18 package the perfect introduction. This "teaser" immersion allows you to experience top-ranked golf courses and private accommodations in a cottage or condominium. You'll quite literally be spoiled for choice with this offer; the package provides the option to play Great Waters, The Landing, The National, The Oconee, and The Preserve course, all while reveling in the sublime scenery, unparalleled amenities and Southern hospitality Reynolds is renown for. Inclusive of daily breakfast at Georgia's and cart fees, you'll also enjoy privileged access to Reynolds Kingdom of Golf Presented by TaylorMade for instruction and club fitting, and Sandy Creek Sporting Grounds for a world-class sporting clay experience. Stay and Play 18 accommodations are also available at The Ritz-Carlton Reynolds, Lake Oconee, the refined lakefront resort nestled in the middle of the community.
GEORGIA'S TOP-10:
#2—Great Waters (Jack Nicklaus)
#3—The Oconee (Rees Jones)
#7—The National (Tom Fazio)
#9—The Landing (Bob Cupp)
#10—The Preserve (Bob Cupp)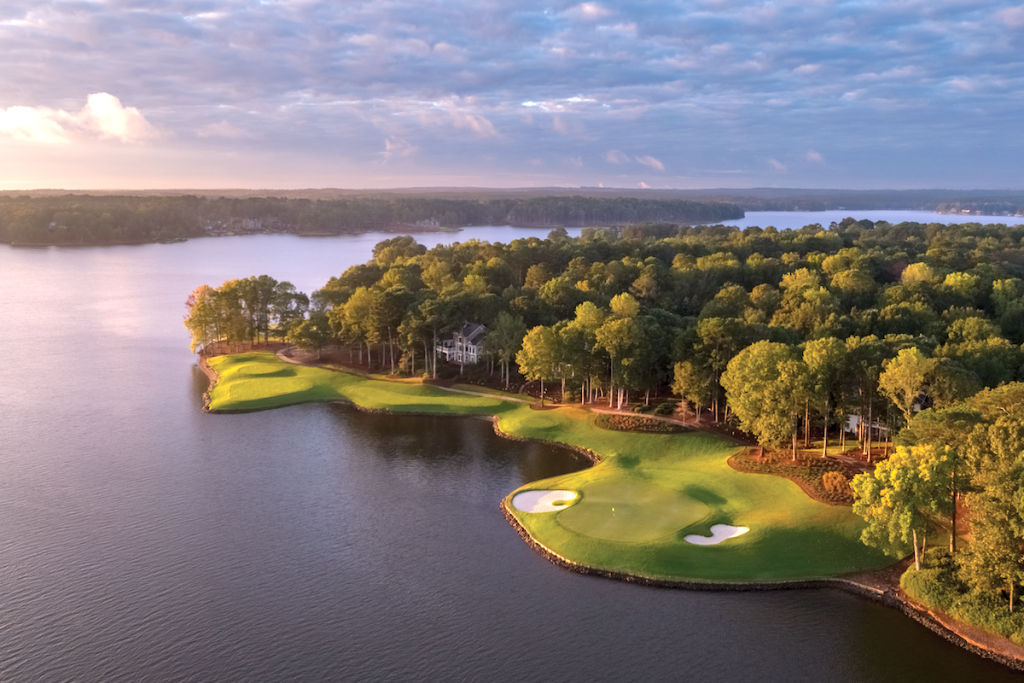 ReynoldsLakeOconee.com | 800.901.1204