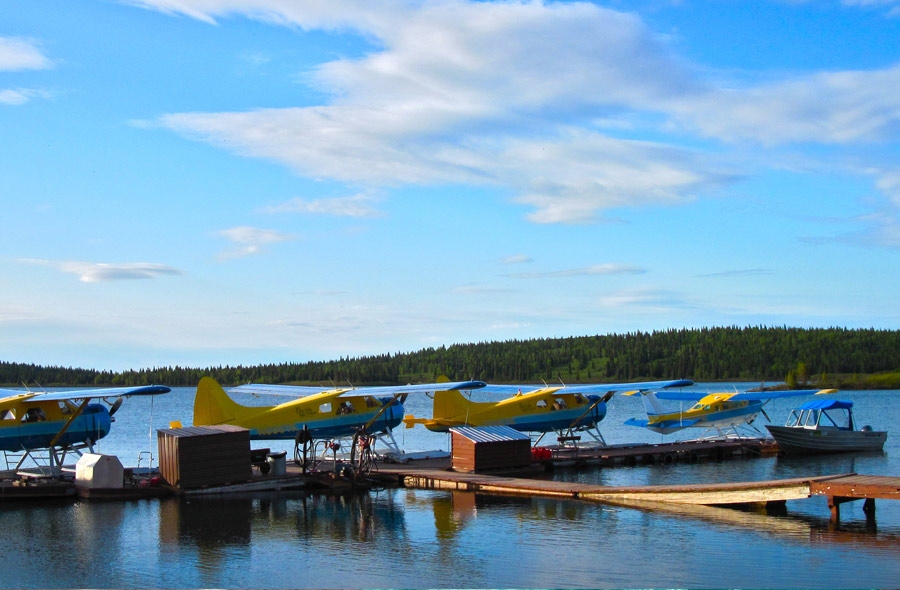 Tikchik is a world-class, fly-in and fly-out sport fishing lodge, hidden amid a spectacular 1.5 million acre wilderness state park in the unspoiled lakes region of Bristol Bay.
Tikchik
Fishing for salmon, rainbow trout, arctic char, lake trout, grayling and dolly varden trout in areas accessed by four floatplanes and dozens of boats prepositioned on remote rivers and lakes. Seven duplex cabins with a total of 14 rooms and dining rooms/lounges afford striking views of stunning lakes. Professional, hospitable guides, experienced pilots, gourmet cuisine and extraordinary service have been the hallmarks of Tikchik Narrows Lodge's reputation for more than 25 years.
For more information, call 907.243.8450 or visit TikchikLodge.com.
La Garita
It's not often that a secluded gem of this magnitude becomes available, but La Garita is your own private valley in which you control total access. The fishing is legendary, the seclusion is beyond reproach, and old-style log buildings that date from the turn of the century further enhance this exquisite property. Hunting is available in the adjoining Rio Grande National Forest and two nearby wilderness areas. All this enhances a legendary fishery and truly qualifies La Garita as a legendary property, which is priced at $9,950,000.
For more information on this property, contact Bob Starodoj with Coldwell Banker Mason Morse at 970.920.7367, or email [email protected].
Craig Ranch
One of the few remaining legacy ranches of this caliber, size and diversity with a plethora of outdoor recreational pursuits, Craig Ranch is an once-in-a-lifetime opportunity. Near Aspen, Colo., in a pristine mountain setting, the Craig Ranch consists of 838 acres, a diverse ecosystem of rivers and meadows, wide open spaces, and mountainsides with spectacular vistas. A valuable natural wilderness habitat, Craig Ranch is home to elk, mule deer, black bear, eagles and migrating birds and waterfowl, as well as a compelling investment and/or family legacy ranch in a highly sought-after resort destination. This unique property is being offered at $38,000,000.
For more information, visit AspenCraigRanch.com and MasonMorse.com;
or contact Ed Foran at 970.948.5704 or Bob Starodoj at 970.920.7367.
Aubrey Spring Ranch
Aubrey Spring Ranch's 285 acres are situated 30 miles south of Sun Valley Resort in Idaho's finest year-round recreational area, and few trout streams in the West can rival Loving Creek's pure spring water, amazing hatches and ability to produce healthy trout. The ranch's creekside home provides excellent sunset views of the surrounding mountains, and superb upland bird hunting is found on public ground within a half hour of the ranch. A rare ownership opportunity in the heart of the Silver Creek Basin, this premium ranch provides ideal amenities to position the fly-fishing angler and waterfowl enthusiast for the most enjoyable recreational lifestyle. Offering price is $3,500,000.
For more information, contact Alex Maher at 307.734.6100
or visit LiveWaterProperties.com.
Red Reflet Ranch
In the quest for off-the-beaten-track experiences, Red Reflet Ranch offers a truly unique adventure in one of the West's most spectacular settings.
Located in Wyoming's Big Horn Mountains, the Red Reflet Ranch couples authentic western adventure with luxurious relaxation to provide a healthy setting for your mind, body and spirit. Spend the day on horseback or take part in any of the dozens of activities offered at the ranch. Savor meals prepared by the resident executive chef and then retire to your private chalet, where you'll enjoy exquisite views, luxurious living spaces, a steam shower and a private hot tub under the stars.
Red Reflet Ranch offers a little something for everyone. In this unique space, you make your own rules for luxury, because after all, you deserve it. Visit redrefletranch.com and start planning your encounter with extreme inspiration.
For more information, call 866.766.2340.
Double L Ranch
Nestled between meandering bends of the Salt River and mountain peaks on 400-plus picturesque acres just south of Jackson Hole sits the Double L Ranch. Residents share access to world-class recreation and all of the ranch's amenities, including an equestrian center, a landing strip, shooting range, private golf course, and the Buckoff Saloon, complete with swinging doors, long wooden bar, billiards table, state-of-the-art movie theater and guest accommodations. The perfect way to turn your dream of owning a Western ranch home into a reality, Double L Ranch can offer riverside and golf course lots, as well as one-of-a-kind custom luxury mountain homes.
For more information, call 866.684.4159 or visit DBLranch.com.
Tailwater At Grand River Ranch
A fly-fishing dream, Tailwater at Grand River Ranch is an exclusive property with spectacular views of the magnificent Gore Range. Three homesites on this 388-acre parcel overlook Grand River's charming Tailwater Fishing Camp. Along the ranch's private stretch of a meandering tailwater, the fortunate owner and guests enjoy exceptional fly fishing for large rainbow and brown trout, among the best in Colorado.
Grand River Ranch is an exclusive 19,000-acre ranch community where owners enjoy a wide variety of private amenities: The Grand River Ranch Lodge with fine dining and overnight accommodations; two fly-fishing camps; an equestrian center; and a sporting clays facility.
Tailwater is easily accessible — a two-hour drive from Denver, or a five-minute drive from Kremmling's jet-accessible airport. Many of Colorado's world-renowned ski resorts are just an hour's drive away. Offered at $1,950,000.
For more information, call 303.623.0655 or visit PointRiderRe.com.
Alaska's Boardwalk Lodge
Alaska's Boardwalk Lodge is located in scenic Southeast Alaska, on Prince of Wales Island, and provides exceptional access to saltwater fishing along Alaska's famed Inside Passage, freshwater fishing on the island's lakes and streams, as well as big game hunting in the interior.
This oceanfront lodge has been voted "Alaska Lodge of the Year" three times and maintains its status in the exclusive Orvis-endorsed fly-fishing lodge program. The property accommodates up to 19 guests in an intimate wilderness setting with gourmet cuisine and comfortable, rustic accommodations. Boardwalk is privately owned and known as an adventure travel destination for corporate retreats, as well as for sportsmen's groups and families.
For more information, call 800.764.3918 or visit BoardWalkLodge.com.