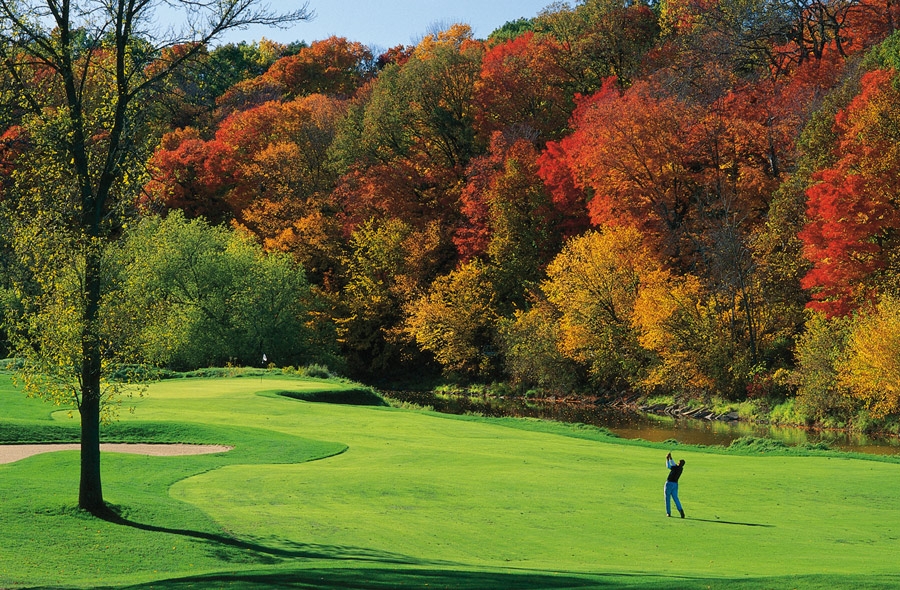 For many golfers, the pursuit of gorgeous and increasingly challenging golf courses can be just as important as the time they spend perfecting all the finer aspects of their game.
There's just something about playing a phenomal round (or even a less-than-phenomenal round) on a stunning course that's rich in history that elevates a golf experience from OK to exceptional. Here Jetset calls out some of the most lauded golf courses in the United States, from the verdant valleys of Hawaii to the brilliant foliage of Upstate New York.
Spyglass Hill Golf Course
Pebble Beach, California
Designed by Robert Trent Jones Sr. and opened in 1966, Spyglass Hill is recognized as a true test of a golfer's skill, and an opportunity to utilize every club in the bag. With a name inspired by the Robert Louis Stevenson novel Treasure Island, the course features two distinctly different kinds of terrain that influence the way the holes look and play. The first five holes roll through sandy seaside dunes, challenging you to carefully pick the safest path. The following 13 holes are cut through majestic pines with elevated greens and strategically placed bunkers and lakes to grab the errant shot. Distinguished as the toughest course on the Peninsula, Spyglass Hill's demanding layout will humble even the most proficient golfers.
831.625.8563 • PebbleBeach.com
Black Mesa Golf Course
La Mesilla, New Mexico
Absent of any manmade distractions, this course plays through dramatic sandstone ridges, with Black Mesa visible from several holes. Your first glimpse of the course gives you a taste of this vast, dramatic property: Fairways follow the natural flow of the land over ridges and valleys, leading to undulating greens situated in box canyons or beneath rocky ridges. Designed by Baxter Spann, Black Mesa is a tough, but fair challenge for golfers of all skill levels, with magnificent views of the surrounding valley, mountains and namesake mesa.
Each hole features characteristics that make it both strategic and memorable in its own unique way. A great course tests both the mind and the body, and this statement holds true for Black Mesa. From the first tee shot, you realize that mental strategy is essential, while the course's expansive fairways and greens allow it to be played more easily than it appears.
505.747.8946 • BlackMesaGolfClub.com
Paa-Ko Ridge Golf Club
Sandia Park, New Mexico
Surrounded by the mountainous terrain and vegetation of the New Mexican high desert, Paa-Ko Ridge Golf Club is home to one of the most beautiful, challenging and award-winning courses in the U.S. The layout features landing areas and greens separated by arroyos, native vegetation and rocky outcroppings. When you play Paa-Ko Ridge, you'll appreciate the rugged landscape and find yourself already dreaming about the next time you can play this world-class winner.
505.281.6000 • PaaKoRidge.com
Kapalua, The Plantation Course
Maui, Hawaii
The Plantation Course is the jewel of Kapalua, which is located on Maui's northwest shore and stretches from gorgeous mountain peaks to the Pacific Ocean. The golf course features several fantastic ocean views, steep uphill climbs and downhill approaches to set up dramatic shots. Most notable is the finishing hole, a downhill 663-yard par 5.
You don't have to be a PGA Tour star to experience the thrill of the Plantation Course. This exciting golf course, which hosts the world's best golfers each January, is also accessible to resort golfers looking to experience the thrill of one of the islands' top courses and the luxury and service that is the Kapalua Resort. The sensation of striking a dew-kissed drive into the morning sun at Kapalua is nirvana for the avid golfer. The course, designed by Ben Crenshaw and Bill Coore, is grand in scale and unfurls across the resort's natural geographic formations and pineapple plantation fields.
877.KAPALUA • 877.527.2582 • Kapalua.com
The Prince Course
Princeville, Kauai, Hawaii
The Prince Course is one of two courses at the Princeville Resort on Kauai's North Shore, and one of Hawaii's highest-rated golf courses. After experiencing a multimillion-dollar renovation, overseen by the original architect, Robert Trent Jones Jr., this par-72 course climbs slopes and careens down hills for a demanding layout that calls for golfers' most accurate placement.
800.826.1105 • PrinceVille.com
We-Ko-Pa Golf Club
The Cholla Course – Fort McDowell, Arizona
Threading through an open expanse overlooking the Verde and Salt River Valleys, Red Mountain and the Superstition Mountains, Cholla preserves the essence and purity of desert-style golf. In fact, you will often hear as much talk of the setting and sensational views as you will about the incredible golf course at hand. Whether you play the award-winning Cholla Course or the newer Saguaro Course, you're in for a desert golf experience unlike any other in Arizona.
Both courses, Cholla and Saguaro, feature an ideal blend of doglegs and straightaway holes, a mix of slender and ample fairways, a balance between benign and rugged green complexes. Yet without exception, both courses offer a host of shot-making options and plenty of grassy bail-out areas when the occasional shot gets away. We-Ko-Pa (Yavapai for "Four Peaks") is routed through unspoiled Sonoran desert, where endless mountain vistas provide the backdrop. It's pure golf with one of the most stunning clubhouses in the nation. The golf course was created to play a challenging 7,225 yards from the back tees, but with multiple tee boxes that are well-spaced to cater to players of all calibers. "Surface and service" is the motto at We-Ko-Pa.
480.836.9000 • WeKoPa.com
Grayhawk Golf Club
Scottsdale, Arizona
Grayhawk Golf Club is a paradise for those with a passion for the game. Both golf courses, Talon and Raptor, offer unique challenges as they wind through some of the most spectacular Sonoran Desert on the planet. Grayhawk is, and has been for some time, one of Arizona's most popular daily-fee golf clubs, primarily because of its two amazing golf courses.
480.502.1800 • GrayHawkGolf.com
The Broadmoor Golf Course (East)
Colorado Springs, Colorado
The Broadmoor golf courses are designed to delight the eye and challenge even the most seasoned player. The East Course was designed by Donald Ross in 1917. When it was completed in 1918, it was the highest 18-hole golf course in the United States. Today the course is a combination of the original Donald Ross design mixed with holes designed by Robert Trent Jones Sr. in 1965.
The East Course is known for its wide fairways and large greens. With tree-lined fairways and amazing mountain views, The Broadmoor's East Course is ranked among the best in the country. With large trees that can alter your shots, and putting greens that can be difficult to read, the best golf tip for this open course is to remember that putts break away from the mountains.
Broadmoor East has been home to many major tournaments, including the 1959 U.S. Amateur, which was Jack Nicklaus' first major win, the 1964 U.S. Amateur and more recently the 1995 U.S. Women's Open, which was Annika Sorenstam's first major title. It also served as the host course for the 2008 United States Senior Open Championship.
719.577.5775 • Broadmoor.com
Grand Golf Resorts Of Florida
Innisbrook, Reunion & Hammock Beach
There's a serious new competitor in the golf resort industry: Salamander Hotels & Resorts.
In the past few months, the company founded by the entrepreneurial Sheila C. Johnson has launched luxury golf collections featuring 180 holes at some of the world's finest courses.
In Florida, Salamander has united three of the Sunshine State's grandest golf resorts under the Grand Golf Resorts of Florida brand. Featuring Innisbrook Resort in Tampa Bay, Reunion Resort in Orlando, and Hammock Beach Resort in Palm Coast, the collection includes 1250 luxurious villa-style accommodations, and 162 holes of golf designed by Jack Nicklaus, Arnold Palmer, Tom Watson and Larry Packard. These nine courses, which have hosted PGA TOUR, Champions Tour and LPGA Tour events, form the Legends of Golf Trail – which traverses 200 miles between the resorts and across the central Florida region.
540.687.3710 • SalamanderHotels.com
Bethpage State Park (Black)
Farmingdale, N.Y.
Golfers of all skill levels flock to the popular Bethpage State Park, which offers a total of five 18-hole courses with unique designs and varying degrees of difficulty. The notoriously challenging Black Course, the most well-known of the five on Long Island, is one of the last courses designed by master golf course architect A.W. Tillinghast, and said by many to be his finest work.
As with most Tillinghast courses, the bunkering sets it apart. Golfers encounter numerous bunkers, some small and penal, others horizon-filling. They present cross-hazards, capture off-line shots and offer visual appeal and illusions. Most of the greens are relatively small, requiring an uphill shot. The drive zones are broad, and yet the narrow fairways demand accuracy and careful strategy. To further test your skills, there's a treacherous bevy of hazards, including high rough and large, sloping bunkers strategically placed around both the greensides and fairways.
516.249.4040 • NYSparks.State.NY.US
Pound Ridge Golf Club
Pound Ridge, NY
Located an hour north of New York City, in Westchester County, Pound Ridge Golf Club is the only Pete Dye design in the state, and is a premier, high-end, public course in a land of private clubs. A quintessential Dye design, the course exhibits all the qualities that have made his layouts so renowned – dramatic, beautiful, challenging and deceptive fairways and greens.
Since opening in 2008, Pound Ridge has earned world-class accolades from Golf Digest, GOLF Magazine, Golfweek, askmen.com, Rolex and LINKS magazine. It quickly emerged as a "destination golf course," sought out by serious golfers collecting the world's best golf experiences.
914.764.5771 • PoundRidgeGolf.com
Whistling Straits
Kohler, Wisconsin
Whistling Straits, which opened in 1998, offers two courses of dynamic contrast. Showcasing open, rugged and windswept terrain, the Straits Course is sculpted along 2 miles of Lake Michigan shoreline and boasts a two-tiered amphitheater effect that gives just about every hole a view of Lake Michigan. Just inland, interspersed by four meandering streams, the grasslands and dunes of the Irish Course comprise a deceptively tranquil landscape. Masterpieces in the world of golf, these courses by Pete Dye bring the raw freshness of Ireland to the Wisconsin coastline.
(800) 344-2838 • AmericanClubResort.com
Riverdale Country Club
Sheboygan, Wisconsin
Sheboygan has become one of the top golf destinations in the world. Celebrating its 82nd anniversary this year, Riverdale Country Club is an 18-hole course located just minutes south of Sheboygan's city limits. With its friendly, yet competitive design, this traditional layout can test players of all skill levels.
920.458.2561 • RiverDaleCountryClub.com
Blackwolf Run (River Course)
Kohler, Wisconsin
Blackwolf Run Golf Club, designed by Pete Dye, unfolds along the Sheboygan River Valley. The river course is one of the most challenging and scenic destinations in North America. Despite the fact that it looks so much more familiar to Americans than the wild linksland courses, for the average golfer Blackwolf Run might just be the toughest of the four Dye masterpieces at The American Club.
920.457.4446 • AmericanClubResort.com