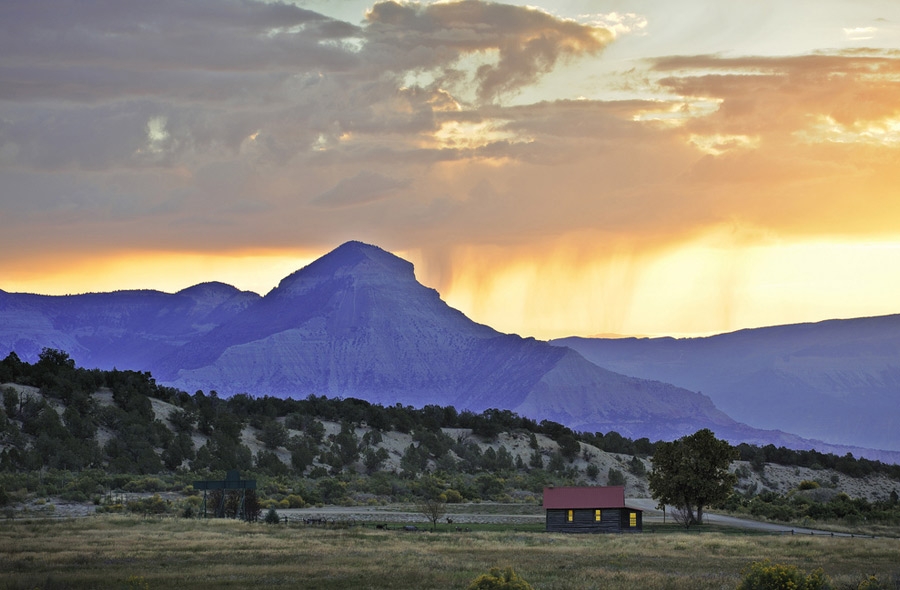 When it comes to finding a spot to relax, unwind and be one with nature, many people turn to resorts situated in the high country areas across the United States.
These isolated spots provide a comfortable — and often luxurious — opportunity to get away from the life in the city or on the road. But it's not just all roughing it; There's more to the high country lifestyle than just lounging in the woods.
Take fishing, for example. Many visitors to the mountainous regions take some time out for the (sometimes) relaxing sport, where they can whittle the time away with a fishing pole in one hand and nature all around. Others take the time to find great hiking spots, sometimes in locations rarely seen by man. Sure, it doesn't always have surf and sun, but what it provides is better than most touristy retreats.
Jetset did some digging and found some amazing resorts and properties nestled in the woodlands, and we've compiled a list of some of the best places to visit when you're jonesing for a new place to stay. Pack those bags and bring something warm, because this trip will be like no other.
The High Lonesome Ranch
Some of the Best Hunting and Fishing in Colorado
For sportsmen who like to fish and bird hunt, the place to be in September and October is Colorado's The High Lonesome Ranch. Located 30 minutes from Grand Junction's Walker Field Airport, guests enjoy an unparalleled cast and blast experience.
Hunt wheat and rye fields, creek bottoms as well as sage and oak-brush flats. Excellent dog work is a result of the state-of-the-art work of The Kennel located at The High Lonesome Ranch. English pointers, labs and pointing labs provide a pointer-flusher combination that puts shooters in the best possible position for success. There is no telling if a covey of scaled or Gabel's quail will explode from under a pointer's nose, if a pair of chuckar or Hungarian partridge will take flight, or if a rooster pheasant is waiting in the wings.
Discerning fly fishermen love the variety at The High Lonesome Ranch, too. From sight casting to tremendous numbers of rainbow, brook, brown, cutthroat and cuttbow trout, to fishing the legendary White River and spring creeks, this one ranch offers it all. September and October is hopper season and the trout feed aggressively before the long winter.
The prestigious Orvis Company endorses the High Lonesome Ranch for both wing shooting and fly-fishing. Shooters begin with a pre-hunt warm up on the Five Stand course, the Pheasant and Quail Clays Course that is a simulated hunt, or on the Flurry Course. All guides are NSCA Level 1 certified shooting instructors, and there is a fully stocked pro shop, complete with blaze orange hats, shooting shirts, shells and a gun rental program.
The High Lonesome Ranch's rustically elegant accommodations are guaranteed to suit every guest's tastes and preferences. After a gourmet meal created by our executive chef, reflect on your day afield in the comfort of a leather couch. Or enjoy a glass of wine and bluegrass music while you look up at the evening stars. Catch a football game on the flatscreen TVs, or stay connected through our high-speed wireless Internet service and landlines. Individual cabins and houses are available for small groups and they are surrounded by some of the best views on the ranch.
The High Lonesome Ranch
P.O. Box 88
DeBeque, Colorado 81630
970.283.9420
TheHighLonesomeRanch.com
Aspen, Colorado
Consider Real Estate in the Mountains
When you think of buying property in the Aspen area, you can't go wrong choosing a Realtor with years of experience. Licensed in Colorado since 1967, Carol Ann Jacobson opened Carol Ann Jacobson Realty in 1972. In 2007, she sold that office, and is now with Aspen Real Estate Company, a long-time Aspen firm. Along the way, Carol Ann has served on many community boards, including the Aspen Music Festival and School, the Aspen/Santa Fe Ballet, The Aspen Foundation, The Aspen Medical Foundation, Pitkin County Bank and Trust (later Vectra Bank), and the Aspen Center for Physics. For many years she served on the board of Futures for Children, an Albuquerque-based group working for the benefit of Native American children in the Southwest.
Married to builder Don Kopf in 1973, Carol Ann and Don built and remodeled many properties in Aspen, and designed and built two homes in Cave Creek, Arizona.Carol Ann is also a licensed Broker in Arizona.
From the first land offerings in Starwood, Aspen's most prestigious subdivision, Carol Ann Jacobson Kopf has been specializing in fine listings, as well as top-quality homes throughout Aspen and surrounding areas. The remarkable home shown here sits on nearly three acres with magnificent mountain views and stunning landscaping. Perfect for full-time or second home family use, there are six bedrooms and six-and-a-half baths, with four living areas.
Call (970) 379-4716 for information. Listed with Carol Ann at Aspen Real Estate Company.
Escape The Heat At The Porches Of Steamboat
Are you looking for a luxury mountain rental where you can escape the sweltering heat this summer? Spacious residences, family-friendly amenities, and summer recreation galore can be found at The Porches of Steamboat Springs, a truly idyllic location for a summer getaway. The Porches offers whole ownership, fractional Private Residence Club ownership, and nightly rentals. With each residence boasting from 3,000 to 5,000 square feet, four to five bedrooms and bathrooms, and the ability to comfortably sleep up to 14 people, The Porches creates an environment where your family or even your extended family can forge lifelong memories. Each home is luxuriously appointed with a gourmet kitchen and dining area, a game room, and bunk room where kids can play together, and masterfully designed spaces that exude comfort and style.
All owners and guests enjoy full access to on-site amenities including a year-round outdoor pool, multiple hot tubs, a steam room, and a state-of-the-art fitness room. The Porches' genuine neighborhood is perfect for multi-generational family gatherings in the midst of an outdoor enthusiast's paradise.
The array of unforgettable summer activities that are available in the Steamboat area is unparalleled, including mineral hot springs, horseback riding, fly fishing, ATV tours, tubing, whitewater rafting, hot air balloon rides, miles of hiking and biking trails, a weekly professional rodeo, and so much more!
For more information on how you can make The Porches your home away from home.
ThePorches.com
(866) 500-6673
The Ranches At Belt Creek
The Exclusive Sportsmen's Club
Experience life without fences at the Ranches at Belt Creek. Located in Belt, Montana, 25 miles southeast of Great Falls, the Ranches at Belt Creek is a breathtaking, 800-acre shared ranch residential development. Owners have access to a concierge service and activities including blue ribbon fly fishing on the legendary Belt Creek, skiing at Showdown Ski Area, prime elk hunting, ATV excursions through secluded mountain-side trails and horseback trail rides through narrow canyons and coulees. Ranches are just a day trip away from both Yellowstone National Park and Glacier National Park.
Private or chartered jets are accommodated at the Great Falls International Airport, as well as daily commercial flights. The Ranches at Belt Creek also give you the unique opportunity to build your own dream house, complete with panoramic views of snowcapped mountains and wide-open plains. Ranches are available in five-, 10- and 25-acre lots.
Through a special promotion with Jetset magazine, one in 10 readers who register at Ranchesforsalemontana.com will win a free Discovery Weekend package to explore the ranch and get a first-hand look at what it's like to be an owner. It's uncomplicated, it's elite and it's waiting for you.
RanchesAtBeltCreek.com
(800) 605-8046
Brush Creek Ranch
Adventures as Vast as the Western Skies
The Lodge & Spa at Brush Creek Ranch is a supremely private, 13,000-acre retreat nestled against the Rocky Mountains near Saratoga, Wyoming. This new western icon promises discerning groups endless adventure, gourmet dining and the refinements of a boutique hotel, all on the grand landscape of a centuries-old Western ranch.
From an indoor equestrian center and private fly-fishing waters to over fifty miles of maintained trails, the recreational diversity is endless. Horseback riding, private game and wing hunts, mountain biking and much more await guests. Enjoy a Native American-inspired massage, or fish the celebrated North Platte. Experience a Ranger tour through our vast landscape, then recount the day's adventures around a campfire with a selection from our extensive wine cellar. Unique venues abound for milestone gatherings and weddings, including picturesque outdoor event gardens, a western saloon, cowboy chapel and dance hall.
Along with a luxurious Spa, the Trailhead Lodge features open-hearth fireplaces, a lavish library, and culinary exhibition kitchen where grand banquets bring guests together for fine cuisine. Guests also enjoy campfire cookouts along Brush Creek, Chuck Wagon BBQs and picnic lunches at distant mountainside yurts.
Luxurious accommodations for up to 180 guests include log cabin residences, elegant cabin suites and spacious lodge rooms, plus a secluded collection of cabins and private lodge on the adjacent Magee homestead.
Located 3.5 hours from Denver with private air access into Saratoga. All lodging, gourmet food, beverages, on-ranch activities, professional guides and gear are included in the rates.
BrushCreekRanch.com
(307) 327-5284
It's Summer Time And The Fishing Is Wild
Backcountry Fly-fishing with Idaho's Flying B Ranch
There are fewer and fewer places where fly anglers can fish for truly wild west-slope Cutthroat trout in their native waters. Idaho remains a stronghold for the species, where anglers can enjoy days on the water that rival those stories heard by our grandparents.
Osprey Creek Camp is primarily a dry fly fishery with easy walk-and-wade fishing that commonly yields 30-50 fish per rod per day — a success rate that fires up the novice angler and satisfies the experienced. Fish as large as 16-18 inches are caught on this catch-and-release water.
Guides for this camp are confident, technically proficient fly-fishers who are happy to teach all skill levels from novice to expert. Guests are welcome to bring their own tackle, but as an Orvis endorsed fly-fishing destination, we can provide everything you need, right down to wading socks and boots for warm weather wet wading.
Fishing comes first at Osprey Creek Camp, but food is a close second. We have our head chef Ryan Nelson prepare amazing meals using Dutch ovens and serving your favorite beverages. Breakfast and dinner are served in camp, and lunch is enjoyed streamside.
During the four-day, five-night adventure, guests spend the first and last nights in the comfort of the Flying B Ranch Lodge. From the Lodge, we drive to a trailhead where our wrangler will have a pack string made up of experienced mountain horses and mules waiting for you. From there we will do a mounted pack-in lasting an hour and a half, and guests can begin fishing by early afternoon. The time spent fishing and enjoying camp life will pass all too quickly, but the backcountry memories gathered at Osprey Creek Camp will sustain you for years to come.
FlyingBRanch.com
(800) 472-1945
Highland Hills Ranch
Highland Hills Ranch is an ORVIS Endorsed Wingshooting Lodge, and has also been selected and awarded ORVIS "LODGE OF THE YEAR". In addition, HHR is charter member of the Beretta Trident Lodge Program. The Beretta Trident Lodge Program is the first of its kind, and requires venues offering wingshooting to undergo a detailed and specific assessment of every area that can impact the guest experience. Highland Hills Ranch has been designated a Beretta Two Trident Upland-Bird Lodge, with only 4 lodges in the world with that designation.
Highland Hills Ranch provides wingshooters with the unique opportunity to hunt for the "Grand Slam of Wingshooting;" Ringed-neck pheasants, Hungarian partridge, valley quail, and chukar, all in their native habitat. With 3,000 acres of closely managed food plots, milo and native grasses, our fields are teaming with wild birds. Traditional walk-up hunts run September 15-March 31. There is NO BAG LIMIT for any species of game birds. In addition to our walk up hunts, HHR also offers a limited number of British driven shoots per season, where birds are driven off of the high picturesque cliffs of the highlands in the traditional European fashion. There are three drives per day, flying 300 birds per drive. Two days of driven shooting is accompanied by one day of walk up hunting to go after "the ones that got away." Please call for British driven dates and availability. HHR also offers a few trophy mule deer hunts each year in October for big game enthusiasts.
Our guests relax and enjoy the rustic elegance of the 10,000 sq ft log lodge at Highland Hills Ranch. Guests stay in one of the lodge's six guest rooms all with private baths or in one of the five, private, spacious cabins, each appointed with their own gas fireplaces and private baths. Our ranch can accommodate up to 21 guests, and caters to corporate retreats. After visiting our ranch, these guests have left with the following impressions…
"Highland Hills Ranch is the all-around finest hunting facility I have ever visited in America."
—Layne Simpson, Shooting Times and Petersen's hunting magazines.
Highland Hills Ranch, where your greatest hunting memories are waiting for you!
HighlandHillsRanch.com
(866) 478-4868