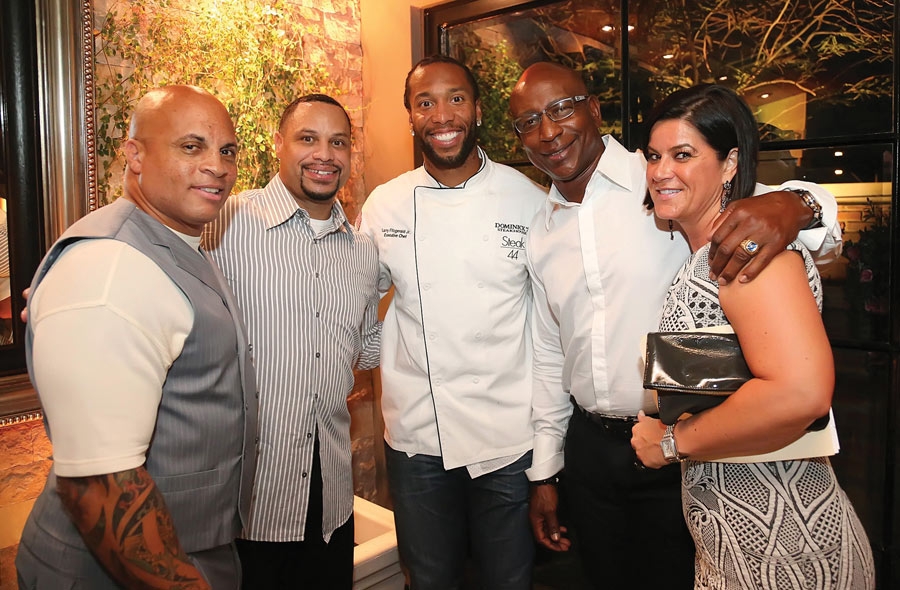 Recently, many of the biggest names in Arizona sports, business and entertainment turned out to Dominick's Steakhouse in Scottsdale for Larry Fitzgerald's seventh annual Fitz's Supper Club event.
As always, the star-studded gala (which raised over $300,000 for charity last year) featured NFL and NBA players serving food and drinks to patrons, but new this year was the theme of "Journey." On display for auction throughout the venue were exquisite photographs taken by avid globetrotter Fitzgerald on his many travels.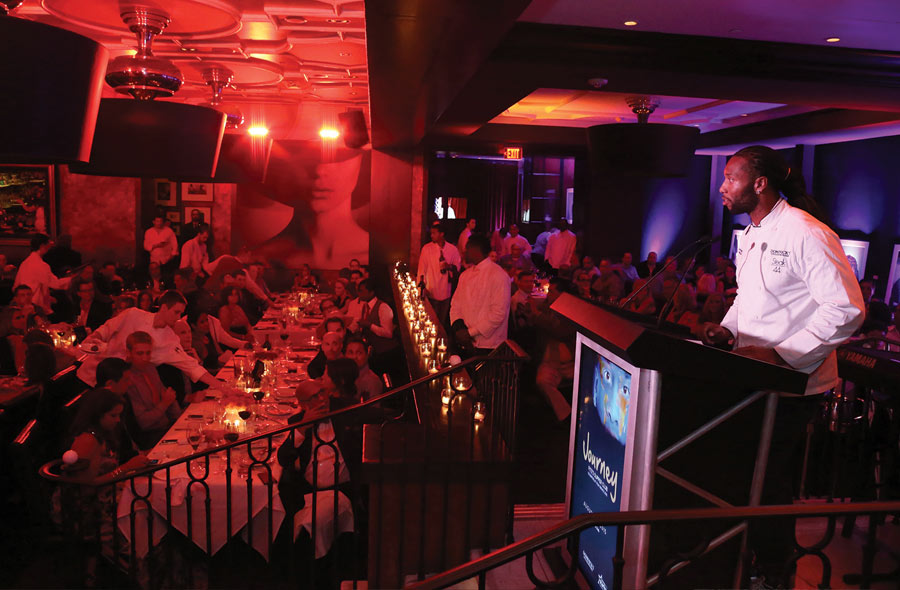 Number Eleven's journey has been a long and hard-fought one. He worked tirelessly to make it to the NFL and has given his all in every game he's ever suited up for (including a valiant effort in a Super Bowl considered by many the greatest ever played). He holds twelve NFL records despite playing with thirteen different starting quarterbacks — and, as of writing, and in defiance of his age (32), Fitzgerald leads all NFL receivers in touchdowns. It is very likely that he will retire as the greatest Arizona Cardinal of all time.
But those who know Fitzgerald understand that his epic work on the field pales on comparison to his efforts off of it. I couldn't possibly list all of the causes he's been involved with or people whose lives he's touched. The Supper Club event was memorable for many things — the soulful acoustic performance by Brian McKnight, watching 310-pound Pro Bowler Calais Campbell struggle to carry a dinner tray — but the clear highlight was when Larry gave an impassioned, heartfelt speech about his involvement with the Starkey Hearing Foundation, a tremendous organization devoted to providing children across the globe with hearing aides.
Larry was kind enough to take the time to discuss the event, his photography and many philanthropic passions with Jetset. The following is the exclusive extended interview.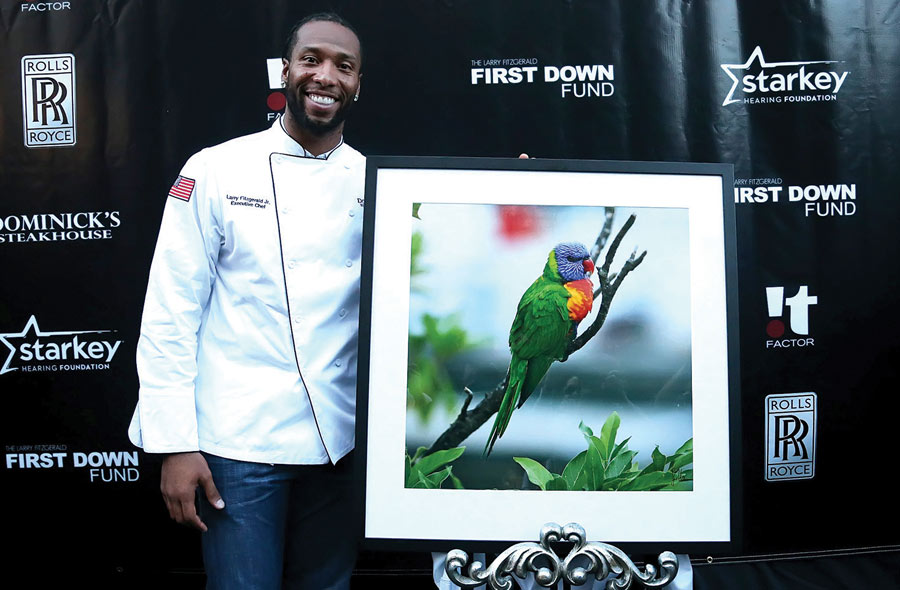 Ty: Hey Larry, can you tell me how this event first came to be?
Larry: Seven years ago, I was approached by…a Morton's executive and he had a great idea about giving back to the community by doing a celebrity waiter event at Morton's Steakhouse. I was the first guy to do it. Then Peanut Tillman in Chicago started doing it. Soon it started catching fire around the nation. Different guys, they wanted to start the blueprint with me.
We did that for five years at Morton's with great success. Two years ago, [the executive] moved on to a different position so my connection with Morton's went away. They happened to be doing a remodel on the restaurant that I did it at every year. I branched out and I've gone to eat at Dominick's and Steak 44 multiple times and I started building a relationship with the Maestro family and Oliver over there. They gave me an opportunity to bring it up to Dominick's. It's been unbelievable, having it there over the last couple of years.
Ty: Can you tell me a little bit about your relationship with the Starkey Hearing Foundation? Like I said, that was a great story the other night.
Larry: Bill and Tami Austin, who actually started the organization, they lived next door to me in Eden Prairie. So one day I just randomly went over to their house and introduced myself and started a relationship with them. They invited me to come over to come do a ten day mission with them in India, and I took them up on it. It was such a moving experience. It's not very often that you're able to do humanitarian work where you see an immediate impact. I'm talking about immediate. I've been to Ethiopia, and done work to build dams to help with the severe drought they had, but it wasn't done immediately.
I've built schools in low-income areas before, but you don't see the kids walking into the building the same day the last nail was hammered into the wall. It's a process, hiring teachers and getting utensils, getting students to come…. But with Starkey, as soon as you put that hearing aide in that person's ear and turn it on, immediately you see a difference in their actions, their face lights up. Their family is excited because they see some difference. It's really an impactful organization and they really touch lives with people all around the world.
Ty: That's got to be one of the greatest gifts. I mean, you're giving someone one of the main senses. And to be able to see it, to witness that immediate change, that's probably pretty fulfilling.
Larry: No question. No question.
Ty: Can you tell me about First Down Fund? It must be fantastic to have several organizations that you get to work with instead of just one.
Larry: First Down Fund was established in 2004 when I first got in the National Football League. I wanted to do something that I can put my name on and behind, to really make a difference in the communities that have impacted me the most. I was losing my mother to breast cancer, and initially, I really wanted to raise awareness for breast cancer research because that's what's affected me most closely. Then I wanted to make a difference in children's lives.
There are so many people that had a helping hand in my development. There were many times I could've gone the wrong way and people were there to help me, steer me back in the right direction. I just wanted to be that pillar in the community where I can help fund organizations that are doing right things, providing positive mentorship to people, giving them a good, positive outlet so they can find and foster their dreams and hopes as well.
Ty: You mentioned your family, your mother in particular. Was that a big part of what made you want to give back? Was that instilled in you at a young age?
Larry: Yeah, that was the biggest part. My mother was the driving force behind who I am, who my brother is. As you know, growing up, your parents are the people you're around the most…so they have the largest impact on you. Seeing my mother, the way she operated, her heart, it played a huge role in my process…and I'm very thankful.
Ty: You mentoned being a pillar; do you feel a responsibility as an athlete? Being in a position of power, people looking up to you, do you feel as though you have to do something positive because all these eyes are on you and you have this influence?
Larry: Absolutely. Why wouldn't you, though? You have a great platform, people will support you. People will try to do what they can to help you. I just don't understand why anybody who has that position wouldn't try to do something to help benefit people that are in need.
Ty: But I'm sure you've seen it. I'm sure you've seen some of the guys who just want to have fun. They don't really want to do something serious or use that influence positively. Yet to see someone like you who is so genuine, so devoted, it's wonderful. I think everyone in that room the other night could feel it; if they didn't already know the extent of who you are, they learned through the course of that evening, which is what made it such a great night.
Larry: Well Ty, I'll be honest with you, unfortunately enough, in our business, a lot of attention is placed on negativity and guys not doing the right thing, but I would say the vast majority of guys that I know, especially on our team and around the league…these guys are doing things to make an impact. They might not have the notoriety that I may have, but they're still doing good things. At that's really, at the end of the day, what it boils down to.
Ty: Right. And I'm sure maybe some of them, they just need that little push where you go, "Hey, check this out man; come do this for me." I'm sure part of being that pillar is consistently bringing guys into your philanthropic orbit. I know there are a lot of guys that you've brought on to your charity work which I think is fantastic.
Larry: Yeah. Thank you.
Ty: Everyone knows you love to travel. Which place that you've been has surprised you the most of all the places you've experienced?
Larry: I love Africa. Africa's one of those places that just grows on you. The people there, they don't have much in terms of worldly things, but what they do have is just unbelievable passion and love for each other. You see it is so evident in everything they do…. I remember walking into a Maasai village in Kenya one time. A lady lived in this hut that had dirt floors. But she swept her dirt floor so we could come in and walk on it. It's just a sense of pride and humility and love that you receive from that place. It's really a wonderful place to go. It's always held a special place in my heart.
Ty: Probably pretty humbling too, I would imagine.
Larry: Oh yeah. The thing that I noticed over there is that they don't often complain. Here, we complain about the smallest things. "Oh, it's hot outside. Oh …"
Ty: "My phone doesn't work." "Starbucks messed up my order."
Larry: [Laughs.] "Man, this traffic sucks." They're not real issues though. It's just minor things compared to what people around the world are experiencing.
Ty: That probably puts things into perspective.
Larry: That's for sure.
Ty: That sense of wanting to travel, wanting to see the world, is that also from your parents? Where did that come from?
Larry: That definitely came from my family, man. You learn everything that you know from your family. That's where it all comes from for me.
Ty: Can you tell me how you got into photography? Those were some pretty beautiful pictures I saw there the other night. Can you tell me how that came to be and how you developed that?
Larry: I've always had a passion for photography, taking pictures throughout the course of my life whenever I've had a camera. Whenever I'm traveling…I'm always just snapping away. I never really took the personal intent to publicize them and show them off. But for the event this year they pitched the idea of displaying them, and I thought it was something that was cool —a different angle that most people haven't seen before. I just went with it.
I was a little nervous because everybody finds different things beautiful. Not everybody says, "Oh, that right there is gorgeous, I love that." What you like in terms of your style at your house is probably different from what my style is. That doesn't make it wrong, so I was a little nervous.
Ty: It is subjective, but in my opinion, they were fantastic, Definitely, definitely great. Thank you so much for taking the time to talk to me today, Larry. I really appreciate it, and thanks again for the evening.
Larry: Okay, no problem, Ty. It was good to talk to you and have a blessed day.
Ty: Oh and real quick, are you excited for the season to kick off tomorrow?
Larry: Honestly I don't really get excited during the buildup Ty. I've been playing for a long, long time now. But when I get to the stadium on the day of the game, it kicks in then.
Ty: Well, we all know how badly you want to bring that Super Bowl trophy here to the desert, and…I've got a good feeling about this season.
Larry: Yes sir. I…have that feeling as well. [Laughs.]