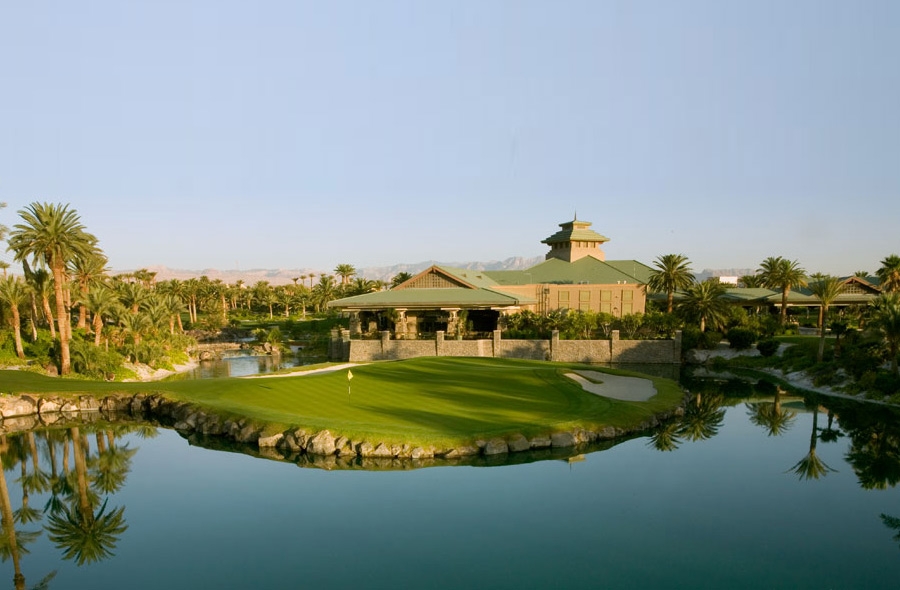 The only championship course located right on the Las Vegas Strip, Bali Hai Golf Course is a tropical golfer's paradise.
highlighted by 7 acres of water features, a signature island green, more than 4,000 trees including 2,500 stands of towering palms and 100,000 tropical plants and flowers. Transition zones are accented with Augusta white sand and set off by black volcanic rock outcroppings. Caddies and forecaddies are available to make your round more enjoyable. Using one of our professional caddies, a foursome can complete play in less than four hours, even though this is a championship golf course that will test your every skill. Recognized as one of "America's Top 40 Resort Courses" by GolfWeek Magazine, Voted #6 of the "Top 50 Golf Courses in the Country" by GolfWorld Reader's Choice 2009, recently listed as one of GOLF Magazine's "Best Public Golf Courses in Nevada 2010 and the "Best Course in Las Vegas" by VegasGolfer Magazine, Bali Hai Golf Club is a truly unique las vegas golf experience and a must play for golfers of all abilities.
The Bali Hai Golf Shop was was recognized as one of "100 Best Golf Shops" in America by GolfWorld Business magazine for 2003, 2004, 2005, 2006, 2007, 2008, 2009, 2010, 2011, 2012, 2013 and now again in 2012 making it 12 straight years! It offers a boutique shopping experience with a wide variety of high-end apparel, equipment and gift items for both women and men. Callaway Club and FootJoy shoe rentals are also offered at the Golf Shop.
The Cabana snack bar serves up breakfast, lunch and beverages. On-course beverage cart service is available.
Cili Restaurant & Bar at Bali Hai is situated within the 32,000 square foot, Balinese themed clubhouse and is also open to the public. Luncheon guests enjoy exquisitely prepared contemporary American Cuisine with Asian influences. Recognized as one of Las Vegas' most popular "power lunch" eateries, Cili is open for lunch everyday from 11:30 – 3:00pm. Evenings are reserved exclusively for prebooked group functions of 15 or more. Cili offers indoor and patio dining overlooking a blue lagoon. A private dining area overlooks the 16th island green and comfortably seats smaller groups up to 40. Complete bar, banquet and catering facilities are also available. To make dining reservations, please call 702-856-1000 or for more information go to cili.com.
Bali Hai Golf Club is a premium daily fee championship resort golf facility. Golf Reservations are accepted up to 1 year in advance. Rates begin at $125. For more information, please visit the official BaliHaiGolfClub.com.