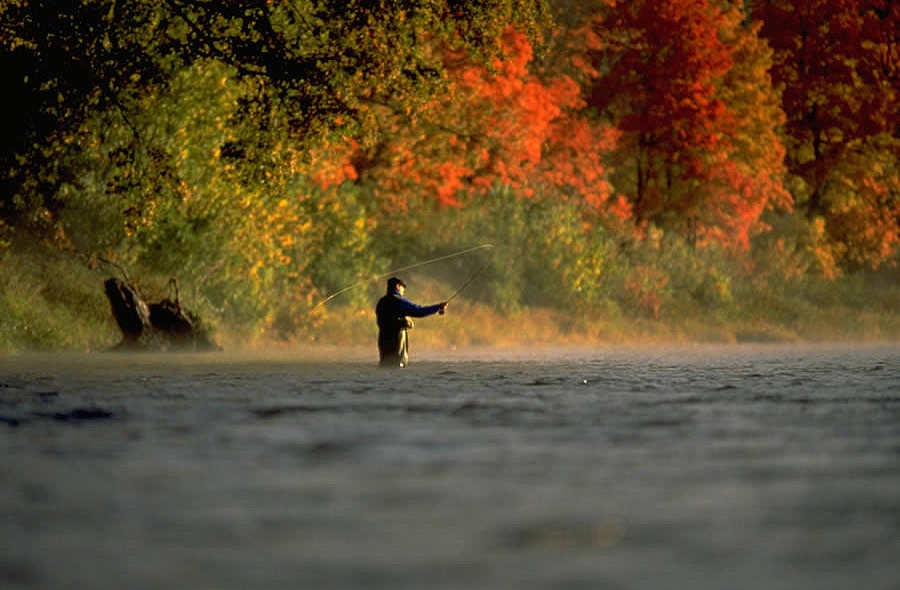 If you crave wide open spaces and views that go on forever, then this may be the ideal time to find a high country lodge, ranch or river retreat to call your own.
To help you in your search, we've assembled a collection of some of the top luxury properties available in the great American West. The recreational amenities they offer are almost as endless as the views: hiking, biking, fly fishing, hunting, skiing, snowshoeing, and, of course, golf. Plus, there's nothing quite as satisfying as relaxing on your deck or front porch while taking in the spectacular vistas from your private high country retreat.
McCoy Spring Creek Ranch
One of the Finest Spring Creeks in the West
Set in the heart of Southwestern Montana near Dillon, the McCoy Spring Creek Ranch boasts approximately 1,209 acres of pure recreational splendor. With over three miles of productive spring creeks, two fishing ponds and many other wetland sloughs, the outdoor opportunities are endless.
Widely recognized as the site of one of the finest spring creeks in the West for the purist fly fishing angler McCoySpringCreeks.com, this property also enjoys abundant water rights irrigating six pivot fields planted in small grains, corn and alfalfa.
The headquarters area sits on a bluff overlooking the spring creeks and the entire Beaverhead Valley with unimpeded views of three mountain ranges. The four bedroom, three bath main home has surrounding porches offering ideal places to enjoy long summer evenings. Two guest cabins, each with two bedrooms and two baths, offer efficient accommodations during a sporting visit. A fourth home consists of three bedrooms and two baths and can serve as staff housing or has potential for rental income. Other improvements include a 1,200 square foot barn, a small functional fly shop and many operational buildings and corrals for grain and cattle operations.
This ranch is defined by its creeks and water features, boasting over three miles of improved, well-managed spring creeks with ponds and sloughs. With many years of stewardship and over a decade of enhancement work, McCoy Spring Creek Ranch features some of the country's finest spring creek fishing for wild trophy rainbows, browns and brook trout. This corner of Montana is limitless when it comes to outdoor recreation, and the Beaverhead Valley is home to some of the best waterfowl hunting in the state. With the carefully managed cover habitat, Hungarian partridge and pheasant thrive. Several duck and deer blinds are carefully positioned across the ranch, providing world class hunting.
McCoy Spring Creek Ranch offers an amazing opportunity to own a trophy sporting ranch in the world famous Beaverhead Valley. Between the nearby amenities of Dillon, the rehabilitated streams and ponds and careful past management, this ranch is in outstanding condition for a serious sporting enthusiast. Offering price is $10,500,000. This is a co-listing with Fay Ranches.
For more information,
Call Alex Maher at (866) 734-6100 or
visit LiveWaterProperties.com.
---
Big Sky Montana
Representing The Finest Real Estate Properties
Big River Lodge
Situated a stone's throw from the Gallatin River and surrounded by national forest, the Big River Lodge blends luxury, privacy and warmth to create a recreation-oriented property that is nothing short of spectacular. The lush 19 acre river retreat resides on a mile of river frontage and consists of a primary residence, several guest cabins and additional out buildings, each created in a distinctive, rustic style that captures the spirit of "Old Montana." The estate is versatile enough to host gatherings with family and friends, but could also be used as a commercial lodge or business venture. $3,800,000
On the Green at Spanish Peaks
Highlighted with a distinctive modern flare, this residence embodies all that is Big Sky. Offering unsurpassed mountain views, the home's thoughtful design includes two master suites and two additional bedrooms situated around an inviting second living area specifically designed with entertaining in mind. This luxury home's detailed interior incorporates sleek cabinetry, architectural lighting and an impressive stone fireplace complemented by handcrafted beam work. Not to be outdone by the interior, the exterior living spaces open up to the majestic mountain ranges and one of the best golf courses in the West. $2,472,000
Big Sky Waterfront Paradise 
Spanning both sides of Beehive Creek in beautiful Big Sky, this rare and exquisite 7.5 acre parcel has something for everyone: A stunning creek that runs through the length of the property, wildflowers that adorn lush, grassy meadows and easy access to Big Sky's most exceptional hiking and biking trail. Winter brings snow-covered peaks prominently into view, while outdoor enthusiasts enjoy miles of back country skiing, cross country skiing and snowshoeing. Just minutes from the Big Sky and Moonlight Basin Ski Areas. Attractively priced at $472,000
For more information,
Call: (800) 691-8251 or
Visit The Signature Group at:
RealEstateOfBigSky.com or [email protected]
---
Fay Ranches
Invest & enjoy
From its beginning over 20 years ago, Fay Ranches established a unique bond with the ranch landscapes of the American West and those who own — or seek to own — a special part of it.
The first to focus on recreational properties in the West, Fay Ranches has a long-standing record as the premier brokerage of the finest investment-quality ranches and farms throughout the West and an unwavering commitment to land enhancement and stewardship.
The Fay team consistently champions the four pillars of the Fay Ranches brand:
Investment Value
Owning a ranch is an investment in a tangible asset. Ranches with profitable agricultural operations, exceptional views, unique water amenities or world class sporting opportunities are increasingly sought by investors. Fay Ranches is an expert in evaluating ranch value.
Sporting Pursuits
Whether it's bird hunting, fly-fishing, big game hunting, horseback riding or just relaxing in a spectacular natural setting with friends and family, these pursuits are a shared passion at Fay Ranches. The Fay team monitors the ever-evolving conditions of these environments.
Family Values
The Fay team loves to create memories and traditions with their families and friends in the great western landscapes. The lifetime bonds and knowledge shared with multiple generations provide the best moments in life. Fay Ranches knows how to find the perfect place for you to discover these riches.
Conservation
Fay Ranches respects the health of the land. Through the use of conservation easements and land stewardship, we have guided owners toward a legacy of conserving open spaces, enhancing fisheries and wildlife habitat, and maintaining sustainable agricultural operations.
It is an honor for Fay Ranches to connect others with the lifestyle we so love — and pass that legacy on to those who will carry this sacred trust into the future.
For more information, call (800) 238-8616 or visit FayRanches.com/Jet.
---
3 Creek Ranch Golf Club
A Worthy Venue for the Greatest Game Ever Played.
Admittedly, the world class Rees Jones golf course is one of the reasons that first attracted many of 3 Creek Ranch's members to the Club. And who can blame them? Rees Jones has established himself as the preeminent golf course designer when it comes to creating layouts with architectural significance worthy of championship competition. No other designer can boast a portfolio of courses on which so many U.S. Opens, PGA Championships, Women's U.S. Opens, Ryder Cups, and U.S. Amateurs have been played. Although it will never host a major championship simply because of its out-of-the-way location in Jackson Hole, Wyo., 3 Creek Ranch can certainly be lumped in with the finest golf courses in the United States. For the golfer looking for the ultimate challenge, or one simply looking for a memorable experience every time that they play, 3 Creek Ranch delivers masterfully.
As awe-inspiring as the golf course is, it is the bevy of "other" amenities that have kept their members coming back. First of all, 3 Creek Ranch boasts two clay tennis courts which are home to an active adult tennis program and burgeoning junior program. The swimming pool becomes the hub of club activity during the hottest summer days, and a well-appointed fitness center and extensive list of group exercise programs keep 3 Creek members in shape year round. Camp 3 Creek is the summer camp program for kids and includes daily forays into Grand Teton National Park where the club's youngest members study topics ranging from birds of prey to fish, elk and bison, and the area's big five predators.
And that's just in the summer. When the snow starts to fly, 3 Creek adds a skating rink and world class groomed track for Nordic skiing. Daily Nordic skiing clinics, both classic and skate, are offered throughout the winter by the full-time Director of Outdoor Pursuits.
Drawing its membership from 32 states, from coast to coast and all four corners of the country, 3 Creek Ranch has earned a reputation that continues to spread. With something for everyone, it's easy see why Jackson Hole's finest country club continues to be the discriminating club member's chosen destination.
For more information on membership opportunities,
Contact Director of Membership Sales,
Mike Connaughton, at (307) 732-8920 or via
Email at [email protected]
3 Creek Ranch Golf Club
2800 Ranch House Circle
Jackson, WY 83001
---
Three Forks Ranch
Ready, Aim Escape.
Ready. Aim. Escape. The ultimate outdoorsman's paradise meets world class luxury and five-star service. This is Three Forks Ranch. Whether it's the promise of trophy trout or the rustling of an elk lining up in your sight, aficionados of fish and fauna alike will feel right at home on more than 200,000 lush acres spanning the Colorado-Wyoming border.
Reel Life
The pristine waters that run through Three Forks Ranch are the perfect places to practice your presentation and fine tune your false cast. Guests of all skill levels can backcast with the best of Three Forks Ranch's experienced fishing guides on the waters of the Little Snake River. With 16 miles of private river fishing and 30 off-channel oxbow lakes, the ranch's river system is a premier trout habitat, a place where Colorado Cutthroat, Brown Trout, Rainbow Trout and the voracious Tiger Trout eagerly await your Wooly Bugger.
Three Forks Ranch can provide rods, waders and more for fisherman who may prefer to travel light, but guests are welcome to bring their own equipment, as well. After a peaceful day on the banks, fishermen find respite at the Lodge and Spa.
Taking Aim
Out on the range, the wildlife that thrives at Three Forks Ranch is just as impressive as those that swim in the streams. Each September, the ranch celebrates the arrival of hunting season, which continues through mid-October. A member of Colorado's Ranching for Wildlife program, Three Forks Ranch features trophy elk, mule deer and pronghorn hunting. With nearly 50,000 private acres at their disposal, hunters enjoy epic scenery, exclusivity and privacy.
Surrounded on three sides by National Forest, Three Forks Ranch — along with the state of Colorado — offers the finest, no-hassle hunting experience on the planet. Through Colorado's Ranching for Wildlife program, Three Forks Ranch affords guests an extended season, guaranteed licenses and the ability to hunt by any legal method – even during bugling season.
Making Hunters Feel at Home
At Three Forks Ranch, hunters are in a class all their own. Three well-appointed log cabins are reserved just for hunters and allow privacy and exclusivity from non-hunting guests. Outside, temperatures can range from 20s in the morning to 60s in the afternoon during hunting season. But the River Rock Lodge and the ranch's well-appointed cabins present guests with all the comforts of home. Accommodations include daily maid service and complimentary beverages and snacks. Every mouth-watering meal is served in the River Rock Lodge, where sharpshooters return at the end of the day to regale each other with tales of trophies taken.
Fine dining, an astounding wine collection and know-you-by-name service make the indoors at Three Forks Ranch almost as remarkable as the outdoors. Trust us. There are few finer places in the world to kick back, cast a line and reload than Three Forks Ranch.
For more information,
Call (970) 583-7396 or visit ThreeForksRanch.com.
---
Carol Linton
Exceptional Service, Extraordinary Properties.
If you've never been to Jackson Hole but have been thinking about it, summer is a great time to visit. Skiing comes to mind when Jackson Hole is mentioned, but the number of summer visitors far outweighs those in winter. The most inspiring attribute of Jackson Hole is its outstanding scenery — visitors are instantly mesmerized by the beauty of the pristine Teton Range whose peaks rise abruptly from the valley floor to heights above 10,000 feet. The weather is perfect with 80 degree days, 50 degree nights and low humidity. With a valley elevation of 6300 feet, fewer people are affected by altitude than in other resorts of the Rocky Mountain west.
There are unlimited summer recreational activities within minutes of town. Mountain biking up Cache Creek, hiking Josie's Ridge, trophy fly-fishing on the Snake, kayaking the Hoback, parasailing from JH Mountain Resort, climbing the Grand, golfing at JH Golf and Tennis, horseback riding the Valley trail, paddle boarding or canoeing on String Lake, camping in the Gros Ventres, swimming at Wilson beach and wake boarding on Jackson Lake are on the local bucket lists. The community is proud of its more than 40 miles of paved pathways that connect all regions of the valley for non-motorized use.
Jackson Hole also offers a wide variety of restaurants and nightlife, from family-friendly —Calico, Q Roadhouse, and Giovanni's; to trendy, upscale bistros — Snake River Grill, Trio, The Local, and Cellars; to authentic pubs and music venues — The Wort, The Rose, The Virg, and Mangy Moose. There is no pretentiousness in Jackson Hole as locals mingle with billionaires and jeans are the wardrobe staple. Not to be missed — Dornan's Monday night Hootenanny, Sunday nights at the Stagecoach Bar or a visit to the historic Million Dollar Cowboy Bar. Lodging choices vary from luxury — Amangani, Four Seasons; to convenient —Rustic Inn and Rusty Parrot; to understated — Jenny Lake Cabins and Lost Creek Guest Ranch. In short, there is something for everyone in Jackson Hole!
For more information, please visit Carollinton.com.
Once you've visited, you will ask yourself "what took me so long?"
---
The Double L Ranch
As Good As It Gets
You wake up to the whisper of the aspen and are greeted with the magnificent sight of 9,000′ Black Mountain, dusted with snow overnight. You drift outside with a steaming cup of coffee and breathe in the fresh air of a new day bursting with possibilities — fly-fishing, rafting, mountain biking, horseback riding, a vigorous hike towards the snow-capped peak, or maybe you'll just enjoy another cup of coffee while watching the natural world reveal her daily story.
What could be better?
In addition to the countless recreational opportunities this area is known for, residents share all of the ranch's amenities, including the "Buckoff Saloon," complete with a long wooden bar and swinging doors, billiards table, a state-of-the-art movie theater and guest accommodations; two other guest homes, an equestrian center, a 2,100′ turf landing strip, shooting range and private golf course. Life comes easy because a full-time staff takes care of everything from grounds to horses to guest facilities to river shuttles, even forwarding mail.
A unique shared sporting community of 23 homes, The Double L Ranch is located just south of Jackson Hole, Wyoming on more than 400 picturesque acres. The setting is flawless, nestled along the Salt River as it winds its way across the valley floor, flanked by rugged mountain peaks and three million acres of national forest land.
Developed by renowned custom builder Lance Mortensen, the Double L Ranch is in his words, "the ultimate mountain community I have dreamed of creating for the past 25 years, this is it, the place I call home."
Homes range in size from 2,200 square feet to more than 8,000 square feet, with lot sizes ranging from one to eight acres. Architectural styles vary from cottages constructed with 200-year-old reclaimed log beams to natural stone structures accented with rusted steel and shake roofs. Quality and attention to detail are evident throughout each home; many feature granite countertops, stone and hardwood floors, and leaded glass windows that capture sweeping views of the surrounding countryside. Each of the homes is designed to be as unique as the homeowner.
The Double L Ranch is a perfect way to make your dream of owning a western mountain home a reality.
For more information call (866) 684-4159 or visit DBLranch.com.
---
Wilson's Sporting Camps
Miramichi River Atlantic Salmon Fishing
A couple of decades ago I was hired by the Tourism Department of a Canadian Province for a sort of dream job. The "work" was to spend two weeks flying around the Province staying and fishing at as many of its fishing camps as I could get to, and then reporting back to the Department on how each measured up on an international scale. Based on a criteria that included the quality and amount of water available to the camp, the quality of its guiding and equipment, the comfort and ambience of its lodge, the food, and the overall professionalism of the operation, I came up with a simple but serviceable five-star grading system: 1 for ought to close tomorrow; 2 for fair; 3 for good; 4 for excellent; and 5 for world class.
Since I happen to be pretty picky about my fishing camps and have had the good fortune to have spent time at a hell of a lot of them around the world, I was miserly with the 5-star designation. In fact, none of the camps I visited earned one. But if I had somehow come across Wilson's Sporting Camps on that trip, I would have had to come up with a sixth star.
Why is that so? Well, I could start with the fact that Wilson's owns and leases more superb private water (a total of 16 pools) than any other camp on the Miramichi, which is home to the largest runs of Atlantic salmon in the world. I could point out its non pareil guiding, boats and equipment, the excellent food and downright posh accommodations. I could mention that in addition to the state-of-the-art salmon fishing, Wilson's offers equally state-of-the-art upland bird shooting over good pointing dogs in fine coverts, and that it caters expertly to corporate groups. And finally, in terms of professionalism, I would have to add that the Wilson family has been in the business of providing high quality fishing and hunting to picky clients like myself for over a century, and that no one I know of does that better than Keith Wilson, the current purveyor of that tradition.
"In short, if what you're after is simply the best in North American sporting camps, my friend, you don't have to have a Province hire you to find it. Just pick up the phone and call Wilson's."
For more information, call (506) 365-7962 or visit WilsonsCamps.nb.ca.