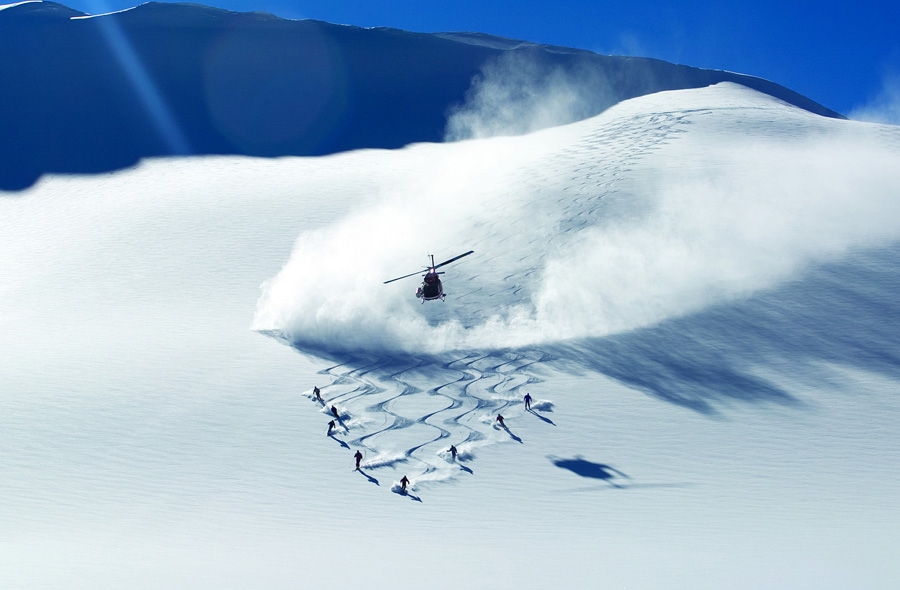 Mike Wiegele Helicopter Skiing is located in Blue River, British Columbia, in the heart of the massive Cariboo and Monashee mountain ranges.
With annual snowfall of more then 10 metres (30 ft) of perfect powder each winter provides guests with the best possible ski experience. With more than 1,200,000 acres of terrain and over 1,000 peaks, we ski/board at elevations of 1,046 – 3,569 metres (3,400 – 11,600 feet) so guests can enjoy the majesty of the high alpine glaciers as well as the splendour of the forested glades. Our wide variety of terrain lets us find exciting heli skiing/boarding for any ability level.
For many, the varied terrain, never-ending challenge and the deep snow found in the trees provide the ultimate experience. The very highest quality of snow is found in the naturally spaced old growth forest where the loose powder is protected from wind and sun. We spend a great deal of our time within the forest glades and open spaces below the tree line, using the buddy system to increase safety.
Mike Wiegele's Heli Village Resort provides exclusive luxury in a self-contained resort setting. Unique in the heli skiing industry, the resort allows guests to enjoy the best of the day's powder and then return to their exclusive log chalet accommodation. Guest accommodation is provided in our exclusive 22 handcrafted log chalets – each with 1 to 6 bedrooms. Each chalet has a shared common area including a kitchen, a living room with fireplace, satellite TV and DVD player. Typical bedrooms have 2 double-sized beds or one king-sized bed, ensuite bathroom, sitting area and telephone. 6-bedroom chalets have their own sauna. Most Private packages offer helicopter service at your chalet.
One of the rewards of active mountain life is eating well, a pleasure we take seriously in Blue River. Under the guidance of Executive Chef, Toni Spöri, gourmet meals and attentive service make dining in Blue River the perfect complement to a great day of skiing/boarding. With advanced notice we can prepare and serve meals in your chalet, accommodate special dietary needs or help you celebrate a special event.
The resort also features our award winning wine cellar, the silver buckle lounge, a fitness centre, massage rooms, sport shop, Bonnie's Boutique and Guides Haus.
The Guides Haus is the heart of Mike Wiegele Helicopter Skiing's operations. The guiding team meets twice daily to collect and review all avalanche/weather/safety-related data and to complete hazard evaluations. The Guides Haus contains the weather office, avalanche research office, the Canadian Ski Guide Association's office, a climbing wall (available to guests) and the resort's medical clinic.
Non-skiers are welcome to experience our Heli Village Resort hospitality and enjoy our cross-country skiing, snowshoeing, climbing wall, massage therapists and fitness centre facilities.
Located across the lake from the Heli Village Resort, the distinguished and private Bavarian House Estate offers everything needed to pamper up to 18 guests in high mountain style. The Estate consists of the finely craft d 9,000 square foot – 6 bedroom Bavarian House and the 6,000 square foot – 3 bedroom Cabana. Meals are prepared by your private chef and served in the Bavarian House dining room. Lavish comforts include stone fireplace, private spa, sauna, games room, wireless internet and a private housekeeper.
Albreda Lodge is the perfect retreat in intimate luxury and exclusivity for guests that prefer a more boutique experience. Albreda Lodge offers up to 20 guests a traditional mountain chalet experience and quick access to the Northern reaches of Mike Wiegele Helicopter Skiing's vast terrain. Located 45 km North of Blue River, the handcrafted wooden lodge offers stunning views of Mount Albreda and is the perfect private retreat.
Mike Wiegele Helicopter Skiing pioneered unlimited vertical. This means you pay the package rate only – unlike other operations, there are no additional charges for skiing more vertical. On a typical day we average approximately 20,000 vertical feet per day – that equates to 130,000 vertical feet in a week. Depending on the time of year, ability of skiers, weather and snow conditions, many seven day groups ski 180,000 to 220,000 vertical feet – that is a lot of vertical at no extra charge!