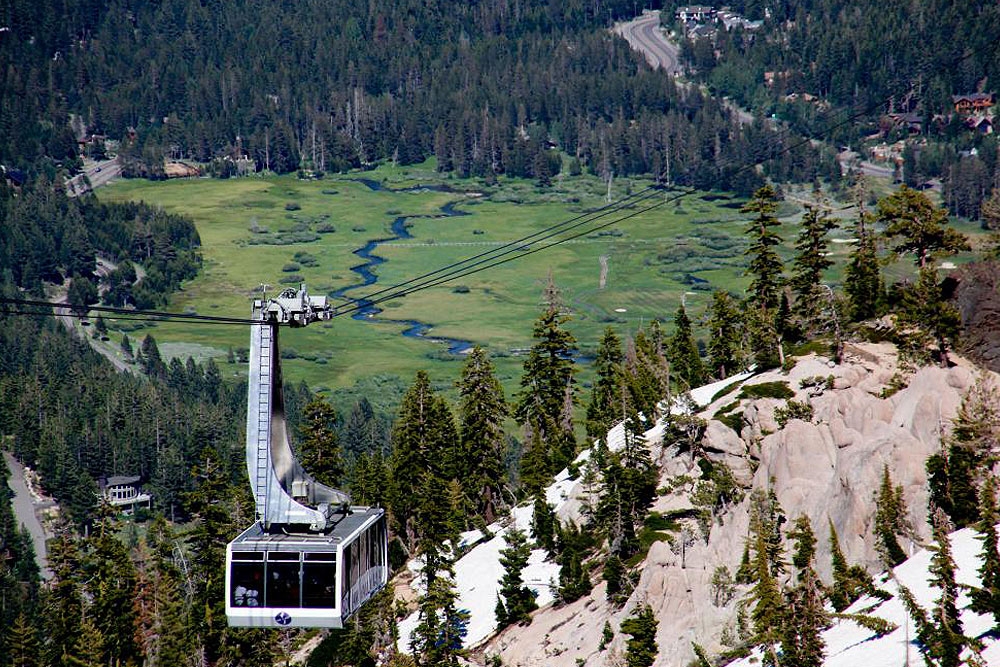 Of course, they do! Around four o'clock everyday — during the winter season.
But many ski resorts run their gondolas, cable cars, aerial trams and chair lifts during the summer months. Longer daylight hours offer more opportunities for mountain activities. There is plenty to do in and around ski resorts year round. But it wasn't always that way!
In their early history, many current ski resorts were bustling mining camps during the silver and gold booms in the late nineteenth century. But the 1893 repeal of the Sherman Silver Purchase Act of 1890 by President Cleveland created an economic panic. Within weeks, mines were closed, and many mining towns were abandoned. Some recuperated modestly, but never totally recovered as mining centers. Thus, the choices were few: abandon them or develop other potential industries to encourage the remaining populations to remain and create ways to bring new revenue into the once booming mining towns.
One of the biggest assets these areas had in common was excellent winter snow. It was in the late 1920s and early 1930s that community visionaries decided that snow was their ticket to riches to replace their dwindling mining fortunes. Other mountain communities like Bend, Ore.; Lake Placid, N.Y.; Brighton, Utah; Sun Valley, Idaho; and several others were inspired by the popularity of winter activities in the European Alps, and can trace their beginnings to these earlier decades.
Those days were for the truly adventurous and hardy. Participants had to carry their own wooden boards up the mountain slopes in order to enjoy the downhill thrill. A simple rope tow was first created in Quebec in 1932, making it a little easier for North Americans to enjoy a sunny day in the mountains. Sun Valley installed the first US chair lift in 1936; a first step to becoming a premiere ski haven — an honor it still holds today.
Skiing was a fad that would last as the U.S. Civilian Conservation Corps (CCC) enlisted thousands to cut hundreds of ski trails — mostly in the New England states — over the nine years of its existence. During the war years, the ski industry's growth was halted, only to be re-energized when the war ended. Its popularity among the more affluent in the 1950s and 1960s exploded. Some of the contributing factors included the enthusiasm and pride in the successful Squaw Valley Olympics near the North Shore of Lake Tahoe, and the film industry featuring the ski sport lifestyle and its superstars, which attracted others to the slopes. The development and popularity of ski racing was also a contributing factor. Hundreds of ski areas and resorts were developed — some very small. Others had multimillion dollar infusions to create winter paradises. (Back in the sixties, that was a lot of money.) Growth in many ski areas mushroomed. Others couldn't compete and perished.
However, when the winter seasons ended, numerous ski towns, once again, became ghost towns. Visitors left. Those that stayed behind were dependent on the snow season to carry them financially through the entire year or they found work elsewhere. How would towns encourage visitors to return when the higher summer temperatures melted their main asset? Efforts were made by many of the larger ski and mountain resorts to become four season destinations. There is no doubt that they have succeeded.
Improvements on the mountain as well as in town are continuous. A major concentration is the resort lift system. One goal to attract participants is to open more inbound and off piste terrain with the ability to carry more participants around the entire mountain resort, and carry them faster. Creating ski trails, hiking trails and mountain biking paths for all ability levels provides the opportunity for everyone to enjoy memorable slope side experiences. Winter guests have awesome powder, moguls, and groomed trails, but those who come in summer will not be disappointed.
Walking trails can be found around and throughout resort towns, but to get the greatest benefits of this environment, ride the gondola, cable car or lift transport to the higher elevations. Gorgeous vistas can be seen in all directions. The cool, clean air is refreshing and invigorating. It's a wonderful way to be one with nature, perhaps see some wildlife in its natural habitat and watch colorful wild flowers sway in the breezes. Participating in physical activity is just a fraction of the overall summer mountain experience!
Hiking and backpacking trails commence at the lift stations. They are all different and are rated to determine suitability and length. There may be some short, easy trails for the novice, some long trails with rocky sections having steep drops, and everything in between. It is extremely important to know one's limitations and endurance levels and to carry a trail map along with other essential supplies. Outfitting stores can assist with their knowledgeable recommendations based on individual needs. Specialty stores are located throughout resort towns, however, summit day lodges may have some of the essentials if they were forgotten.
If a strenuous hike is not on your agenda, you can still take the lift up to view the awesome scenery around you, relax on the lodge deck, enjoy an easy stroll around the lift station, grab a snack or sip on a glass of wine at the summit lodge, then take the lift back down again to enjoy laps at the resort pool, lavish in a spa treatment or plan your evening dining experience and entertainment. Numerous choices are available from top rated gourmet specialty restaurants to quaint little cafés. Resort towns cater to the needs of all their guests.
One can also access mountain biking trails from the lift transport. Special attachments are added to the chairs to carry all terrain bicycles to the higher elevations. Like hiking trails, there are mountain bike paths for all ability levels. Bike rental facilities will help fit bike enthusiasts with the appropriate equipment, helmets and supplies to make the ride truly enjoyable. If you can ride a bike, you should be able to participate in mountain biking. However, classes are available for never-ever terrain riders to learn mountain techniques and build up confidence, and for others to advance to the next level. For a first time venture to a new mountain, a private mountain guide may be the best way to become familiar with the appropriate trails and learn the favorites of the locals. Additionally, there are paths at the base elevation for gentler rides.
Most mountain resorts which are open in the summer offer the aforementioned on-mountain activities, however some have made it their mission to offer other unique experiences and include an unbelievable selection of activities such as hot air ballooning, paragliding, zip lines, climbing walls, bungee jumping, rock climbing, luge tracks, designer golf courses, disc golf and so much more. Check with your favorite resort to see what is available in their summer program. Click on website links for your desired activity sources.
For those who are looking for a very interesting destination for the entire family, take a drive along the North Shore of Lake Tahoe, California. Squaw Valley was the site of the 1960 Winter Olympics. As one of the older U.S. ski resorts, it was instrumental in helping to develop recreational skiing in this country. From Olympic Valley at the base of the six peak resort, take the aerial tram to High Camp with an elevation of 8,200 feet. During the ski season, abundant skiing commences from the High Camp Tram Station. For history buffs, wander through the museum themed on the Squaw Valley Olympics. The nearby gentle terrain is perfect for walking. Exquisite views of beautiful Lake Tahoe can be seen in the distance. Tennis courts, paintball, a zip line and a disc golf course are available at High Camp. When the ice melts the skating rink, it is transformed into a roller rink. Beginning in March (spring skiing) and throughout the summer months, take a dip in the pool, soak in the hot tub, catch some Sierra sun while relaxing or visit the spa. When you're ready, gather some nourishment in the restaurant or cafe. It takes a while, but you can choose to hike down to the base camp area, or descend via the tram. Currently, there is no mountain biking due to the $50 million Renaissance projects taking place at the resort.
Activities do not stop back at base camp. If you're not too tired, let the kids ascend the climbing wall, traverse the rope course, do some sky jumping and play a round of miniature golf while you're recuperating from your activities. If you brought your all terrain bike, it can be ridden throughout the valley, over to Lake Tahoe and along the Truckee River. There is something special for everyone to participate in, pick up new skills and create memorable experiences! Big plans are in the works for major improvements and additions since Squaw Valley and Alpine Meadows have merged.
Melting snow results in rushing water! River kayaking, whitewater rafting and floating are adventures to be found near many ski resorts. One size doesn't fit all. That's why there are several river alternatives. Whitewater adventures are classified to help determine the difficulty of the rapids and the technical skills to navigate them. Class I trips are through calm waters where the gentle current carries rafters through scenic areas along the river's edges. Very relaxing! Most trips have some calm sections creating a break from the excitement of Class II and III rapids where three to four foot waves are formed through wide or narrow channels respectively. There are Class IV, V and VI raft trips available for the more experienced rafters, but generally most participants should be directed to less turbulent waters. The Grand Canyon's system rates the rapids on a scale of I-X. The time of year also has an effect on water flow, with stronger rapids occurring during the spring and early summer as melting snows add to the volume of water.
As the boat passes between the rocks in the swirling water, there is a great chance that the occupants will get wet from the spray. It is a possibility that rafters could go overboard — sometimes intentionally to cool off on a warm day. But sometimes, unintentionally. It's all part of the fun! Bring dry clothes along!
Choices. Choices. Choices. Oh, the pressure! First timers generally select a less strenuous trip of short duration. These may be the best options for families with younger children, as well. Check with the outfitter for their minimum age or weight of the child. It may vary during the season due to the water flow. Floating and rafting segments can be combined into longer trips lasting a full day, or rafting can be combined with other activities such as guided horseback riding, biking, or hiking. Or, the adventure can be for an extended multi-day excursion with over night camping.
Riding the rapids is thrilling and exhilarating, and should be on everyone's bucket list, but one of the newest trends at ski resorts —and elsewhere — is flying through the trees, over rivers, and above ravines just like an eagle. It seems like zip lines are springing up everywhere. But, they are not all created equal! Some areas only have a few lines. Others are quite impressive!
The Durango (Colorado) and Silverton Narrow Gauge Railroad has teamed up with Soaring® Tree Top Adventures for an exciting and memorable experience. Hop into one of the luxurious private first class cars of the historic steam engine train at either the Durango or Rockwood Stations. The route will pass along the Animas River High-Line Canyon with its' breathtaking scenery to the remote Soaring station. The only other way to get there is by helicopter.
Once you arrive and get your equipment for the day, the course consists of 27 spans between 34 stainless steel platforms set amid alpine mountains, Ponderosa and Aspen forests and passing over the river numerous times. The new 1,400 foot span is the longest in the 180-acre attraction and has one and one-half miles of cable. An estimated time to go through the course is five and one-half hours. A gourmet lunch is served. Children as young as five can safely participate in this highly rated adventure. Sky ranger guides are available at each platform to assist. After an exhilarating day, board the train to return to civilization.
These are just a few activities available at mountain resorts. Most ski areas also have developed designer golf courses. World famous festivals of all kinds can be found during much of the year, but especially in summer. Visitors to mountain resorts during the earliest days would never recognize the projects they started. "Build it and they will come" appears to be an appropriate motto since mountain resorts are always improving and developing, and providing new adventures in which their numerous guests are eager to participate. So many destinations. It's so difficult to choose!