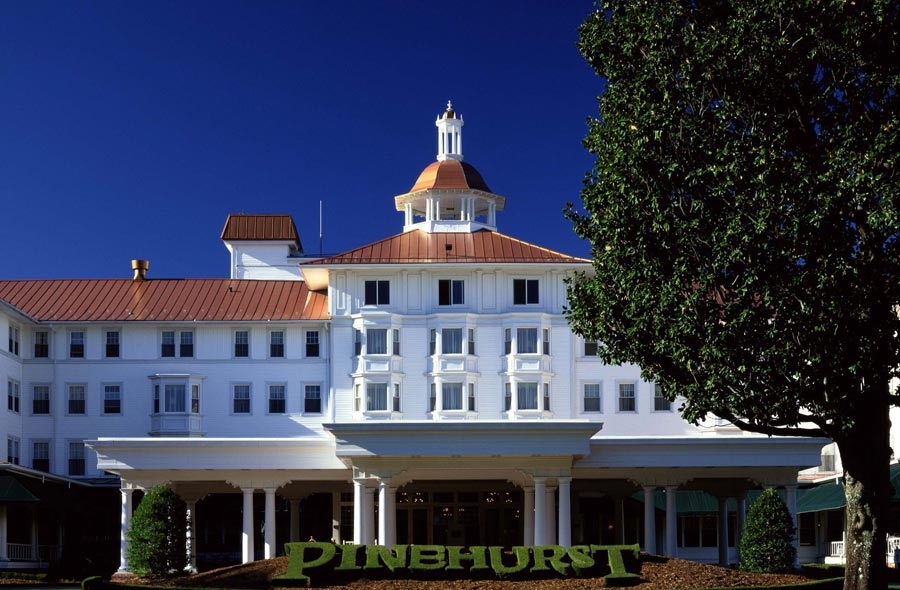 A golfer's life simply isn't complete without a journey to play golf at Pinehurst.
There are other storied courses that may make the list, but very few have the history, beauty, hospitality and charm of Pinehurst. Nestled in the heart of the great North Carolina Sandhills, Pinehurst is considered the home of golf in America with eight world-class courses dating back to 1901. The storied Pinehurst No. 2 is set to play host to both the U.S. Open and the U. S. Women's Open Championships in back-to-back weeks this June, making history in the process as the only course to do so. I had the pleasure to experience Pinehurst firsthand when I recently visited.
Although Pinehurst began as a wellness community in 1895, it was Donald Ross who gave Pinehurst its golfing pedigree when he surveyed the property in 1901. As he gazed upon the whispering pines and sand hills, he forged his vision — a course with natural hardpan sand lining the fairways dotted with tall wire grasses and a wall of beautiful green pines trees beyond that, tee to green. Ross also had one other feature in mind, now synonymous with Pinehurst — crowned, reverse bowl-shaped greens that send even great iron shots off the greens and into the low swales and shallows below. With this design, finished in 1907, Ross's masterpiece — No. 2 — shaped the very foundation of golf in America. To quote the great Donald Ross when he finished No. 2 in 1907, he called it "The fairest test of championship golf I have ever designed."
Through the next 100 years, Pinehurst racked up more major tournaments than any other golf club in America — and yes, that includes the great courses at Augusta, Bethpage, Olympic, Medinah, Torrey Pines and so on. That says a lot about Pinehurst. It also means those who visit will walk the same footsteps and play the same shots as golf's greatest names — Jack Nicklaus, Payne Stewart (whose U.S. Open Victory in 1999 is memorialized in bronze as golfers walk to the #1 tee box), Tiger Woods, Bobby Jones, Arnold Palmer and nearly every other name we can think of. All the legends have walked these storied grounds.
My trip to Pinehurst was focused on the restoration of No. 2 in preparation for the U.S. Open and U.S. Women's Open tournaments in 2014. As it turns out, over the years, Pinehurst No. 2 had morphed into a more traditional course — tight fairways lined with four-inch thick Bermuda rough and well-manicured pine straw beyond that (the greens — in all their intimidating splendor — remained the same). The tight fairways lent themselves well to major tournament play and generally kept Pinehurst as one of the foremost challenges in the world. But the bones of Pinehurst No. 2 were laid on Donald Ross's original vision — those beautiful sand hills, tall wiregrasses and the natural flow of North Carolina.
So, with help from two of golf's most respected names — Ben Crenshaw and Bill Coore — Pinehurst began a three-year renovation project to strip out the "same old, same old" grass rough and return Pinehurst No. 2 to its roots. With their expert guidance, Pinehurst has been transformed back into the stunning vision of Ross.
"I've always thought Pinehurst No. 2 to be my favorite golf course from a design standpoint. I've enjoyed going out on No. 2 and seeing a totally tree-lined golf course without a tree coming into play."
To bring perspective to how special Ross's creation at No. 2 was, Charles Price, one of golf's great authors and historians, wrote the following: "Being a Scot, Ross interpreted the word 'rough' to mean 'broken ground.' In other words, it was never tended in any other way. The 'fairway' meant the same to him as the word does to a ship's pilot, a navigable channel through rocks, sand banks and other obstructions that is the safest way for a vessel to leave or enter a harbor — to leave the tee and enter the green. Consequently, he didn't create rough to border a fairway. He 'dredged' a channel — a fairway — through the rough and left it as he found it."
Crenshaw and Coore must have thought back to this as they rebuilt the course. "One sentence kept going over in my mind, something Charlie Price wrote a long time ago," Crenshaw said in an interview for Golf News. "Fairways were meant to be an oasis encased in sand, pine straw, pine needles and wiregrass. That statement never left our mind."
It is important to note that Pinehurst, made famous by the golf, could certainly have been famous for its hotels, hospitality, food and overwhelming sense of tranquility. Before I made my way out to discover No. 2, I had the absolute privilege to stay at one of America's greatest historic hotels. My accommodations were set in The Carolina Hotel — the world-famous, large frame hotel built in 1901. The Carolina is a site to behold. Its perfectly-manicured grounds and wraparound, Southern-style verandas immediately struck me, as did the signature copper cupola at the top. Entering the hotel drive from Carolina Vista is worth the trip itself.
As soon as I set foot in the hotel, I felt transported back to the early 1900s, overcome by an immediate sense of calm and awe. The halls of the hotel are set with numerous historic memorabilia, pictures and quotes from golf's past. The famous Ryder Cup Lounge, where all of golf's greats have sat and enjoyed a cold drink, welcomes visitors with a warm fire and smiling staff. The rooms at The Carolina carry the same sense of historic eminence. You cannot help but think of the past greats who have slept in the same rooms when they visited Pinehurst.
I awoke for my round on No. 2 before sunlight and made my way down to breakfast — an absolute stellar buffet at The Carolina Dining Room — probably the best I have ever had (and that is saying a lot). I made my way out to the course as dawn was just breaking. I highly recommend an early tee time. The sunrises at Pinehurst are breathtaking. There is nothing more entrancing than warming up your swing as the dew and fog lifts into the morning, sending your ball deep into the pink, sunlit clouds in the east.
As in The Carolina Hotel, the clubhouse is also set with numerous pictures and memorabilia from tournaments past. The locker rooms are equally as entrancing. One can spend an hour simply looking at the names on the nameplates of each locker — all past legends. It's at this moment my adrenaline began to flow — the first time I have ever felt this way before a round of golf.
The walk out to the tee box is framed with numerous bronze statues, the largest of which pays homage to Payne Stewart (Stewart is revered at Pinehurst). Every golfer of every age and skill level should experience the walk to the first tee box of Pinehurst No. 2. As I did, the sun had just crested the treetops and the clouds were giving way to a beautiful blue sky. My caddie (you'll want to be sure to get a caddie when you play any of the courses at Pinehurst, if not for the strategy, then for the stories alone) handed me a brand new Titleist and said, "Your shot, Mr. Jones." Indeed it was. And so I was off, on my very own Pinehurst major, something I shall never forget.
The renovation at No. 2 is astonishing — the course plays tough and the greens play tougher. Crenshaw and Coore succeeded in their quest to return No. 2 to its original splendor. The 2014 U.S. Open and U.S. Women's Open Championships (and their audiences) will get to experience Pinehurst as Donald Ross intended over 100 years ago — connected to nature, connected to the people of North Carolina and connected to the game of golf like nowhere else on earth.
Also Play No. 8
Pinehurst has eight courses, each of which are unique and to be enjoyed by golfers of all levels. I highly recommend No. 8, which is set back in the woods a little drive away from The Carolina Hotel and the main clubhouse area. The drive is well worth it. No. 8 gives one the feeling of being completely removed from the world, left alone to walk among the pines in peace. I felt that No. 8 has the beauty and challenge to one day host a major tournament of its own — it is kept in incredible shape.