Wolf Creek Golf Club, the "must play'' course in the golf-crazy mecca of Mesquite, Nevada, is the pinnacle of Desert Golf.
Since it opened in 2000, golfers from all over the world have travelled to Wolf Creek Golf Club to experience a one of a kind golf adventure. Wolf Creek is not only the ultimate golf experience, but also an 18-hole roller coaster ride over, around and through the canyons of Mesquite. The par-72, 7,018-yard layout mesmerizes and challenges players from start to finish, no matter what your playing ability is.
It is not just one thing that makes Wolf Creek among the most unique golf experiences. It is the culmination of friendly attentive service, award winning golf shop, great food and stunning views. The excitement will build even for the most seasoned golfer as they are called to the first tee and look at a 150ft drop from the teeing grounds to the emerald green fairway below. The reason golfers travel to Mesquite becomes clear as they navigate the 18 signature holes at Wolf Creek. Regardless of your playing ability, Wolf Creek offers something for everyone. There are 5 sets of tee boxes and a photo opportunity on every hole with green fairways, red rock landscapes, wandering canyons, bent grass greens and the brilliant Augusta white sand bunkers offer a backdrop for some beautiful pictures and world class golf.
Voted "America's Best New Course" by Golf Digest in 2002, the dramatic desert tract quickly became a "must play" on golfers' fantasy lists and solidified itself as Nevada's Ultimate Golf Experience. Since then, Wolf Creek has become a staple in "Best of Golf" listings by every major golf publication, and is one of the main reasons Mesquite has become such a popular golf destination. In 2011 Wolf Creek captured Golf Digest's "Fans' Choice" competition, beating out 64 of the top public golf courses in America to become No. 1. Wolf Creek has received numerous accolades in its history. In 2011, The Wall Street Journal: Europe named Wolf Creek to its "Ten of the Best Places in the World to Play Golf" list, citing the course's one-of-a-kind, picturesque setting and pristine course conditions. With regularity Wolf Creek is mentioned as a bucket list course with other great courses such as Pebble Beach, Black Wolf Run and Bandon Dunes. Many major golf publications have ranked Wolf Creek as one of the top public courses in the country that you can play. They have also been a feature course on the 2008 EA Sports Tiger Woods game and due to the popularity of Wolf Creek they remain a feature course on the 2015 EA Sports Rory McIlroy game.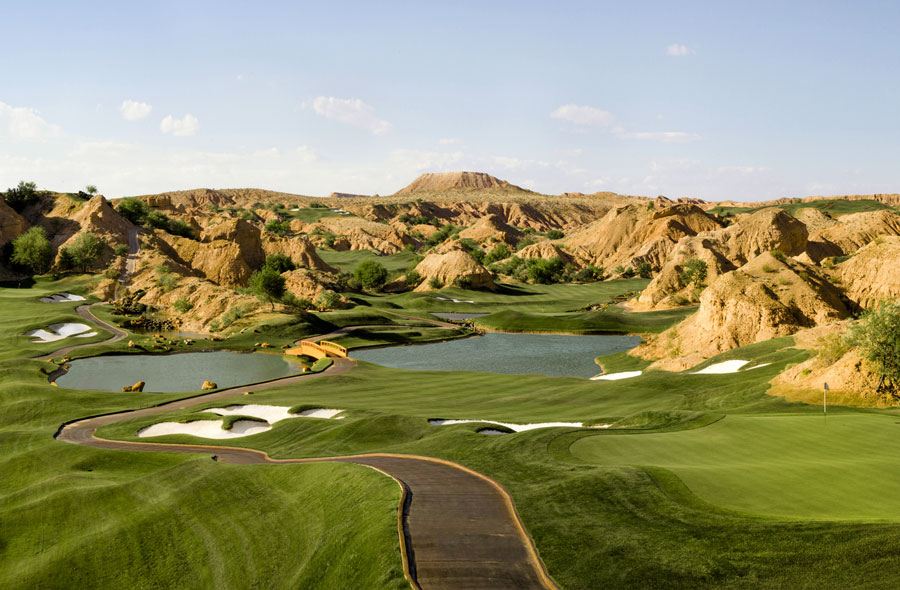 Although Wolf Creek is world famous for the highly acclaimed and decorated golf experience, it also offers some of the finest dining around at the Terrace Restaurant, located in the clubhouse. The Terrace Restaurant is a full service restaurant and bar, also offering outdoor seating with breathtaking views of the golf course.
Whether you are looking for a place that you and your friends can enjoy, a family golf vacation or a corporate golf retreat, Wolf Creek is a magical place where golf fantasies are a reality and unforgettable memories are made.
Wolf Creek Golf Club is centrally located in Mesquite Nevada, only an hour and fifteen minutes from the Las Vegas strip and about forty-five minutes from the St. George airport. If you prefer to travel by private charter or jet, Wolf Creek is located so close to the Mesquite airport that we frequently provide complimentary pick-up service by way of golf carts for our guests, off the jet and to the first tee in 10 minutes.
For your golf getaway at Wolf Creek Golf Club please call toll free 866-252-4653 or visit our website at GolfWolfCreek.com