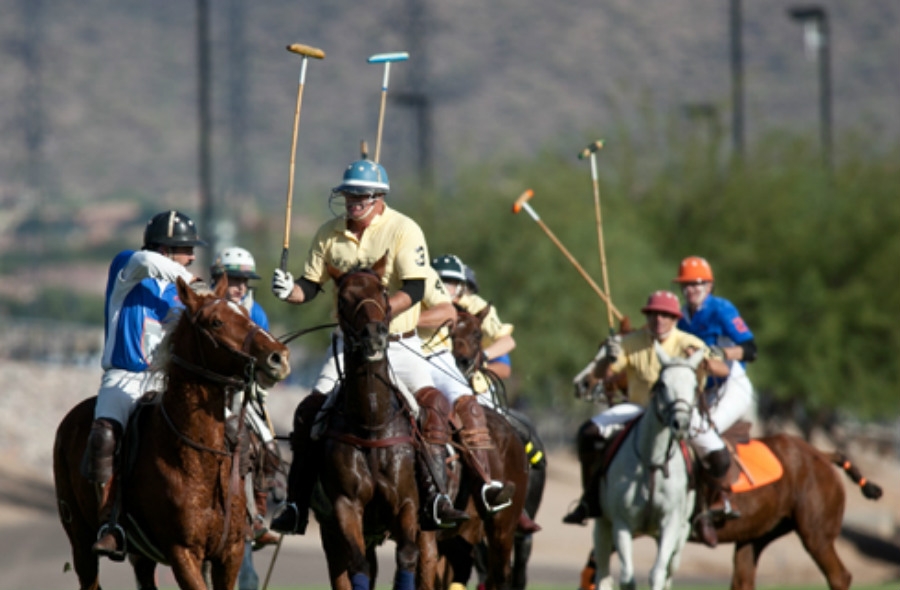 The very first Polo match was staged in ancient Persia, roughly around the 5th century B.C. or earlier.
It's just too bad that the founders of this royal and regal sport weren't able to live the necessary 2,500 years or so to experience the spectacle that will occur at Westworld of Scottsdale in Arizona on October 20th, when some of the biggest stars in the sport will converge on this desert oasis for what will be the most high-energy, exciting and rollicking party/polo match on U.S. soil.
A crowd of over 5,000 is expected for the event which is named the Scottsdale Polo Championships: Horses & Horsepower. You can say this about the affluent lifestyle crowd in Scottsdale and Phoenix — they know how to throw and participate in a party. This glamorous gala will combine flair and fashion on the grandest stage. In addition to several great polo matches, some of the world's most expensive and exotic cars will be on display. DJ's will keep the crowd entertained throughout the day, and everyone attending will enjoy cocktails, cigars, and is guaranteed 78 degree weather under a perfect sunny sky.
When the PGA tour holds its annual event in Scottsdale each winter, the Waste Management Open is always the tournament golf stars point to as their favorite. It's because of the fan involvement and interaction, and the Scottsdale Polo Championships: Horses & Horsepower is set up to welcome the same type of revelry. The crowd here comes to see and be seen, and taking center stage on the field will be some of the biggest names in the sport and several of the most accomplished teams. Nic Roldan, a bona fide superstar in polo, captains the Bel Air Polo Club, who will be pitted against The Hamptons, led by top American player Tommy Biddle Jr. It's the polo equivalent of Tiger Woods squaring off against Phil Mickelson, or Roger Federer battling Rafael Nadal. The other marquee match features Harvard vs. Work to Ride, a Philadelphia-based team with an amazing back story that was recently featured on 60 Minutes and ESPN.
The action away from the field will be world class as well, as this will serve as a preview for the world-renowned Barrett-Jackson Collector Car Auction, which annually draws 250,000 people to the same Westworld venue in Scottsdale each January. Before, after and between the matches, collector cars from Barrett-Jackson, Scottsdale Ferrari & Lamborghini, Bondurant and Phoenix International Raceway will be on display. The event will also offer a sneak peek of the Scottsdale Arabian Horse Show which also draws a quarter of a million spectators to Scottsdale each February.
Gates will open at 10:00 a.m., with brunch being served to accompany the morning match at 11:00 a.m. Make sure to look for the beautiful, custom-made Jetset Magazine BMS Navigo Trailer and join us in the VIP section, as Jetset Magazine is a proud sponsor of the event being held just down the road from our offices.
There are tickets available for all price ranges, including a $150 ticket for the Neiman Marcus tent which includes all you can eat and drink, and just $250 gets you an all-access pass to the entire event.
If you are looking for a truly unique and exciting way to spend a Saturday this fall, the Scottsdale Polo Championships will take place just a mile or so from Scottsdale Airpark, one of the finest FBOs in the country. All jetsetters from around the world are welcome to land their Hawker, Falcon, Gulfstream, Leer, Bombardier or other aircraft of choice and head over. It's been said that polo is the sport of kings, and rest assured, anyone there that day for this one-of-a-kind event will be treated like royalty.
For more information, go to ThePoloParty.com and make sure you check out our exclusive interview with star player Nick Roldan on our website, Jetsetmag.com, right now.