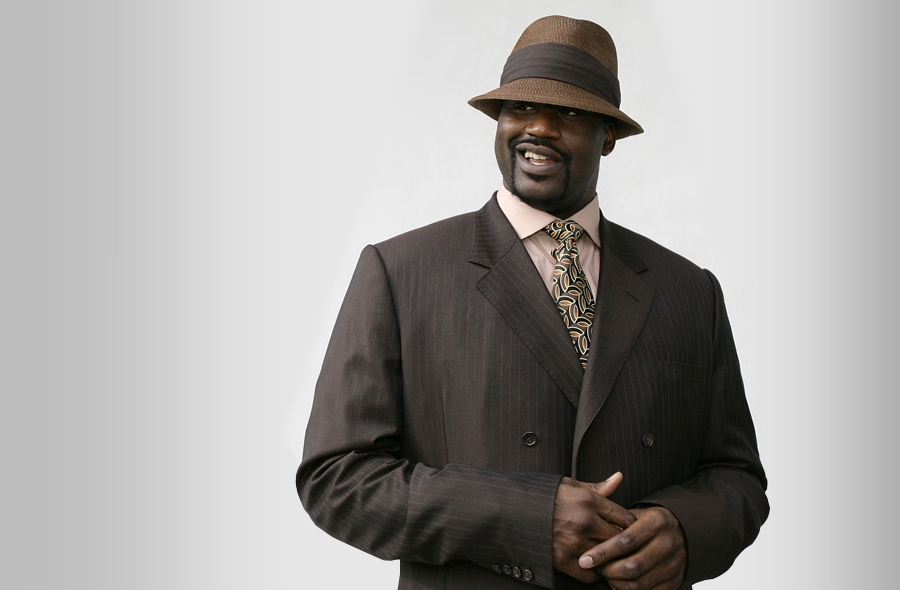 Shaquille O'Neal is one of the most dynamic, engaging, funny, and downright dominating athletes we've ever seen.
Now in Cleveland co-starring with Lebron James, Shaq talks exclusively to Jetset Magazine and goes public about flying private.
Pound for pound and cubic square inch for cubic square inch, there has never, ever been a bigger sports star to walk this planet than Shaquille O'Neal. The first thing you notice when meeting him is his mega-white smile that could light up a runway on a dark, cloudy night and enough boundless energy, determination, strength, and flat-out horsepower that, if you could somehow harness it into a reusable fuel, you'd power a city the size of Seattle until the next Ice Age. He's an icon in high-tops, a one-man brand and corporation that gets to wear shorts and a tank top to work every day. Globally recognized to the point that, like Prince, Madonna, Bono, and Pele, only one name is needed to describe the big fella: Shaq. Plus, let's not forget, he's flat out a huge man! A big part of his charm is, even though he stands 7 feet tall, weighs somewhere between 320 and 360 depending on the mood of the scale that particular day, sports a size 22 shoe, and wears diamond stud earrings the size of grapefruits, Shaq seems like he's one of us. He enjoys interacting with people he has just met. He treats everyone with respect and dignity, whether it's a fellow millionaire, a billionaire team owner, the team trainer, beer vendor, or the guys in charge of cleaning the arena after a game.
Now starring in Cleveland on probably the final journey of his absolutely historic career, Shaq is looking to add to his collection of bling, with a fifth NBA Championship ring a definite possibility as he teams with Lebron James to form the most lethal one-two punch of star power since, well, sorry Sonny and Cher, Hall and Oates, Siegfried and Roy, Brad and Angelina, Donny and Marie, and Bogie and Bacall—ever.
There isn't much to say about Shaq that hasn't been already chronicled, except for something that everyone from high-profile corporate CEOs of Fortune 500 empires to rap stars, actors, accountants, Internet entrepreneurs, grandmothers, gardeners, chefs, sheiks, senior VPs, senior citizens, and everyone else in between will find fascinating—how one of the world's most recognizable stars travels when he's not playing basketball. Just how long he's been flying private, what his favorite jets are, and how he couldn't really do all he needs to during his short off-season if not for the convenience of private jet travel. To be perfectly honest, though, the thing I found most fascinating about Shaq during the exclusive interview he granted for Jetset Magazine is this: yeah, Shaq travels via private jet the majority of the time, but if you think you see someone that looks like him going through the first-class security line at O'Hare, JFK, LAX, or Cleveland-Hopkins International, you just might be right. As we learned from the big man himself, if he has to fly commercial to get to an appointment and there's no other alternative, he will. "I flew to Cleveland from Orlando when I got traded (this past summer). I fit in a first-class seat, and believe it or not, I fly commercial all the time."
What Shaq means by all the time is actually some of the time, because most of the time, he and his entourage are parking at FBOs from coast to coast and boarding planes that will shuttle him all over the world for his various off-court responsibilities. For almost 20 years, Shaq has been one of the sports world's highest-paid celebrity endorsers. It's really easy to see what's allowed him to create an empire. He's one of the highest earning players in the NBA at about $20 million per season, and because he's such a hard-working, committed businessman away from the court, he makes more than that with his endorsement income each year. This past summer he had a successful reality show on ABC called Shaq Vs that pitted the big man in a series of challenges against other famous athletes in their respective sports. They shot the show on location all over the country, so to get there, Shaq had it written into his contract that he would be flown by his favorite carrier, the one with which he's had a relationship for years.
"Apollo Jets is who I'm with. I used them for my Shaq Vs travel as well. I try to use Apollo whenever I can, but when I have business meetings and I need to be in another city, I'll ask them to send a plane," Shaq told Jetset.
And let's just say when Shaq asks for a plane, he usually gets it. He's earned that type of clout from almost two decades of being one of the most impactful pitchmen of products. Period. Packed in with his hall of fame playing career is an entertainment career about which many celebrities could only dream. He has released a total of five studio albums, including his 1993 debut platinum, Shaq Diesel. His brand is stamped all over popular culture across the past 20 years. His appearance as himself on HBO's Curb Your Enthusiasm was one of the most-watched episodes in the show's history. His first rap single, "(I Know I Got) Skillz," was featured in the film Pineapple Express last year. He's hosted Saturday Night Live, played the lead role in three movies, appeared on or produced more than a dozen reality shows, and still found time to win four NBA Championships and is on pace to score in excess of 30,000 career points.
He's banked hundreds of millions of dollars in his career, so it's pretty easy to see that, when a 7-foot superstar asks for a private plane, he gets one.
Of course, his day job keeps him busy from October to June, and when the Cavaliers fly around the country they do it on the team's customized Boeing 737. Can you imagine the pressure on the pilots of that plane, knowing that with Shaq and Lebron on board, they are transferring some of the most precious cargo imaginable around the country 41 nights a year?
From Gulfstreams to Boeing Business Jets, Cessnas, and Lears, Shaq has flown on the very best there is in private air travel. But he told Jetset during a recent West Coast road trip that, hands down, he has a personal favorite form of transportation for his business meetings and the excursions he takes. "The Hawker 800 is the best," Shaq told us.
It's what Shaq revealed next in our exclusive interview that makes it really clear what separates a true legend from a prima donna flash in the pan. Somehow, despite the enormity of his body of accomplishments as an athlete, entertainer, and businessman, Shaq has an almost magical quality of connecting with everybody. He absolutely loves kids and gravitates to them in every setting. While he could be an utterly insufferable pain in the you know what if he wanted, that is not who Shaq is at his core. Let's face it, in the world of A-list superstars, the egos involved sometimes have their own zip code and solar system they are so large, but Shaq has a way of keeping it real. Private jet travel for Shaq is an absolute necessity—but when we asked him if he ever desired to own his own plane, he responded quickly. "No, I don't think so. There's too much maintenance. If I own something, I like to know what is going on. I don't want to get screwed in a bad deal. I've seen it happen to other guys."
If he wanted, he could buy himself a new Hawker for every day of the week and use it for a paperweight, but owning a jet isn't something he feels he needs to measure himself against other great athletes. Believe us, it's one way some stars use to keep score. "Yeah, some guys do," Shaq told Jetset. "But I don't do that. I'm a man of the people."
He is, which is why, despite having his favorite FBOs around the country—"My personal top three are Orlando, Miami, and Van Nuys near Los Angeles," Shaq told us—you don't have to do a double take if you thought you were sitting next to him on a first-class flight. It is possible, and it's what makes Shaq so bankable, marketable, and loveable to the masses, the companies he represents in his endorsements, the TV networks, and his fans. "In the summer time I fly private a lot, but usually because a trip comes up at the last minute or while I'm on vacation," Shaq told Jetset. "If someone calls me Monday and they need to meet Friday, I don't fly private, but meetings come up all the time and someone will call and say 'we need to meet tomorrow,' and then I'll say 'OK, send a plane,'" Shaq explained.
So the Man of Steel deep down is a Man of the People. He's one of the greatest sports icons of our generation, a dominant athlete with an engaging personality, and someone who's lived life to the fullest on and off the court.
As we learned talking to Shaq in this exclusive interview with Jetset Magazine, and of course from what we've witnessed with the rest of the world the last 20 years, there are very few things he hasn't done or has yet to accomplish. Well, except for one. You see, while the Man of the People flies hundreds of hours a year privately, he will do whatever it takes to carry out his responsibilities, even if that means cramming into a commercial first-class seat. His kids, however, at this point are pretty used to the trappings of exclusive private jet travel provided by having a father like Shaquille O'Neal. "My kids have flown commercial, but they like private better, of course. They like the 727 that I get when we go on vacation. It has a bed in the back and a playroom. They really like that."
And the big kid at heart we know and love as Shaquille O'Neal is no doubt back there with them, laughing, rough-housing, playing, and being utterly unique and entertaining like he always is.