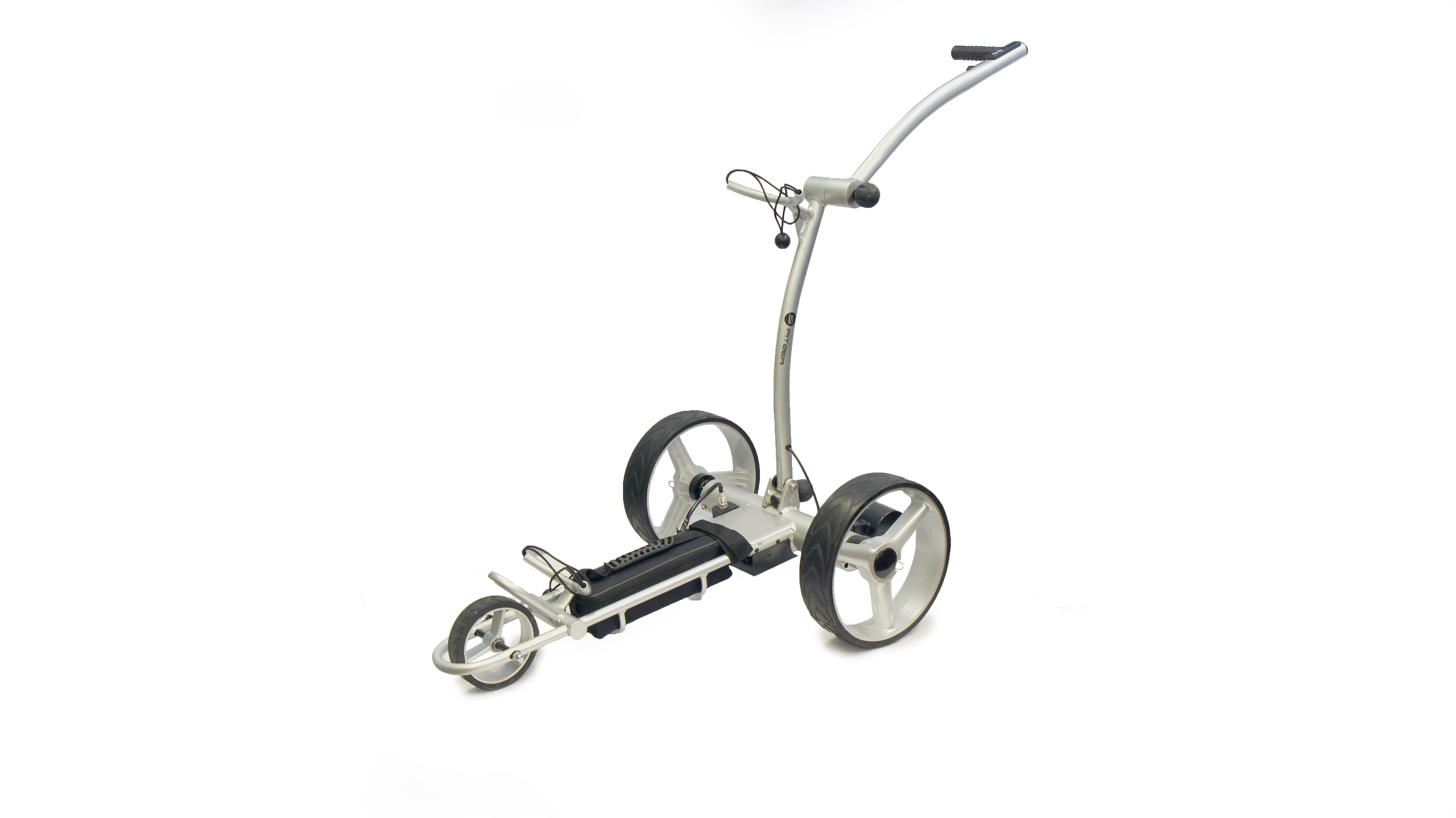 Have you ever wanted to join the health revolution and walk a golf course, but avoid carrying or pushing around your golf bag on a manual push cart? The SPITZER RL150 remote controlled electric golf trolley gives you the freedom to walk the course without the burden of carrying your heavy bag, resulting in a more enjoyable and focused game. Strap down your cart or stand bag on the RL150 and you are ready to take control of your game. Using the long range (100 yard) remote control fob, you can control your cart with the touch of a button. Golfers can gain all the exercise benefits of playing golf while reducing the strain on your body.
DESIGN AND CRAFTMANSHIP
The RL150 features quality craftsmanship with Aviation Grade Aluminum Alloy Frame. The hardware components are precision welded and mandrel bent, ensuring a robust structure to tackle the toughest of terrain. Powerful gearless dual 200W motors allow the cart to traverse through steep inclines, while electronic braking prevents runaways on steep grades. The included high density Lithium-polymer battery features a 27-hole golf course range (approx. 10,000 yards) on a single charge (charge time 3-4 hours). The battery can be charged past 600 times without significant degradation in charge capacity, meaning your investment will last for years to come. Extras features include a USB port on the handle to charge your portable devices such as a smart phone and golf GPS system.
STORAGE AND TRANSPORTATION
The RL150 is also light weight, featuring a 24-lb frame weight with a 6-lb battery pack. The entire cart can be folded to fit in a standard car trunk, including your golf bag! The rear-wheels also are quick release. With this portability, the RL150 can be used on any course without being limited by its weight or size.
WARRANTY AND CUSTOMER SATISFACTION
SPITZER GOLF backs the workmanship and quality of its products with a 1 year warranty and a 30-day money back guarantee. If you are ever dissatisfied with the product in the first 30 days, just return it to us and we will refund the cost of the product.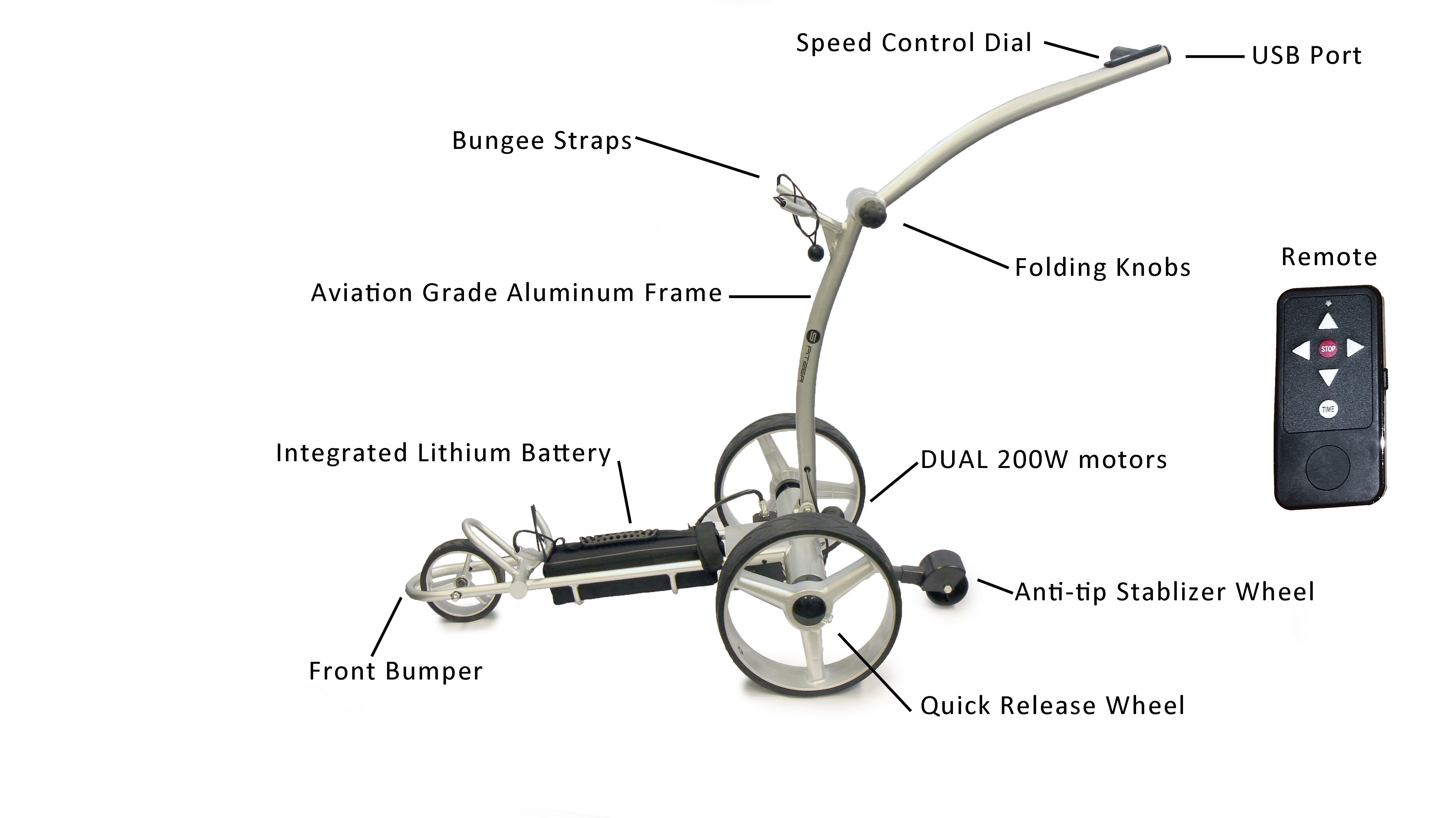 AFTERMARKET SERVICE
Available are a full range of optional accessories such as carry bags, umbrella holders, score card holders, cell phone/tablet holders. Replacement parts and post warranty service can also be ordered from www.spitzergolf.com.
Specification
RL150
Folded Dimensions
(L x W x H)
84 x 53 x 25cm
33 x 21 x 10in
Unfolded dimensions
(L x W x H)
107 x 53 x 89cm
42 x 21 x 35in
Net weight
14kg: 11kg caddy + 3kg battery
30lb: 24lb caddy + 6lb battery
Electric Motor Type
2x Tubular Motor 200W (12V DC)
Battery
– LITHIUM ION (1000 charge cycles)
– 20V-20Ah (27 holes)
Charger
Smart-Charge DC Trickle Charger
Input: 100-240V AC
Output: 20V 3A DC
Control System
SPITZER Logic with Rheostat Speed Control
Max. speed
6 mph / 9 km/h
Max. Remote Distance
100m / 109 yards
Max. Incline (degrees)
30
Max. Loading
35 kg / 77 lbs
Wheels (Front & Rear)
– Rubberized Ultra-grip tire tread
– No air required
– Quick-Release Rear Wheels (11.5″)
– Front Wheels with adjustable tracking
Frame Construction
– Aviation Grade Aluminum Tubing "X-Frame"
– Tri-Coat Paint System
Warranty
1 year
Features
– Lithium Ion Power and Lightweight!
– Easy to Use Controls
– USB charger port- Full range of accessories including GPS and Smartphone Holders