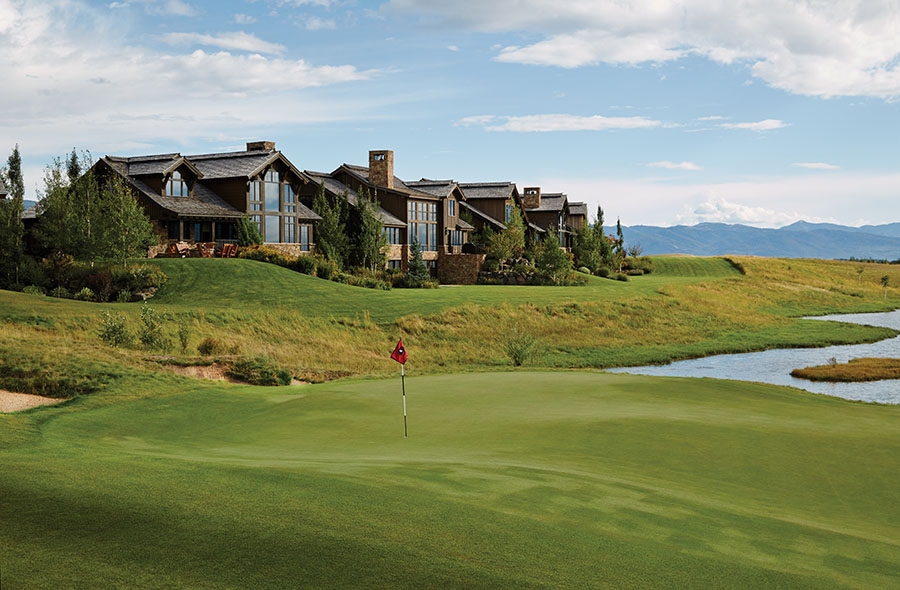 A private, exclusive and highly-rated golf and ski community located in Teton Valley, Idaho, just 35 miles from Jackson Hole, WY.
The golf course renaissance of the past 25 years has created some of the most quintessential golf and resort-style communities ever built. In many cases, these courses have turned seemingly far-flung places into household names and world-class destinations. Bandon, Oregon, and Kohler, Wisconsin, are two places that immediately come to mind. Thanks to the Huntsman family and its namesake Huntsman Springs development, Driggs, Idaho, and the surrounding Teton Valley can now be added to that elite list.
Located in the easternmost corner of Idaho in the shadows of the magnificent Teton Range — an area renowned for its dramatic natural beauty and plethora of outdoor adventures — Driggs is a classic American small town where sidewalks and buildings date back nearly 100 years. Jackson Hole, the uber-affluent magnet, is just 30 minutes over the hill in Wyoming.
With its highly acclaimed David McLay Kidd-designed golf course, top-notch amenities that will rival any private club in the country, and relatively high-value real estate opportunities, Huntsman Springs is making Driggs the next "must-visit" Mountain West destination for anyone seeking a primary residence, second home or vacation getaway.
FAMILY HISTORY
Perhaps Jon Huntsman Sr., the family's patriarch, sums up Driggs' future best. "It's a beautiful area, with a great view of the mountains, and a lovely place for families," he says. "With all that going for it, I can only see it growing over the next 10 or 20 years."
Indeed, with Grand Teton and Yellowstone national parks not far away, exceptional family friendly skiing and winter sports at nearby Grand Targhee, and famous fly-fishing on the Snake and Teton rivers, the gorgeous Teton Valley affectionately known as the "quieter side" of the Teton Range that separates Idaho from Jackson Hole — has much to recommend it.
Throw in an award-winning golf course and luxurious homes sprouting out of the ground at a fraction of the cost of those in comparable private club communities around the country (including Jackson Hole), and the Driggs/Huntsman Springs setting has become the next great place to live and play.
Of course, Huntsman Sr. has known this all along. A native of Blackfoot, Idaho, about 100 miles southwest of Driggs, the billionaire philanthropist started coming back to this area nearly 20 years ago. While enjoying first-rate fly-fishing in Driggs during his many visits with his family, Huntsman pondered why Jackson flourished as a popular resort and second-home destination, while Driggs remained somewhat sleepier in popularity.
Yet Huntsman, an idealist whose main mission in life nowadays is to find cures for cancer, saw an opportunity. So he spent more than $200 million buying 1,300 acres of land minutes from Driggs Reed Memorial Airport, and building one of the world's finest private golf club communities.
ON SOLID GROUND
Nowadays, Huntsman Springs' unyielding commitment to create the United States' premier private resort-style community is taking on an entirely new complexion, with an assortment of exciting lifestyle amenities and real estate offerings.
"Huntsman Springs is an excellent investment," says Julie Bryan, real estate broker. "The quality of life our homeowners enjoy, combined with the superb amenities, would command much higher prices in places like Jackson Hole. What we have to offer here is a superior product at a very competitive price."
The award-winning community's latest addition is a 4,500-square-foot Wellness Center that opened in 2014 for year-round use by property owners and guests. Also in the development pipeline is a variety of shopping and dining options, additional health and sports venues and a luxury lodge. A golf clubhouse is also on the drawing boards.
Of all the plans under consideration, one of the most exciting for the community is the luxury lodge, which would be the first of this caliber in Teton Valley, Idaho. Not only will a luxury lodge fill a void in high-end accommodations, but it will also create valuable employment in the greater community. For homeowners at Huntsman Springs, the lodge will serve as a central focal point, an additional area where people can gather, have a meal, shop and get to know their neighbors.
Proposed concepts include a gourmet restaurant, spa and conference area, all within a village setting that will also feature its own ice rink. The main hotel rooms will boast spacious floor plans, with the potential for large balconies. Golf and ski villas are also being discussed with stunning views of the golf course, Teton Valley and Teton Mountain Range's signature Grand Teton peak.
EXCITING NEW RESIDENTIAL OPTIONS
Nearby the lodge is a planned new section of "mountain modern" Park Homes that are mostly smaller than other offerings at Huntsman Springs. Compared to the existing Park Homes, which are all roughly 2,700 square feet, these new homes range from 1,813 square feet with two bedrooms on up to 2,752 square feet with three bedrooms and a den. Alternatively, two of the homes are single-level plans.
The added advantages of the smaller, single level homes are many, including the fact that there are no stairs to climb and a smaller home requires less maintenance. They are also likely to be very popular with the community's lodging program, as not all guests need the larger capacity of a Mountain View Lodge home or even a larger Park Home. The new homes will also provide a lower price point for the lodging program at Huntsman Springs while still providing the luxury finishes and amenities people have come to expect within the community. The potential for a higher occupancy rate makes the decision to buy more interesting from an investment perspective as well.
Berms, trees and unique floor plans will all offer another level of privacy, and extensive outdoor spaces are a part of each home's design. Large decks are present off of the living room in each of the homes, which provide a great space for entertaining or simply getting outdoors. Interior finishes include hardwood floors, quartz countertops and fireplaces that add to the refined rustic theme at Huntsman Springs.
The new product will represent a completely different price point for the development, with pricing starting at $623,000, which will include a full Resident Golf membership to the club at Huntsman Springs. Of course, in keeping with the Huntsman philosophy and community, the same high construction quality will be maintained in these homes as well.
"I'm thrilled to be connected with Huntsman Springs — it's clearly the best of the best in the West," broker Bryan says. "Besides the sheer natural beauty and outstanding accessibility of Huntsman Springs (a private airport with a runway 1,000 feet longer than Jackson Hole Airport is across the street), one of the most attractive elements of the Huntsman Springs community is the value proposition it offers prospective homeowners and members."
EXCELLENT VALUE
Custom homes range size from 3,700 to 5,000 square feet, and are priced between $1.725 million and $2.7 million. Additionally, there's an inventory of custom home sites for sale, ranging in size from 0.34 acres to 0.79 acres. Prices are $175,000 to $600,000. By comparison, similar quality homes or home sites in Jackson Hole or other top Rocky Mountain resort towns such as Aspen would cost considerably more.
Another valuable aspect of Huntsman Springs is the peaceful, easy feeling of Driggs, a modest one-stoplight town. It is close enough to Jackson Hole — with all the shopping, restaurants and panache that one might wish for — but the family oriented, all-American aspects of Driggs is a big part of the draw.
In part, that's what attracted the Huntsman family to build in Teton Valley. Huntsman Sr. has said this is where he wanted to live, where he wanted his grandchildren to be able to come and play, and have fun and grow up. That's what they accomplished at Huntsman Springs. They wanted to create something that was very special, and has a lasting legacy to the area and people who live and work there.
But beyond simply creating a real estate development for the sake of profit, the Huntsman family made a commitment that a percentage of the proceeds from real estate sales will go to benefit the family's renowned Huntsman Cancer Institute in Salt Lake City. No other community or developer has taken on such a philanthropic and dedicated position.
An outstanding residential community with an amenity package that can't be beat in a location second to none that represents a great value for the buyer, and has a mission to cure cancer? That certainly stands as the next great place to live.