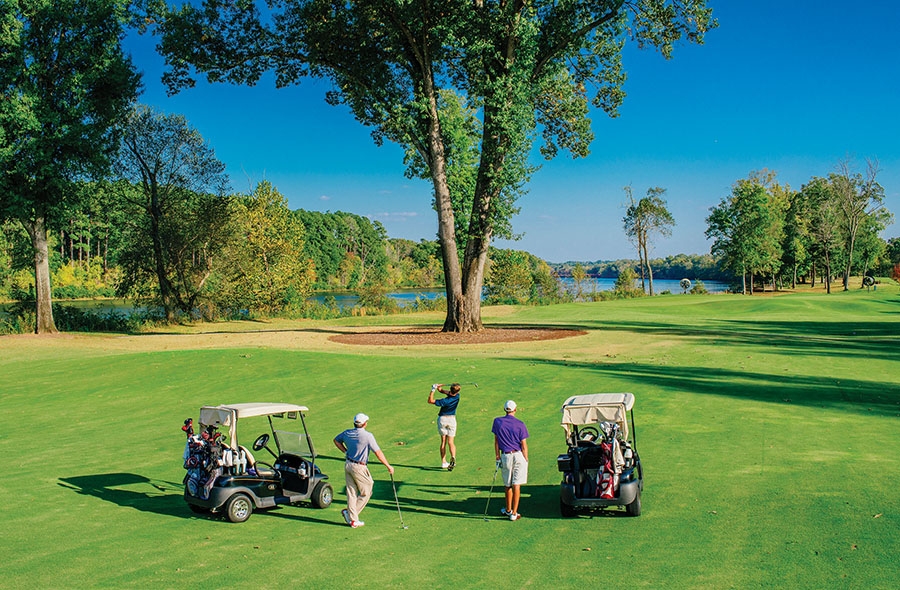 Far from being sheepish about our golf addiction, here at Jetset Magazine, we revel in our obsession — from playing in flash summer storms to fixating on highlight reels of legendary 1970s tournaments.
For us, and over 50 million golfers around the world, the word "Augusta" brings but one thing to mind — The Masters. This professionally-coveted and globally-celebrated brass ring of the professional golf world is truly iconic. When I think of The Masters, instinctually it is Augusta National that comes to mind — but there's an altogether more welcoming gem hidden in this distinguished Georgia landscape. Those "in the know" have found a neighboring golfer's paradise with a kindred culture all its own — Champions Retreat.
Poised in a quiet, tasteful corner of Evans (just outside of Augusta), Champions Retreat is sculpted from the foundation of nearly 1,200 acres of skyward Georgia pines and sprawling wetlands situated along the banks of the Savannah River. Exemplifying charm, luxury, and Southern hospitality, Champions Retreat features three nine-hole courses which have been designed by three of the most iconic figures to ever play the game: Arnold Palmer, Jack Nicklaus, and Gary Player. With such stalwarts in charge, you can imagine these holes have inspired simultaneous awe, consternation, and delirium in even the most consistent players.
The birth of Champions Retreat can be traced back to the 1999 Masters Champion Dinner. Gary Player chose this vaunted occasion to recruit fellow champions Jack Nicklaus and Arnold Palmer to share in his dream of a 27-hole, private golf club in Augusta, Georgia. This golfer's dream experience became a reality, that is now highlighted by a world-class resort and three nine-hole courses.
In the planning phase, there were three distinct properties to choose from, and thus the question of "Who got what?" quickly arose. So Gary Player decided to handle designation of the courses scientifically, and wrote "Island," "Creek" and "Bluff" on the back of three index cards. Palmer chose first, as he was the reigning veteran and had played in more Masters than Jack or Gary. He drew the "Island" card. Nicklaus drew second since he had won more green jackets than Gary and pulled the "Bluff" card, leaving Player with the "Creek" property.
"The finest hospitality is invisible. It should be seamless and gracious. That is our aim. We feel fortunate to steward what we consider one of the most distinctive clubs in America." – Davis Sezna CEO / Partner, Heritage Golf Group
ISLAND
Powerful and loose, charismatic and charming, gracious, yet passionately competitive; Palmer's playing style and personality revolutionized the game. Those elements which made him a legendary athlete, also make him an intuitive designer. The Island Nine at Champions Retreat shares the personality of his architectural vision — it's both challenging and auspicious.
I found Palmer's Island course to be the Grace Kelly of the trio, breathtakingly beautiful from every angle, and a demanding challenge to woo. The course is flanked on one side by the broad Savannah River and on the other by the Little River. Thoughtfully designed and shaped, the course is distinguished not only by its playability but also for its respect to its natural surroundings. Impeccably manicured, the Island course is loaded with memorable holes, most notably the par-5 3rd and the par-4 4th.
With superior conditioning, a remarkable variety of holes, and no weak links, the Island course dishes out a supreme challenge via its cunningly-placed bunkers and (most notably) its ingeniouslysculpted greens. Wide fairways and wild and woolly bunkers not only contribute to the beauty and variety, but are seamlessly integrated into the strategic aspects of the design.
BLUFF
The Golden Bear's acumen for creating iconic courses almost rivals his uncanny ability to win. Jack Nicklaus' 23 years between his first and last of six green jackets demonstrates an ability to adapt and compete like nothing ever seen before. This is evident in his approach to course design, as he uses the natural tendencies of the land to amplify both its risks and rewards.
Nicklaus' Bluff course is the Brigitte Bardot of the lot: all voluptuous curves and languid repose until the flirtation comes to an abrupt end and the catharsis begins. This quiet enclave features dramatic shifts in elevation amid substantial inland forests, setting the tone for a remarkable lay-of-the-land journey. The design itself fosters no controversy; it's a rolling layout studded with sporty holes such as the undulated par-5 5th and the creek-slashed, par-4 6th. The course fits perfectly with the existing terrain and its surroundings, which soothe the soul with the sight of pine-covered backdrops and dramatic wetland panoramas.
Wildly-rollicking fairways that yield an unending variety of lies and stances put a premium on well-struck approach shots. Frequent changes of direction in the routing, firm, fast-running fairways and a compelling set of finishing holes combine to form one of the world's great inland links.
CREEK
The Black Knight, a long-standing nickname of one of golf's greatest competitors, speaks to Gary Player's gentlemanly demeanor and intense approach to the game. Built to challenge and charm, the Player Creek Nine is the vision of a man who understands the worth of both power and form.
To complete the analogy, Player's course is the Marilyn Monroe of the group — deceptively innocent until ravishingly complex, coyly pandering until profoundly prophetic. I spent my morning rituals in rapt anticipation, as this course boasts a bevy of thrills for an experienced golfer. I was expecting the world on this course, and I was not disappointed. A superb and strategic delight, it is stern but fair, featuring wide, expansive fairways, sculptured bunkers, and large, undulated greens. The opening four holes play in a beautiful wetland area, while the remaining part of the course moves upland, traversing higher ground through native hardwood trees, but never letting up. A bold start that features a 471-yard par-4 and a 193-yard par-3 give way to gentler (though strategically rich) holes that are favorites amongst the club's members.
The Creek's character is unmistakably Gary Player, thanks to such holes as the 527-yard, par-5 5th, with its vexing undulations yielding superb risk/reward opportunities. Its outstanding cluster of marvelous terrain, notably the 6th and 7th, provides a terrific canvas for any skill level. Adding difficulty, the 9th dramatically plays over and around a large lake on the right, allowing players to finish with a variety of shot-making challenges.
When Champions Retreat promises new members will want for nothing, this extends to inside tips from experienced caddies, which can be key as you get into the swing of these complex courses. We were paired with two top-notch caddies who proved valuable advice at every hole; they put the experience over the top, as if playing a course designed by three of golf's greatest players wasn't enough. We felt like tour players ourselves, having our very own caddies, who knew every roll and valley along the way.
In addition to the unparalleled golf experience, Champions Retreat offers ultra-luxurious cottages that can accommodate four to eight couples. Each Arcadian-style cottage offers sweeping course views and all that this exquisite property has to offer. Nestled in the pristine Georgia landscape, this collection of stylish homes feature hardwood floors, vaulted ceilings, compelling oversized windows, and large open kitchens with state-of-the-art appliances so your own private chef can wow your guests.
Fire pits and sprawling porches let you unwind from a heartpounding day on the course before heading off to luxurious king-sized bedrooms — featuring bathrooms equipped with jetted tubs, fully glassed, walk-in rainfall showers, and designer amenities. Members, future members, and guests book individual rooms or entire cottages while in town playing golf, attending a wedding, or indulging in all the festivities that Masters Week has to offer. The ultimate perk? Membership also offers the opportunity to own a piece of Champions Retreat by purchasing a cottage or building on one of the 35 coveted lots on the property.
As with any resort or private club, the culinary program often proves to be the make-or-break factor. Luckily, Champions' food and beverage team brings an expertise to the table that resonates throughout every aspect of this premium destination. One of the highlights of my trip was a special tasting night, a "Bourbon Renaissance." Hosted in the kitchen of our cottage, we savored a selection worthy of POTUS hosting a diplomatic delegation. Small batch bourbons are rare, but trust Champions Retreat to have it covered. With 21 different bourbons in stock, new selections included Blanton's Single Barrel, Angel's Envy, Bookers, Jefferson's Ocean Aged at Sea Very Small Batch (Voyage 5), Knob Creek Single Barrel Reserve, and Evan Williams Single Barrel 2005 Edition. Needless to say, we were collectively sent to charred oak heaven. It was this experience that sealed the deal on Champions Retreat, making the "Jetset Guide to Next Level Executive Retreats"
We all know Southern hospitality is all about soul food. Executive Chef Doug Seaver heads up onsite dining at Champions Retreat
(including the Grille House), and he brings more than 25 years of culinary experience, an emphasis on supporting local purveyors, and a passion for fresh, quality ingredients. Open for breakfast, lunch, and dinner (as well as special event catering), at the Grille House you'll find an impressive range of Southern specialties like crab and oyster stew or Faroe Island roast in the backyard of your cottage, where he stocks a huge fire pit with fresh Virginia oysters over wood coals, served alongside plump crab cakes and pickled shrimp — divine. More of a khakis-and-kebabs kind of family? BBQ aficionado Hal Rowland holds court as Champions Retreat's very own in-house pit master. Serving up delectable, savory, smoked barbecue, his expertise can be dispatched to your back porch or a suitable spot of your choice. During your BBQ feast, his specialty turkey andouille sausage, pork shoulder, ribs, and pork loin with house-made spicy mustard will keep you coming back to this Georgia gem. The finishing touches of zingy peach vinaigrette, vibrant collard greens, pickled okra, and homemade cornbread round out local flavor profiles. Apple crisp with burnt caramel ice cream proved the proverbial cherry on top of a truly authentic feast.
Augusta National has a storied history of being very secretive and prides itself on keeping very cherished secrets from the general public about the inner-workings of their private club. Champions Retreat is a private club as well, but everything about this property is quite the opposite. Not only do the epitomize Southern charm and hospitality (offering all of the amenities of the elite private clubs), they leave the stuffiness behind — creating a very warm, inviting atmosphere. Champions Retreat is such a favorite among golfers, families, and nature lovers, it has becoming one of the most sought-after memberships on the East Coast. Benefits and options are expertly packaged and dedicated to making every member and guest feel relaxed, at home and wanting for nothing. Upon initiation, membership privileges vary from full use of all golf, practice, and clubhouse facilities to priority starting time reservations to cottage rental privileges to the ability to send unaccompanied guests to Champions Retreat to access to an elite BMW rental program.
When it comes to getting here in style, Augusta Airport comfortably handles all level of private jets and Champions Retreat is equipped with a helicopter pad for those wishing to arrive without fuss (or simply those who want to hit the links as soon as possible). Trust us, once you get a taste for Champions Retreat, nothing else will do. You'll want to return by jet, chopper…any means necessary. Championsretreat.net