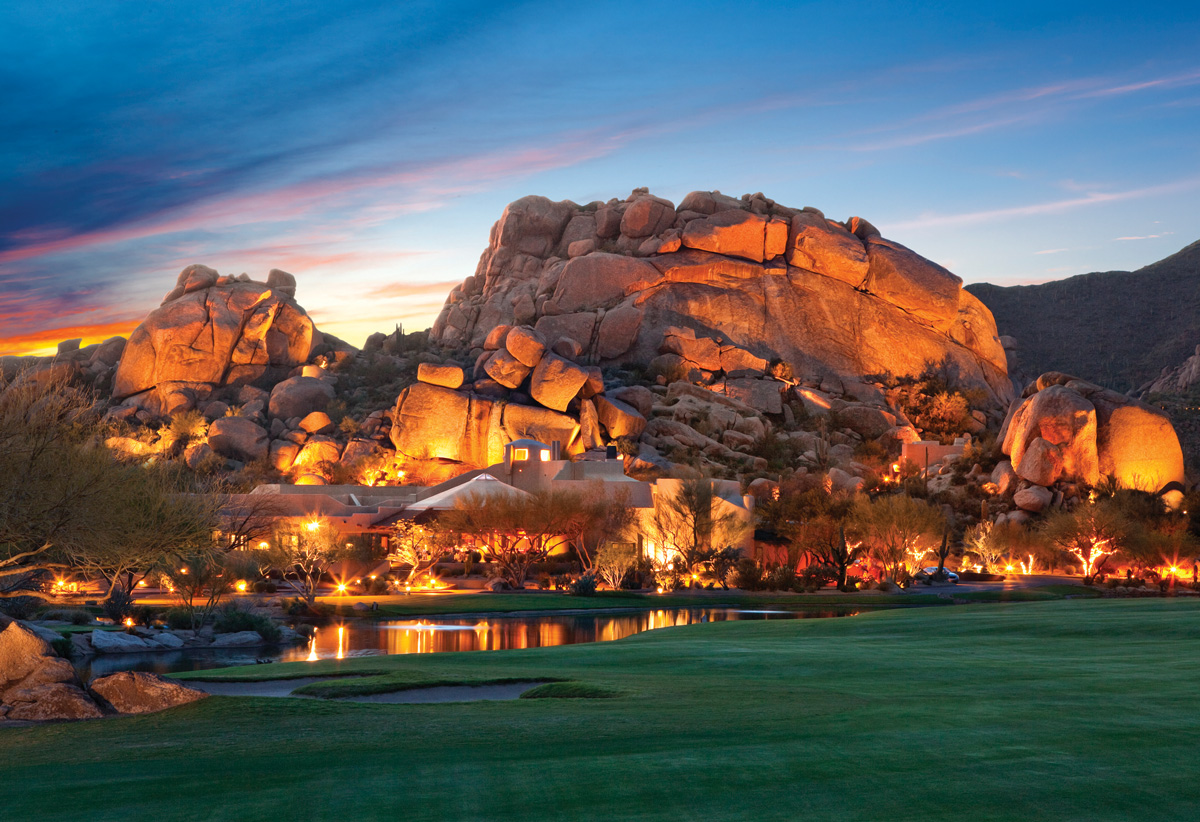 As a professional golfer, I am always searching for incredible golf experiences. And no true Jetset summer is complete without a luxurious getaway that not only fuels your craving for adventure but satisfies your need for relaxation as well. So in that spirit, we have decided to highlight some of our favorite golf resorts in the nation. Combining the serene beauty of nature, the fierce challenges created by world-class golf course designers, and the sensual luxury of five-star dining, spas, and amenities, each of the following resort golf experiences is a perfect way to enrich your summer.
Boulders Resort & Spa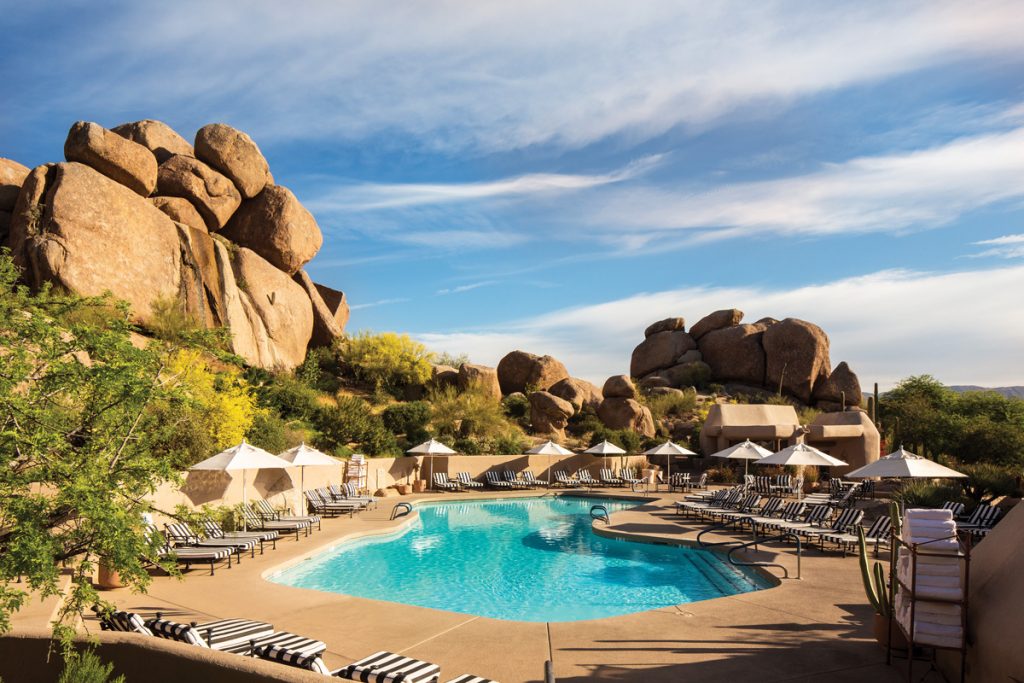 Escape to a natural architectural haven on the West Coast by venturing to the remarkable Boulders Resort & Spa in Carefree, Arizona. Not only will you be swept away by the multi-million dollar renovations made to the resort in 2016, you will find yourself secluded in the natural splendor of the Sonoran Desert. The resort offers 61 one, two, and three-bedroom casitas, seven restaurants and lounges, an abundant array of athletic activities, and a brand new clubhouse that accentuates its two championship Jay Morrish-designed golf courses. Whether you're in the mood to relax or test your athletic abilities, there is no shortage of options at this resort.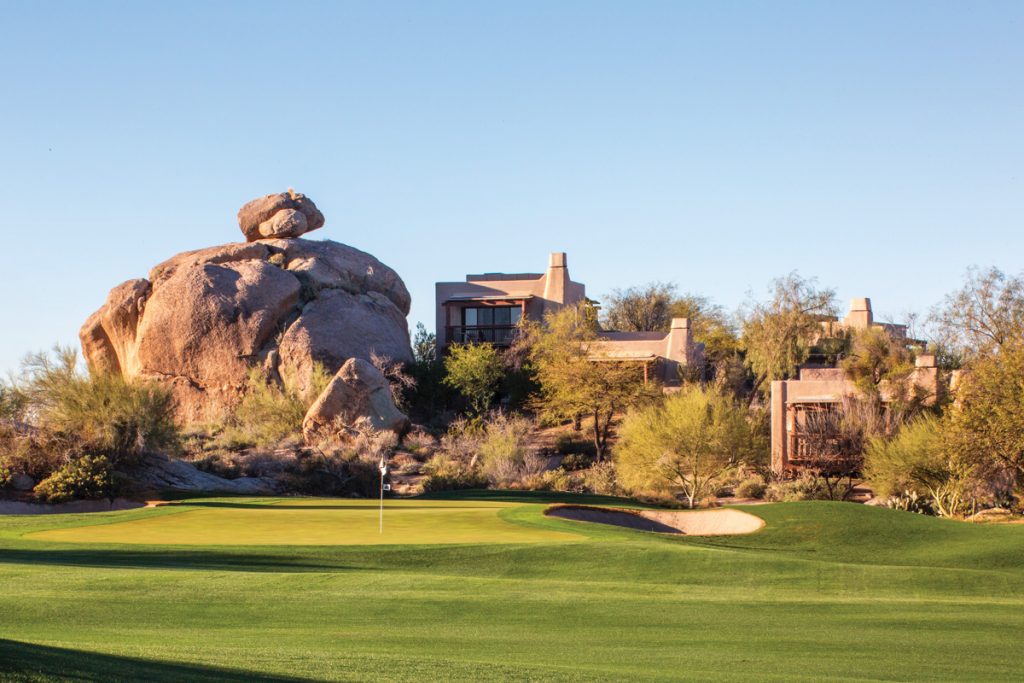 When watching PGA professionals take on desert golf at Boulders, it's hard to focus on their shots as you become entranced by the beauty of the enveloping scenery. But despite the beauty of the course, its challenging design is what has won it numerous awards including GOLFs "Platinum Medal," and Golf Digest dubbed it one of "America's 25 Best Resort Courses." Known for its rugged beauty and Southwestern flare, the resort offers a 6,811-yard, Par 72 Championship North Course and a 6,726 yard, Par-71 Championship South Course. Each course provides six different tee markers making sure a golfer at any level is accommodated. There's no doubt that while being whisked away by the beauty of the 12-million-year-old unfettered granite boulder formations, the slithering Chuckwallas lizards native only to the Southwest, and the towering Saguaro cacti that line the fairways, your game will be challenged in new and exciting ways.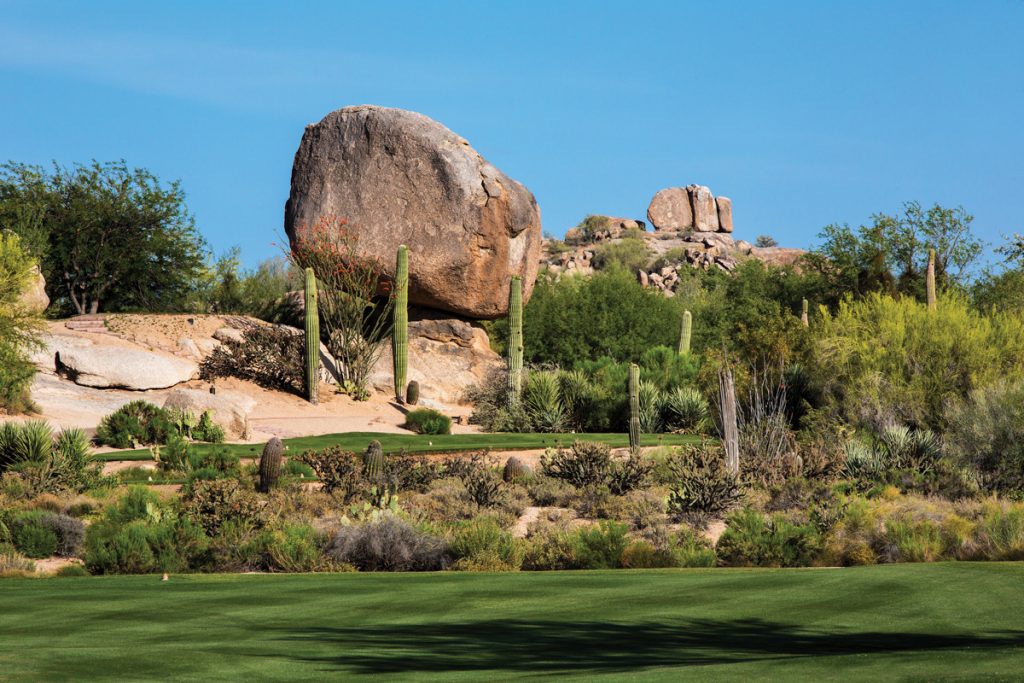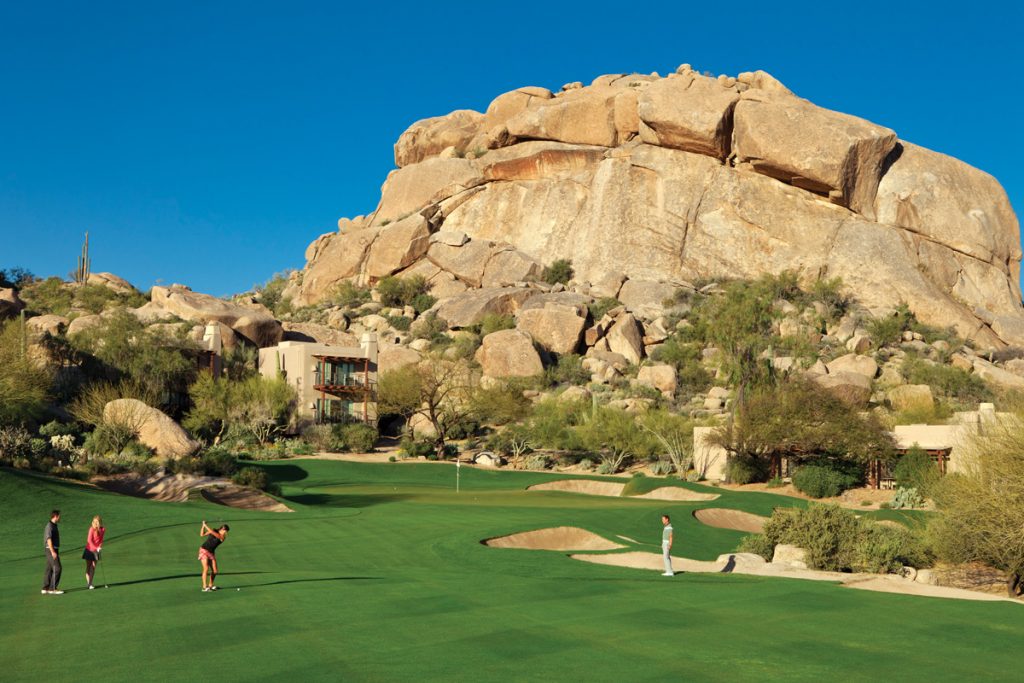 The resort also allows you to enhance your golf experience by offering unique golf packages that fit every vacation want and need. These packages are especially distinctive, as they are center around everything from gender, to fitness, to age. The first and main package, "Boulders Stay & Play," includes nightly accommodations in one of the private casitas, one round of golf per person, per night, a lunch voucher, and complimentary access to the Boulders Spa facility with unlimited fitness classes.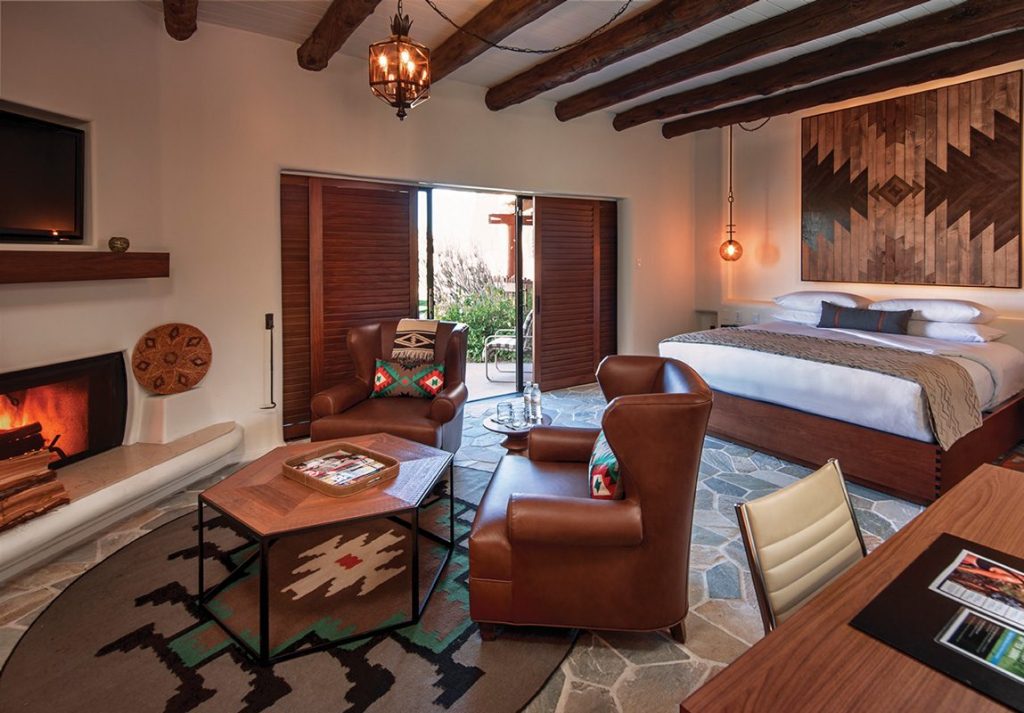 Other packages include the "Fore Ladies Spa & Golf," an exclusive, ladies-only trip allowing women to focus on and improve their game while savoring health-conscious snacks, participating in off-course fitness classes, and receiving the pampering of their choice at the fabulous Boulders spa. Meanwhile, with the "Golf Fit" package, LPGA Teaching Professional and Golf Conditioning/Fitness Specialist, Nichol Cavarra, explores the importance of fitness for golfers and provides each participant with personalized programs to have them maximizing their full golf potential. There are also junior specific packages along with packages that allow players to receive more specific instruction from world-renowned golf coach Donald Crawley.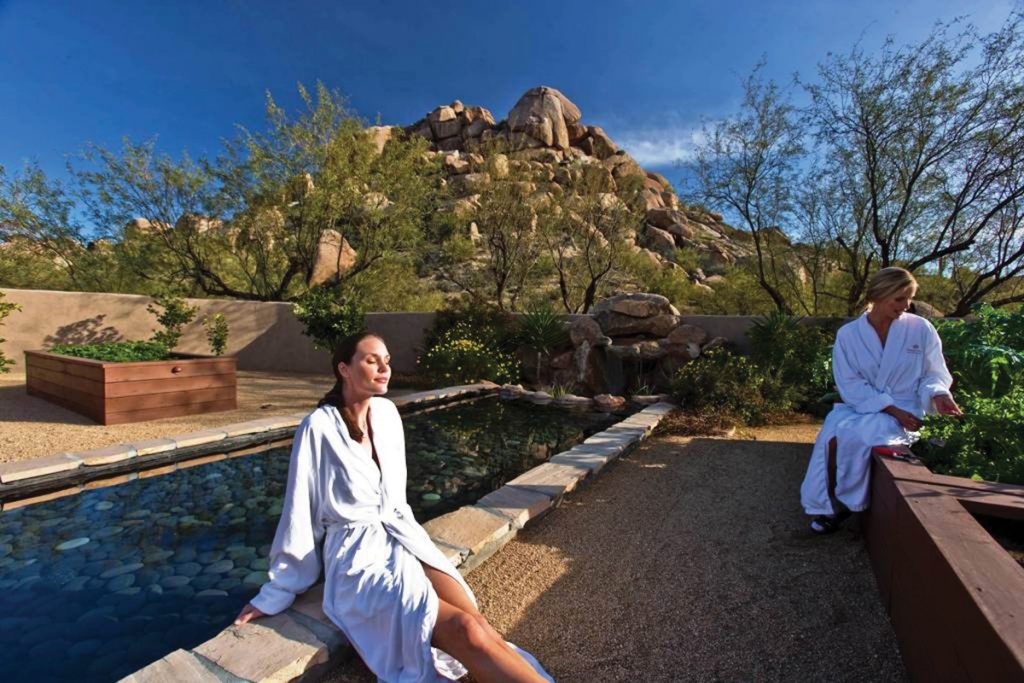 After sharpening your golf game and challenging your body physically and mentally on the course, you can alleviate stress at the aforementioned spa which draws upon Eastern and Western influences to create a unique ambiance of healing and tranquility. The spa offers access to Vichy treatment rooms, hydrotherapy tubs, facials, couple's massages, shiatsu rooms, and more. Meanwhile, its bamboo accents, hand-sculptured water fountains, aromatic candles, and Japanese gardens will have you lost in a sea of relaxation. This resort golf experience encompasses is an escape from reality that will leave you feeling better about your golf game and rejuvenated overall.
Nemacolin Woodlands Resort

Changing up the scenery and vibe, we head to the Laurel Highlands of Southwestern Pennsylvania and Nemacolin Woodlands Resort. Whether wanting to embark on a more rugged luxury or maintain a high-end French-inspired feel, Nemacolin offers it all. The resort provides guests with five different lodging options amongst its vast, expansive property. These options include the Chateau Lafayette, Falling Rock, The Lodge, personal townhomes, and luxury vacation homes. Each accommodation brings an extraordinarily different atmosphere to the resort experience, leaving guests to discover their own ideal resort getaway. Regardless of which lodging location you select, you will have access to countless outdoor activities including its two immaculate Pete Dye golf courses.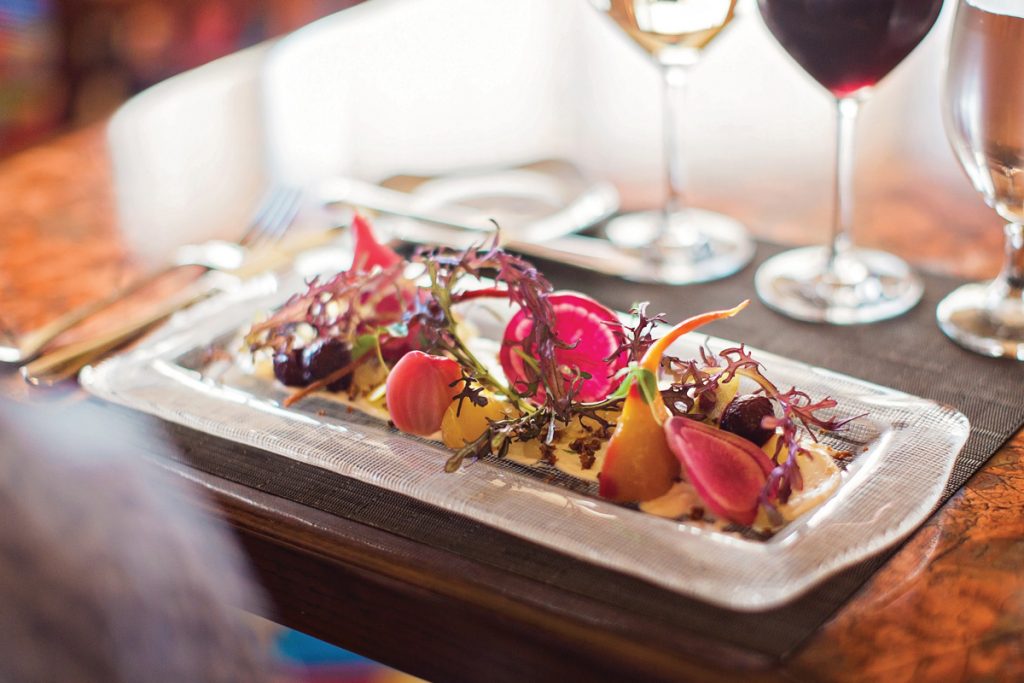 The courses at Nemacolin remind me of what Pete Dye once said: "Life is not fair, so why should I make a course that is fair." These courses provide quite the challenge to any golfer's game. Dye's own Mystic Rock course is a Par 72 with a slope rating of 149 from the championship tees, which is one of the highest ratings in the country. It has received numerous accolades such as "Number One Best Golf Course in Pennsylvania" and "Top-40 Best Resort Course" by Golf Digest and Golf Week, respectively. This Pete Dye course sits on acres of scenic highlands where the tree lines test the golfer's abilities off the tee while looming mounds and ridged landscapes surrounding the greens test the golfer's approach shots.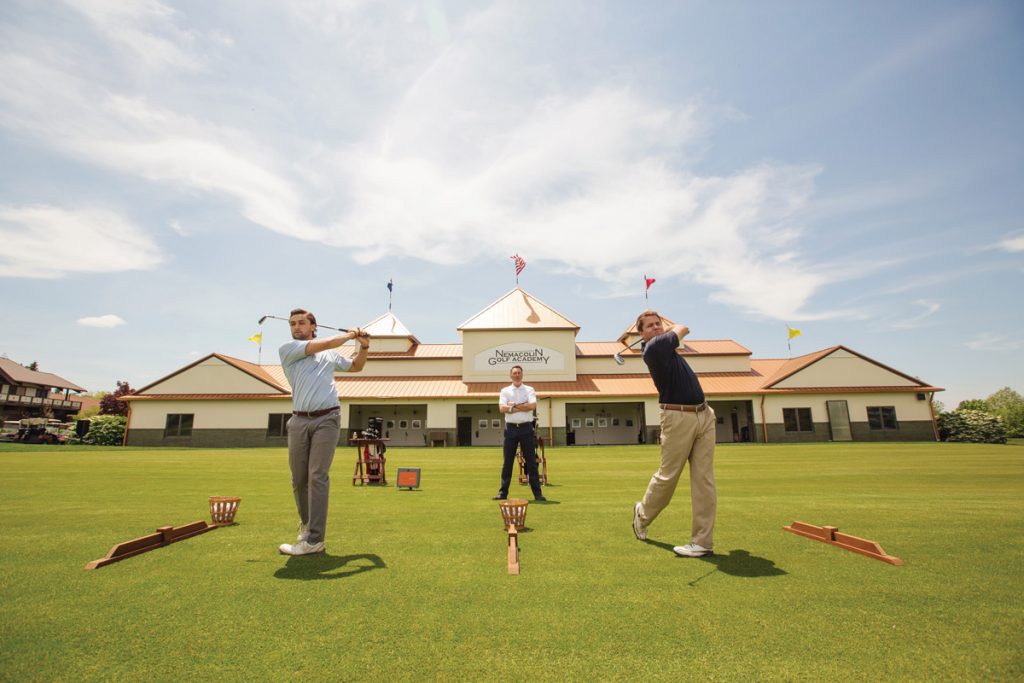 Nemacolin recently expanded its golf experience with the inclusion of a second Dye course, Shepherd's Rock. This highly-anticipated, 7,151-yard, Par 72 course opened July 1st, and already has the media buzzing with Forbes placing it on its list of "The Nine Most Eagerly Awaited New Golf Courses of 2017," and Golf Vacation Magazine labeling it as one of the "Top Pete Dye Designs to Play in 2017." Sitting on top of the Pennsylvania Allegheny Mountains, this course will offer challenges like Mystic Rock but with new breathtaking mountainous views that are sure to "wow" its guests.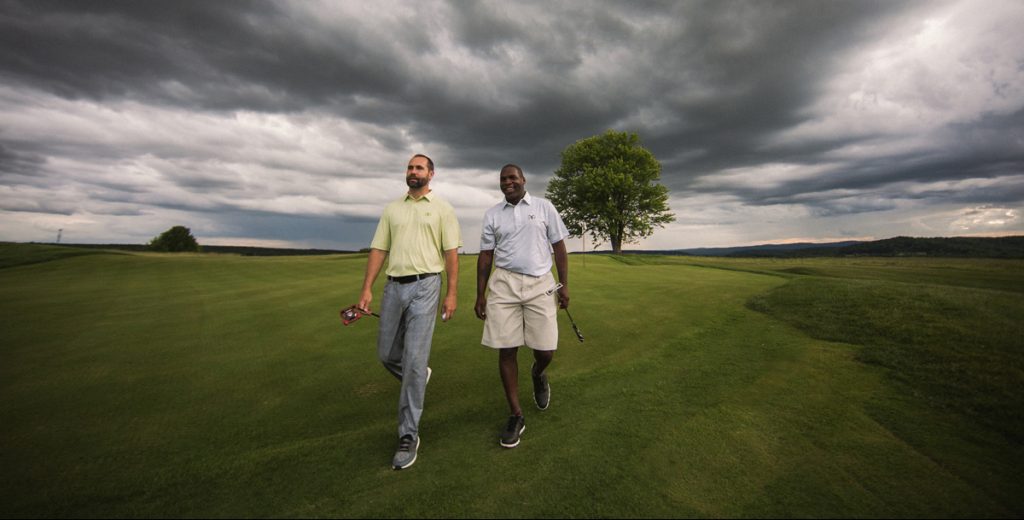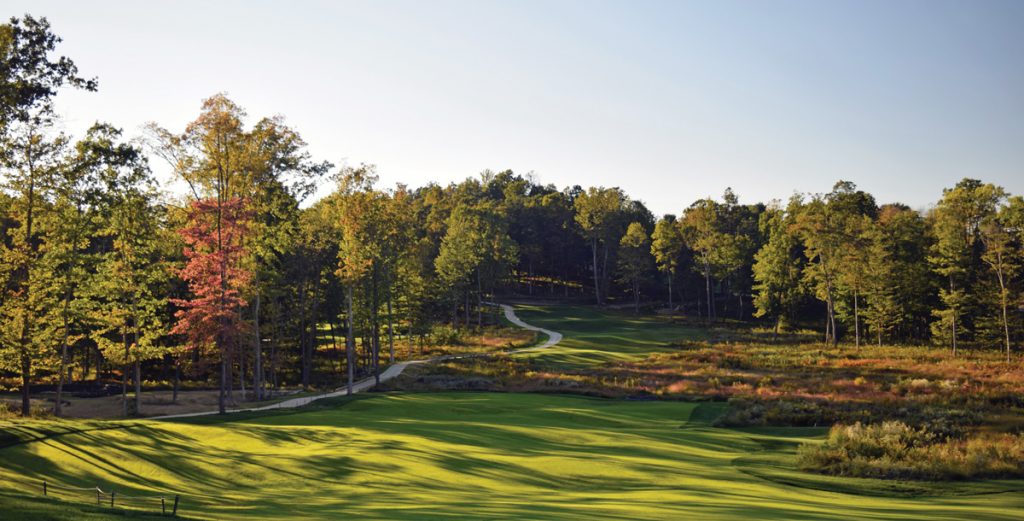 Similar to Boulders, Nemacolin enhances its golf experiences by offering packages such as the "Stay and Play," "The Double Dose of Dye," and even an unlimited golf package which allows guests to customize exactly what they want from their experience. The resort also offers guests access to the wonderful Nemacolin Golf Academy with one of GOLFs "Top-100 PGA teaching professionals," Eric Johnson, and access to extravagant locker rooms featuring billiards, televised seating areas, bars, and much more.
 Innisbrook Golf & Spa Resort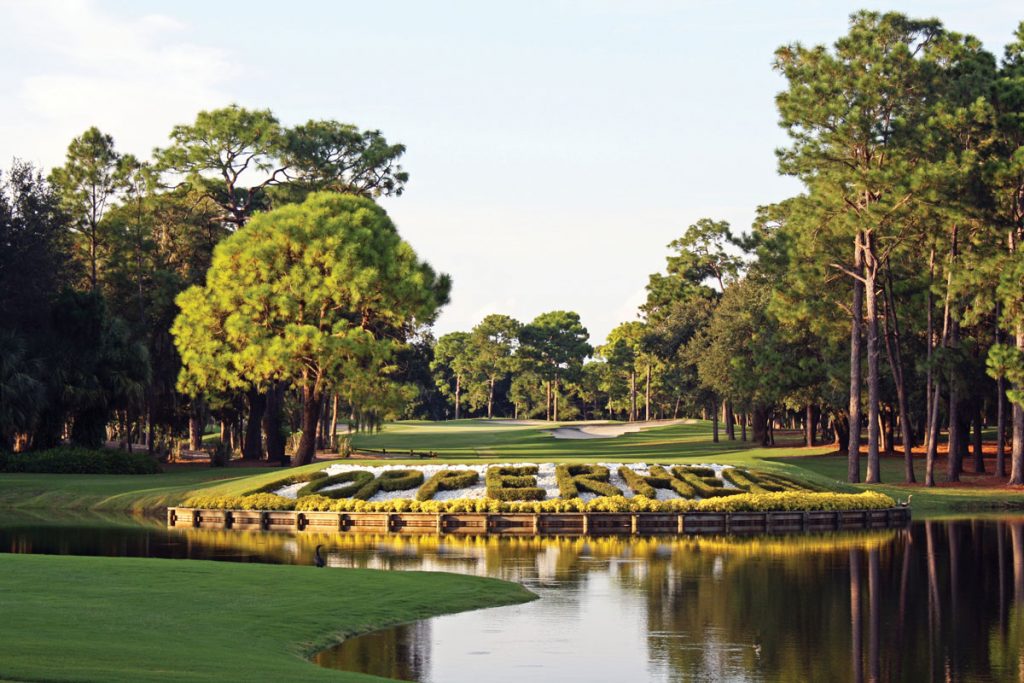 Heading to The Sunshine State, we travel to the famous Innisbrook Golf & Spa Resort located in the St. Petersburg/Clearwater area. This resort is known for its championship golf courses and is even home to the PGA's very own Valspar Championship, which it has hosted for most of the last 25 years. With 72 holes of lavish golf, golfers should be prepared for all types of challenges. Beginning with the Cooperhead Course, a 7,340-yard, Par-72 Lawrence "Larry" Packard design, even the greatest of PGA professionals are challenged by its length and tightness. And its recent six-month renovation has the course in the most prestigious shape its been in to date.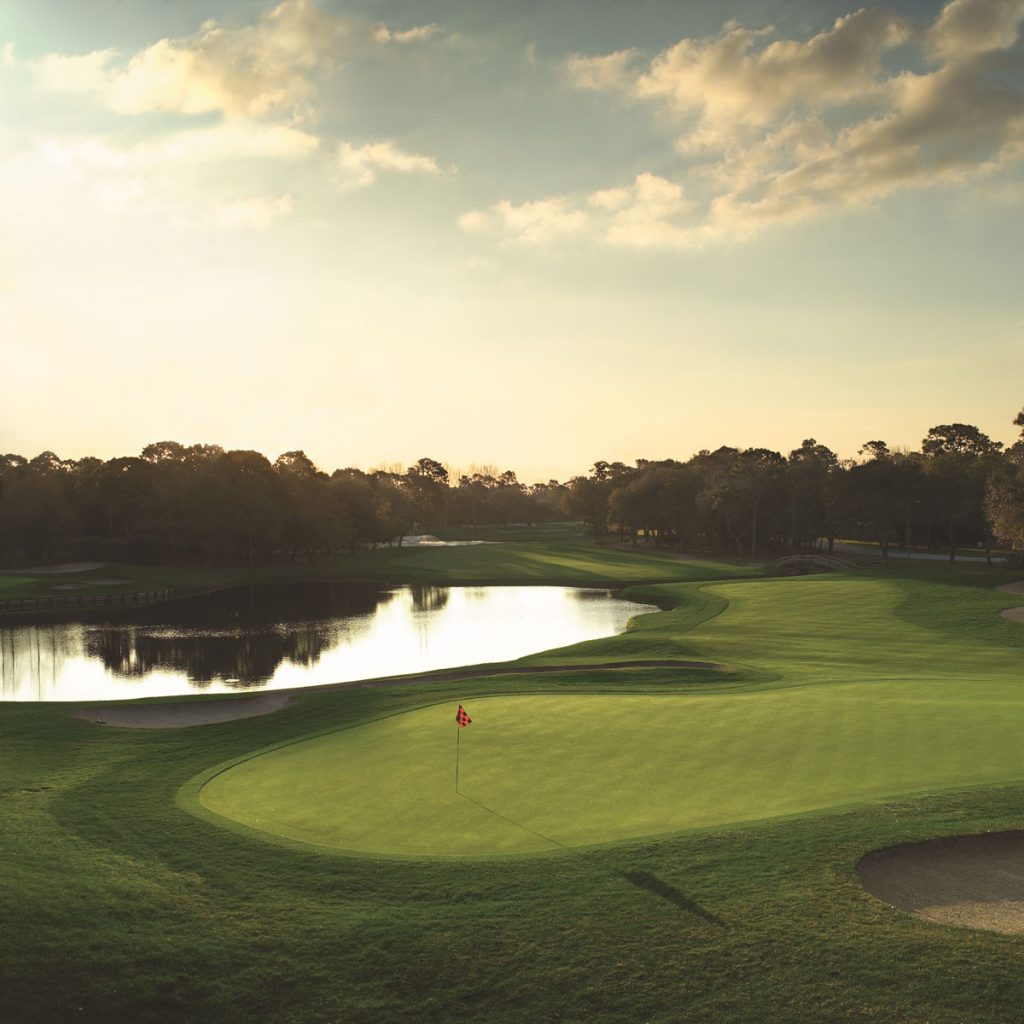 With the extensive re-grassing of all fairways and roughs, rebuilding each green, and reshaping the bunkers, golfers have no excuses for bad shots. Renovations also included all new tee boxes, some of which were expanded upon from the original designs and some which were moved forward to create a whole new level of difficulty for players of all levels. Cooperhead allows golfers to directly compare their games to some of the PGA's best —names like Jordan Spieth, Adam Hadwin, and Charles Schwartzel — while taking on the notorious finishing holes known as "Snake Pit"…I think you can guess how it got its nickname.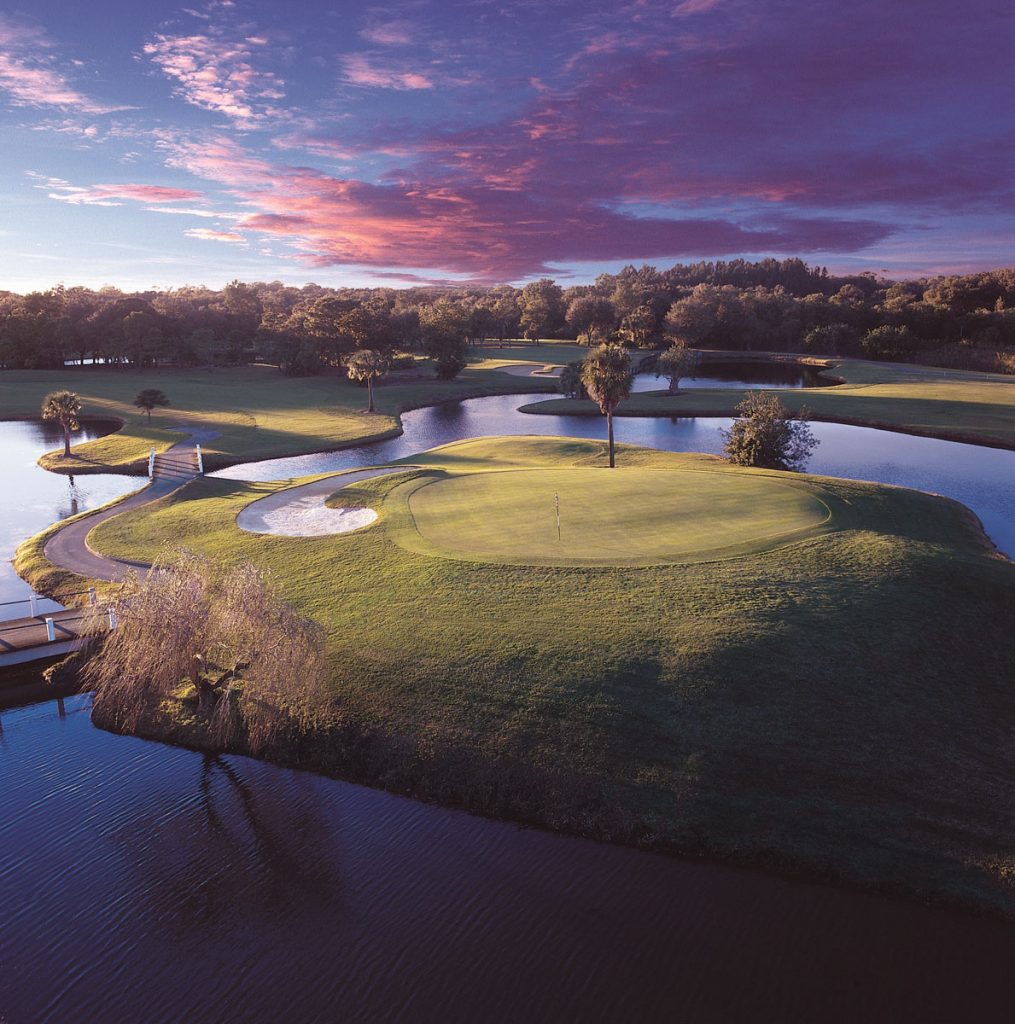 The other three Lawrence "Larry" Packard-designed courses bring the same level of difficulty. The Island Course, a 7,310 yard, Par-72, is surrounded by Lake Innisbrook and water daunts six of the eighteen holes, leaving the golfer no choice but to rely on their accuracy. The North Course, a 6,325-yard, Par-72, is the most similar in terms of terrain to the Cooperhead Course, yet provides new tests with its extremely difficult par threes and its length added during the new renovations.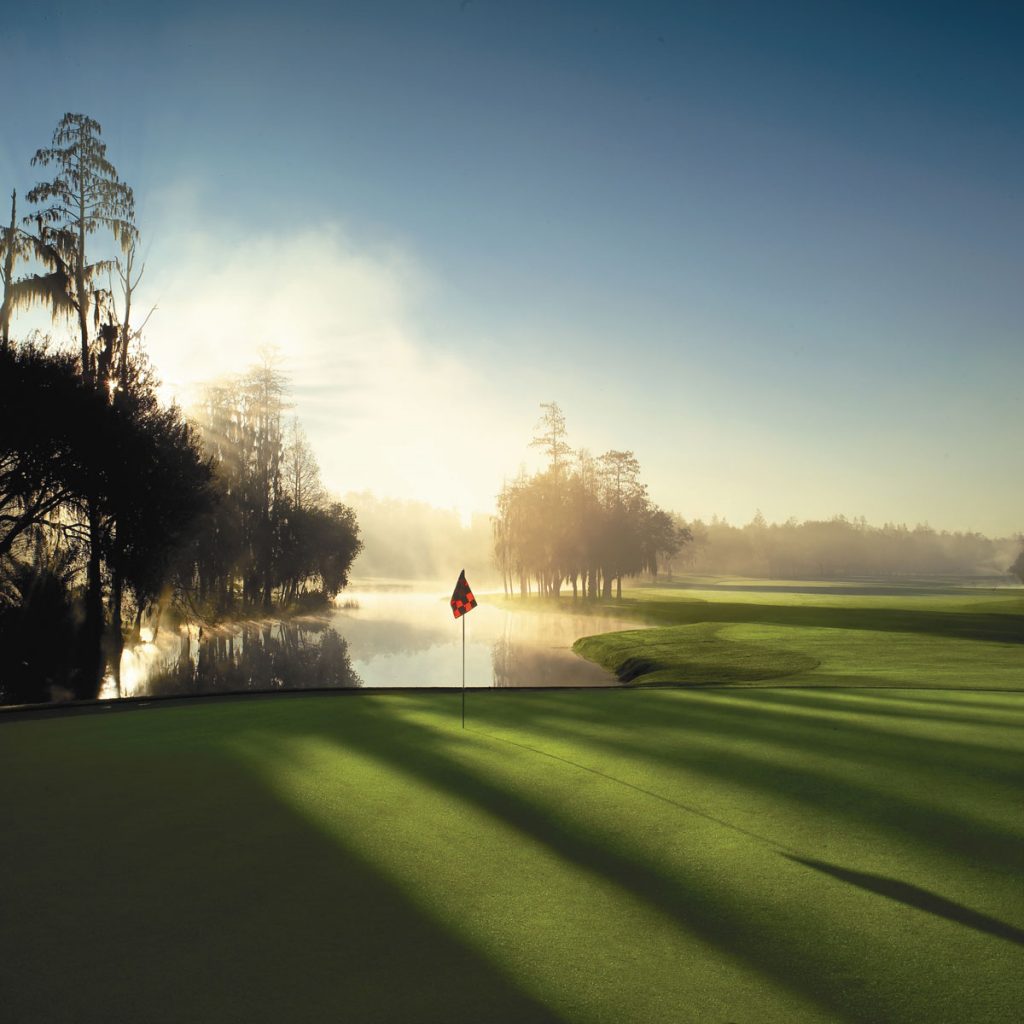 The last of the four courses differentiates itself greatly from the others. The South Course is a 6,442-yard, Par-71, links-style course, challenging one's game with its rolling hills and strong breezes from the Gulf of Mexico. The uniqueness and the distinct challenges presented by each course gives guests complete fulfillment to their overall golf experience while allowing you to play like a champion. Named by Golf Digest as one of the "Top-75 Golf Resorts in America" and by GOLF as a "Top-100 You Can Play," this resort is a golfer's dream.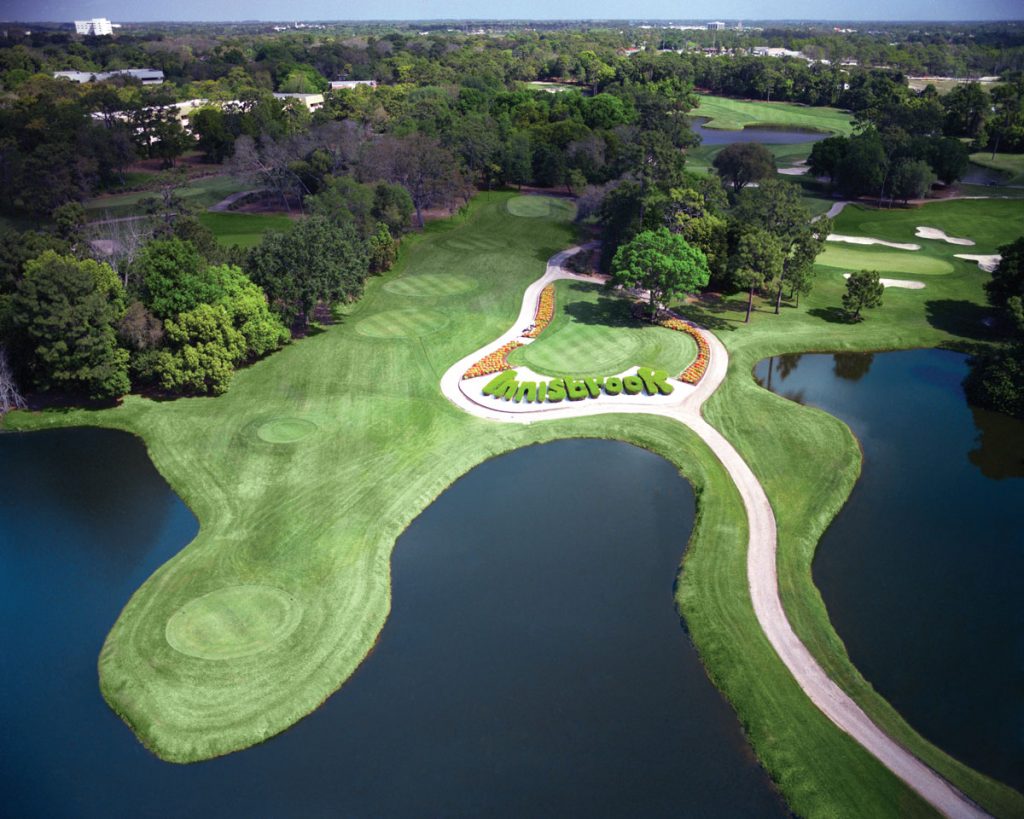 When stepping away from the championship golf, the resort offers a number of other amenities and actives to round out the full resort golf experience. Be sure to visit the new Salamander Spa for a Golfer's Muscle Melter Massage after your celebratory rounds to restore the body and mind with the sole purpose of recovery. In regards to lodging, Innisbrook is a Salamander Hotel & Resort property that offers 550 spacious guest suites and rooms and focuses on a "back-to-nature movement" in which they help guests feel at one with the pristine nature that surrounds them.On property, the resort offers three different restaurants and two bars in which they have recently appointed Thomas McKinney-Stehr as the new Executive Chef. McKinney-Stehr, a well-known name amongst the Tampa Bay region, has over 30 years of expertise in hospitality and serves up a taste of European influences mixed with a Floridan flare. One can also tap into their athletic side again by visiting one of the 11 tennis courts, the state-of-the-art fitness center, one of six heated swimming pool complexes, or go hiking at the on-site nature preserve. Without a doubt, this sprawling, 900-acre resort is nothing short of spectacular.
LaPlaya Beach & Golf Resort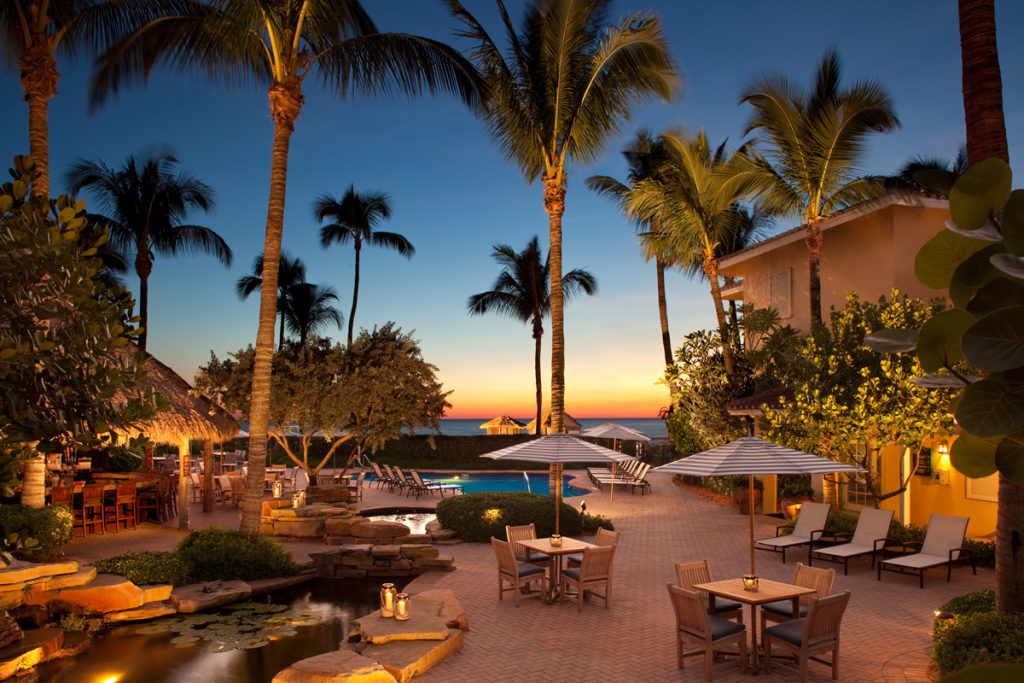 Staying in The Sunshine State, we head down the coast to the gorgeous LaPlaya Beach & Golf Resort found on the beachfront of Naples, Florida. To start, the resort is home to the second oldest golf course in North Naples. The 18-hole, Par-72, Robert Cupp-designed course was first established in 1958 as the Palm River Golf Club but was officially taken over by the LaPlaya Beach and Golf Resort in 2001. The new management refurbished some of the course's older features and created a private tropical oasis that without a doubt challenges one's game. With 14 of the 18 holes featuring water hazards and over 3,000 palm trees lurking around the fairways, this course is all about placement and challenging the golfer's accuracy.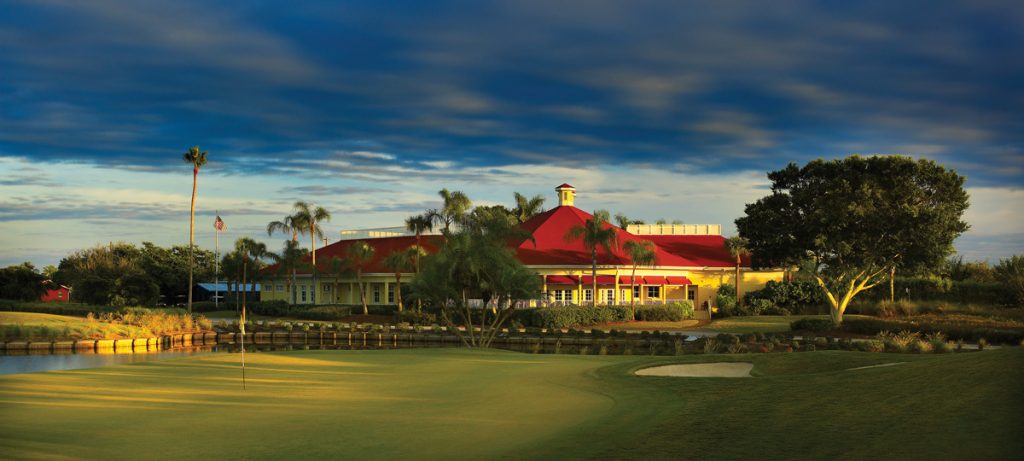 Maintaining the Old World Florida feel, guests are greeted before and after by the elegant clubhouse that features a wraparound veranda, a grill room, a golf shop, and full practice facility enabling golfers all they need before and after a round. This old Florida course will allow you a unique golf experience not offered many other places by tying together the historic feel of golf and contemporary tropic beauty.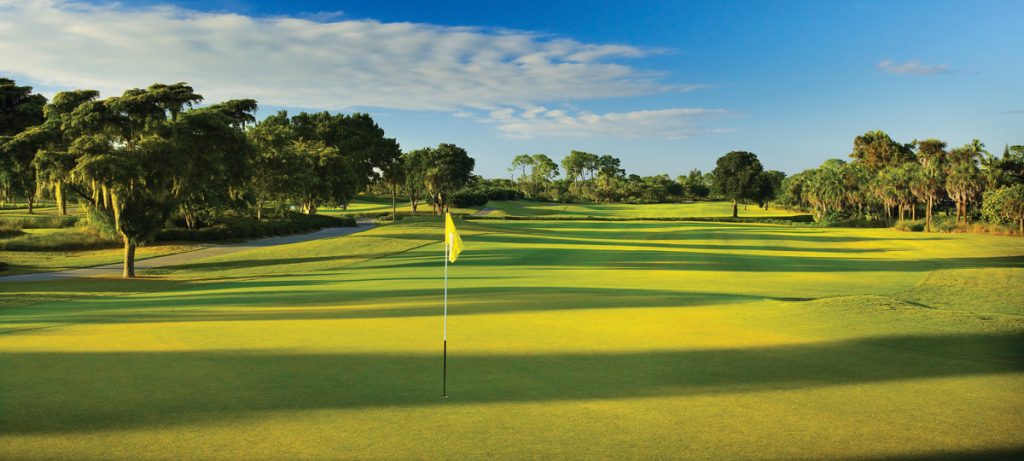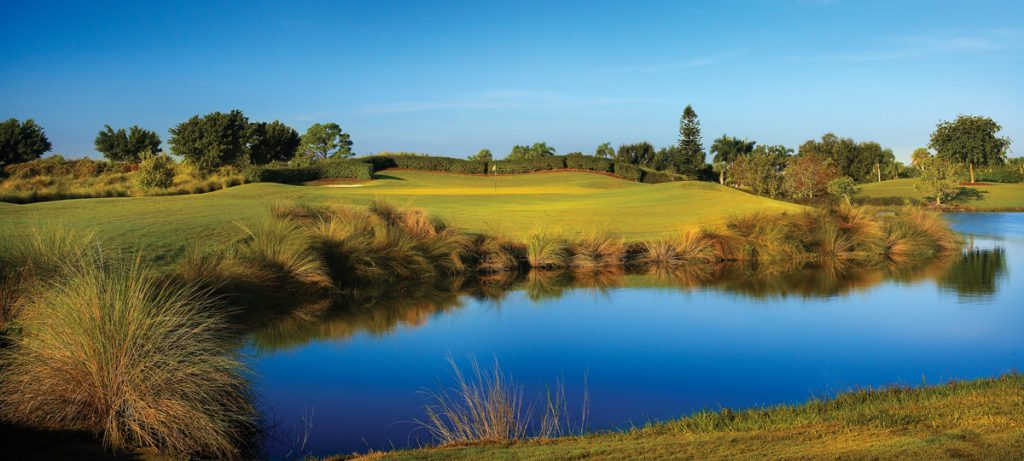 The resort features 189 guest rooms including eight suites and gives guest access to a state-of-the-art fitness center with rotating fitness classes, beach butler service, private poolside cabanas with cold towels and sorbet service, and countless water actives including boating charters, paddle boarding, parasailing, and more. Guest may also find themselves sneaking away to the SpaTerre, a massive, 4,500-square-foot spa focusing on elegance and a soothing decor, or to the famous BALEEN restaurant located on the resort's very own private beach. The latter, recently named by Gulfshore Life magazine as the "#1 Best Restaurant for Waterfront Dining," is known for its unique and incredible Floribbean coastal cuisine that is only enhanced by the nightly Gulf of Mexico sunset views. From the oceanfront golf to the incredible pool and first-class beachfront service, this resort golf experience is every beach lover's dream.
Four Seasons Resort Punta Mita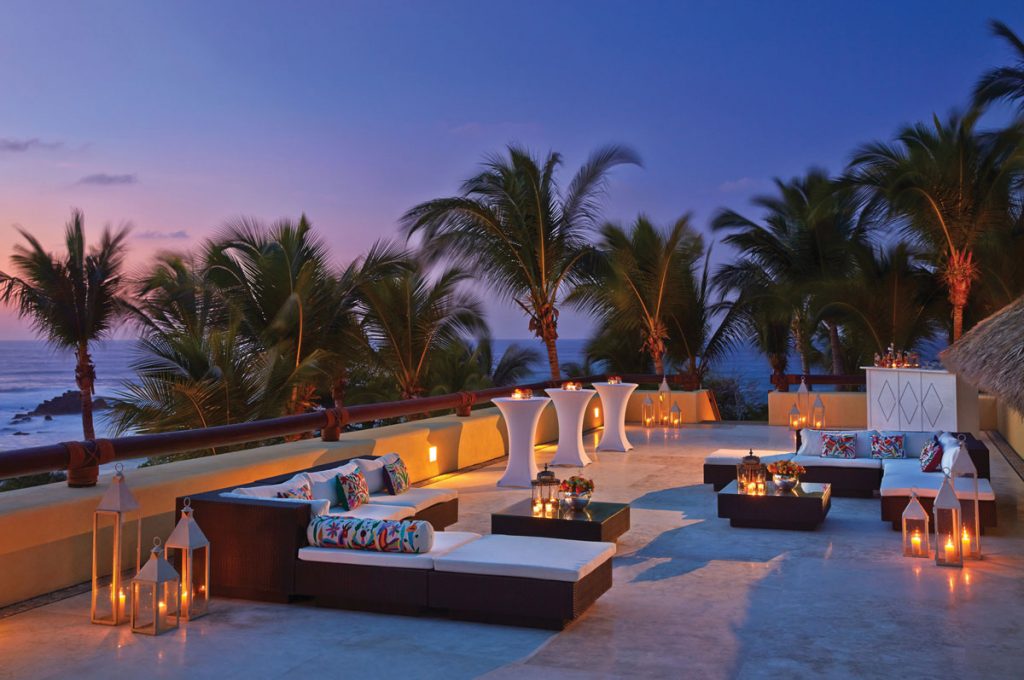 Venturing further south, we head to the Four Seasons Resort Punta Mita. Located at the point of the Riviera Naya region and deemed by Forbes as "The Most Surprising Luxury Resort in Mexico", this stunning resort is home to two Jack Nicklaus golf courses and offers a tropical golf experience that allows guests to savor the beauty of the seaside while testing their game against the ocean breeze. The Punta Mita Pacifico Golf Course is surrounded by both the Pacific Ocean and Banderas Bay, exposing golfers to water views on almost every hole and allowing them to catch jaw-dropping wildlife sights like whales during their seasonal migrations. This 7,014-yard, Par-72 is great for all golfers, as the numerous tee boxes allow one to choose the level of difficulty the course will play.
The Pacifico Golf Course is also home to the legendary "Tail of the Whale," the world's only natural island green. This optional, 199-yard, Par-3 green literally sits in the Pacific and awaits golfers' shots from the mainland tee box. The green can only be reached by foot during low tide and by an amphibious golf cart during high tide. It is a tee shot unlike any anywhere else in the world. Nicklaus then challenges golfers' short games as they head over to the Punta Mita Bahia Golf Course. This course is known for its undulating fairways and greens making iron shots more difficult and putts harder to drop. Although it may test the golfer's patience, it also rewards them with an incredible ambiance, as its signature hole is located on the beach just steps away from the famed El Faro surf spot.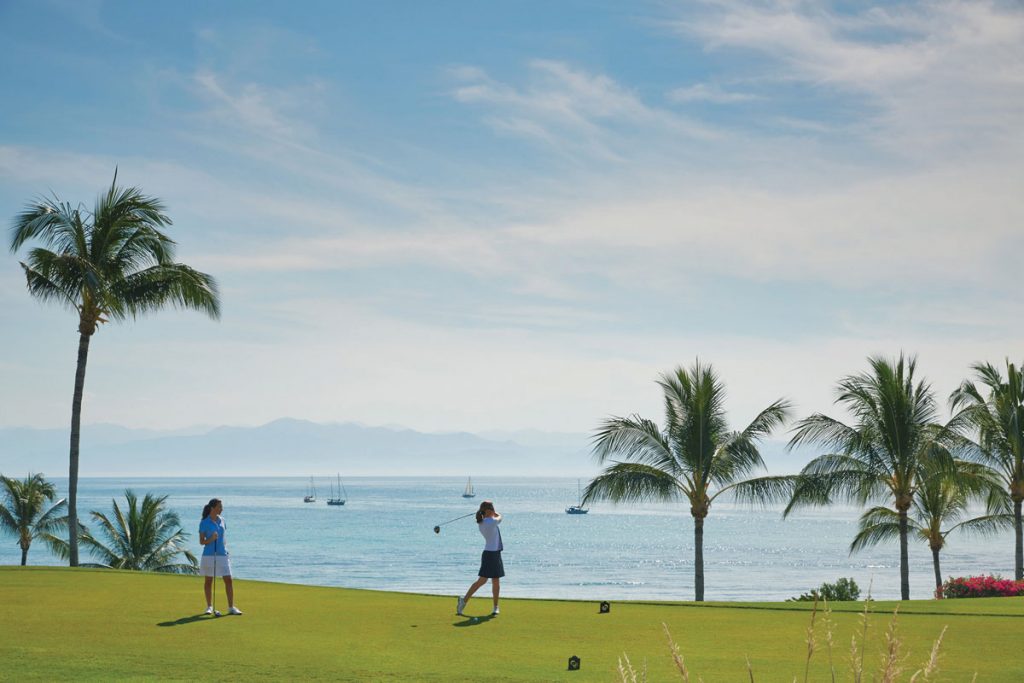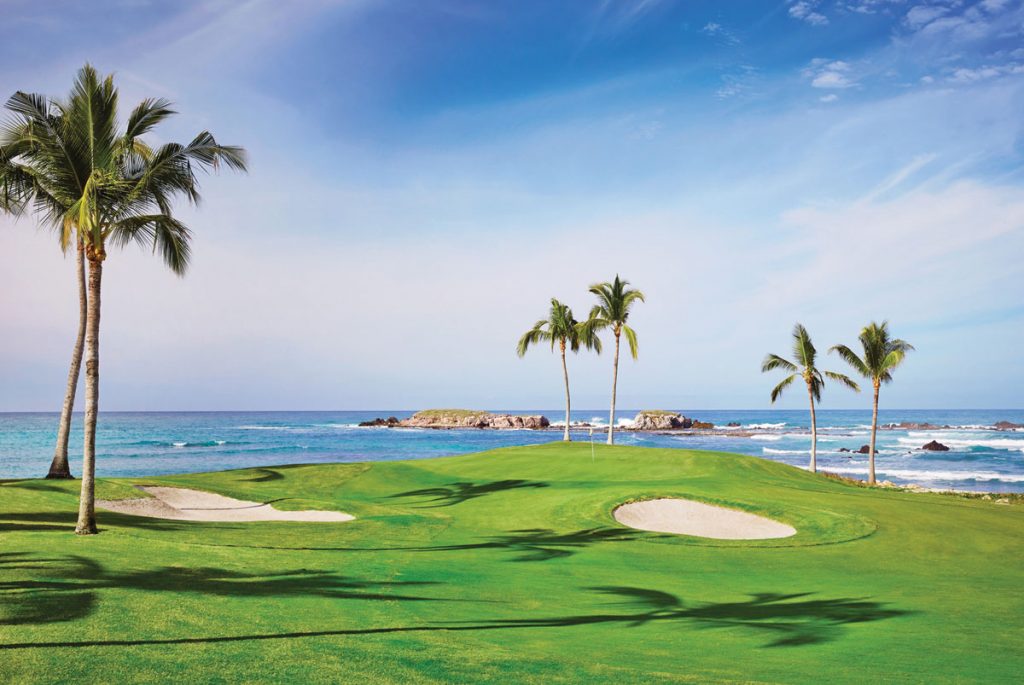 Off the course, guests are welcomed by 139 casita-style guest rooms and 38 sumptuous suites that create a modern take on the Mexican culture. The Punta Mita resort is home to three separate Richard Sandoval restaurants that embody the Four Seasons' luxury culinary ideals by drawing upon contemporary Asian fusion, fresh seafood-centric Latin cuisine, and local Mexican classics. Guests can also indulge in the luxury of the Apuane Spa. With its recent renovations, the spa uses inspirations from the region's native Huichol Indians and the natural beauty of Punta Mita to create feels of restoration, rejuvenation, and ideal self-relaxation.