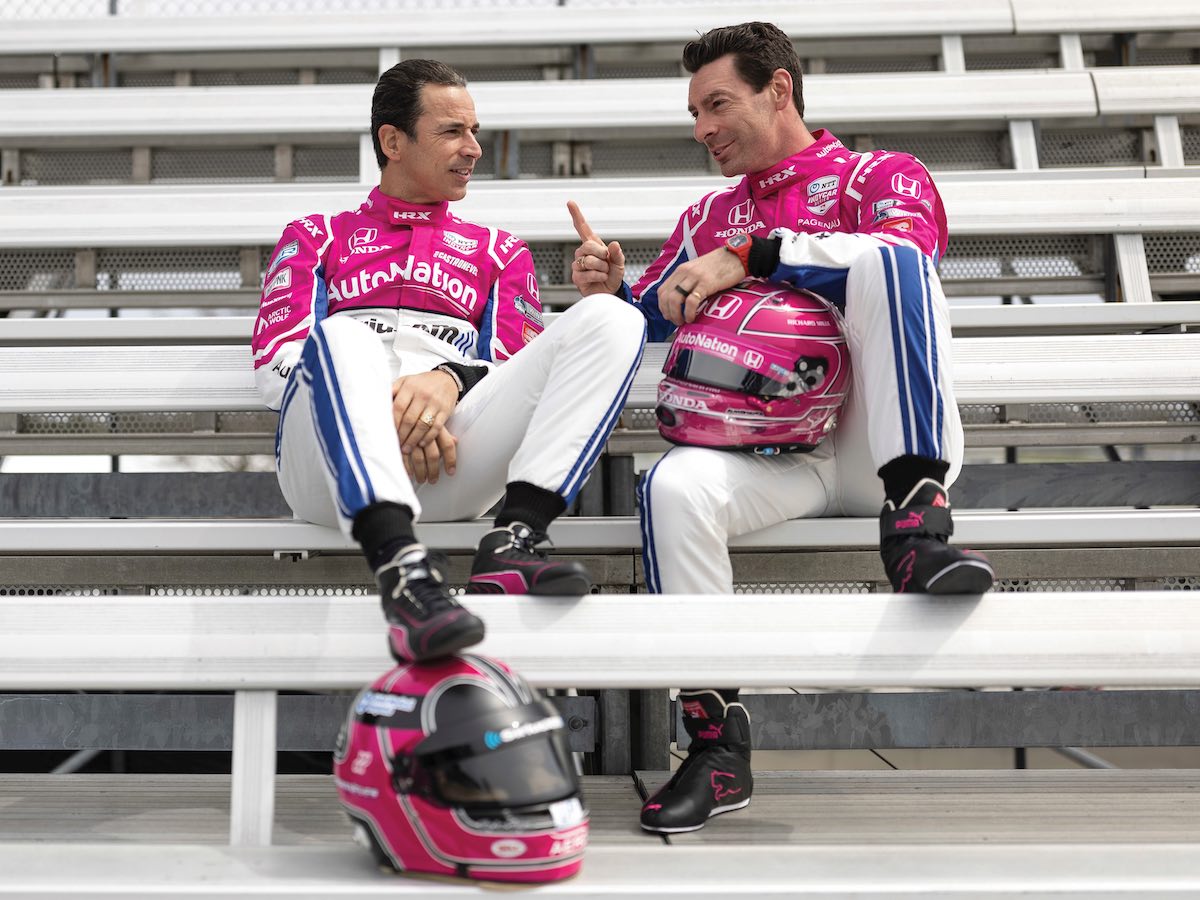 Cool, calm, and collected. More than just a cliche, it's a way of life for professional race car drivers at the height of their racing career. In 2022, as a new generation of modern machinery and young talent shape the future of the sport, two veteran Indianapolis 500 champions have once again set their sights on that lofty title. We spoke with Hélio Castroneves and Simon Pagenaud of Meyer Shank Racing, fresh off their team's Acura DPi win at the revered Rolex 24 Hours of Daytona, to get the inside track on what it takes to be a championship-winning race car driver.
The Indy 500 is widely regarded as the largest single-day sporting event in the world and is appropriately dubbed "The Greatest Spectacle in Racing." Each year for more than a century, professional race car drivers of all pedigrees and from across the globe have made their way to Indianapolis Motor Speedway in hopes of taking home the ultimate prize. To win the famed Borg-Warner Trophy is an honor unlike any other and one that sits at the pinnacle of every driver's bucket list. Steeped in tradition, only an elite handful have ever earned the opportunity to drink the bottle of milk awarded to winners of the iconic race. Perhaps even more rare: to have two former Indy 500 winners on the same team. Such is the case for Meyer Shank Racing's 2022 all-star lineup, with both Castroneves and Pagenaud having previous wins at the world's largest sporting facility.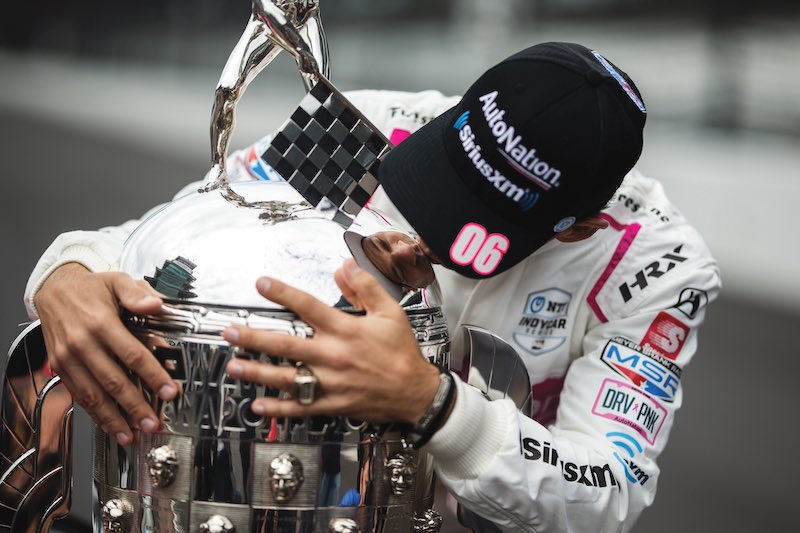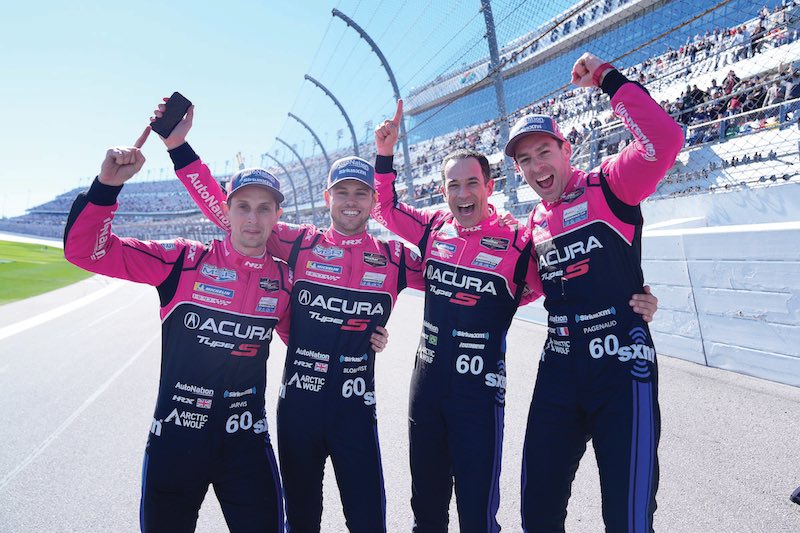 It comes as no surprise that 46-year-old Hélio Castroneves has had more than a few unforgettable race wins. The Brazilian-born driver is the reigning 2021 Indy 500 champion, making him only the 4th driver in history to win racing's most sought-after crown a record-tying four times. Inspired by the likes of legendary Formula One driver Ayrton Senna, Castroneves says he fell in love with racing at a young age after his father formed a small stock car team. As a minor, he would sneak into races in the trunk to avoid getting caught for being below the minimum age. His mother was never a big fan of racing and pushed Hélio to pursue other interests with less risk of injury. Fortunately for race fans, that advice never stuck and Castroneves spent the next several years perfecting his craft, beginning in karting and working his way through the ranks to ultimately become one of the world's most respected racing drivers.
Adding to his remarkable four Indy 500 wins and an overall win in the 2020 IMSA SportsCar Championship, Castroneves has also joined the elite club of Rolex 24 champions after taking home team wins in both 2021 and 2022, the latest with the help of Meyer Shank Racing and his new teammate Simon Pagenaud. With his sights once again set on the biggest race in motorsports, Hélio tells us a record-setting fifth Indy 500 win is "definitely next on the list." He says, "The best part is when you get out of the car and you hear the fans cheering – then it all becomes real and you realize you have achieved something really historic. And I am so lucky to have experienced that four times. It will never get old."
For his part, French driver Simon Pagenaud brings a different perspective to the team. "My family has never been in racing before," he humbly confesses. "My great grandfather, grandfather, and father were in the grocery store business, distribution platform and supermarket industry." At age 4, Pagenaud says he was also mesmerized by Brazilian F1 driver Ayrton Senna who was battling every weekend with his 4-time world champion teammate, French driver Alain Prost. "We used to watch races on Sundays with my dad on TV and I wouldn't have ever missed it."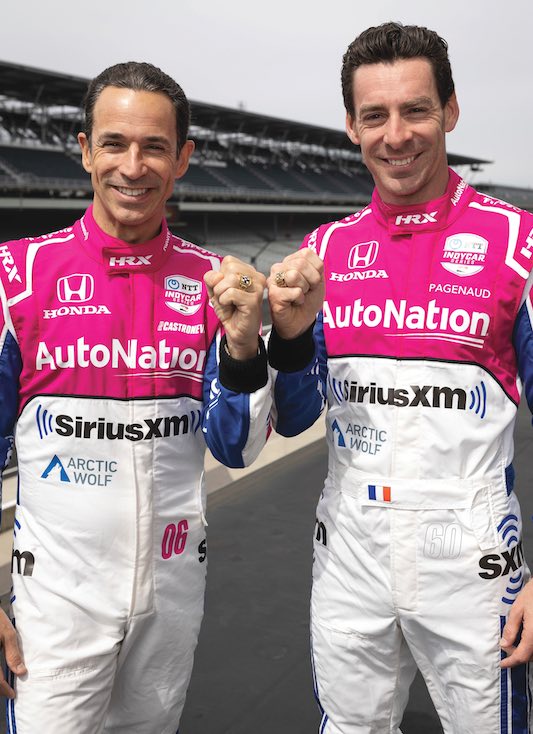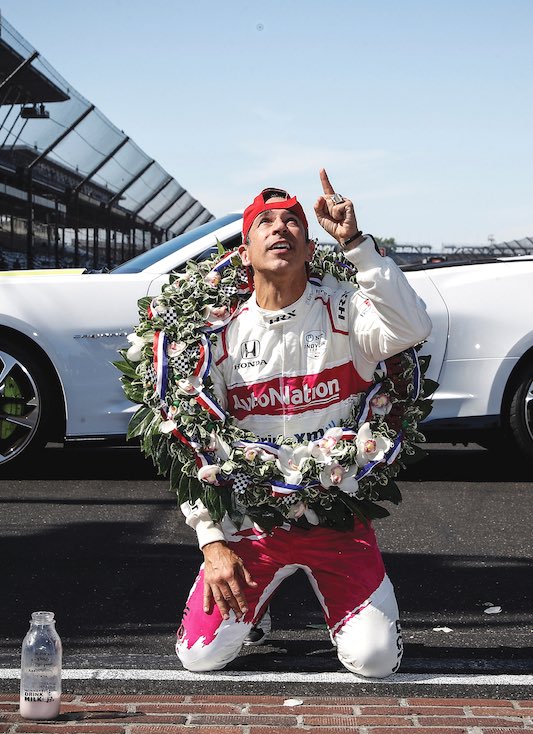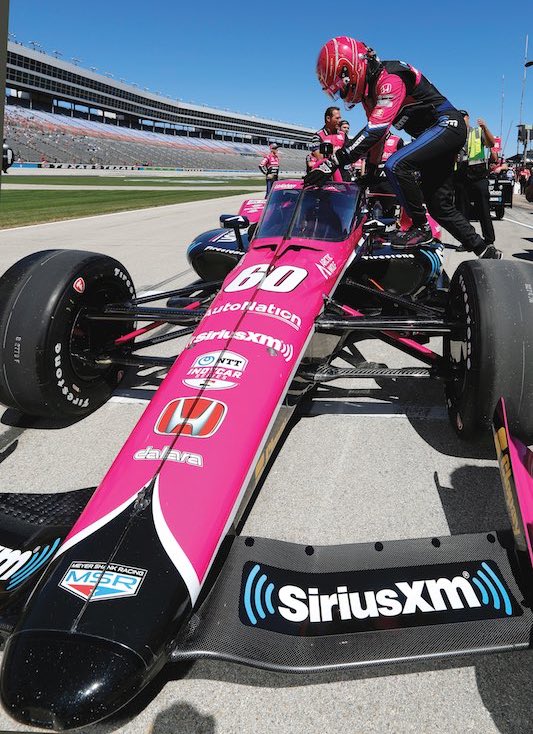 The charismatic Frenchman was crowned the IndyCar Series champion in 2016 and had his name engraved on the sacred Borg-Warner trophy following an Indy 500 win in 2019, marking the first French driver to win the illustrious title since 1920. He tells Jetset, "The Indy 500 is my favorite event and quite frankly the one I feel most comfortable in. I love racing at these speeds where split-second decisions make a big difference." With speeds consistently exceeding 200mph, the 500-mile race at the hallowed Brickyard is certainly not for the faint of heart!
Off the track, Castroneves and Pagenaud are both dedicated family men with very busy schedules. "When I'm not racing, I like to try to take my daughter to school and then work out. Many times, I will have meetings with the team engineers to go over the data from the previous race and also talk about what we can do for the next race. I also will have other meetings with some of my business partners as well," says Castroneves. Undoubtedly, the business of racing is just that, a business. It's a sentiment echoed by his Meyer Shank Racing teammate, with Pagenaud telling us, "From accounting, to logistics to get to the racetrack, to marketing in the US and in France, social media, physical trainer, mental trainer, to the driver of my house on wheels (RV), there are about 10 people I deal with every day."
Both gentlemen enjoy devoting time in other business ventures as well. Castroneves is proud to support his team's charity efforts, stating, "Whenever I can be a part of something philanthropic I do it. Right now, I'm lucky to get to work with AutoNation as our main sponsor. They have a fantastic charity called the Drive Pink Campaign which raises money for cancer research." Pagenaud also likes to flex his entrepreneurial prowess, telling us he's still involved with his father's supermarket business in some ways, often sharing feedback when he sees a good idea in another store. He's also interested in investing and in the stock market, but says, "Mostly I try to focus on my own business and grow my brand because there are so many things we can do. It's all just a matter of time and strategy on how to invest our budget to attract more partners."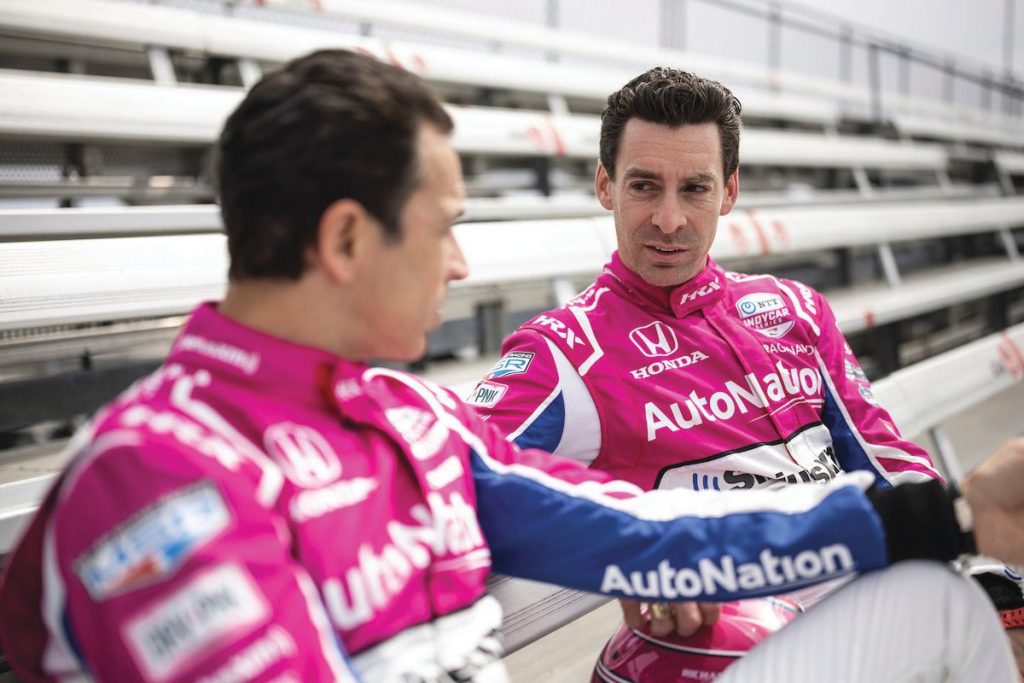 When not in race mode, both men are passionate about spending their free time with friends and family. "I love spending time with my wife, son and dog and seeing my son grow. So we just play together for hours," Pagenaud proudly proclaims. "I love cooking, grilling by the pool while listening to reggae." An amateur sommelier, he tells us he's a fan of red wine and enjoys discovering new blends. "I search for wine and try to grab the best I can find at a decent price." Castroneves also likes to spend his down time under the sun, telling us, "Tennis is a sport that I love to play whenever I can and of course I just like to be in Florida – it's my kind of weather." It seems only natural, then, that his favorite places to vacation include Colombia and his home country of Brazil.
As you would expect, travel is an essential part of any professional race car driver's routine, and the two Indy 500 champions definitely know how to arrive in true Jetset style. Whenever possible, the pair make use of a private jet to take them from race to race. And although it's not a luxury they enjoy as often as they would like, the convenience of flying private allows them to make the most of their travel time in preparation for an upcoming event. While Pagenaud's pre-race rituals often include a warm-up workout on a stationary bike or rowing machine (along with a healthy meal of chicken, rice, and green beans), both drivers say meditation is a must to allow them time to focus before a race.
Of course we couldn't let them get back to racing without first asking about their personal vehicles. For Hélio, he says it's a Bugatti Chiron that sits firmly atop his wish list while an Acura MDX is his current daily driver. Simon, on the other hand, enthusiastically tells us, "It depends on my mood and on the day. First off, my classic cars do not go out if it's raining or gloomy! I drive a Mercedes-AMG GT as my daily sportscar. If it's sunny and I just want to cruise, 1968 Mustang Fastback. If it's sunny and I'm nostalgic of France, I take my Renault 5 Turbo on the curvy roads. For the ultimate love of driving, I take my 1989 911 Turbo Porsche." Pagenaud goes on to say that his dream cars are the original Acura NSX, '98 Acura Integra Type R, and the new generation NSX which he says "is a subject of discussion with my boss in case we win Indy!"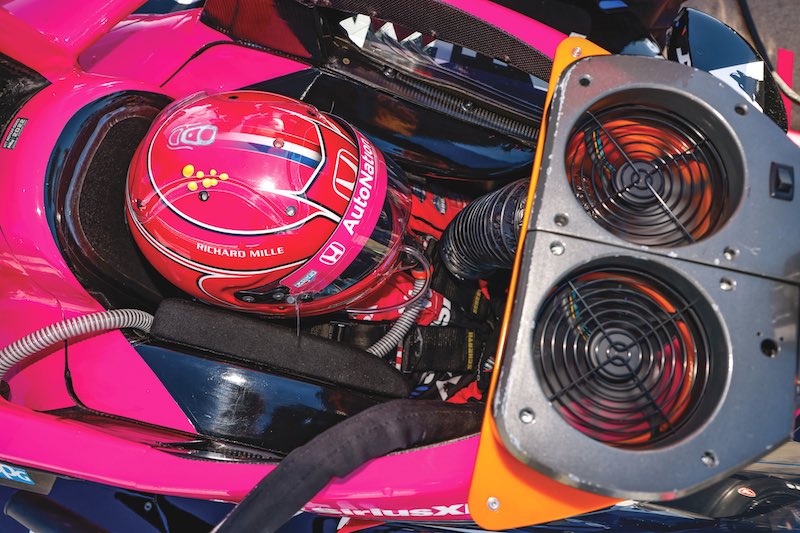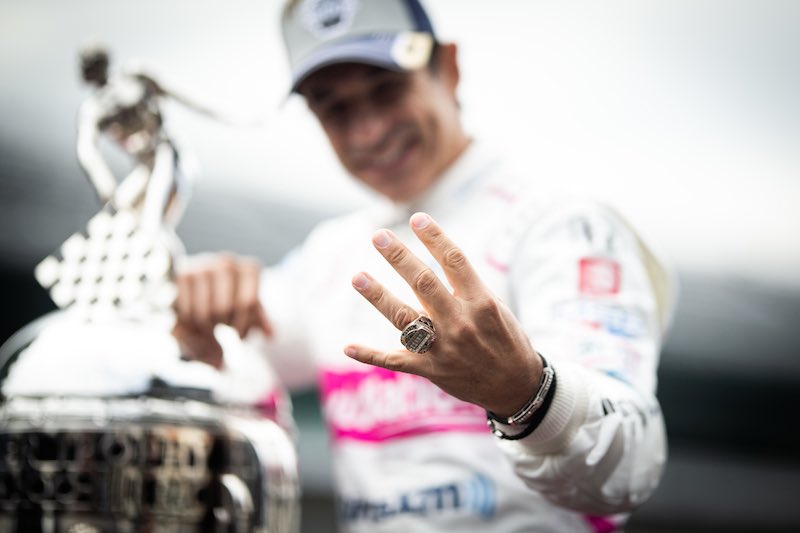 After speaking with each of these ultra-talented and extremely down-to-earth champions, we asked each of them a final simple, yet powerful, question: If you could give the younger version of yourself one piece of advice, what would it be?
"Play the game, be yourself, give it 100%. There is no point doing anything if you are not fully IN. And only YOU can be the judge of that dedication!" says Pagenaud. Four-time Indy 500 winner Castroneves tells us, "Tomorrow is another day and to always have passion for what you are doing. That's what's gotten me to where I am today."
Wise words from two of the most deserving drivers on the grid. Our hats are off to both of you as you prepare for victory lane once more at the 106th running of the Indianapolis 500 on Sunday, May 29, 2022.