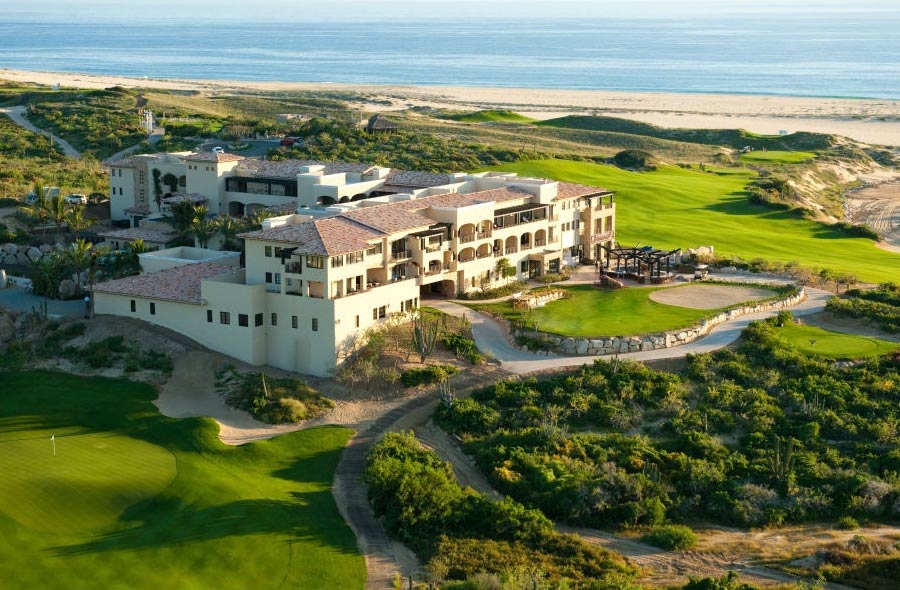 It's that time of the year again. Temperatures are falling, leaves have fallen, and for most of the country, a chilly winter approaches. But while many Americans are left in the cold, Jetset's winter golf enthusiasts are simply firing up the jet and heading south where warmer temperatures and world-class golf courses await.
The following is a prime selection of some of our favorite warm weather courses (most designed by golf legends) and vacation resorts. This is how you escape the winter doldrums in style.
Pacific Links Golf Network
Golf lovers who are already familiar with Canadian-owned Pacific Links International will be pleased to learn that the company just unveiled its newest membership program – the Pacific Links Golf Network. It's ideal for jetsetters, because for a monthly cost that's about equal to a single visitor greens fee, members gain access to more than 85 great courses in North America, Australia and Southeast Asia and only pay a cart fee when they play. Members also receive significant discounts on greens fees at Pacific Links Golf Network's reciprocal clubs, including The PGA Tour's 32 TPC courses and 11 GolfBC Courses. Membership also includes a concierge service that will arrange tee times, flights, accommodations and ground transportation worldwide at preferred rates. Pacific Links has plans to expand its portfolio to 150 clubs over the next three years.
"A Golf Network Membership is ideal for those who travel frequently, work around the world, relocate often or who simply enjoy the occasional round of golf but want the service and prestige of a club membership," says Bruce Simmonds, chief executive officer of Pacific Links International. Examples of Pacific Links' signature courses include Royal Hawaiian and Kapolei Golf Club on Oahu, Pete Dye Golf Club in West Virginia, Dove Canyon in Orange County, California and SouthShore and Southern Highlands in Las Vegas.
Desert Mountain in Scottsdale, Arizona
One of North America's foremost private golf resorts is Desert Mountain in beautiful Scottsdale, Arizona (where winter temperatures hover blissfully in the low seventies). Like Michael Jordan, Desert Mountain can claim six championships – or rather six championship courses – each designed by another sports legend, Jack Nicklaus. This is the largest collection of courses in the world bearing the Golden Bear's signature, and from the 2,100-foot Renegade to the 3,400-foot Outlaw, each is carefully crafted to provide an exciting playing experience to those of all skill levels. You'll experience dramatic elevation changes, rolling fairways, the finest practice facilities in Arizona and epic 360-degree views of the Sonoran Desert.
The Residences at Dove Mountain
Just south of Scottsdale, near Tucson, rests the prestigious Ritz-Carlton, Dove Mountain. The hotel and spa personify all the opulence that the Ritz-Carlton name carries, but if you're looking for a new winter vacation property, you cannot do better than the lavish Residences at the Ritz-Carlton, Dove Mountain. Each winter, while the rest of the country copes with the cold, you'll be waking up every morning and playing 27 spectacular holes of Jack Nicklaus Signature golf. The course at Dove Mountain (home to the Accenture Match Play Championship) is among the finest and most challenging in all of North America. It offers subtleties that will entice you for years, while the epic views of the surrounding vistas and stunning Tortolita Mountains create the perfect ambiance.
The seclusion of Dove Mountain's 6,200 acres ensures that your time there will be blissful, and the Ritz offers a level of sophistication that few country clubs can compete with. In addition to gaining exclusive access to the course and 45,000 square-foot clubhouse, when you own a home at the Residences at Ritz-Carlton, Dove Mountain, you'll have access to all of the hotel and spa's luxurious amenities and gourmet dining, housekeeping, valet and concierge services will all be at your fingertips. Explore Dove Mountain's 25 miles of natural beauty, and unwind after golf each night by savoring an Arizona sunset soundtracked by the tranquil cooing of the Inca doves that give Dove Mountain its name.
Diamante Cabo San Lucas
To really escape the winter's grasp, head south of the border, as resort-laden Mexico is truly a golf lover's mecca. Diamante Cabo San Lucas is a magnificent, private oceanfront 1,500-acre master planned community that occupies one-and-a-half miles of stunning Pacific coastline in this popular resort destination in Baja California. Diamante Dunes course was designed by 20-time PGA tour winner Davis Love III. The Dunes Course is a championship 18-hole traditional links course with a unique 14-acre practice facility.
The course was just rated No. 52 in GOLF Magazine's Top 100 Courses in the World 2013, and the #1 course in all of Mexico by Golf Digest (2012). A second course, El Cardonal, which is designed by Tiger Woods, is currently under construction and will open in 2014. "I set up the golf strategy to make golfers think and make choices," said Woods. "Regardless of your handicap, there are going to be different ways to play every hole. I love this kind of golf," Woods says. Whether you own real estate or are a member of one of the residence clubs, you become part of the Diamante community and will have access to the many family-friendly amenities offered here including golf, world class spa, state-of-the-art health and fitness club, 10 acre crystal lagoon, a kids camp, water sports, tennis, and soccer along with 24 hour member services to arrange all of your needs.
St. Regis Punta Mita Resort
Southeast of Cabo (and just north of Puerto Vallarta on the Mexican mainland) lies Riviera Nayarit and one of Jetset's all-time favorite resorts, the AAA Five-Diamond St. Regis Punta Mita Resort. With its coastal setting, white sand beaches and two Jack Nicklaus Signature courses, the St. Regis is the ultimate winter getaway. Both of its courses, Pacifico and Bahia, are first-rate, but it's Pacifico (a 19-hole wonder with its beloved three-par "Tale of the Whale" that sits on a natural island) that is truly an absolute "must play." Home of the celebrated Punta Mita Gourmet & Golf Classic – the fourth installment of which is set for April 3-6, 2014 – The St. Regis Punta Mita Resort is also the only place where one can schedule a three-day golf clinic with PGA Tour pro Corey Pavin. It's a great way to improve every facet of your game.
While Punta Mita is a true golfer's paradise, there is so much more for those of all ages to explore and by entertained by. Relax under the sun at one of the resort's three infinity pools (one of which is exclusively for adults), or enjoy everything from fresh local seafood to imported Angus beef, all while admiring the spectacular ocean views at one of The St. Regis Punta Mita Resort's three premiere gourmet restaurants, including the signature AAA Five-Diamond Carolina. Relax while savoring one of the resort's extensive selections of tequilas, enjoy refreshing cocktails and music during the daily Sunset Sessions at Marietas Beach, or indulge in the Altamira Lobby Bar's weekly sunset Champagne Ritual. And if you need to slip away from the kids, the resort's La Tortuga Children's Club will entertain the younger set with sandcastle building and Spanish lessons, while teens have a variety of daily activities to keep them occupied while you hit the links or the luxurious 10,000 square-foot Remède Spa.
If you feel like whale watching, or simply exploring the Pacific coastline, charter the Signature St. Regis Yacht with its professional chef and cutting-edge technology. Try paddle-boarding lessons, swim with the dolphins, or explore Banderas Bay on a guided snorkeling or scuba-diving tour. You'll quickly discover why Punta Mita, which literally means "gateway to paradise," is also home to many luxury beachfront residences.
So this winter, while most of America languishes in the cold, don't fret. Just grab your clubs and head south to warmer weather, constant sunshine, and some of the finest golfing – and resorts – in the world.