As winter approaches, affluent jetsetters across the globe are beginning to refocus their vacation attention to the world's premier ski destinations.
Always in search of the best possible experience, we here at Jetset are constantly seeking the most incredible resorts, equipment and services. Showcasing some of the best ski experiences and equipment in the world, the following is our ultimate Jetset ski adventure.
Before embarking on any ski adventure, it is always wise to consult Bomber. The official supplier of the U.S. and Canadian Olympic ski teams, Bomber offers some of the highest quality and most stylish equipment in the world. Either on their site or at their New York storefront location, they have an astounding collection of handcrafted, visually stunning skis that ingeniously incorporate eye-popping art from the likes of such legends as Jean-Michel Basquiat and Keith Haring. Bomber was gracious enough to provide us with equipment for our journey, and we couldn't have been more impressed with the fine level of craftsmanship of our skis.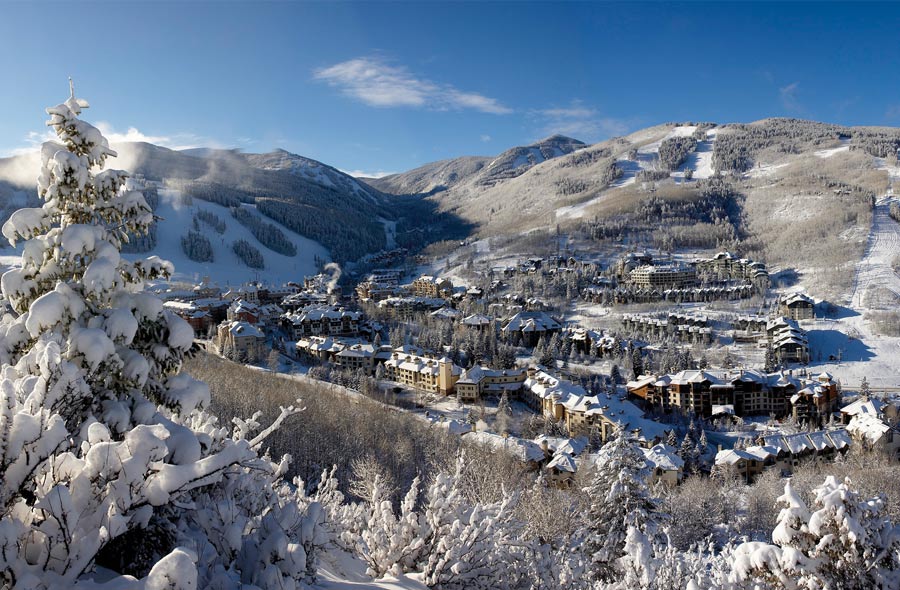 Our journey begins in Colorado at Vail Resorts' fabled Beaver Creek resort, where the apt motto is "not exactly roughing it." At 1,815 acres, Beaver Creek is smaller than some other Colorado ski resorts, like those nearby at Vail, but far more intimate. The trails are wide groomed and well suited to intermediates and beginners, but there is still much for advanced skiers at Beaver Creek. Luxury and quiet leisure are the names of the game at Beaver Creek. Moreover, every moment you spend on the slopes you'll be marveling at the exquisite nature and beauty that makes the resort so exceedingly special.
"Every moment you spend on the slopes you'll be marveling at the exquisite nature and beauty that makes the resort so exceedingly special."
For an absolutely unparalleled experience, Beaver Creek offers the illustrious White Glove Package. This exclusive treatment is one of the finest luxury accommodations that we here at Jetset have ever encountered. The entire experience is nothing short of breathtakingly opulent from start to finish. It begins with first-class round-trip airfare for you and three guests to Vail/Beaver Creek's Eagle Airport (EGE) from anywhere in the continental United States. As soon as you deplane, a private helicopter transports you to sublime Beaver Creek Mountain, where you are greeted by a personal Ski School Ambassador for an intimate champagne toast at the secluded Trappers Cabin.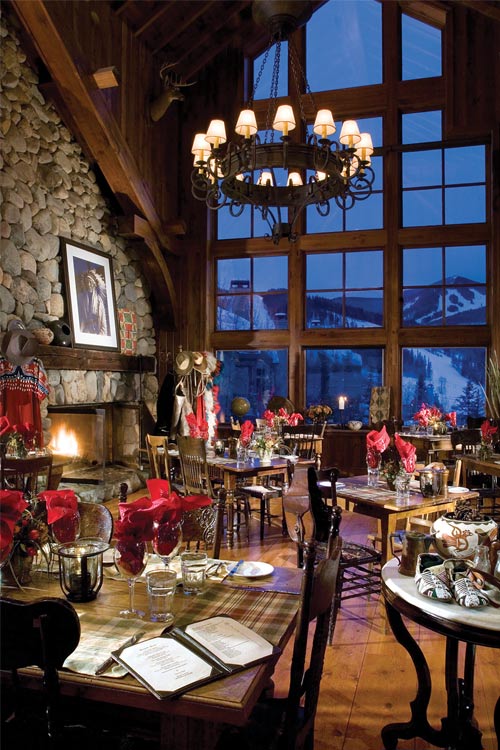 At this quiet hideaway, a private chef prepares you a custom gourmet meal while you savor the unrefined splendor of the surrounding majesty. White Glove guests enjoy five nights at Trappers Cabin, which perfectly blends modern amenities with rustic charm. Warm yet sumptuously appointed, this private retreat is outfitted with every conceivable luxury amenity. During your stay, a "Cabin Keeper" concierge and skilled chef will cater to your every need. Anything you can think of is yours when you enjoy the White Glove treatment. This is the ultimate way to winter vacation. And when it's time to hit the slopes, you will do so in private one hour before the mountain opens to the public. Savor the bliss of an unsullied mountain of perfect snow to yourself.
While skiing, your personal expert Ski School Ambassador will provide you with world-class lessons to improve and hone your skills. Whether you are a seasoned expert or a willing novice, your Ski School Ambassador will help maximize your potential and improve every facet of your ability. In addition, when you arrive you are given a complimentary "welcome to Beaver Creek ski apparel package," including quality gear from Helly Hansen and Smartwool.
"Whether you are a seasoned expert or a willing novice, your Ski School Ambassador will help maximize your potential and improve every facet of your ability."
After a long day of blissful skiing, unwind with a relaxing spa treatment at Beaver Creek's tranquil spa. Allow your body and mind to recover and reinvigorate before going on a resplendent tour under the stars on a Sno-Cat. You'll ascend the mountain on a trip meticulously conceived to give you an unparalleled view of the resort. Then your night culminates with a sumptuous five-course meal at the intimate Beano's Cabin, where live entertainment and delectable cuisine are customary.
In addition to skiing, the rest of your White Glove experience is filled with countless unique activities. Whether you're going on a private mountain lunch or enjoying an exclusive snowshoe tour and picnic, every activity is crafted with the upmost care, luxury and exclusivity in mind. Feel free to explore the five-star restaurants, world-class galleries and secluded paths and trails that make Beaver Creek such an exceptional destination. With its unmatched access and first-rate service, the White Glove Experience takes VIP to a whole new level.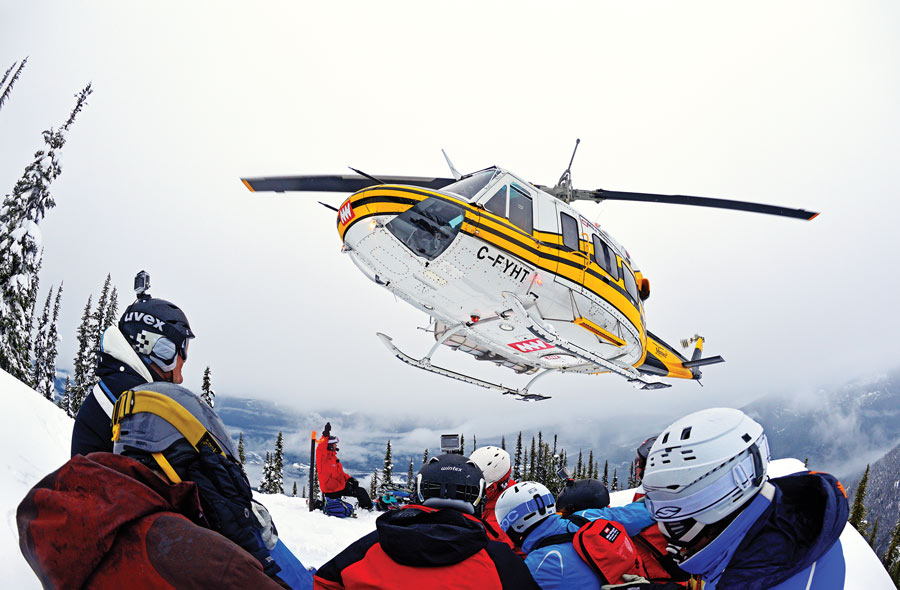 For a more adventurous skiing adventure, few experiences on earth can compete with the raw visceral thrill of Mike Wiegele Helicopter Skiing. Jetset has long touted this family owned and operated business, as they have been taking adventurous skiers on the tours of their lifetimes for over thirty years. Located out of idyllic Blue River, British Columbia, this haven in the Monachee and Cariboo mountains gives you the best powder skiing terrain imaginable. Blue River features over 1,200,000 acres of terrain, 1,000 stunning peaks and over 10 meters of pure fine snow to explore.
And explore you will, when one of Mike Wiegele's skilled pilots strategically deposits you atop a mountain of fine powder. The world's most famous ski movie producer, Warren Miller, once made a film dedicated to Mike Wiegele Helicopter Skiing entitled 7 Days in Paradise, and paradise a felicitous description of the world you'll find yourself in here. But while countless challenges abound, Mike Wiegele helicopter skiing is not just for extreme hardcore skiers. The ethos here is "ski at your own pace"; these breathtaking mountains are meant to be savored and enjoyed.
It's worth noting that Mike Wiegele is far more than just a thrilling ski experience. The luxurious resort at Blue River is firstrate, filled with exquisite food and fine amenities. Fresh seafood is flown in daily from Vancouver and choice barley-fed beef imported from Alberta. The pastry chef crafts delectable deserts, and the wine selection is staggering. Furthermore, they make every effort to be sure your favorite wine is here waiting for you when you arrive. And for those flying in private, Blue River has a beautiful 5,000-foot runway with an updated GPS approach that makes getting in quickly a breeze.