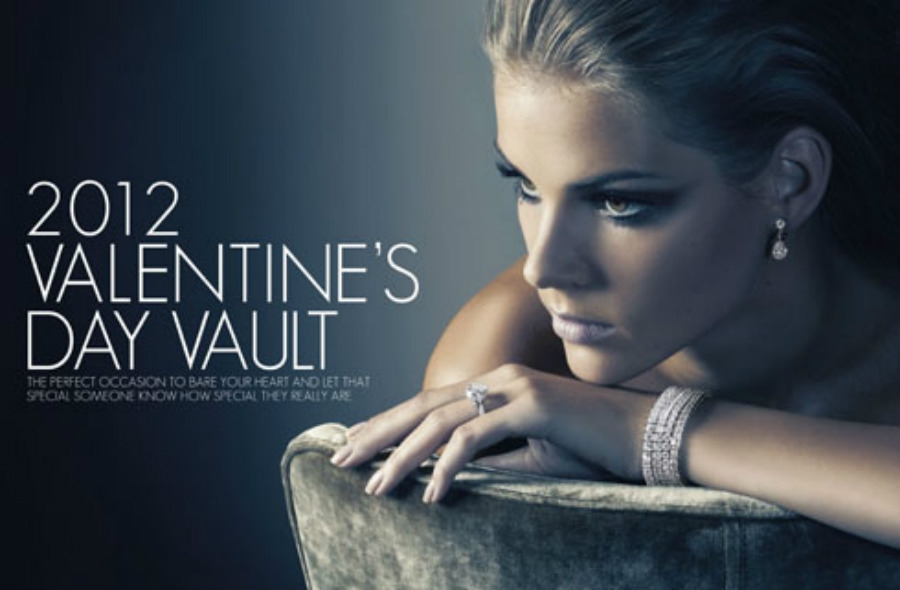 Jetset wanted to make sure you spoil your lover this year – we are introducing and opening the Jetset 2012 Valentine's Day Vault. One including this beautiful pendant set and matching earrings come with princess-cut diamonds paired with brillian platinum.
2012 Valentine's Day Vault
Tiffany & Co.
Tiffany Grace Diamond Earrings and Pendant In Platinum
This beautiful pendant set and matching earrings come with princess-cut diamonds paired with brillian platinum. The earrings have a total karat weight of .21, while the earrings clock in at .97.
Clive Christian
No. 1 Perfume
There's a reason that this is recognized as the world's most expensive perfume, and it smells rich as well. The floral-oriental fragrance mixes with various wood tones to create a beautiful smell that enhances the scent of the wearer.
Patek Philippe
Ladies' Nautilus
This amazing watch features 50 diamonds totalling .71 carat weight positioned around the 33.5mm case, and comes in multiple dial colors: black mother of pearl, blue mother of pearl and silvery-gray.
DeBeers
Aura Solitaire Ring
Looking for a different and unique ring for Valentine's day? Check out this 2.2mm wide platinum ring by DeBeers. The cushion-cut diamond in the center sits in a micropavéd halo setting, and comes in a variety of different karat weights.
Louis Vuitton
Mon Monogram
If you want a new Louis Vuitton bag this coming holiday, get one with your name on it. The Mon Monogram service lets you pick two different colors for your special monogram, and then stitches it in place to ensure that no one else has a bag like yours.
Sergio Rossi
Limited Edition Cannes Sandal
Is there anything sexier than red heels on Valentine's day? These glittery sandal-style pumps feature Swarovski crystals in the hell, making them sparkle whether on the red carpet, or just in a private room for two.
Jean Patou Paris
Joy Perfume
A good perfume has an even better backstory, and that's the case with Joy Perfume. This was originally designed by Jean Patou in 1930, for women who couldn't afford perfume after the stock market crash in 1929. It's still a classic today, with a balanced sent that still speaks women everywhere.
Deep Cover
Revolutionary Nail Polish
What makes Deep Cover Nail System different? Deep Cover Nail System polishes can treat symptoms such as discolored, brittle, dry, cracked, spotted or just plain unsightly nails. The secret is Homeopathic Medessence Formula, which contains seven powerful antifungal, antibacterial and nail strengthening ingredients.
You may have seen other nail polishes that claim to help treat nail fungus, but only Deep Cover Nail System polishes, fortified with Homeopathic Medessence, has the true solution. Other nail polishes form a "barrier" in your nails that can grow and breed fungus and bacteria. But, Deep Cover Nail System polishes can treat the root of most nail problems caused by fungus and bacteria! No other nail polish can do what Deep Cover Nail System does, it's A polish with a purpose! So, join the Deep Cover Nail System revolution, where fashion meets function!
Dr. Alphonse R. Tribuiani, DPM, FACFAS (left) and Dr. Husni A. Charara, DPM, FACFAS Developers of Deep Cover Nail System
866-685-NAIL (6245)
DeepCoverSystem.com
Saboram
When It comes to Cheesecakes, there are none more sublime than SaborAM. Anna Hutchens, Owner and creator has been featured on CBS Sunday Morning as well as Neiman Marcus' 2011 Holiday Entertaining Catalog, for her wine based cheesecakes. She is proud to sell them locally through Arabesque, and produced locally by Mikkelsen's Pastry Shop. The Lux Champagne, Captivating Cabernet, Elegancia Pinot Noir, Mystifying Merlot, Righteous Riesling and Zintuous Zinfandel are not overly sweet, with a mousse like characteristic.
Perfect for your Valentine! A Divine Indulgence!
Beverly Hills Caviar
Beverly Hills Caviar Extract Serum is the single most expensive face serum in the world. BHC extract is made solely from 100-percent Imperial Osetra Caviar, and it contains no perfumes, additives, preservatives or salt. Our caviar extract serum is a true skin rejuvenator and contains over 60 different liquid vitamins and minerals. Beverly Hills Caviar Extract is currently supplied to a small prestigious group in the rich and famous category. It is truly the perfect holiday gift.
877.556.6777
Beverlyhillscaviar.com
Lytro
Light Field Camera
The Lytro Field Camera is like no other camera in the world. Instead of taking static images like your traditional model, this one captures all of the light in the area, allowing you to dynamically shift the area of focus once the picture is done. This creates a four-dimensional look that's amazing to see on the screen and gives every picture that extra unique look. Plus, it's simple and easy to use. What could be better?
The Elegant Office
Handcrafted using fine Italian leather, this 8-piece desk set by Dacasso provides equal parts form and function; capable of helping you stay organized while preserving a high-end, exclusive aesthetic in your workspace. The timeless quality of our leather pieces can enrich your office environment now and for years to come. Offered in Black or Cognac.
866.433.7573
TheElegantOffice.com
Vertu
Constellation Smartphone
Sure, you could buy an iPhone, but who wants to be like everyone else? The Vertu is a clean and simple smartphone for the person with refined tastes and features a leather surface for a luxurious feel. It still has all the fancy accoutrements though, including an 8-megapixel camera and a high-fidelity sound system. This is your next phone.
Carroll & Co.
Whether you call it a safari coat or a director's jacket, our microfiber outer jacket is the perfect travel companion. Featherweight, it won't wrinkle. Just wrap it up in a ball and throw it in your carry-on tote. Pockets galore, and smart looking to top it off. Tailored for us in Italy and available in black, taupe, navy, hunter green and camel.
Carroll & Co. – 425 N. Canon Dr. – Beverly Hills, CA 90210
800.238.9400
CarrollAndCo.com
Sand & Birch Design Studio
Climate Controlled Regency Wine Cellar
Want a classic wine cellar but don't have the extra space? This special climate-controlled model by Sand & Birch Design Studio holds up to 80 bottles of wine, and includes internal LED lighting. Plus it's made of maple, oak and stainless steel, all designed to keep your wine safe and flavorful for years to come.
Orion Expedition Cruises
Leave Your Tuxedo At Home, There Will Be Plenty Where You're Going
Following "a path less traveled," Orion Expedition Cruises encourage guests to become a part of the region they are discovering. Their expedition vessels are designed to access the inaccessible, in a casual ambiance, with 5-star facilities, award-winning cuisine and attentive service.
Destinations include Antarctica, New Zealand, sub-Antarctic Islands, Papua New Guinea, Micronesia, the Kimberley, Arnhem Land, Australia's Coast, Russian Far East, Borneo, Vietnam, Thailand & Cambodia and the Inland Sea of Japan.
(877) ORION-US
[email protected]
Ship's Registry: Bahamas & Malta
Churchill Wild
Touch the Arctic
Take a walk on the wild side and give your sweetie the ultimate adventure to get her heart pounding with excitement! Walk with polar bears and swim with beluga whales at the Seal River Heritage Lodge. Dining is set with a stunning view of the west bank of Hudson Bay. This polar bear hotspot features all-inclusive departures with wilderness hikes, gourmet Arctic cuisine, paired with Canadian wines for intimate groups up to 16 based on double occupancy.
East West Resorts
Luxury Home Rentals
Luxury Home Rentals by East West Resorts represents the finest private homes in Vail, Beaver Creek, Aspen and Snowmass, Colorado. We provide discerning travelers and homeowners with five-star service and unparalleled personal attention. Whether you're planning a vacation or are searching for the right company to manage your vacation home investment, Luxury Home Rentals by East West Resorts goes above and beyond to ensure an exceptional experience.
Call 877-898-9014 to inquire about our homes throughout Colorado.
Vail, Beaver Creek, Bachelor Gulch and Arrowhead:
EastWestLuxuryHomeRentals.com
Aspen and Snowmass:
LuxuryRentalsAspen.com