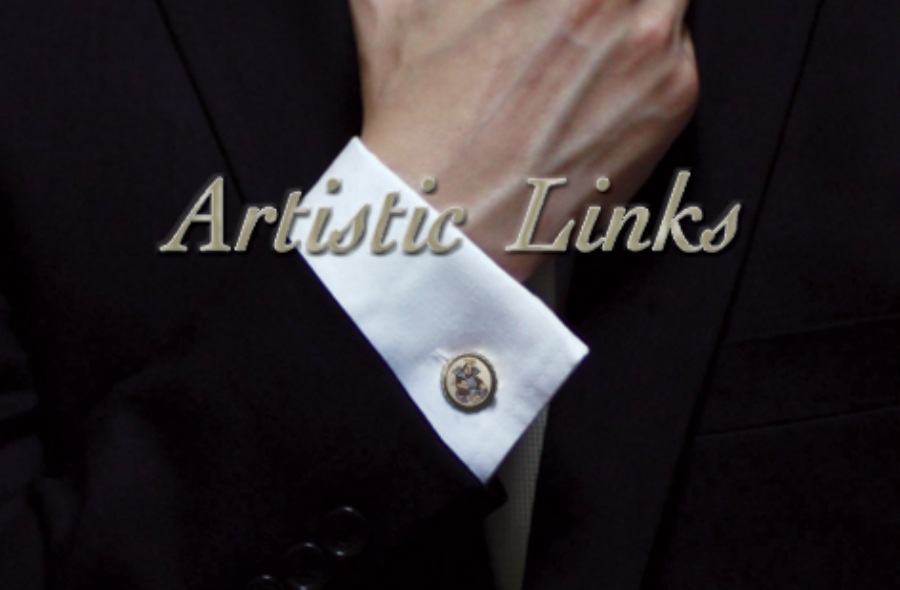 Wearing the right artistic cufflinks may not make the man, but they certainly add the perfect finishing touch to his attire.
As Paul Dyson, curator of an exhibition called On The Cuff, a celebration of the history of the cufflink, so aptly put it, "Every properly dressed person wears cufflinks. No one wants to invest millions with someone wearing button cuffs."
Like many men, cardiologist Dr. Jerome Goldfischer had amassed a large collection of cufflinks throughout his career, but he felt that few of them were interesting or unique. That led him to combine his interest in collecting rare antique Japanese porcelain buttons with his desire to personalize his attire. The result was the creation of Artistic Links, an exquisite collection of one-of-a-kind men's accessories.
For more than three decades, Dr. Goldfischer has collected buttons made of Satsuma or Arita porcelain that date back to the early 1900s. Satsuma buttons are known for their distinctive glaze and exquisite detail, while Arita buttons, made of fine white porcelain, are prized for their artistry, craftsmanship and varied shapes.
These buttons have great historical value because they depict two significant themes in the Japanese culture. Some of the buttons represent the Shichi-Fuku-Jin, the "Seven Gods of Good Luck," a group of Japanese deities traditionally thought to bring good fortune and happiness. They are named Fukurokuju (god of wisdom), Daikoku (god of wealth), Ebisu (god of abundance), Benzaiten (goddess of beauty), Hotei (god of happiness), Jurojin (god of longevity) and Bishamonten (god of dignity).
Other buttons represent Noh Theatre, a classical Japanese performance art form that originated in the eleventh century. There are five varieties of Noh plays and the performers wear five types of Noh masks that represent gods, demons, men, women and the elderly.
Dr. Goldfischer commissioned artisans to create custom-designed cufflinks and tie tacks in 18K gold that showcase and preserve the unique character and cultural significance of each button. He initially had these distinctive accessories created to complement his own wardrobe, but he received such high praise for them that he decided to make them available to other discriminating individuals.
Since all of the antique buttons were individually handcrafted, their sizes vary ever so slightly, so a mold is taken of each button to ensure that the bezel of the accessory is a perfect fit. A choice of bezels is also available to further customize these extraordinary creations. The result is a one-of-a-kind work of art that is to be both worn and cherished as a significant cultural artifact.
Call today to view Dr. Goldfischer's entire private collection of 18K men's accessories accented with antique Satsuma and Arita porcelain buttons. They will make exquisite gifts and/or a valuable addition to your personal collection. Perhaps there's a god of wealth, happiness or longevity in your future.
A Rare Collection Of One-Of-A-Kind Men's Accessories Honoring The Culture And Traditions Of Japan
Rare One of a Kind
Antique Private Collection
Is Now for Sale!
Exquisitely hand-crafted Japanese Porcelain Buttons each
Custom-fit into an 18 carat Gold Bezel. No two are alike!
Own a piece of this Historic, Antique, & Valuable
private collection today!
Call to view this entire collection today.
Many to choose from!
*** Each set of cuff links is priced individually and cost is based on the current value of gold on Wall Street.