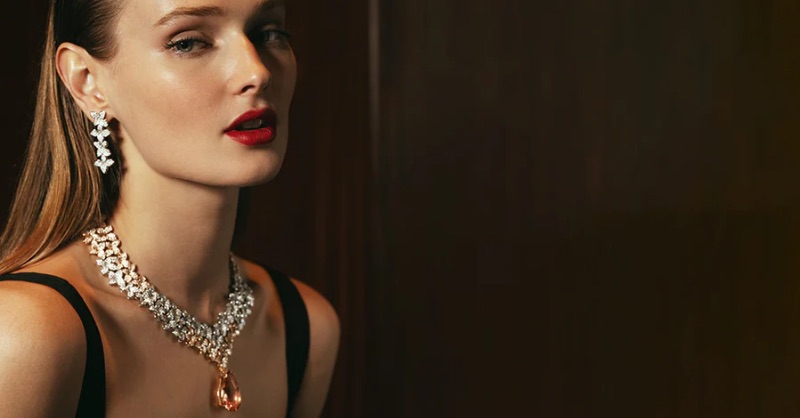 A master jeweler must possess many special qualities to be successful at his or her craft. It takes an innate sense of design, an impeccable attention to detail and the talent to envision what the finest metals and gemstones can become. Most of all, it takes a true passion for fine jewelry. In these pages you'll find pieces created by some of the industry's most skilled artisans. Some of them are part of a decades-long family legacy while others are inspired by nature, mythology or a quest to be on the cutting edge.
PASQUALE BRUNI: Garden Goddess Collection
This Italian luxury brand specializes in pieces designed by a woman for women. Its nature-inspired collections are filled with expressions of emotion, soul and love that are intended to be passed on to the wearer. Each piece is created at the Valenza Atelier under the attentive supervision of the Bruni family.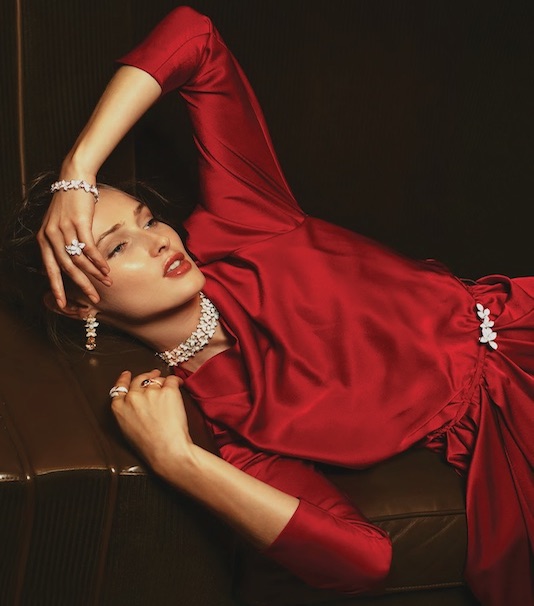 Shown here are selections from the company's Goddess Garden Collection. The stunning choker is fashioned in white and rose gold accented with white and champagne diamonds. The collection also includes a matching bracelet along with morganite-accented earrings. Each piece is an expression of the brand's vera passione, or true passion.
PICCHIOTTI: Fiocco Collection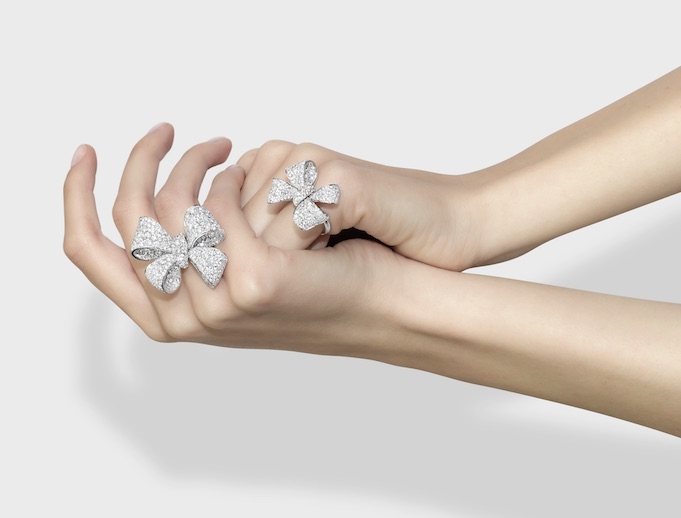 Giuseppe Picchiotti opened the doors to his atelier in the ancient city of Valenza, Italy nearly half a century ago, and today, his company is known worldwide for its sophisticated fine jewelry and masterful miniature works of art. Shown here are two white gold and diamond rings from Picchiotti's lively Fiocco Collection which is inspired by ribbons and bows. The collection includes other choices in myriad colorful combinations incorporating gemstones such as emeralds and sapphires.
MUZO EMERALD COLOMBIA: Ondyn X The Muzo Foundation Project
Muzo's legendary emerald mine in Boyacá, Colombia dates back to 400 BC and is the heart of the modern "Mine to Maison" house known as Muzo Emerald Colombia. The company is committed to perfection in the cutting of this legendary gemstone and its incorporation into fine jewelry. The mission of the company's nonprofit subsidiary, the Muzo Foundation, is to help Western Boyacá become sustainable, competitive and innovative with a focus on shared responsibility.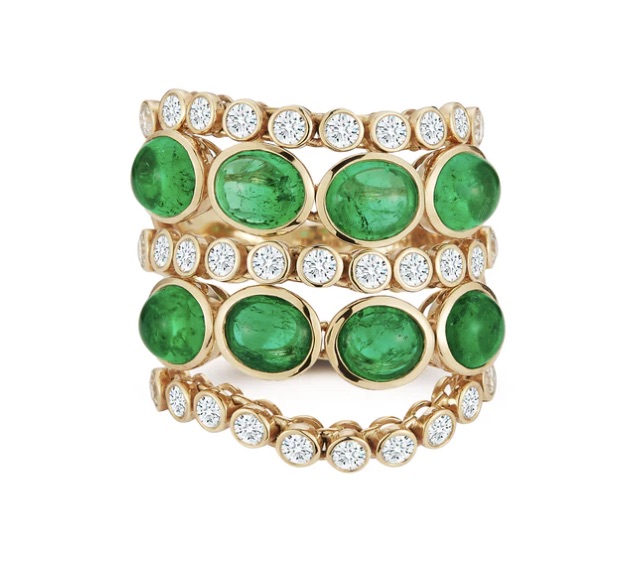 Ondyn Musae Ring
Five-row articulated bezel-set diamond ring featuring two rows of bezel-set cabochon emeralds.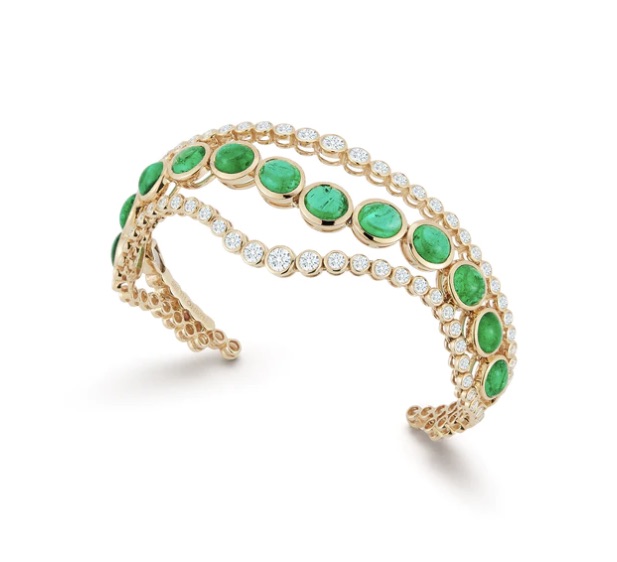 Ondyn Echo Cuff
One-of-a-kind 14kt cuff with two rows of draped bezel-set diamonds and cabochon emeralds.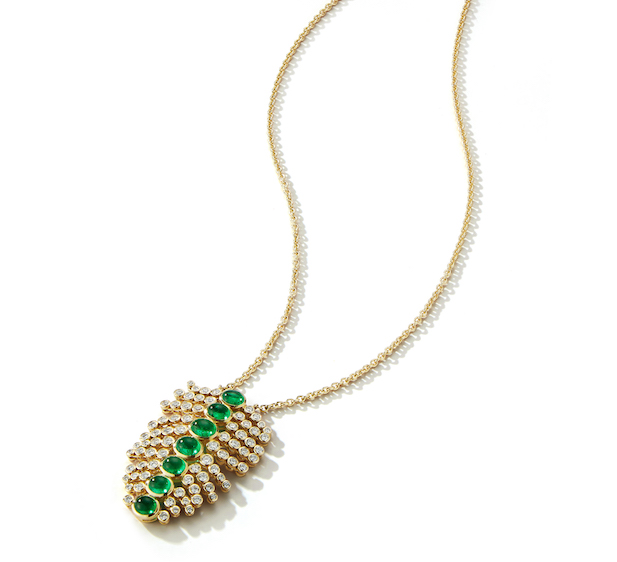 Ondyn Aurras Pendant Necklace
Articulated bezel-set diamond fringe pendant necklace featuring a center row of radiant bezel-set cabochon emeralds.
OSCAR HEYMAN: Fancy Orangy Pink Diamond Ring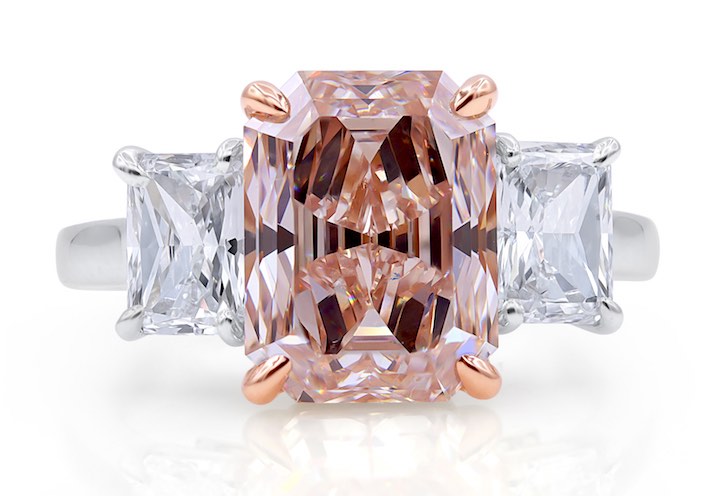 Oscar Heyman & Brothers was established in New York in 1912 by Oscar, Nathan, and Harry Heyman. Now, more than a century later, the company continues to be known for its timeless designs which are created with the highest degree of craftsmanship to bring each piece to life. The exquisite ring shown here features one radiant Fancy Orangy Pink VS2 4.12 carat diamond flanked by two 1.27 carat radiant diamonds.
STEPHEN WEBSTER: No Regrets Capsule Collection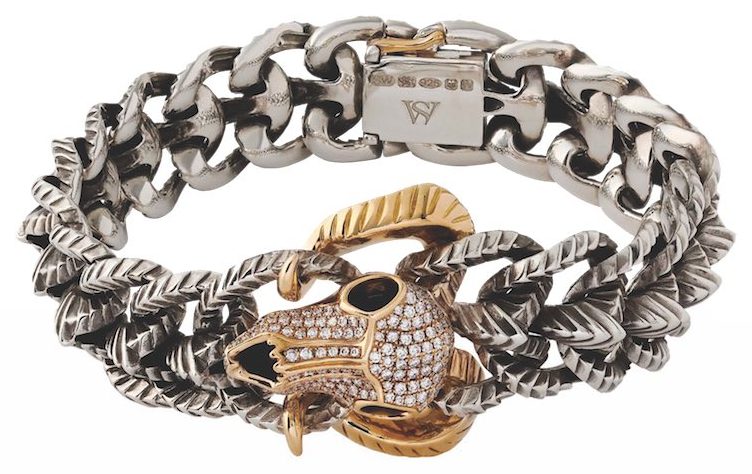 London-based Stephen Webster specializes in jewelry that dares to be different. His pieces are inspired by things that move him emotionally, whether it's music, art, film or words. Shown here is the No Regrets Rams Head Bracelet.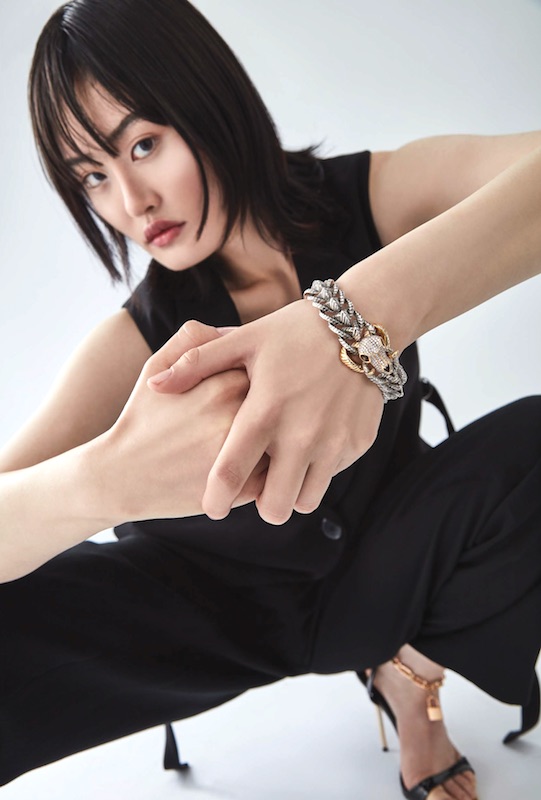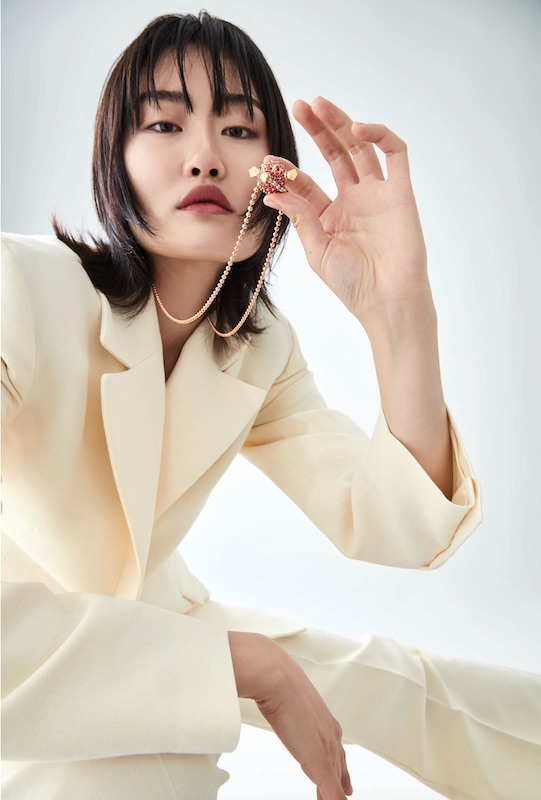 The genderless piece is unquestionably Rock 'n' Roll, as it has been seen on the wrists of true rock stars. Made predominantly in sterling silver, it features a 18kt ram's skull fully set with white pavé diamonds.
GUMUCHIAN: Designed for Women by Women
Master Jewelers Anita Gumuchian and her daughters Myriam and Patricia are carrying on a family legacy in the jewelry industry that dates back for more than 100 years. Through their innovation and enthusiasm, they bring their designs to life at their Manhattan atelier, never using anything less than platinum or 18kt yellow, white or pink gold.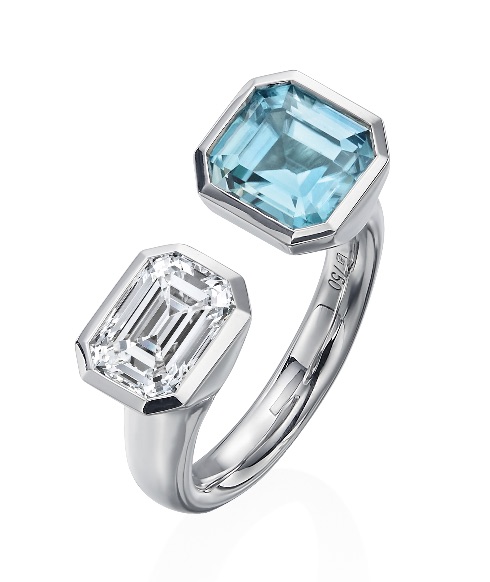 "Spectrum" Collection
18k white gold ring with a emerald cut, blue zircon, and a 1.70ct emerald cut diamond.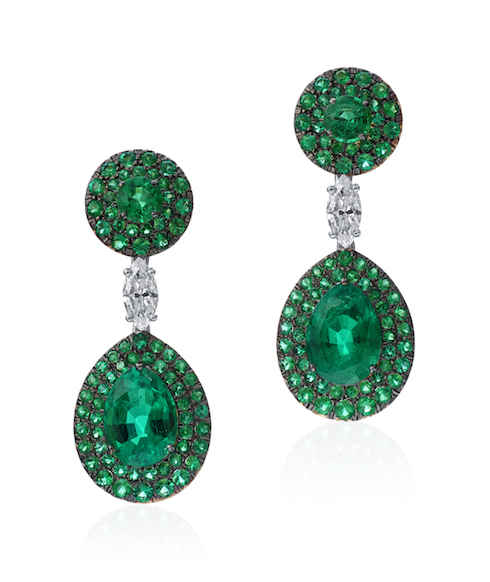 "One of a kind" Collection
Colombian emerald and diamond earrings.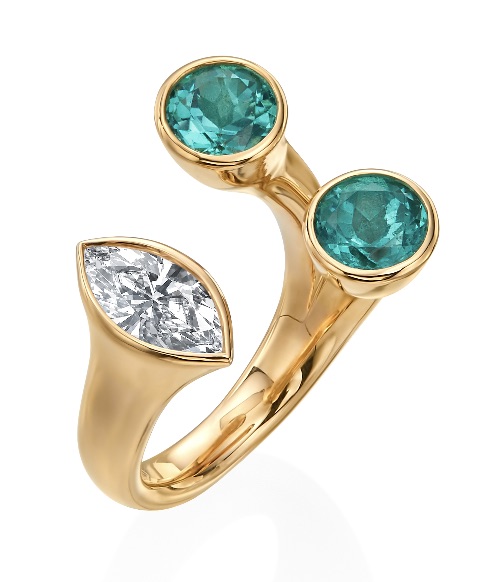 "Spectrum" Collection
Two round apatites totaling 2.33ct with a 1.07ct maquis diamond.
Their newest collection of gorgeous rings (examples shown above) introduces a whole new range of color into their already impressive line.
BEE GODDESS: Eye Light Collection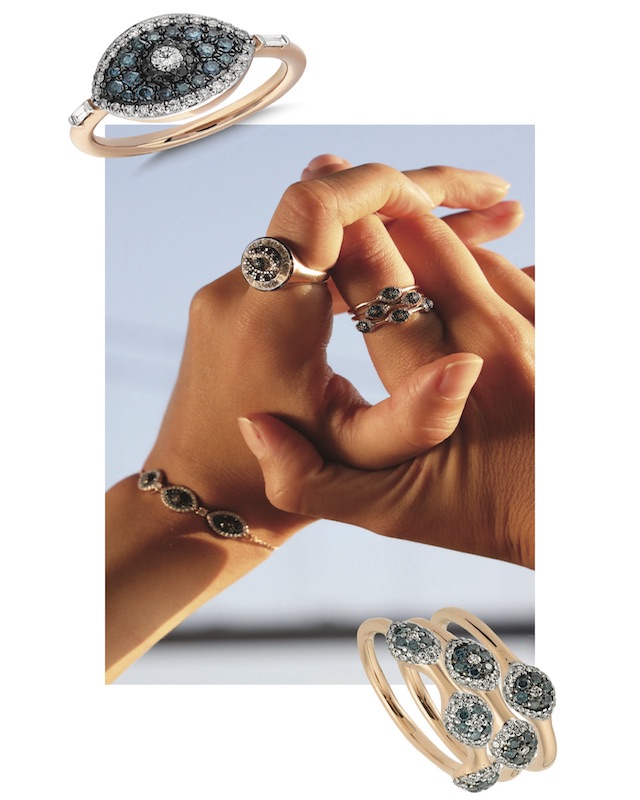 Dedicated to enlightened luxury, this high-end diamond jewelry designer is rooted in timeless mythological symbols and takes its inspiration from The Great Mother Goddess, the embodiment of love and compassion. Shown here are the Eye Light Gold Diamond Bracelet and Ring. Their designs incorporate the eye, a symbol of spirit and wisdom. The sacred meanings of the symbols represented in Bee Goddess jewelry act as a daily reminder to the wearer of all they can achieve.
CARTIER: The Indomptables de Cartier Collection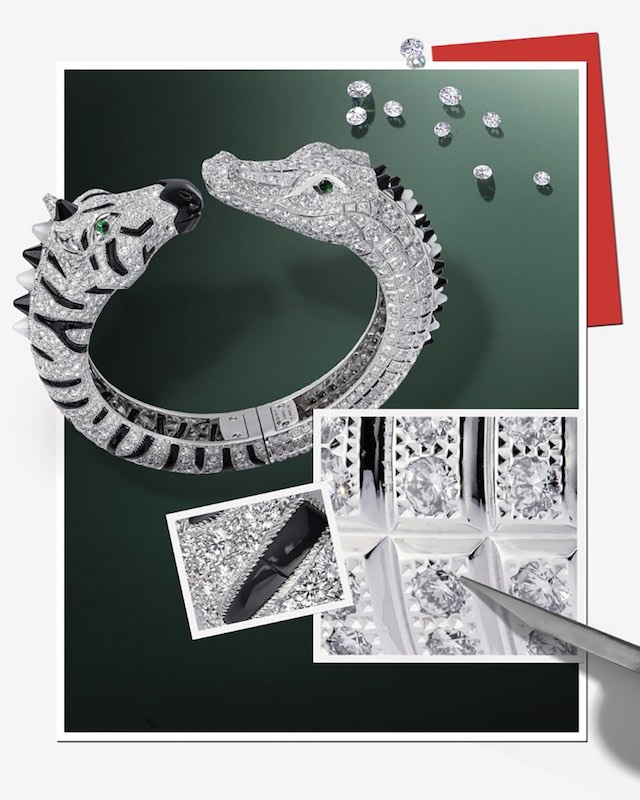 Jewelry collectors who like to walk on the wild side need look no further than Cartier's Indomptables Collection. Shown here, in a fiercely beautiful depiction of beauty and the beast, is the Indomptables de Cartier Zebra and Crocodile bracelet.
It is crafted in white gold and set with 1,302 brilliant-cut diamonds totaling 14.77 carats. Emeralds are used to create the animals' brilliant green eyes. The zebra's stripes are made of onyx.
MIKIMOTO: Moon Dew Collection
In 1893, after years of tireless research, Kokichi Mikimoto successfully created the first cultured pearls. The company that now bears his name has become the premier producer and designer of the world's highest quality pearls and pearl jewelry. Kokichi's legacy continues to live on, as evidenced by the company's elegant Moon Dew Collection. The opulent six-strand necklace shown above is made of 18kt white gold and is virtually dripping with diamonds and Akoya cultured pearls.
LE VIAN: Making Jewelry Lovers' Dreams Come True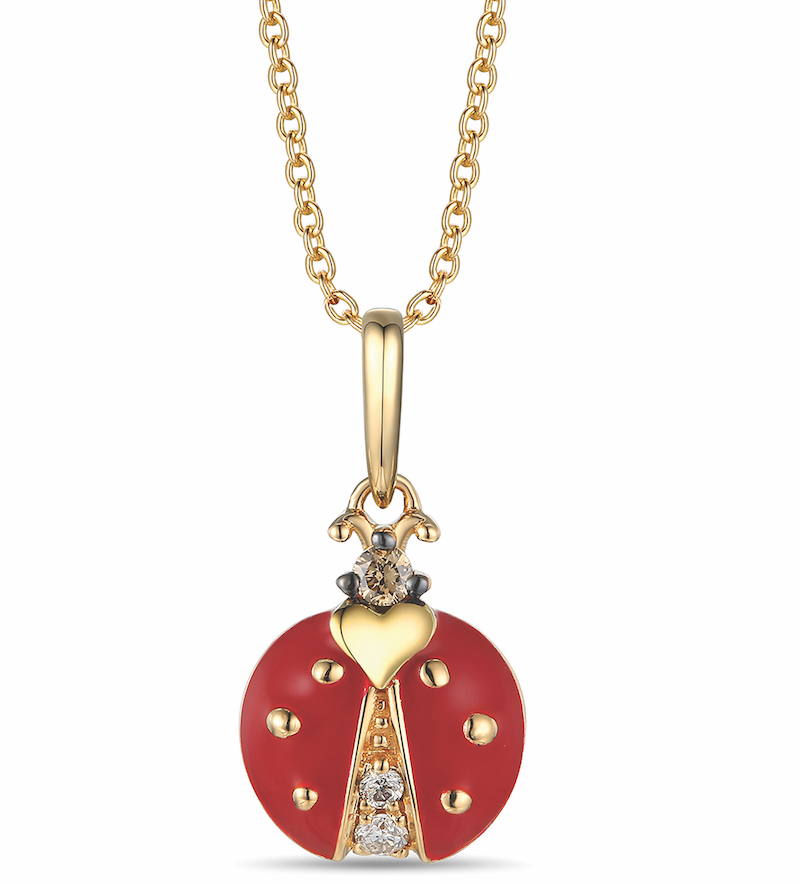 New York-based Le Vian is owned by a family whose ancestors were once entrusted with guarding the royal jewels of Persia in the 18th century. Today, the company's jewels are favored by another type of royalty—the Hollywood elite—who have come to appreciate the company's exquisite designs that come in a kaleidoscope of colors. Shown here is the Le Vian Enamel Pendant, featuring 1/20 carats of Chocolate and Nude Diamonds set in 14kt Honey Gold.
TAMARA COMOLLI: Redefining the Rules of Fine Jewelry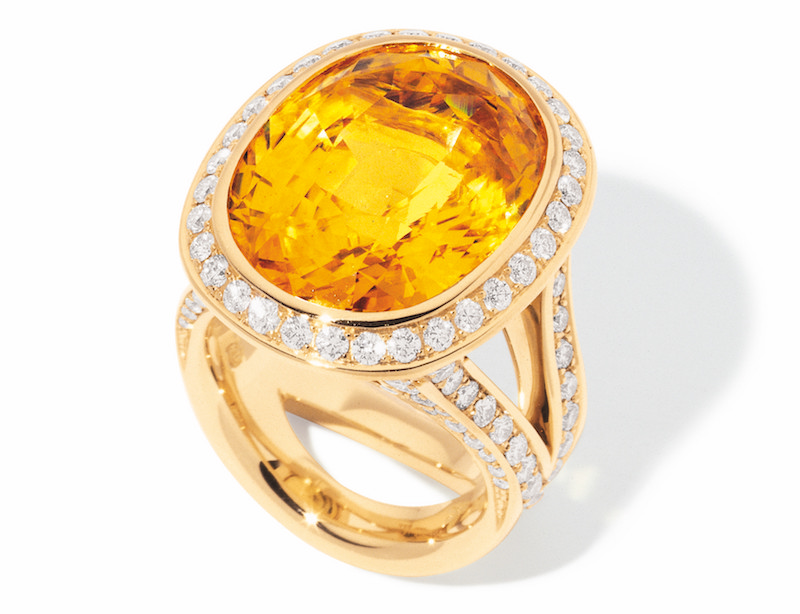 Since founding its brand in 1992, TAMARA COMOLLI has been creating incredibly versatile pieces that portray effortless luxury and enable women to express themselves in a natural way. The company's playful, feminine designs are all about providing a feeling of freedom and happiness. Inspired by a love of the ocean and a passion for rare, colorful gemstones, the company's artisans create elegant designs like this CUSHION ring with a rare yellow sapphire surrounded by brilliant diamonds.
GURHAN: A Maverick Creating One-of-a-Kind Designs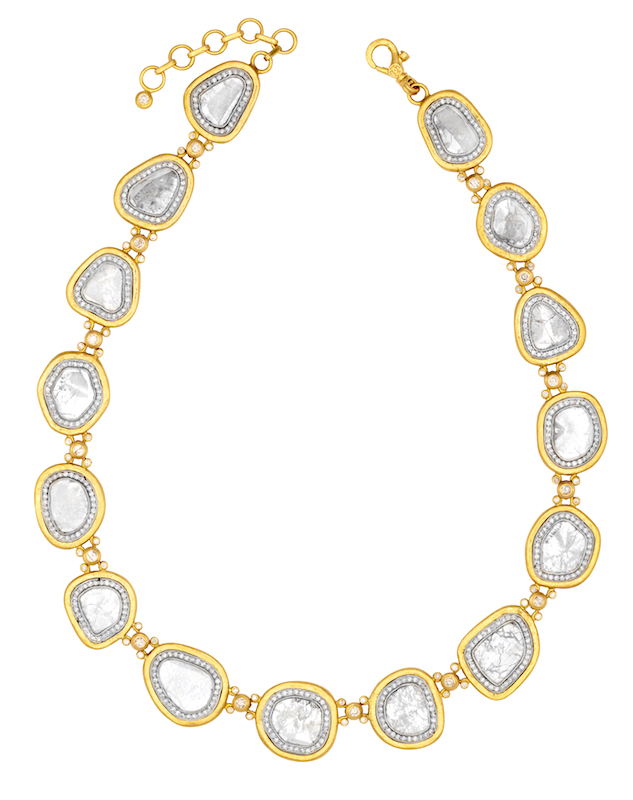 Defying common wisdom that 24kt gold is too soft and too heavy for fine jewelry, Gurhan studied the work of ancient craftsmen who worked with 24kt gold to create some of the world's most magnificent jewelry. He learned to incorporate their techniques into his own creations and is now well known for his one-of-a-kind designs. He starts with a stone and builds a design around it to unlock its true destiny.
OMI PRIVÉ: Phenomenal Jewels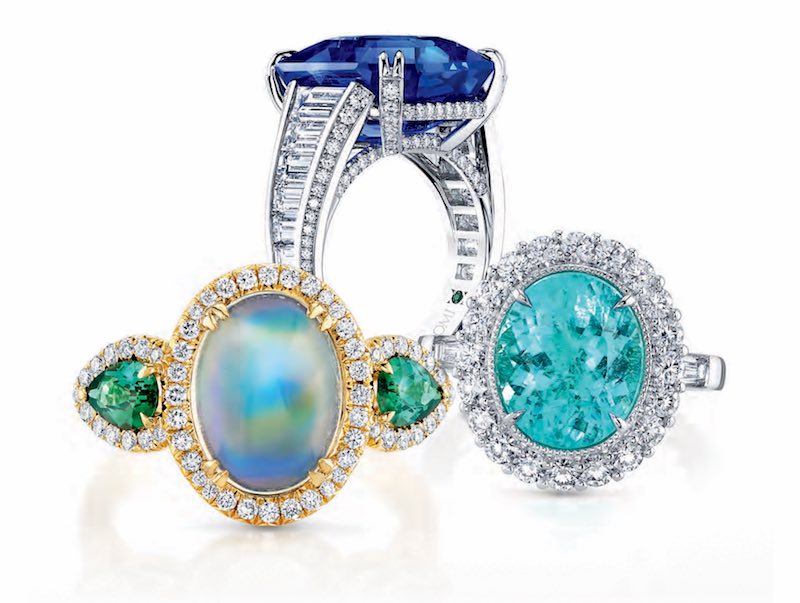 Believing that colored gemstones are nature's finest works of art, the designers at Omi Privé treat them accordingly by curating the best loose jewels from around the world. They then employ their expert craftsmanship to accentuate the jewels' natural beauty. Shown here are three exquisite selections from the Omi Privé collection that display some of the brilliant gemstones the company uses in its designs such as sapphires, moonstones and Paraiba copper-bearing tourmalines.